Check out these Free Yacht Website Templates and WordPress Themes to create your free awesome website. We have collected 12 of the best templates that will be a great solution for yacht clubs, boat rental companies, yacht rental agencies, yacht and boat dealers, boat repair companies and many other businesses related to the operation of yachts and boats.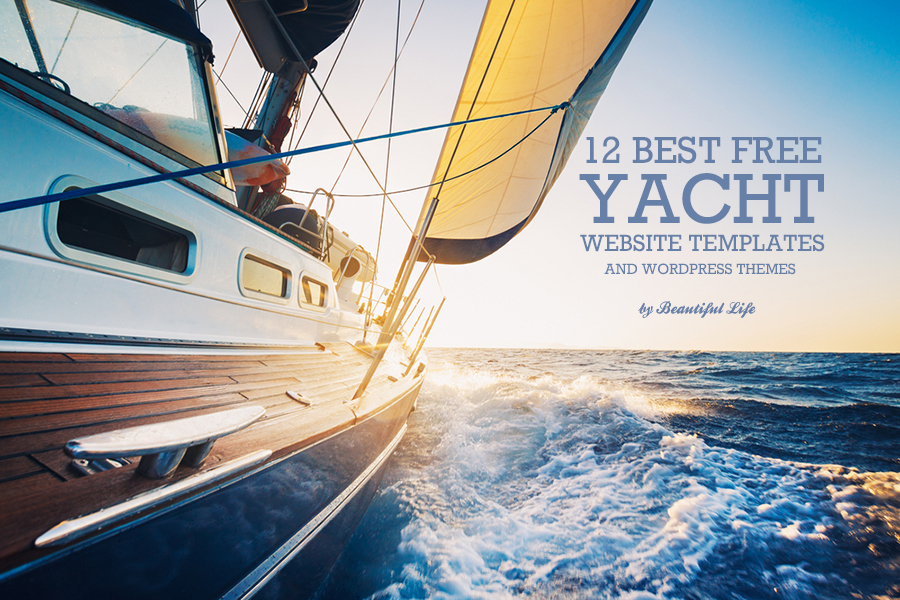 If you own one or more yachts, you are probably looking to rent them out. Probably you have also diversified into other areas such as owning a yacht club or boat repair. From a business perspective, you have to create website for yachting business for more revenue.
You are trying to convince your clients that your business is responsible, charges reasonably, and has a dependable reputation.
Yacht Club – A yachting club should have a home page that provides information about location and facilities. The club's dining area, bar, and gymnasium should enjoy a prominent display. Though you may not give the actual cost of membership, your website should encourage visitors to call and ask.
Yacht and boat charter – If you charter out sailing vessels, your site should carry a page dedicated to each type of craft with high-resolution images accompanying the text. List the advantages of each boat and what kind of experience a prospective renter must have to take them out to the ocean.
Boat rental – Boat rentals are high margin business, especially in tourist hotspots besides the sea. There is a lot of competition, and you need to state the rental charges with and without a skipper. Also, describe in detail the occupancy of each craft and volume of the cabin. This allows clients to decide from afar about the budget and type of boat they would hire.
Yacht dealer – This is one business that never sees a downturn. However, your clients would be discerning customers with high disposable income. Ensure that the website is top quality and can be navigated quickly. Mention the yacht manufacturers you represent and the specs of the models currently available. It is a good idea to update the website regularly to display currently available vessels.
Boat repair – Just like car service, this is a subsidiary business to the dealership. Your site does not need to be impressive and sleek but instead has an authentic and trustworthy look. List the type of services you offer, the cost of repair, and annual maintenance charges. Testimonials are excellent for providing proof of past work done.
Free Yachting Website Templates – A Glimpse
Good quality free yacht website templates can help you find new customers and rapidly grow your yacht and boat business.
The template determines how the front end of your website looks. You can change the font, color, and background, move around the elements, but the general style remains fixed.
There are hundreds of free templates for yacht website on offer, and quite a few of them are about yachting and boating business.
What are the options when choosing a template?
The site can be static or responsive and single or double columns. The template shows how the site will display the given information. If testimonials appear at the bottom of the Home Page, they can't change location to a new page. Yacht templates are essential for display. Thus you should investigate if it is mobile friendly and can be viewed on a variety of screen sizes without any distortion. Almost all themes allow background images and typography to be changed. However, themes that enable a large number of font styles are better.
Page Style – This is all about the overall arrangement of your website. A news website such as Huffington Post looks very different from a shopping website like Amazon. Though the images and content of both sites can be changed, one can never replace the other. If you have a yachting business, the site must have remarkably high visual appeal. Of course, this means images of tall spinnakers and sturdy hull chopping through waves, but there has to be a definite nautical element to the yacht layout template.
Lack of Critical Functionality – The template should not handle any task that is essential to a site. If it does, then when changing themes later for a redesign, that element would be lost. Nearly every website undergoes a revamp every few years when new designs are available. You cannot afford to host an outdated looking site a decade from now. All critical features such as SEO, site map generation have to be handled by a plugin. This enables you to change templates with minimal fuss. The template must determine the design and aesthetics and do as little else as possible for optimal functioning.
Coding vs. Non-Coding – Most free yacht WordPress themes are customizable. This allows your site to have a unique look and create a USP for your business. But the changes can be made at two levels – with code changes and without. Many templates used now require no understanding of HTML and CSS script. Using the editor, even a beginner can modify and create the site they wish. However, changing through an editor is limited. Such as column sizes, image sizes cannot be altered suitably, padding cannot be changed. If you are employing a web developer, you should opt for a template whose code can be rewritten to any extent. The end results would satisfy you.
Factors In Choosing The Best Yachting Website Template
Responsive Design – More and more people are using a smart device for search. Your site must look great on these tiny screens. Moreover, the template must allow it to be perfectly navigable. This is no easy task since there is very little space to place menus and sub-menus. The entire arrangement has to work correctly and load quickly. Also most best free website builders offer such option for thir users.
Social Media Buttons – If your customers liked your service, they should be able to share it readily with their friends. If they are having a great time at your yachting club, adding a social media share button would allow them to quickly direct new visitors to your site. That would mean new clients without any extra cost.
Browser Compatibility – Chrome is the dominant market player, but by no means the only one used. Microsoft Edge and Firefox have a substantial presence as well. Besides, there is macOS and Safari. Your site must be rendered perfectly on all of these browsers. The task falls on the template, and you have to check each browser in multiple resolutions.
Galleries – This is the bread and butter of your yachting business. A picture is worth a thousand words, and your boats and yachts would do the talking on your behalf. Galleries are present in most WordPress themes and templates. The critical factor to check is whether it can accommodate large image files and swiftly render them. If there is page delay while the image changes, a customer might lose patience.
Blogs – Not only do you need it for SEO, but inform your clients about the fun and excitement of boating. Write about destinations around the Caribbean or Mediterranean. Discuss sailing in general and how it is done. The blog can create a lot of interest even among those who had never thought of being out in salty spray and high winds.
Choose The Perfect template And Get Started – Now you know what you are looking for when designing a yachting website. Each template you come across would have its own pros and cons. Never duplicate since what works for another business would fail for your model. Spend some time on imagining how the site must look and select a template accordingly. The template is the online footprint of your business, and hence you must choose wisely.
Free Waterboat Bootstrap Website Template [ download ]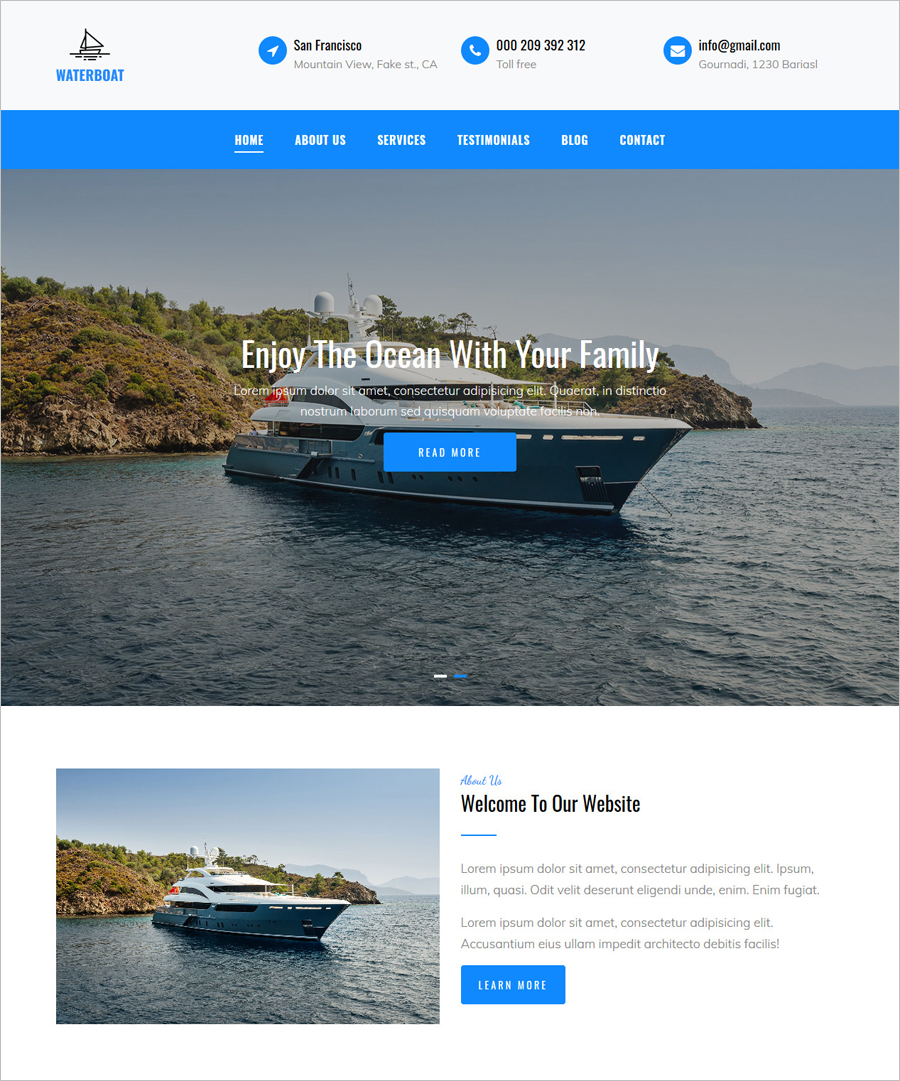 Free Luxury Yacht Charters Website Template [ download ]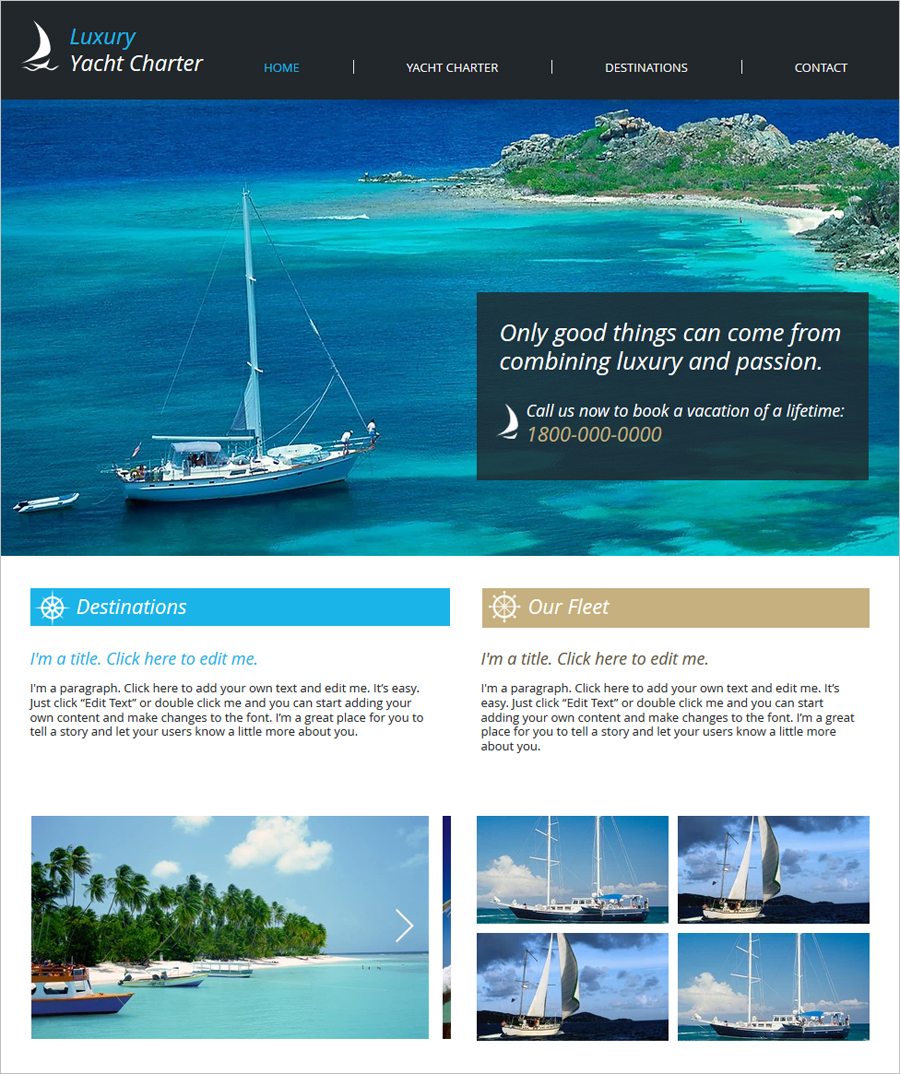 Free Responsive Yacht Joomla Template [ download ]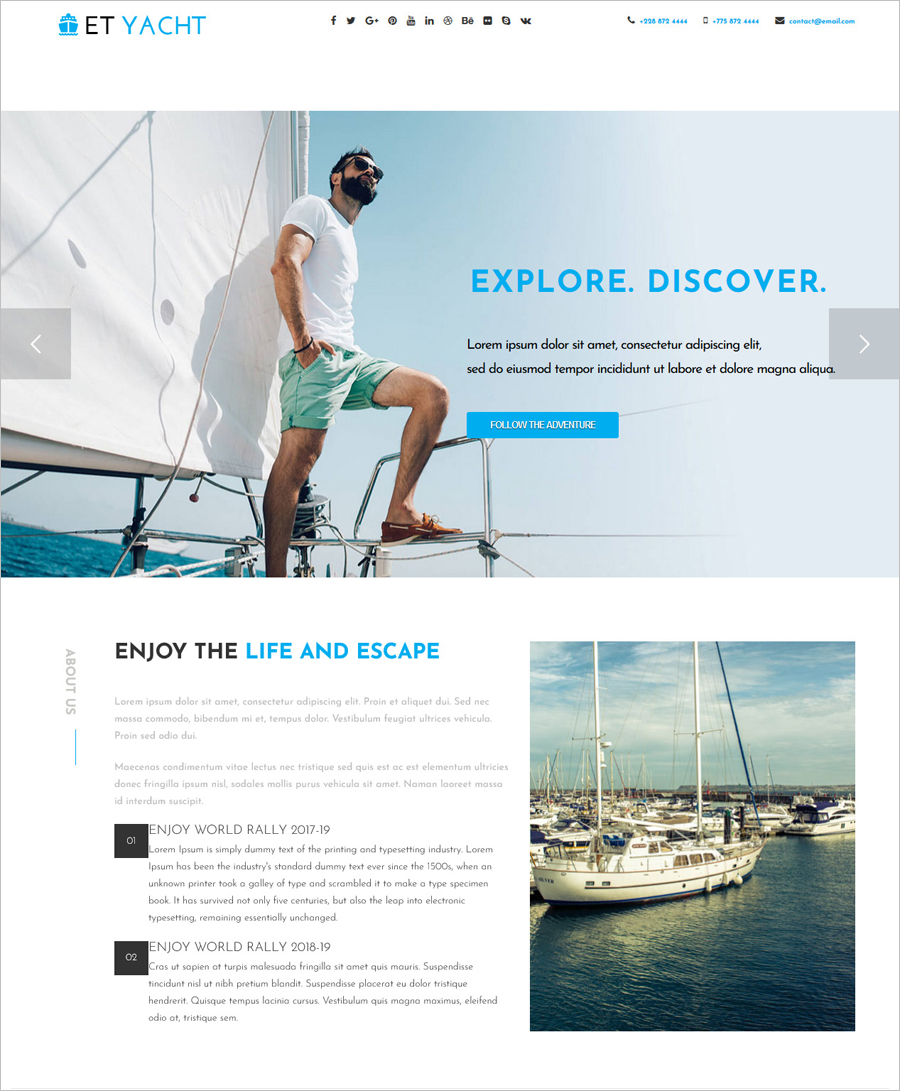 Free Fishing Blog & Forum Website Template [ download ]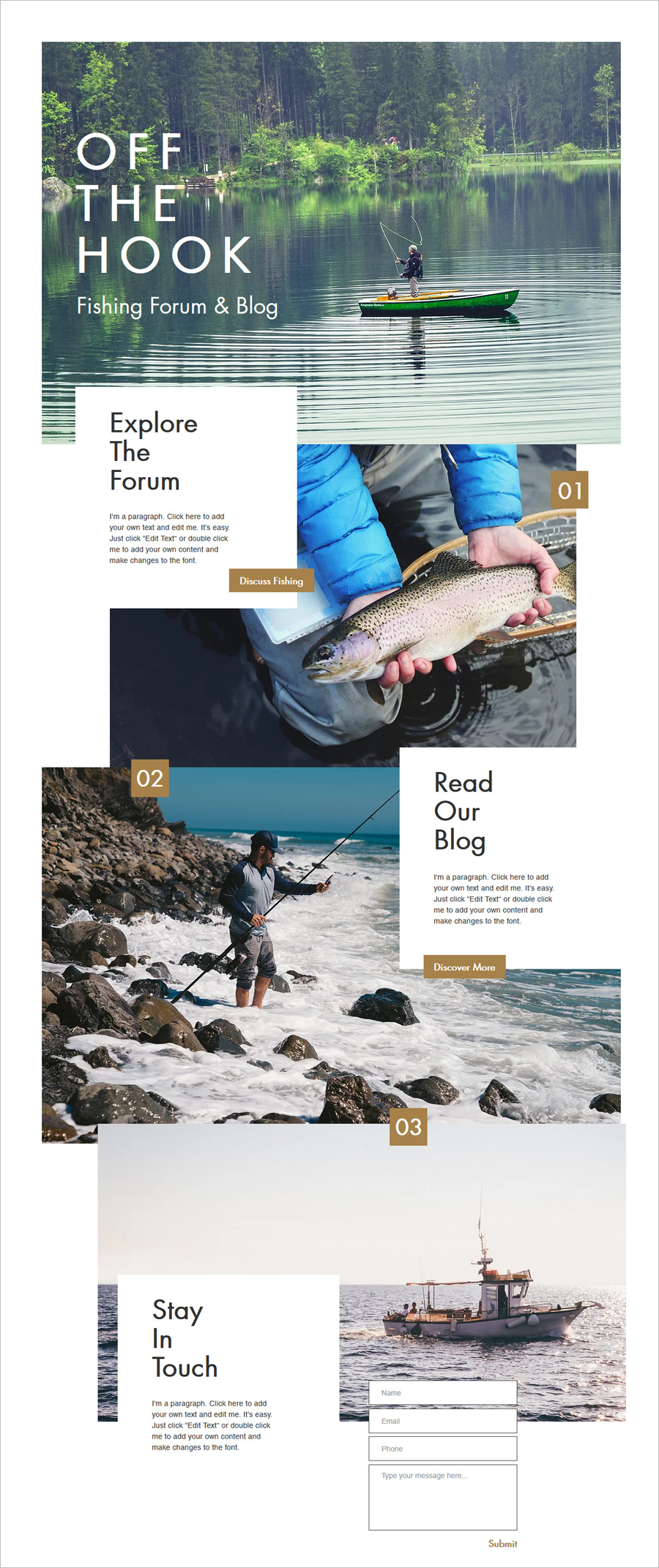 Free Yacht Flat Bootstrap Responsive Web Template [ download ]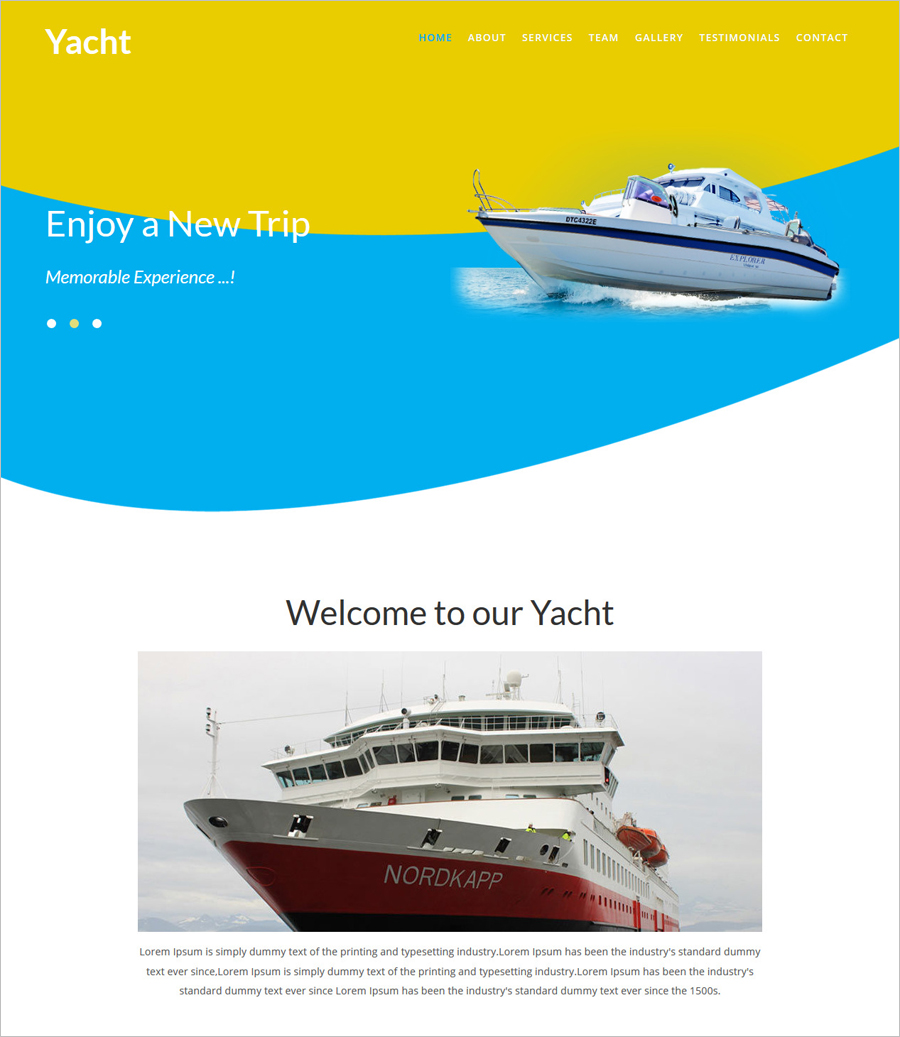 Free BON VOYAGE Website Template for Travel Agency [ download ]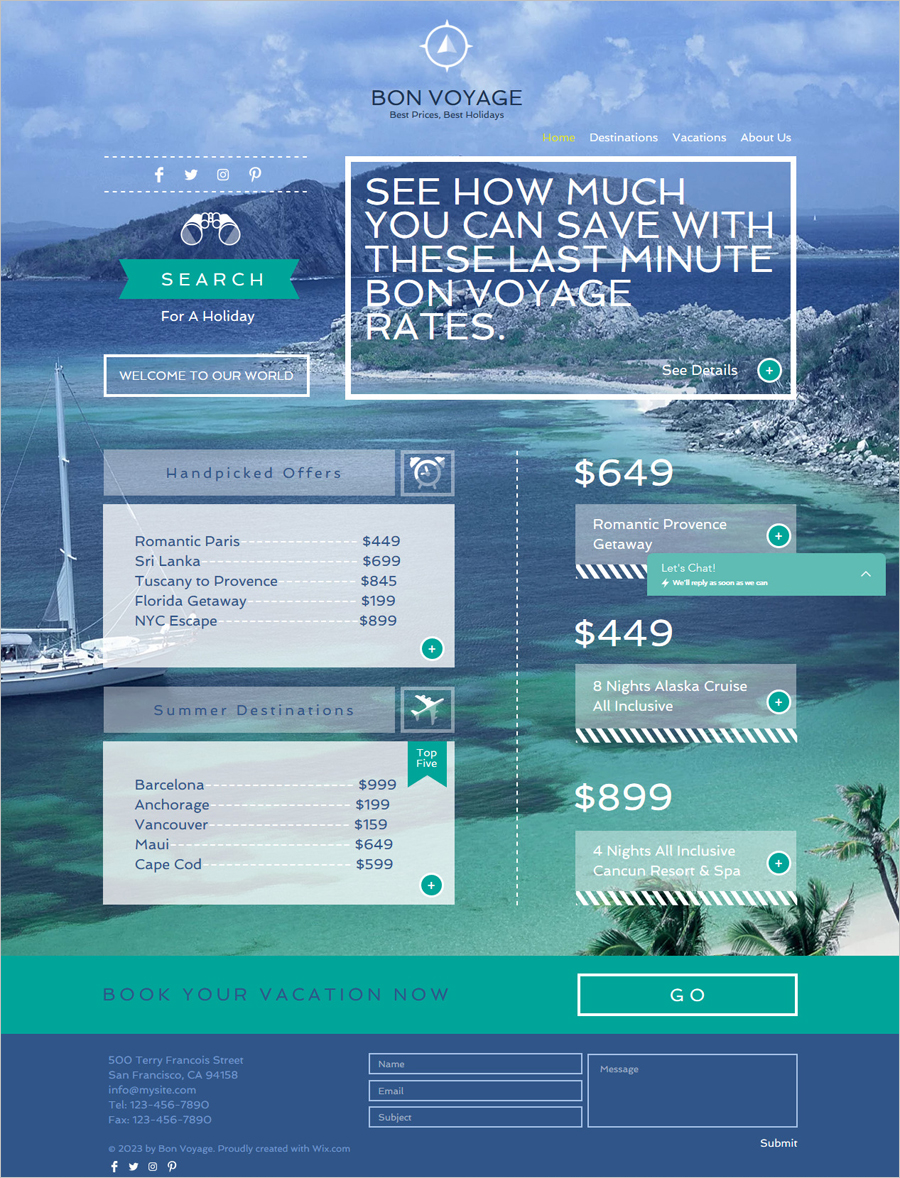 Free Seafaring Travel Agency Web Template [ download ]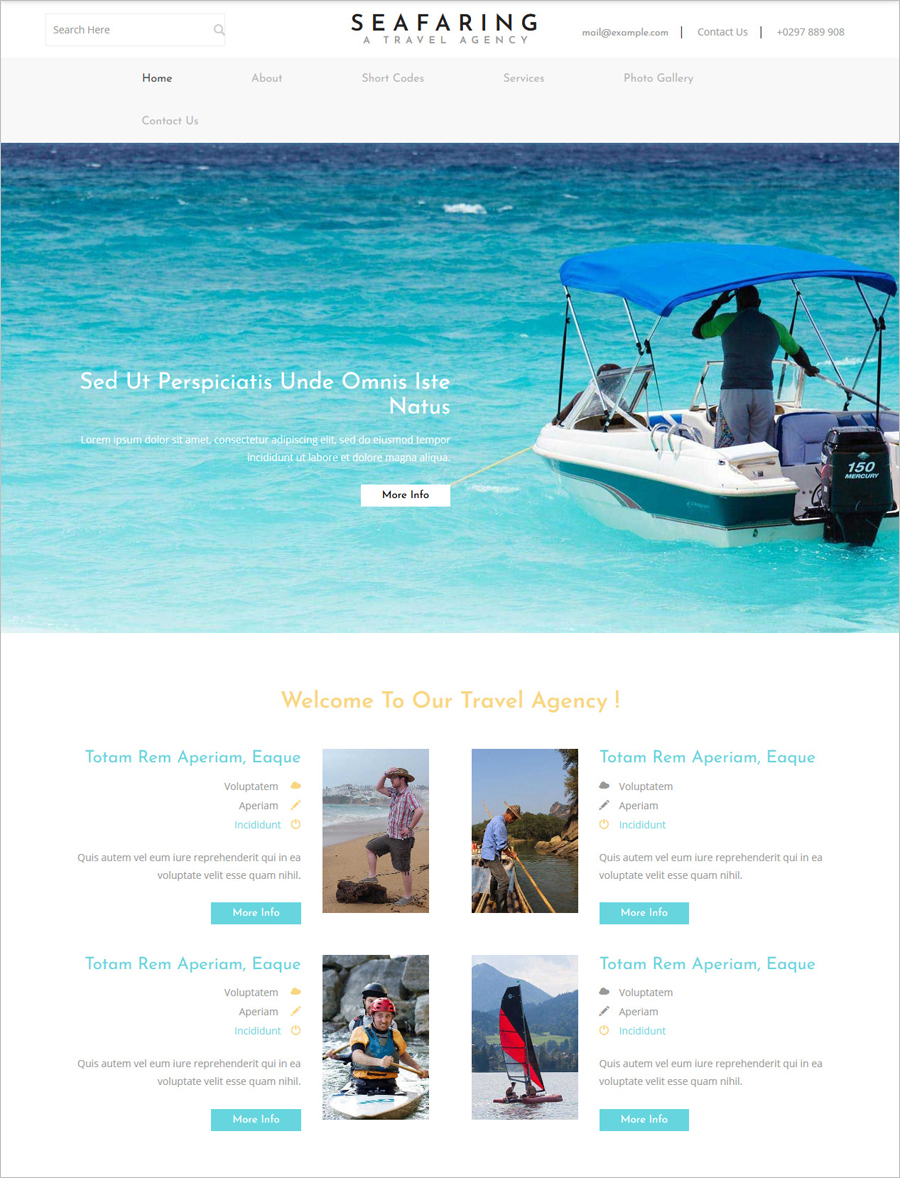 Free Responsive Sailing & Boating WordPress Theme [ download ]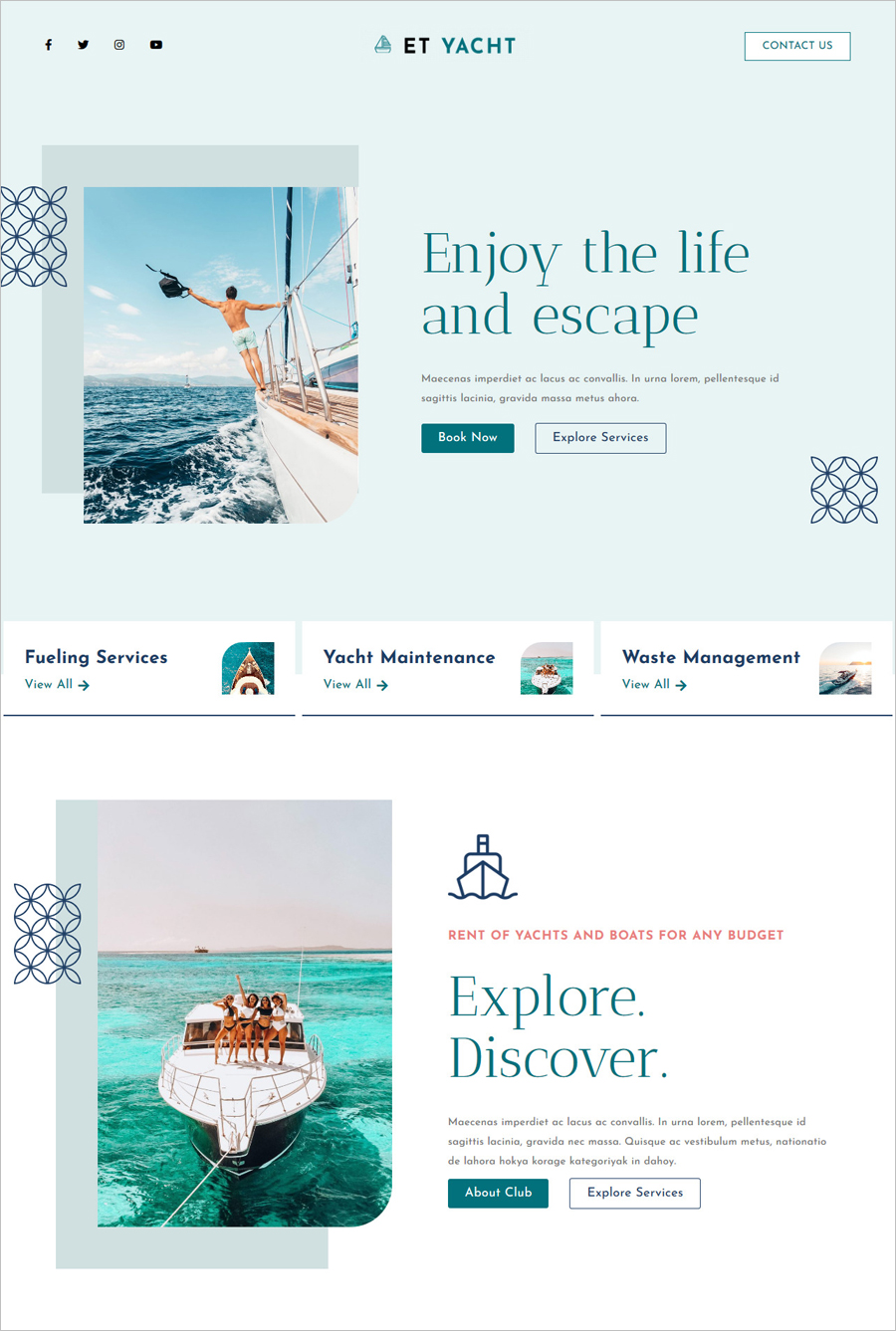 Free Sailboat Responsive Web Template [ download ]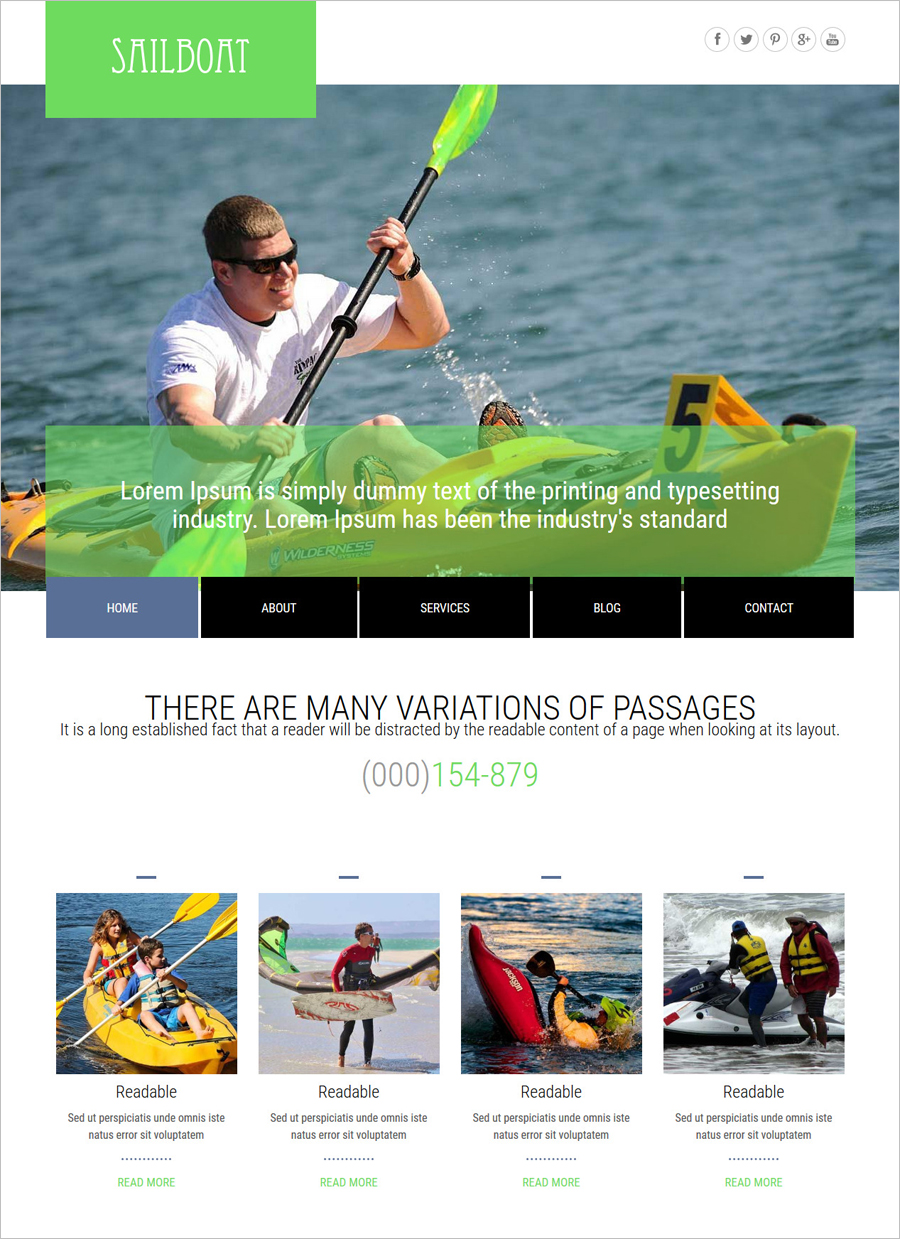 Free Boat Rental WordPress Theme [ download ]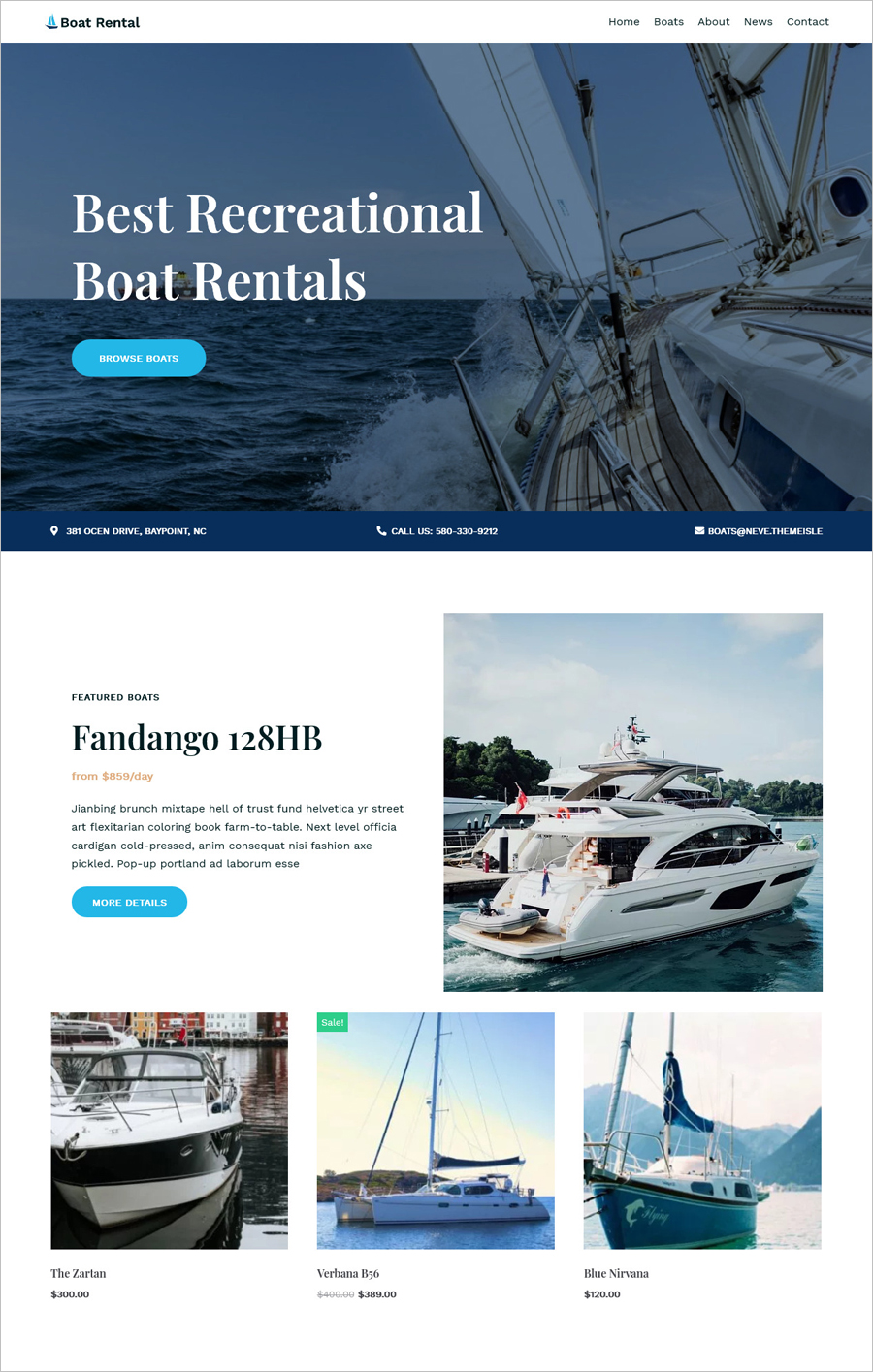 Free Yacht Club CSS Template [ download ]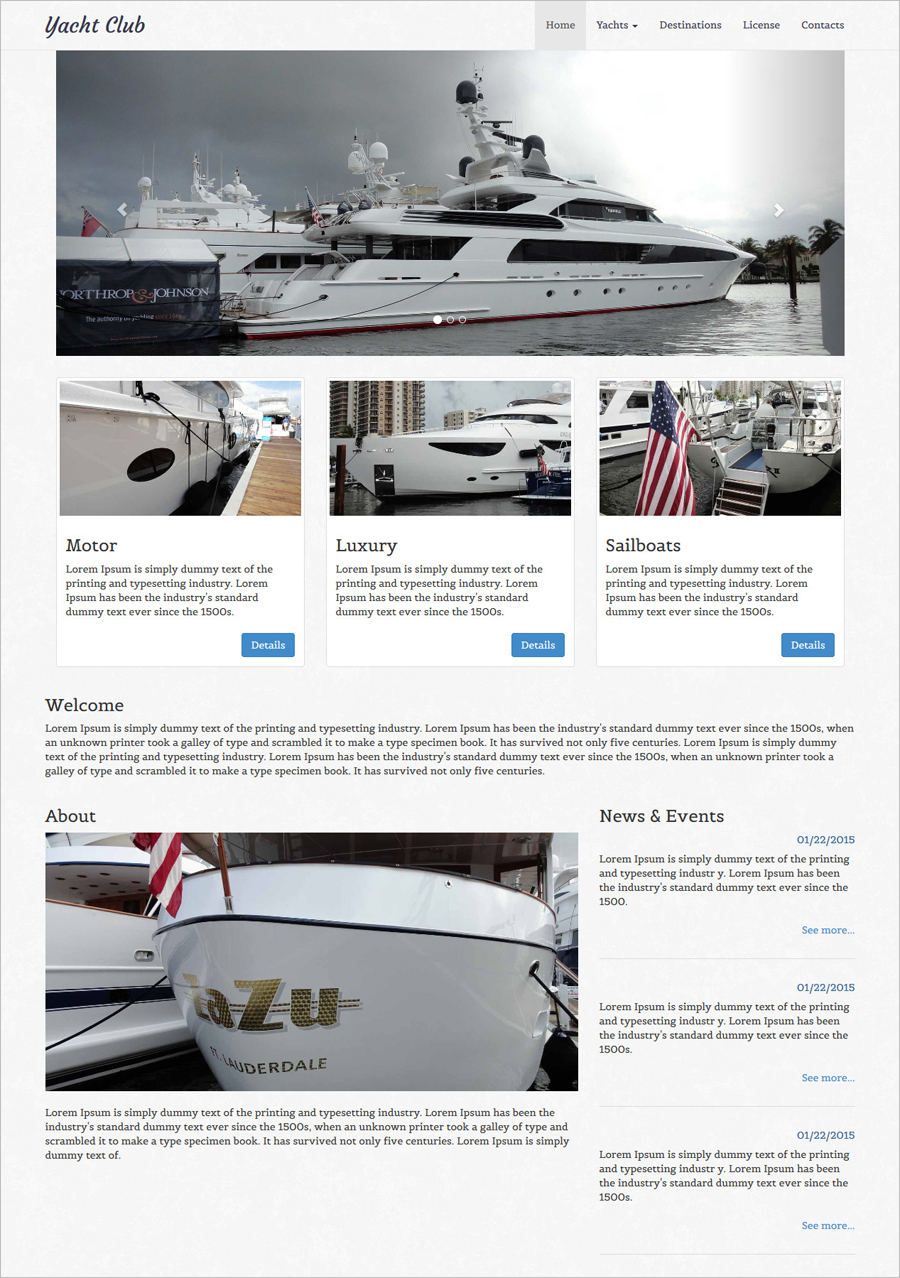 Free Boat Rental Responsive HTML5 Bootstrap Template [ download ]