This time we want to show you amazing miniature sculpture created by great artist Adam Beane. He sent us these images to share with our readers with his latest sculpture. As Adam wrote in his letter: "I recently sculpted Steve Jobs for Esquire. It ran in the "Great Americans" issue. Sadly, Mr. Jobs passed away halfway through the project, which made the sculpting process particularly poignant. I tried hard to capture something of his spirit in this portrait. I hope his family, friends and fans feel I've done him justice." Take a look and we do think that you will enjoy this sculpture! If you want to see more sculptures by Adam Beane check Incredibly Realistic Sculptures by Adam Beane.
More than a year ago we showed you Incredibly Realistic Sculptures by Adam Beane and this post is one of the most popular even today. Great talant of Adam Beane amazed all our readers and we can not go pass by new sculptures of this artist. The first one is sculpture of President Barack Obama created for Esquire's 2010 "People Who Matter" issue. As always sculpture is extremely realistic. Limited edition of these figures and busts will be availiable in stone and bronze. If you do want to own one of them – just contact to Adam personally. If you want to see how such amazing sculptures were created – take a look to the video at the end of the post!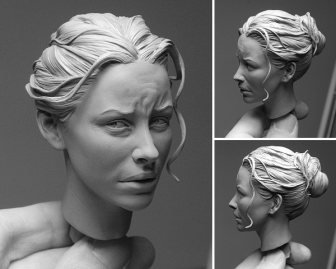 Adam Beane is quite unique sculptor. Since beginning sculpting in 2002 he is known for dynamic compositions, action poses, nuanced drapery work and his ability to capture likenesses with expressions. For the work he uses CX5, a tremendously versatile material he developed which handles like clay when warm but is hard as plastic when cool. In this collection you will find mini copies of famous people and will be surprised how unbelievable realistic they look. Many of them were made for toys companies and may be you could find beautiful works of Adam Beane in supermarkets.