Moscow-based artist Yuri Shwedoff composes dramatic digital landscapes with dark and dystopian themes, often illustrating science-fiction like fantasies that merge technology and biology. The illustrations are defined by outdoor environments, portraits, and urban and suburban settings that are familiar yet strangely surreal. Distorted mountains bearing cavernous, mechanical voids work alongside an image of a boy surrounded by angry wolves and an adventurer who meets a dinosaur in a desolate space. Each of the images are characterized by an ominous quality given shape through the use of dark colors, deep shadows and expressionless faces.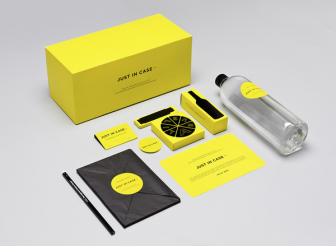 This end-of-the-world survival kit was crafted and designed in Mexico by Menosunocerouno. "If the world ends this year, we better be happily ready. Expecting a beautiful chaos, Menosunocerouno created "Just in Case", the perfect brand for the end of times. A brand that covers all your basic apocalyptic needs. The perfect gift for friends and clients (only the ones we want to keep)." Kit conists of chocolate Abuelita, Doméstica yellow notebook, simple knife, 40 emergency black matches, original Mayan liqueur Xtabentun D'aristi and basic water. Take a look!
There are a lot of versions in internet about when and how will be the end of the world. Have you ever thought about how our world will look after? What could happen with Moscow and New York after a nuclear war? Talanted Russian artist Vladimir Manyuhin aka mvn78 was able to convey to us his view of such world in his matte paintings. All illustrations were created using various graphic programs such as Photoshop and 3DMax. Looks very interesting.