Designer César A. Olivera-Latorre have created stunning Buick Evocador concept car. The focal point of the design is it's stretched silhouette composed of a long hood contrasted by a short front overhang and a long rear overhang. Designer C wanted the car's lines to evoke a bird's feathers in the wind. Other interesting features include transparent chrome dots/LED accent lighting, seamlessly integrated laser headlamps and tail lamps, as well as a range of top tier material finishes and textures. A signature of all Buick designs, it's clad with polished chrome trim highlights throughout. Throw on some 24-inch wheels and you will be rolling in American automotive luxury style.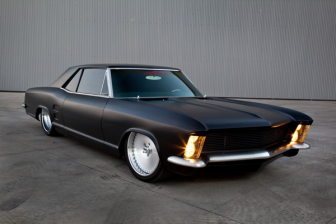 Today we want to show you really gorgeous example of car tuning. This is 1963 Buick Riviera with tuning by Fesler. The Scottsdsale, Arizona, dweller, co-owner and CEO of toymaker Ronin Syndicate, Tony Diaz, began his pursuit of the dark side a few years ago, combing the country for the perfect candidate for his evil mission. "I had been looking for a Riviera for a long time," explains Tony. "I wanted it to look thug, but not modern-day thug—more like something from the '30s," proclaims Tony. "Like you would expect dudes with tommy guns to jump out of it." Tony definitely had gangster goals, and thankfully his friend Chris Fesler was up for the task of making Tony's dreams a reality.
In one of the previous posts we've already told you about Coca-Cola advertisment. Today we represent you another retro collection – old car ads. We are pleased to bring to your attention car legends from Chrysler, Buick, Cadillac, Oldsmobile, Pontiac, Dodge, Mercury, Lincoln by 1949 – 1964.