The Mayes family has made their very own magic school bus, and the it puts Ms. Frizzle's to shame. Compact but comfortable, this revamped and customized Thomas High Top–the same model usually used as a school bus–carries the Mayes family 'round and 'round as they travel the country. Instagramming their adventures as they roll, the Mayes family has put a new spin on #vanlife. They got their bus in March 2017, and got right to work on converting the inside into a home for kids and two adults. They downsized their life to fit in the 250 sq. foot space of their "skoolie," but designed the interior around the bare necessities–a bathtub for the baby, a bedroom for Mom and Dad, individual beds, designed to function as places of privacy and alone time for each of the boxcar children. Natural light bathes the whited-out bus, which has a workspace for Dad, and a dinner table to eat together. The small surface space belies how much room the skoolie really has; secret compartments hold toys, electronics, and even a guitar. Though small, this bus is far from abstemious. Plenty of little luxuries make this bus a magical home for this adventurous family. Ad don't forget to check this cool bus.
A staple of coastal California's towns, the Volkswagen Microbus will be reincarnated as an electric vehicle. VW announced that it will build a version of its I.D. Buzz concept bus, which it hopes to begin selling by 2022. Unveiled earlier this year the Detroit Auto Show, the vehicle is a clear homage to the iconic vehicle that the company sold in North America between 1950 and 1980. The production version of the concept is expected to deviate little from the blunt-faced original, because all of the batteries will be mounted under the floor. Think of a longer, more van-like Chevrolet Bolt and you can get an idea of what the electric VW might be like to drive. Which means the production I.D. Buzz (VW didn't announce what it will name the vehicle) should appeal to buyers who are interested in a lot of passenger space, as well as those who get nostalgic for the original, rear-engined, gasoline-powered Microbuses.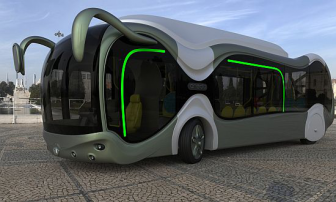 This interesting concept of eco bus "Credo E-Bone" was designed by Hungarian designer Peter Simon. This zero-emission bus runs on hydrogen fuel cells and lithium batteries to add sustainability to the public transportation. Powered by four in-wheel electric motors "Credo E-Bone" carries its power sources on its roof. The shell of the bus has been made from lightweight composite plastic that resembles a skeleton structure. Such lightweight construction makes the concept energy-efficient. Hope soon such eco bus will be significant part in eco travel.