This time we want to show you hand made Air Plant Chess set composed of beautiful and unique living chess pieces once. Living Chess makes the flora-filled sets with water-lacquered bamboo boards and tiny planters 3D-printed to maintain some of the classic characteristics of traditional chess kings, queens, bishops, knights, rooks, and pawns; and to provide a good home with plenty of space for air circulation and full body watering to their resident air plants. The chess sets come with the 16 x 16-1/2" board and 32 black and white planter pieces hand-padded with felt. You'll also get 32 air plants. Living Chess recommended plant care includes soaking the dry plants in their containers once every 7 to 10 days, climate dependent. Interested in original and craetive chess sets? Check our collection of top 15 original chess sets.
Chess is one of the oldest and the most popular game all over time. And we've already show you some really creative examples of chess sets – you can check all of them here. But today we want to show you another one – KNGDOM Chess by New York based designer Blank William. This black&white chess set is elegant and creative at the same time. So if you're a chess lover or have sophisticated taste – you have to see this set!
Take the game with you! Designed in Germany by backpacker specialists Sondergut, these hand-sewn genuine leather game boards are perfect for traveling – leather backgammon board rolls up to the size of a pocket umbrella. And it could be a great Christmas present! Whether relaxing on the beach, are in an airplane or at the hotel lounge, you can play backgammon almost anywhere – and with style. You can choose from the Roll-Up Chess Game, or the Roll-Up Backgammon Game, both sets include all the play stones you need for action, and when finished, simply store the pieces neatly into the zippered pocket for safe and reliable storage. Available in Mocha or Cream colored suede boards. Sounds interesting? You can buy this game here.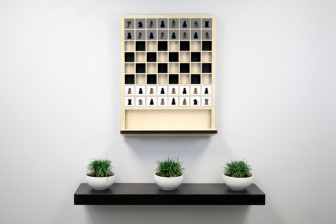 Chess is an intense battle of intelligence that requires great creativity, problem solving skills, foresight and risk assessment. As such, the game has become an iconic symbol of status and intellect. Mate by Sean Connell is a wall-hanging chessboard that symbolizes the creativity of the game. The board hangs vertically on the wall to provide a new and challenging perspective of the battle field. The design serves as a minimal piece of functional art that allows players to enjoy casual games without having a traditional board stealing table top space or collecting dust in the corner. Another advantage is that Mate fosters community or family involvement by allowing players and an audience to comfortably watch the game. Further, instructors can use the wall-hanging board to teach the game without forcing students to stand around a crowded table looking over someone's shoulder.
Mate is perfect for chess enthusiasts, casual players or discerning individuals. You cansupport this project on Kickstarter.