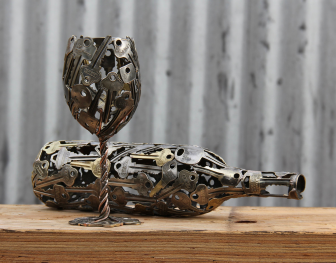 Even discarded keys and coins can be turned into beautiful art with some creativity and the right sort of know-how. Australian artist Michael (or Moerkey) does exactly that, turning discarded keys and coins into bottles, lampshades and other beautiful recycled metal sculptures. "When I was supposed to be cleaning out my shed, I came across some old copper pipe saved from a previous renovation. I cut it up into rings and started making it into spheres," Michael explains on his Etsy shop. "The first ones were a bit rough but once I worked out the technique I got creative. I'm a bit of a hoarder and searched around for all those old keys and copper wire, that were no longer needed, and got creative with them as well," he added.
Crafty Artisan Andy Gonzales makes these very cool and creative guitar picks from coins. The edges have been sanded and buffed to a glossy shine, preventing any decrease in string life. The nickel alloyed picks lend a unique characteristic to the tone of any stringed instrument. You can purchase them individually or as sets of 2 and 5. Every Coin Guitar Pick is unique and comes with a nice box for convenient gift giving.
Emily Brent from Columbus (Indiana, USA) creates rings from old coins. "Each ring starts with a hand-selected circulated coin and is shaped from the flat coin to a custom ring that retains all the coin's individual characteristics." You haven't probably seen steeper rings. The secret is that the coin after it turned into a ring, is still a coin. It's hardly to explain it with words, just look at pictures and all will become clear.