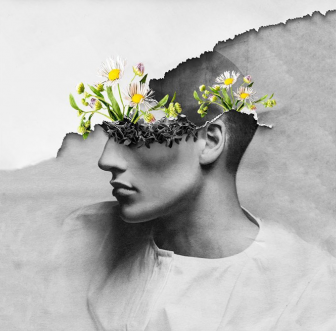 Collage artist Maja Egli creates surreal portraits by manipulating various posrtraits and plants to work together as complex unities. Most of her figures are incomplete, lacking some fullness of form; the few full figures that we do get are faceless. There is a dark beauty to Egli's work, as she often merges both black-and-white and color images in her collages. Take a look!
Today we will show you creative ant yet cute collages created by illustrator and designer Peter Clark. "Peter uses a comprehensive collection of found papers as his palette which are colored, patterned or textured by their printed, written or worn surfaces, with this media he 'paints' his collages. He shades with density of print and creates substance and movement with lines plucked from old maps or manuscripts. His pieces use mark-making in an innovative and humorous way to create a collection of beasts and clothing which exude character and wit." Today you will see dogs collection! Hope you will like it!
Today in category Inspiration we want to show you these creative images created by Calvin Ho from Hong Kong. The project was commisioned by Cartier and West East Magazine. The main attention on these crazy collages directed on watches and that is the most understandable part.