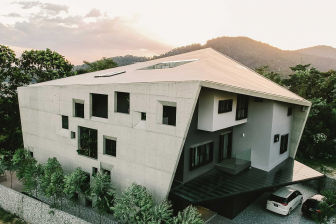 A faceted concrete shell punctuated by openings of varying sizes wraps around this house in Kuala Lumpur, which contains pockets of interior landscaping that create private outdoor spaces. Local studio Formzero designed The Window House for a hillside site on the edge of a forest overlooking the Malaysian capital. The architects' initial thoughts were to maximise the connection between the house and the adjacent forest, but the clients were more interested in the internal experience than the outward views.
Neighboring the Le Relais ski resort in Canada, the Villa Vingt is inspired by its sloped plot. The modern villa is nestled into a snowy bank, opening up fully to the north. Dark timber planks create the external facade, contrasted by a light-filled interior. At the center of the modern home is a double-height concrete wall. It not only creates a divide between interior spaces but also acts as an accent to the white walls. White cedar ceilings run out over the outdoor decks, adding warmth to both the interior and exterior palettes. A second story living area cantilevers over the landscape, floating above the ground level. Wrapped in glazing, the room is afforded sweeping views of the surrounding Laurentian hills. You might be also interested in Ultramodern Villa Ypsilon or Modern Countryside Villa.
Iranian architect Shervin Hosseini of Bracket Design Studio has recently completed the concrete-cast villa 131 in Urban Isfahan, Iran. The city itself is historically known as a garden city, a characteristic which waned under the increasing development and chaos that accompanies urban growth. Within this context, a slew of zoning restrictions limits the buildable area and envelope of the structure which challenged the studio to revive the garden culture in a contemporary environment. As a result of local ordinances, bracket design studio created a subterranean level in order to gain the required floor area for the client. The basement continues through the exterior forming a sunken yard space enjoying naturally privacy, acting as a natural sound buffer between the road and the house. The concrete structure itself exhibits a balance of solid and void, understood as a series of stacked cubes creating interstitial spaces that act as balconies, courtyards and light wells. All fenestration takes form of full height glass partitions that dissects the facade and lets plenty of natural light to the interior. On the inside, the same material palette defines the walls and ceilings. Hardwood floors and stair treads offset the hardness of the concrete in texture and feel while slender steel elements form monorail stairs and bridges that remain visually subtle. From every space, light and views from the sunken yard can be enjoyed from at least three various sides of the home ensuring constant natural light – openings are carefully designed to provide the appropriate privacy from specific angles.