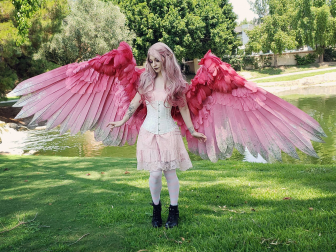 Alexis Noriega creates realistic feathered wings that extend with the flip of a switch, turning even the most mundane of outfits into creations worth preening over. Ranging from $35 for a small set of wings made from rooster feathers to $3,000 for large, dyed pheasant feather sets designed for models and beauty pageant contestants, Noriega's plumy adornments are in such demand that dozens of new orders are on hold until the end of January. With 120 hours put into each pair of super-sized mechanical wings, "it's become my life. There's a constant layer of feather fluff in the air at my house." Twelve-hour days spent glueing feathers individually on to lightweight frames to resemble actual birds' wings have all been worth it, says Alexis, if only to see the looks' on her customers' faces when they try on their first sets of crow, hawk, eagle or falcon wings. And be sure to check portraits of cosplay enthusiasts and Star Wars cosplayers.
18-year-old Angela Clayton adores historical fashion and costumery, taking her love one step further by sewing her own garments. The seamstress crafts long, flowing dresses fit for royalty and exquisite gowns that would make Cinderella the belle of the ball. Her projects take an incredible amount of skill, featuring complicated ruching, hand appliqué, and bodice forming. When each garment is complete, Clayton models her handiwork, taking on the look and attitude of the character who has inspired her. With such complex patterning and construction, it might surprise you to learn that Clayton began sewing only three years ago. Originally, she was interested in creating things for cosplay, since it combined her love of creating, makeup, photography, and dressing up. Since then, she has also translated her interest in history into garments that were worn many centuries ago, including the Renaissance and mid 1800s. Clayton is almost entirely self taught. Thanks to the Internet as well as some trial and error, she dove into the hobby head first. Despite her lack of formal instruction, she's not afraid to tackle the hard stuff. "If I want to create something," she writes, "I'll do something regardless of how complicated it is." This attitude will undoubtedly keep her learning and growing, leading her to her future goal of working in the costume industry. "I'm not sure what job would suit me best, but I know I want to spend my life doing what I love, so it has to somehow involve sewing and dresses."
Cosplay, short for "costume play", is a performance art in which participants wear costumes and accessories to represent a specific character or idea. Hidden behind the closed doors of our neighbors may live two different people. The person we see on the street, and the one who dons an elaborate costume to live an alternative life behind closed doors. Photographer Klaus Pichler takes us on a journey of people and their costumes with a look at both the real and the fantasy. The amazing costumes are made even more incredible by Pichler's careful framing of the pictures in home settings, bringing us a vision of both the costumed persona and the reality lives of his subjects. The combination of fascinating costumes and simple settings create stories more enticing than an in character shot. Have fun!