St. Petersburg based artist Vadim Stein identifies as a photographer, videographer, sculptor, and stage designer. His career as a photographer began shortly after his time at The Theatre of Plastic Drama, a Kiev-based company where he worked as both an actor and a lighting designer. Like dancers, the actors in such productions do not speak; instead, they must rely solely on corporeal movement and emotive music to communicate and express themselves. With comprehensive experience both on-stage and behind-the-scenes, Stein has undoubtedly incorporated his passion for movement in his photographic studies of dancers. The powerful pictures present dynamic dancers in motion. Solid, unadorned backgrounds and a stark, black-and-white aesthetic set a dramatic stage and place all focus on the featured figures as they theatrically twist, bend, and contort themselves into seemingly impossible positions. Some subjects are photographed alone, while others pose in pairs and passionately interact with each other. Whether dressed in discreet undergarments or flowing, draped dresses, the dancers gracefully showcase the strength, skill, and flexibility required by their craft – no words needed.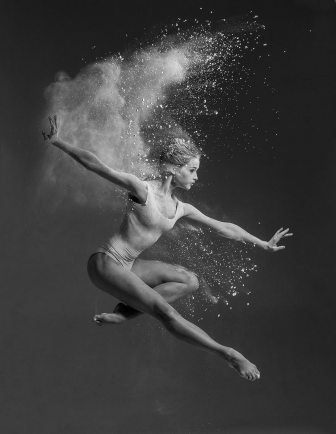 Moscow-based photographer Alexander Yakovlev has an amazing talent for conveying the elegant, refined energy of dancers. His stunning studio portraits capture dancers mid-pose, exuding a grace and power that is fortified by the primarily black and white aesthetic and clean scene compositions. Yakovlev's photography provides viewers the opportunity to fully appreciate the majesty of a moving human body frozen in time, each image radiating an intangible element that makes it hard to look away.
Brussels-based photographer Jeffrey Vanhoutte freezes extraordinary instants in time in these expressive shots of an acrobatic dancer leaping and twirling amid dynamic clouds of powder. The Belgian photographer captured these spontaneous shots for the creative agency Norvell Jefferson in order to market Netherlands-based powdered milk producer Friesland Campina Kievit's new creamers. "Friesland Campina Kievit's new sensational creamers are about to take over the world. To do so, a fully integrated marketing campaign was created by Norvell Jefferson. From a creative brainstorm, to a 2-day film and photoshoot, to wide variety of communication assets, Norvell Jefferson was responsible for concept, design and development. The sensory explosion of Friesland Campina Kievit's Creamers is featured throughout the campaign, leaving a worldwide impression." Individual particles of powder form incredible shapes around the dancer's body as she pulls off impressive feats of balance and nimbleness. Suspended in midair, frozen in motion, the model appears as graceful and elegant as a bird spreading its wings and taking flight.
Little Shao is a French Photographer from Paris. "I'm working a lot with dancers, models, actors, singers, and deejays, so I can say that my scope of people around me are mainly artists. My first step into the art world was in Dance as a Bboy in 1997. I'm a workaholic and don't need a lot time to sleep for regenerating which is, I guess, due to my Vietnamese background. I made it into one of the most famous Business Schools in Paris, and started working in Finance, but 4 years after I decided to quit my job in Finance in order to work only as a photographer." We represent to your attention some really wonderful dance photos of Little Shao. Enjoy!