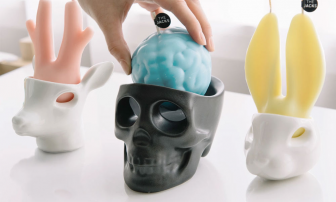 The Jacks is a new Kickstarter project from a team of graphic designers, artists and a sculptor that's designed and built to improve on the existing candle experience. The Jacks changes things by giving you a ceramic base in white or black that you "fill" with a brain candle in one of five colors/scents. Set the brain on fire to get pure cotton, lavender, vanilla, cocopalm or cacao scents permeating through your space – while the brain melts and drips out of the eyes like the skull is crying. It's a little morbid, but it's also incredibly cool and perfect for Halloween. They also have Deer and Rabbit options if skulls aren't your thing.
This beautiful and sculptural bookshelf by Finnish design firm beDesign is inspired by wild deer in the forest. It maintains a lightweight feel, thanks to its airy shelves. The shelf is perfect for storing books, magazines or small items. beDesign offers two versions of this shelving piece of art. The first one is made of solid oak and the second one is from metal and is available in two colors: black and white.
Young artists Linlin and Pierre-Yves Jacques have used 3D printing techniques to develop the wall sculptures out of white polyamide and gloss paint. Spectacular collection "Animal Lace" features wall sculptures in the shape of animal busts. By day, the strong white 3D shapes protrude out from the wall in a decorative display. By night, lights glimmer through the animal forms, and a dynamic energy radiates from the complex lace patterns in unexpected formations along the wall. Pierre-Yves says, "The process of creation with four hands and two minds is not that easy, but I think that's something we like. We love to confront our ideas, we hope this allows us to give birth to surprising pieces of art."
Take a look at these stunning zoomorphic chairs created by industrial designer Merve Kahraman. "Hybrid collection was inspired by the mythologies of parahumans. This anthro chair unions with its owner, merging into one. It is entirely handmade and available in different leathers. " Choose what chair do you want to have: deer or rabbit. And have fun!