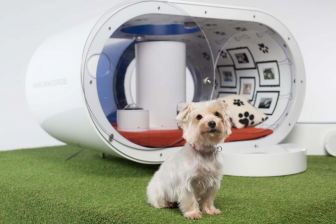 On display at birmingham's 2015 Crufts, the world's largest dog show, the Samsung "dream doghouse" is a one-off design, modeled by architects to create the most suitable and luxurious exterior and interior as possible. Costing a grand $30,600 USD and taking six weeks to produce, the elegant kennel is aimed for pampered pooches who can enjoy two indoor living areas – one for rest and relaxation, and the other for dining and entertainment. The inside features a "push-to-woof" call bell, themed wallpaper, framed portraits of family and friends, a contemporary skylight and even a operational snack dispenser. On the astroturfed outside area, the pet can use a specifically designed treadmill and a hot-tub spa. "The Samsung dream doghouse looks sleek and modern, featuring the kind of tech the discerning dog of the future will need," Andy Griffiths, president of Samsung Electronics U.K. and Ireland, said in a news release on Wednesday. "from dogs who have social media profiles, to owners who use video calling to check on their pet while away, technology is fast becoming an integral part of everyday life."
If you're a long-time reader, you may remember Dog Mansions by "Best Friends Home" we featured in 2011. Today we want to show you another creative dog houses. Judson Beaumont of Straight Line Design has cfeated a brand new series called "Pet Trailers". This collection includes four unique, dog-sized trailers, each fully customizable. Pet Trailers are made from environmentally-friendly materials, including recyclable aluminum, plywood and plastic. Check out more pics of these rad trailer-style dog houses (and that adorable doggie model) below.
The Six Hands dog house set is a beautiful piece of modern and minimalistic design. It's a combination of a shelter that gives your four legged friend a sense of their own space and a comfortable bed to lie and relax on. The wooden house or roof is made from Douglas Fir Plywood without any harmful stain or paint and due its size is ideal for small to medium sized pets. The bed is made from natural cotton canvas and water proof inner cover. All the pieces are handmade and both pieces can be bought separately. Great set, don't you think?
If you have a dog then this sofa will be very interesting to you. Korean designer min n mun created this "Dog House Sofa" which is a brand-new product in the 1st collection of the emotional pet furniture brand "m.pup." "As numbers of nuclear families are increasing, pets coexisting with people are establishing themselves as companions of people. Currently in South Korea, people are raising over ten million pets. Now, the residential space is not only for humans, but also for pets. Between humans' and pets' residential space, "furniture" took the largest and the most important position. This "Dog House Sofa" is a tool to communicate and share feeling between human and pet. As a pet's sight, this furniture is good enough for whetting the curiosity of pets. This sofa is composed of the solid wood(ash wood) and a fabric. And combining the sofa and dog house deliver the new space of communication between human and pet." Have fun!