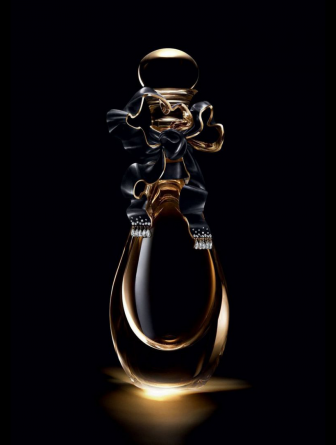 Victoire de Castellane, the renowned Parisian jewelry designer who's been charming everyone as the creative director of Christian Dior's fine jewelry division for many, many years, has just imagined an incredible bottle for the brand's new J'adore Exceptional Edition, a wonderful flacon blending 18th century design ideas with 21st century elements. This majestic bottle was specially designed to look like something that would have probably been hidden inside a piece of furniture from the Court of Versailles, away from a stranger's eyes. It looks like it's suspended in time and space, blending in tradition and innovation only to tease our senses to the limit. The ribbon decorating the amphora was able to transcend the universe of imagination using a special technique, with a layer of silver placed over a layer of rose gold. The two metals were bonded together before they were dipped into an oxidizing bath that blackens the silver, to add a special touch of patina to this jewel before you. Furthermore, each crystal amphora is mouth-blown by the master glassblowers at Baccarat, as only this prestigious crystal glassmaker could have come up with such a seductive result to match the fragrance. To top it all off, Victoire de Castellane handwrites the name J'adore on each flacon.
Every year Stranger & Stranger puts together a holiday gift that never fails to impress. More than just pretty packaging, though, their 2015 holiday gift is an experience for all the senses. The box is a meeting point of traditional elements like a gold frame and an ivory statue and more contemporary ones like nearly neon hues and an Escher-like interior. The label for the fragrance is designed like a combination lock, listing out the exquisite notes like birchwood and moss. An old-fashioned perfume sprayer adds to the vintage feeling, almost like the gift is being unearthed, and the black and glistening gold feel like utter luxury.
This small accessory will allow to keep your favorite fragrance near. Whether at sport, on an evening out, at work or travelling, the sen7 high-quality universal atomizer gives you the freedom to treat yourself to a spray of your favourite perfume and refresh your fragrance at your pleasure. The modern, no-fuss design makes the sen7 an attractive accessory which is a pleasure to hold in your hand and a classic unisex product. It was produced in solid cast metal, has attractive surfaces and colours, the patented innovative spray technology, the accompanying funnel for refilling. Enjoy!