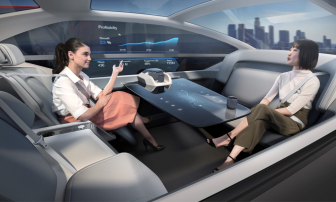 If car manufacturers are to be believed, the future of transportation is autonomous, electric cars that are almost completely hands-off (plenty of the concepts don't even have steering wheels). The Volvo 360c is one of those vehicles. According to Volvo, "Individual mobility needs will continue to evolve. We believe that the solution will be a switch to fully autonomous electric vehicles, changing the nature of the way we travel and the way we plan and build our cities." We're still not sure this is something we're entirely on board with, because we actually like driving cars, but there's something to be said for the convenience of being able to have a dinner party, sleep or get some work done while sitting in traffic on your daily commute – all of those things are possible with this sleek and spacious Volvo 360c concept. Don't expect to see this, or any other concept like it on the road soon, but it could be a very real option in the distant future. Also we would recommend you to check out posts about top 15 most beautiful сars of all time..
Toyota has presented its vision of the future at the Consumer Electronics Show in Las Vegas, with a "warm and friendly" user experience the defining aim of the project. Designed from the inside, out the Concept-i aims to be warm, welcoming, and fun creating an "immersive and energetic" experience for users with an advanced artificial intelligence system at its core to anticipate users needs and even provide inspiration. Over time the AI system will build a relationship with the driver that is more human than electronic, while also commanding the Concept-i's autonomous systems in concert with driver responsiveness to create a seamless safety net of support. Designed at Toyota's Calty Design Reseach studio in California, the Concept-i's AI system has been dubbed Yui, and offers a visual representation intended to cross cultural boundaries, anchored in the centre of the dash. Instead of a total reliance on screens to deliver information, the Concept-i provides visual communications via an advanced head-up display, footwell lighting which changes depending from purple in automated mode to green when manual control is selected, and projectors mounted in the rear of the car to project blind-spot warnings. On the Concept-i's doors, Yui can appear to greet approaching passengers, while the rear of the vehicle can display more than the usual stop and turn signals, providing messages that can worn about potential hazards. Up front information about manual or automated control can also be displayed, and to make the it more friendly and approachable the Concept-i can wink and blink its headlights, before casting its pivoting doors skyward to allow passengers in.
take a look at Renault newest electric concept, the Trezor. Fresh off of an unveiling at the Paris Motor show, the car has been generating a lot of chatter among the auto-press. The general consensus is that it's a more 'mature' vehicle, one befitting from the marque's recent streamlining of their primary product line under the command of designer Van den Acker. The fully electric car boasts a 260kW battery that puts out 360 horses and 282 pound feet of torque, allowing it to speed from 0 to 62 miles per hour in under four seconds. In addition to the all that oomph under the hood, the overall design of the thing is almost otherworldly. It is 15 feet long, 6 feet wide, only 3 feet tall, and instead of doors the entire top half of the coupe lifts up for occupants to get in and out.