Towering 30 meters (nearly 100 feet) above the ground, The Kelpies consists of a pair of enormous horse head sculptures installed by artist Andy Scott in Falkirk, Scotland. Scott spent a total of nine years designing and then assembling the sculptures on-site, crafting steel parts into intricate busts that allude to the legendary Scottish water spirit that takes the form of a horse. Colorful lights around and inside the steel works illuminate their magnificent shapes in the darkness, further enhancing the beauty of the Scottish landscape. For Scott, the project's location in his father's hometown of Falkirk, the cultural tale of kelpies, and Scotland's industrial past compelled him to take on the project as a source of national pride. "The artistic intent is built around a contemporary sculptural monument. Water-borne, towering gateways into The Helix, the Forth & Clyde canal and Scotland, translating the legacy of the area into proud equine guardians," he says. "I see The Kelpies as a personification of local and national equine history, of the lost industries of Scotland. I also envisage them as a symbol of modern Scotland—proud and majestic, of the people and the land. They are the culmination of cutting edge technology and hand crafted artisanship, created by our country's leading experts through international partnerships." Photos by dswainphoto.
Trojan horse is known since Greek mythology, where he is given access Greeks in the city of Troy. Now this horse called "Trojaner" has been recreated by designer Babis using resin and recycled keyboard buttons. Set on giant rockers, the sculpture is essentially a giant keyboard in the shape of a realistic-looking horse. Babis is trying to symbolize how tech gadgets and the Internet in particular have infiltrated our lives and our essence of being without us even noticing. He wants us to be aware and understand the implications of letting the Internet take over our being with his project Hedonism(y) Trojaner. Have fun!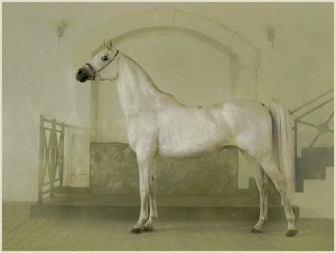 Photographer Wojtek Kwiatkowski probably the most famous horse photographer. He is an author and a publisher of books about Arabians breeding all over the world. "I have many years of experience in the field. I collect books and archival photos of Arabian horses. For about 25 years I've gathered a wide photographic record library of the breeding in Poland. But that was just a documentation of horses in a specific – standing, halter position. My adventure with artistic photography started 4 years ago when I bought my first professional digital camera." Have fun!
This 'Open Shoot' fashion photoshoot in retro glamour style was created by Michelle Matiyow and Lians from LM Studio, United States. The couple on in the shoot poses in stable and rich hunting lodge. These gorgeous photographies bring its own unique feeling and at the same time it enhances and do not obscures the clothes. Well done work!