Karim Rashid, who we've featured before, created a collection in collaboration with Lamborghini by Riva 1920. Entitled Authentic Living, the collection includes five pieces of furniture crafted with high-quality materials like solid walnut wood and buttery black leather. Karim designed the collection by heavily drawing on the design aesthetics and philosophy of Riva 1920 and Lamborghini: sinuous curves, sharp lines, state of the art technology, and attention to the smallest of details that are often unexpected and make the design.
A long time ago we've shown you interesting concept of space-saving furniture named after traditional Russian wooden dolls – [Matroshka]. It seems like this doll inspires many designers for creating interesting space-saving furniture. This time we want to show you new work of famous New York designer Karim Rashid – amazing set of furniture called Matryoshkarim. Using the same principle the shapes of furniture are put into one another. All the pieces are made of laminated veneer lumber called Kerto wood, which is made from Finnish Spruce. The colors are of natural wood, green and pink which one of the favorite colors of the designer. Matryoshkarim is a set of furniture is space-saving, stylish, ergonomic and eco-friendly.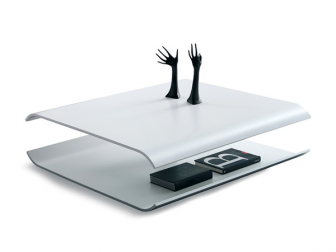 Coffee table stopped to be an ordinary furnitures item long time ago. And you can be sure in this fact only by viewing our posts dedicated to concepts of coffee tables – Coffee Tables Concepts from Svilen Gamolov. But you will be suprised how these concepts are close to reality. We've made a research and discovered that there are many creative and stylish coffee tables that are avaliable for purchasing. And in this collection we want to show you result of our work. Each table is provided with the link where you can buy it. So don't waste your time and jump into the collection. May be this post will inspire you to make a good Christmas present for your beloved coffee lover…
The world-famous designer, winner of many prestigious awards in the field of design Karim Rashid this time decided to try his hand at interior design. He developed the interior of pharmacy Oaza Zdravlja in Belgrade. Interior turned out an unusual, bright and a bit cosmic, as well as other creations of the designer. It's good innovation to transform standart farmacy interiors in creative ones.