The Audi Layer input device looks unbelievably futuristic. Combining 4 devices into a single form, this genius of a peripheral will literally be all you need to attach to your computer. The Layer comes with a flat track-pad that also becomes a tablet input when you use the stylus embedded within. Slide the track-pad out to reveal a complete tactile QWERTY keyboard underneath. Beside it (and occupying the most visual mass) is the ever-so-sleek mouse that absolutely slays with the Audi branding proudly engraved into it. Anyone who said touchscreens are the future never owned the incredibly versatile Audi Layer!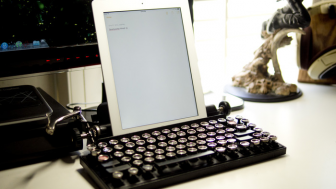 Qwerkywriter is a retro-themed mechanical keyboard that uses real typewriter keys making it, by default absolutely brilliant. Developed by Brian Min and now on Kickstarter, the Qwerkywriter was developed by Min using a Cheery MX keyboard system, he then added real vintage keycaps giving it that retro feel. The keyboard is designed to blend the old design of a typewriter with an advanced keyboard that'll work with computers, iPads and laptops. The Qwerkywriter includes a stand at the back of the keyboard as well as a "threading" feature which allows you to discretely thread the tablet's power cable through the keyboard. Using a mechanical keyboard allows you to easily swap out keys that get worn or, rather helpfully swap the keyboard between Mac and Windows configurations without having to buy an entirely new keyboard. Lovely idea and the realization, but the author promises a commercial product release until August next year. But you can invest money right now, saving on the purchase of $90. Check out the video to learn more about this vintage style retro steam punk mechanical keyboard.
Trojan horse is known since Greek mythology, where he is given access Greeks in the city of Troy. Now this horse called "Trojaner" has been recreated by designer Babis using resin and recycled keyboard buttons. Set on giant rockers, the sculpture is essentially a giant keyboard in the shape of a realistic-looking horse. Babis is trying to symbolize how tech gadgets and the Internet in particular have infiltrated our lives and our essence of being without us even noticing. He wants us to be aware and understand the implications of letting the Internet take over our being with his project Hedonism(y) Trojaner. Have fun!
French design group Orée has developed the "Orée Board" a bluetooth equipped portable wireless keyboard made from a single piece of premium maple and walnut. Each unit is cut into three sheets to preserve the wood grain across the shell and separate keys to minimize waste. Conceived as a universally compatible device, it works with any tablet, smartphone or PC. Sustainably sourced in southern France, the accessory offers elegant aesthetics to create a warm tactile experience for the user. The Orée wooden keyboard will be showcased at TENT during the 2012 London design week.