Curious as to what a Lexus vessel might look like, Toyota motors president Akio Toyoda decided to go ahead and build one. The Lexus Sport Yach is the result. Created by the Lexus Design Center and built by Marquis-Carver in Wisconsin, this 42-foot, eight passenger yacht has the same combination of power and luxury as the company's cars. It's powered by a pair of 5.0L V8 engines producing 880 total hp, enough to hit speeds of up to 43 knots, helped along by CFRP construction that saves more than a ton over a fiberglass build. The cockpit is home to a color touchscreen that lets the pilot monitor and control all aspects of the ship, and high-end finishes of leather, wood, and glass offer the same comforts you'll find in Lexus' land-locked transports. If you like it, you will surely like our list of the most expensive yachts in the world.
Lexus has unveiled an updated version of its Lexus LF-LC hybrid concept. The biggest change to the design is the new Opal Blue exterior color – according to Lexus, the new shade is inspired by the lustrous color found in semi-precious opal stones in the Australian Outback. The hybrid concept system named Advanced Lexus Hybrid Drive, features an Atkinson cycle engine which is mated to an advanced high-energy battery pack that is designed to deliver greater power from a smaller battery than those currently used in Lexus' range of hybrid vehicles. Combined, the LF-LC Blue concept's hybrid powertrain packs 500 horsepower, which is more than any other Lexus hybrid. LF-LC Blue is a preview of what the future may hold for sports cars.
Japanese auto-maker Lexus has introduced the LF-CC hybrid concept, a mid-sized rear-wheel drive vehicle, set to debut at the 2012 Paris Auto Show. Framed with a deep spoiler and a refined front end, the new model bases its form language off the LF-LC concept body, where LED projector headlights taillights reinforce the bodywork to highlight the newly designed surfaces. the interior integrates Lexus' human machine interface (HMI) technology development, with a look into the future of cabin and dashboard layouts. A multi-display touch screen is ergonomically positioned for at-a-glance viewing, allowing users to access the unique shift levers and controls. Based of a 2.5 liter 4-cylinder full hybrid powertrain, the engine incorporates a high-output, water-cooled permanent magnet electric motor for higher efficiency energy management and is capable of achieving CO2 emissions, targeted below 100 g/km.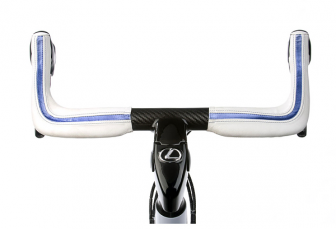 Japanese automaker Lexus has come up with a new hybrid bicycle concept. It supplements the rider's pedal power to the rear wheel with a 25.9V lithium-ion battery pack and a 240W electric motor driving the front wheel, making it both-wheel drive. The company says the battery of the Lexus Hybrid Bicycle requires around 2 hours for a getting a complete charge. Featuring a frame finished in carbon fiber, the hybrid bike makes use of an automatic eight-speed internal gear system to enhance your riding experience without leaving any carbon footprint.