Today we want to show 17 example of really creative makeup. Makeup artist Laura Jenkinson turns her lips into different cartoon characters. Some of them look really weird but interesting. And you should surely admit creativity and excellent execution. Check them all!
Flag is a popular element in fashion design, make up and creative photo sessions. In the following photos you can check how interesting could be combination of beautiful faces of models, colors of flags and professional make up. The following collection was created by photographer Henrik Adamsen for Danish ELLE. Take a look!
Moscow-based photographer Alexander Khokhlov working with makeup artist Valeriya Kutsan and retouching expert Veronica Ershova, Khokhlov manages to capture women and men as surreal versions of themselves, inspired by two-dimensional posters, comics, pop art, paintings, pixelated images, and cartoon characters. The project explains: "Valeriya used different techniques of face painting so you can see a lot of variations – from sketch and graphic arts to water-colour and oil-paintings. This is a combination of interesting make-ups, studio photography experiments and careful retouching." If you like these photos then you should definetely check his Weird Beauty series in which the models were dramatically painted in black and white.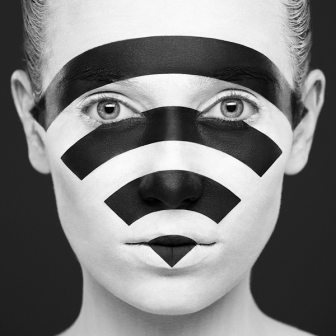 The "Weird Beauty" by Alexander Khokhlov project is made in collaboration with great make-up artist Valeriya Kutsan. In these series we decided to deny any color in our series except black and white to make more accent on forms and volume. The experiment should prove that usual simple forms, familiar things or characters can be a main part of wonderful beauty looks. Model faces in this project are not just canvases for the face-arts – they play their own role in each photo with different parts.