This unusual interior was created for Mood Swings Apartment Store in Moscow with the help of Fredrick Nilsby and Cyril Duva. The concept was inspired by Alice in Wonderland. There are four spaces divided by different types of wishes a fashion-savvy woman would look for: Simple, Classic, Funny and Avantgarde. These symbols of a woman's moods embrace the costumers from the minute they walk in.
There are a lot of versions in internet about when and how will be the end of the world. Have you ever thought about how our world will look after? What could happen with Moscow and New York after a nuclear war? Talanted Russian artist Vladimir Manyuhin aka mvn78 was able to convey to us his view of such world in his matte paintings. All illustrations were created using various graphic programs such as Photoshop and 3DMax. Looks very interesting.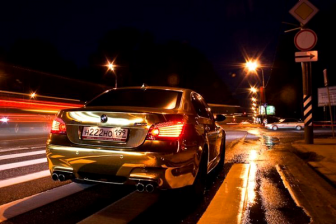 Everybody knows that in Russia bears walk around the streets and play balalaika. But it is something extra new that Russians use Golden cars. However, speaking about the Musical contest Eurovision 2009 that was organized stylishly in Moscow recently it's easily to imagine such phenomenon. Gold-filled cars are not new in the auto-tuning world. In one of the German museums a gold-filled Porsche boxter was exhibited. The difference is that while Germans exhibit these cars in museums – the Russians use them daily.