Some cars have a history. Some cars have a history that is so important they could be considered national treasures. OKV2 was the lead car for the factory Jaguar team at the 1954 Le Mans and was considered a heavy favorite to win — which it didn't do. The car was driven by Sir Stirling Moss and went back to the factory to become the development car for next year's race – which Jaguar won, along with the '56 and '57 races. A technical achievement and one of the most important cars in motoring history, D-Type OKV2 is expected to bring over $12 million at auction.
Berlin-based Urban Light Factory creates unique, vintage-looking lamps from the headlights of old vehicles. Taken from junked cars, motorcycles and even farm tractors, the headlamps are turned into tripod-based work lamps or hanging pendants. Although they're re-wired, their exteriors are not fixed up and repainted. Thus the lamps have fantastic character, revealing all the dings, nicks and scratches they sustained during their road lives. Their products come to you in wooden boxes made out of scrap and cut-offs. And the company has thought user maintenance through – with each lamp they send the custom tools you'll need to get it open when it eventually comes time to change the bulb. There's also a booklet with each lamp explaining that lamp's specific history, which is pretty neat.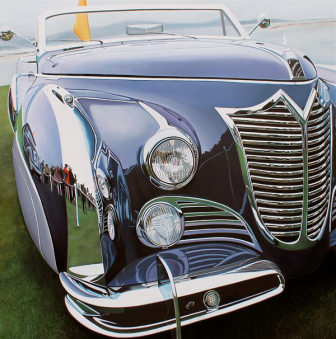 American artist Cheryl Kelley draws only old muscle-cars. Using high-gloss oil paints the Texas-based artist manages to capture the beauty of these iconic vehicles from a bygone era better than any camera ever could. The talented artist finds her inspiration at classic car shows and museums, where she takes high-resolution photos of vintage Chevrolets, Camaros or Corvettes that she later uses as guidelines for her impressive creations. Working with glossy oil paints on aluminum panels, Kelley is somehow able to reproduce not only the tiniest details of the vehicles, but also every reflection, ultimately producing masterpieces that look more realistic than their photographic references. "The first thing that I am drawn to is the beauty. I find myself getting lost in the reflections of beautiful cars when I stop at traffic lights," Cheryl says about her fascination with classic muscle cars. "These big engine cars, seemingly fueled by raw testosterone, were ironically most definitely feminine in form. As a twentieth century American icon, the muscle car is remembered for its speed and power. My paintings are about the feminine sensuality of the surfaces, the Mel Ramos-like perfection of female form," – Cheryl Kelley. Enjoy!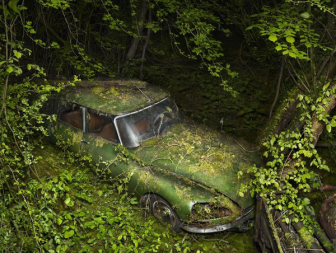 American artists Peter Lippman spent two years to find out places in forests where old cars rusts. In the series Paradise Parking photographer shows how nature takes over abandoned creations of human hands, how lying for decades old cars, overgrown with moss and ivy entangled, become a harmonious part of the surrounding space. Take a look!