The Macintosh 128K, originally released as the Apple Macintosh, was the first personal computer released by Apple. The Golden Apple by Love Hulten is a luxurious one-off-a-kind replica and a tribute to the 128k. It's handmade from American walnut instead of molded from plastics, but the dimensions are kept unaltered. And just as the original, the replica has a handle built into the top of the case for lifting. The Golden Apple has an up-to-date Mac Mini mounted inside, and the floppy drive has been replaced with a DVD reader. The custom made mechanical keyboard uses blue cherry MX tactile switches which are covered by gold plated key caps made from zink. A wireless mouse made from walnut completes the unique setup.
Swedish artist Love Hulten represents his newest creation – wooden computer 4M. "The tower's front panel and the monitor's frame are both made of walnut lumber. The menacing red orb in front of the 4M isn't an eye, although it really is a window to its soul." If you found this PC concept interesting then you should take a look to retro concept Philco PC also. Have fun!
Computer mouse – it's something with what we encounter every day. And it's very important that we get pleasure from its use. In this collection we've tried to gather the most stylish and interesting in our opinion mice and even a bit of creative concepts. We hope this collection will facilitate your search for the "perfect mouse".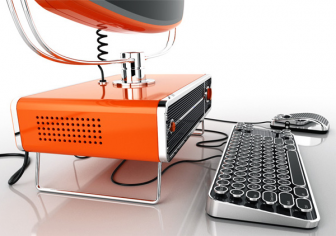 It's really a new life for retro style. Almost every designer have in their portfolio something in retro style. Even if it's a concept of PC. Created by design studio SchultzeWORKS this stylish computer was inspired by the 1954 Philco Predicta television. Keyboard and mouse are created in the typewriter style but also have steampunk features. Besides its retro look Philco PC runs on Windows 7 and all its specs are modern. This bright PC is not for everyone and certainly can't be mass-produced. But it will find its fans for sure.