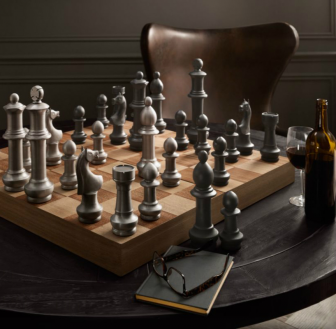 Brought to you by the team at Restoration Hardware, this Giant Vintage Aluminum Chess Set is absolutely gorgeous. More than just a tabletop game, this is a striking visual statement. Each oversized piece is constructed from sleek aluminum, and the board is crafted from equally beautiful inlaid wood with a stained finish to complete the look. The board measures in at nearly 30 inches, while the pieces range in height from 5 to 8 inches with an industrial finish on the lighter pieces, and a darkened metal finish on the dark pieces. As with all things made by RH, this thing will cost you. The vintage set carries a retail price tag of $399. Interested? You can this set here.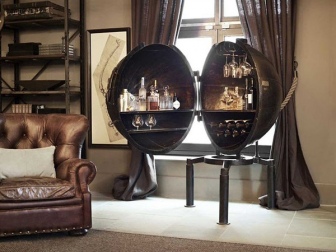 Dating to the 1920s, a former light bulb-testing machine has been ingeniously repurposed as a bar cart to shelter spirits, wine bottles and hanging glassware. The original, nearly a century old, was salvaged from a factory in Germany. Crafted of iron, a hinged segment opens to grant access to bottles and barware, while the small hatch opens, too. Surely this US$1995 masculine-looking bar would make an awesome addition to any bachelor pad or man cave! Want to own such unique bar – visit Restoration Hardware.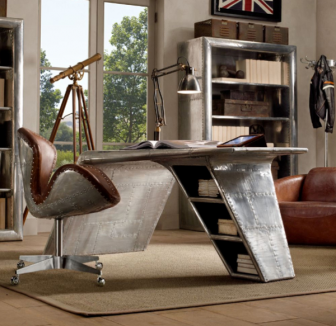 We've already shown you stylish Aviator Chair inspired by World War II bomber planes. And again Restoration Hardware amazes us by newest Aviator Wing Desk. This time the furniture item was inspired by streamlined World War II fighter planes. The desk is a "shining swoop of metal, its shape mimicking the bent wing of a plane. Poised as if for take-off, it features a polished aluminum patchwork exterior accented with steel screws, built around a solid hardwood frame. Three canvas-lined shelves offer ample storage." If you enjoy planes you definetely should pay attention to such furniture!