Designer Kovács Apor represents design concept of Samsung Galaxy Gear Edge Smart Watch. " Designed with multiple straps to match any outfit. You can attach your smartwatch to your seat belt and use it instead of any bluetooth device while driving. Forget the ugly conference name tags ruining your look, just display your name on your watch and snap it on your pocket. Please note, that this is a creative concept and idea based on an existing device of Samsung. We imagined and created a design for a smart watch that perfectly matches the Samsung Galaxy Edge." Take a look!
Samsung Galaxy Gear lets users to live in the moment while staying connected to their Samsung Galaxy devices. It notifies users of incoming messages, such as calls, texts, emails and alerts, delivers a preview of those messages and creates the opportunity for users to accept or discreetly ignore those messages. When an incoming message requires more than a quick glance, users can simply pick up their Samsung Galaxy devices and the smart relay feature will instantly reveal the full content on the screen. The built-in speaker allows users to conduct hands-free calls directly from the gear, maintaining connections to their mobile communications without disrupting their daily routines. For example, a user leaving the grocery store, whose hands are full with shopping bags, could still make a call by speaking into the Galaxy Gear without touching the screen. Users can also draft messages, create new calendar entries, set alarms, and check the weather on the galaxy gear with S voice. Weighing in at 73.8g the Samsung Galaxy Gear Smartwatch is voice operated, boasts a 41.4mm colour screen, a 1.9 megapixel camera, apps, and much more. The watch will be launched in jet black, mocha gray, wild orange, oatmeal beige, rose gold, and lime green.
A very futuristic and very original mobile phone was offered by South Korean designer Bon Seop Ku from Samsung company. The device is called AQUA and it looks like it really consists of water. Designer found his inspiration on a wet table, where he thoughtfully drew different figures by his finger. As a result he got a concept Samsung AQUA together with a graphical user interface and water-based display. It is assumed that the user can remove icons from the panel by simply rubbing the display with their hands. The cellphone runs on liquid type battery that apart from being eco-friendly supports the transparency of the screen as well.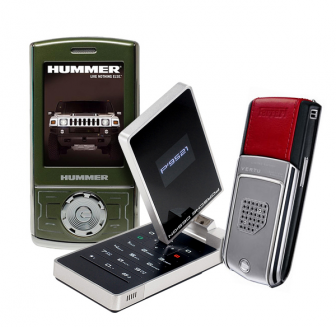 Continuing the theme of cooperation car brands with various industrial companies we want to show you ultimate collection of beautiful cell phones. Featured below phones are result of hard work of designers of luxury car brands and well-known mobile companies. Apart of using expensive materials these cell phones have interesting design and some additional non-standart options.