The Laufen sink designed by Kovacs Apor and Hunap Studio from Budapest, Hungary just looks unusually pretty. The kind of prettiness that makes you curious; and that's a good thing. Designed to look like it was dented by a heavy person sitting on it this ceramic sink-cum-cabinet is sure to gather second glances, if not thirds and fourths!
Picking the right sink it is maybe the most important part when decorating the bathroom. Because most of the time spend in the bathroom, we spend it right above the sink. In this post we presents to you the most stylish and creative sink designs we came across from around the web. From glass sinks to wooden and sinks made from actual rocks. We gathered some amazing ideas for everyone's taste. And the most important we've gathered designs that were created not so long ago and you can easily say that they bring brand new ideas. Have fun!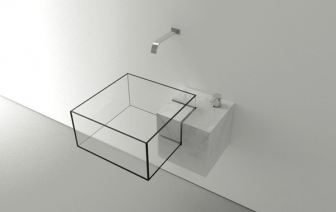 This minimalist bathroom sink was created by Bulgarian designer Victor Vasilev, who studied architecture in Copenhagen, Denmark, and currently lives in Milan, Italy. His portfolio reveals a modern-minimalist approach, with each design having its own twist. An elegant carrara marble stone, employed to enhance the product's visual appeal. An interesting junction of geometric shapes occurs, which seems to be the basis of the design concept. Kub Basin comes with faucets and fittings, their subtle presence being a perfect match for the glass sink. The project is also available in a highly intriguing version for two. The carrara stone can be cleverly used as storage space, blending its aesthetics with a high dose of function.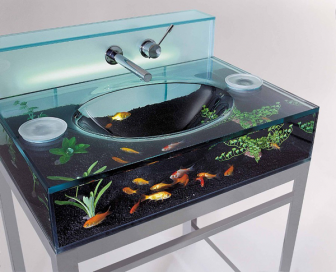 The site of exclusive products for the home Opulent Items is offering shell-tank for the bathroom called Moody Aquarium Sink. Its internal decoration can vary by a removable top. Еhere are two circular entries on each side еo feed the fish. It's also equipped with a sink water filtration system, water circulation and oxygenation, and lighting. Price is $4,500.