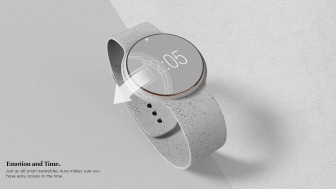 AURA by Pritika Sekar is a twist on wearable tech that isn't focused on your steps or trying to help you build muscle, rather, it's aim is to help you master your mental fitness! Designed for anyone struggling with mental illness, depression or distress, it uses biometric sensors to detect stress, anger, sadness and happiness. You can gain perspective of your current mental state by looking at the e-ink display that looks much like a simple watch face. Your overall data history can then be reviewed over time to track the moments you were experiencing different emotions in order to make informed behavioral or situational changes. Also check another great example of smart watches.
This smartwatch designed by Maik Lippe recognizes this trend and offers the user a modular solution that can continue to be upgraded over time. Each technical component from the face to the "half straps" can be updated, including a half strap that houses a flexible battery to save space and give the face a slimmer profile. The sensor array at the back of the watch combines a number of sensors like heart rate, photo-spectrometer, blood pressure and more.
Casio has been an essential watchmaker for years, and now they've finally entered into the Android Wear market with the Casio WSD-F10 watch, a watch that's rugged and packed with the latest tech. The Smart Outdoor Watch WSD-F10 is not unlike the company's popular G-Shock series of watches, as it's meant for outdoor use. While Android Wear is the operating system, the watch also has an analog watch mode that should last around a month on a single charge. The watch's biggest features are that it's water-resistant to 50 meters, meeting the U.S. military's MSL-STD-810 standard – which is impressive – and it is packed with a pressure sensor, compass, and accelerometer. Unfortunately, it doesn't have a GPS. The screen is similar to the original Moto 360 , sized at 320 x 300p and it has a flat tire, but it's hardly noticeable. What will be noticeable is the gargantuan watch itself, with dimensions of 61.7mm x 56.4mm x 15.7mm. It's a rugged, bulky device that comes in orange, black, red, and green. Its dual-layer LCD screen has a monochrome mode that basically turns off all "smart" features, turning it into a basic digital watch that can last up to a month on a full charge. This let's you utilize battery power for its smart functions only when you're using those functions. Along with your standard Android Wear features, what makes the WSD-F10 special is that Casio has developed special "tools" that offer quick access to the device's sensors – letting you take a glance at information such as altitude, compass direction, air pressure, and sunrise and sunset times. The watch has dedicated buttons to access these tools on the side. And to further support the watch's purpose, the WSD-F10 will come with preloaded apps including MyRadar, RunKeeper, Yamap, and ViewRanger. The Smart Outdoor Watch WSD-F10 will retail for about $500 , which is pricey. The company plans to launch the smartwatch in Japan and in the U.S. toward the end of the first quarter of 2016.