All Aston Martin road cars posses some sporting DNA from their countless race wins in GT3 and GT4 categories, but the luxury brand's "Vantage GT8" draws directly from that knowledge and passion to deliver something altogether more overt in looks and ability. Heavily influenced by the 2016 Aston Martin "V8 vantage GTE" race car, the latest model is the lightest and most powerful "V8 Vantage", with a dramatically sculpted carbon fibre bodywork shaped by race-bred aerodynamics. Powered by a 4.7 litre V8 with a choice of either a six-speed manual or seven-speed "sportshift" paddle shift transmission, the car is tuned for track-focused agility. Wide-bodied, the "V8 Vantage GTE" features extensive use of carbon fiber with the front splitter, front and rear bumpers, fenders, side sills and rear diffuser all fashioned from the lightweight material. "Road cars are our business, but racing is the beating heart of Aston Martin," explains CEO dr. Andy Palmer. "The Vantage GT8 expresses that combination perfectly: an authentic and unashamedly extreme road car that draws directly from our le mans racing programme to amplify the inherent dynamism that has long made the vantage such a fine sports car. Beautifully engineered and set-up to be equally at home on a fabulous road or a demanding race track, the vantage GT8 is a driver's car in the truest sense of the word.'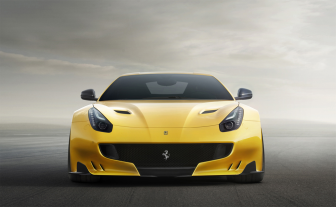 Ferrari reveals the "F12 TdF" which pays homage to the Tour de France, the endurance road race that they dominated in the 1950s and 60s, particularly with the 1956 250 GT Berlinetta which won four consecutive editions. The special edition is limited to just 799 examples worldwide. As expected, more power has been extracted from the F12's 6.3-liter V-12 for the new special edition. Ferrari quotes an output of 780 metric horsepower, which for the United States translates to 770 hp. Peak torque, meanwhile, registers at 520 pound-feet. Even a cursory glance will tell you the F12 tdf looks radically different to the F12 Berlinetta. That's because the special edition benefits from a wider track and an assortment of aerodynamic aids that help boost downforce. Ferrari says the F12 tdf produces 507 lbs of downforce at 124 mph, almost double what the F12 Berlinetta is producing. The engineers have also installed a new rear-wheel-steering system that Ferrari calls the Virtual Short Wheelbase. It is integrated with the other vehicle dynamic control systems that help with cornering while also increasing stability at high speed. The 0-62 mph time is just 2.9 seconds and the top speed is in excess of 211 mph.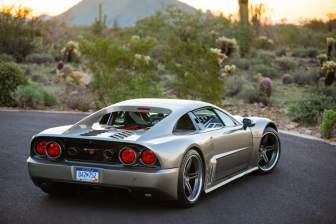 Check made in Detroit the Falcon F7. A super lightweight monocoque chassis built from aluminum, carbon fiber, and Kevlar combines with a Lingenfelter-built twin turbo V8 pumping out 1,100hp to give it a 0-60 time of just 2.7 seconds, a top speed over 200 mph, and lateral acceleration over 1g. Other features include a six-speed dual clutch transmission, Brembo carbon ceramic brakes, an in-dash iPad mini for music control, and a removable targa roof panel. Price tag is $195.000+.
Welcome new guest in supercar family – the Rezvani Motors Beast. DDM Works, the company responsible for the Ariel Atom, contributed much of the ingenuity behind both the Beast 300 and Beast 500 models. The 500 is named appropriately for its high output 2.4-liter supercharged engine that delivers 500 horsepower, while the 300 offers a 2.0-liter four-cylinder that churns out 315 horsepower. The Beast also benefits from a carbon fiber body, with both models weighing in under 1,600 pounds. The concept of the Ariel Atom acted as a basis for this new project, which aims to address buyers that want a full track-ready machine with the look of a modern supercar. Over the next few months, production will be beginning for Rezvani's two models, clocking in with a base price of $119,000 USD and $139,000 respectively for the 300 and 500.