At the start of the year, Elago took us back to 1984 and the birth of the original Macintosh computer with a quirky stand designed for the Apple watch. Now, the tech-design brand returns with an expansion to the nostalgic product line, introducing the 'M4' stand for the iPhone. Compatible with 6, 6s, and 7 models, the small silicone product firmly holds a smartphone in place, cleverly turning its screen into the display of a beige or black retro Mac. The object is modeled after the now-retro Macintosh desktop computer that first made waves back in 1984. Users of the Elago 'M4' can easily insert an iPhone 6, 6s or 7 into a snug slot on the side of the small-scale stand, which has been made from high-quality, scratch-free silicone. The unit not only protects devices, but also prevents damage to the surface that it rests on. Openings allow easy access to the volume bar, while cable management enables the ability to charge an iPhone while it rests in the stand. users can conveniently use the 'M4' as a companion to watch videos from, or pair to a keyboard for hands-free use.
Another clever stand for iPhone and other smartphones. Called iDUCK it's fashioned as a duck beak in a bright orange color. It features many options. Stick it on to the back of a phone, storage earphones in the hollow of the beak or use it as a cool keychain accomplice. Simple, creative and positive. If you want you can buy it here for $19.90.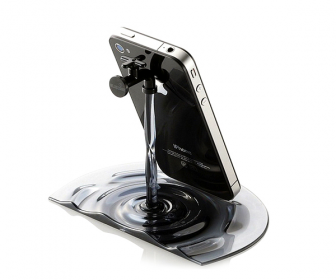 Due to the popularity of Apple products there a huge range of various accessories for iPhone and iPad. Today we want to show you creative stand created by Japanese studio Nendo. This original stand "Jaguchi" for iPhone and iPad was made in the form of a crane with flowing water. Stand is made from polycarbonate and available in four colors: white, black, blue and colorless.