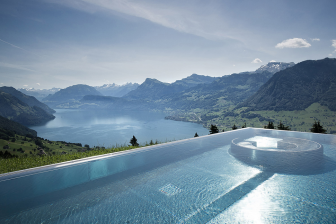 As swimming pools get built, new standards are being set in luxury, comforts and amenities. With infinity pools having become mainstream, the trend is to have pools in unique locations such as skyscrapers. Here are 12 of the world's most extraordinary swimming pools.
In the world of music in general and violins in particular, the name Stradivarius is sacred and revered. And here is a homeowner who has showcased his love for the 1700s era Stradivarius violin in a whole different fashion. This violin-shaped swimming pool is perfect replica of the Stradivarius and was built with great care and precision by the folk at Cipriano Landscape Design & Custom Swimming Pools. Complete with f-holes, a bridge, strings, a tailpiece, and a chin rest, the replica pool is as close to the real thing as possible. Great, huh?
Interesting idea, great talent and 6 hours under water. This is all you need to create such photos. And this is how it was created by photographer from United States Tim Tadder. It was "one of the hardest and most fruitful shoots yet" for Tim. Hope such talent will allow him to create more such creative photoshoots.