Let us show you beautiful collection of contemporary fine porcelain sets by Heinrich Wang that will be shown at La Triennale di Milano from April 17 to 22, 2012. "The unique style of the collection transcends global fashion boundaries and embraces both the confidence of a new century and the spirit of an ancient civilization." Wang refers to Chinese philosophy, legends and symbols in his works and 'raises the issues of inner peace, enlightenment and self-improvement." Have fun!
Tired from ordinary tea sets and can not find something really interesting? Take a look at this creative tea set called "Nasty Set" created by designer José Paulo Alves Corceiro. "The sets of china do not have to be boring. This is an image that recalls the iconography of comics and animated films, making a pot of tea and two cups into disconcerting characters. The entertaining aspect of the objects wants to attract younger and older people, questioning them about their relationship with classic references as a set for tea." Would you like to take a tea from such tea set?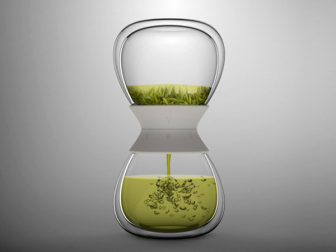 You will love the following tea set called "Tea-time". Designer Pengtao Yu created simple but yet convinient set combining of tea leaves, water and steeping time! You put tea leaf and hot water into first part of "Tea-time", twist the timer to set the steeping time and the ready tea slowly trickles down to the bottom beaker. The timer/filter hold back the leaves and your cuppa is ready to sip! Simple? Yes. Convinient? Absolutely!