Today we want to show you really creative poster ads created by advertising agency Rhizome, Seoul for Kumho Tires. Each poster has a title: Design For Aqua, Design For Modern Comfort, Design For The Wild, Design For Performance. The goal was to show that you won't find better tires for modern life and any landscapes than Kumho tires. And after viewing these posters you will surely think so. Take a look!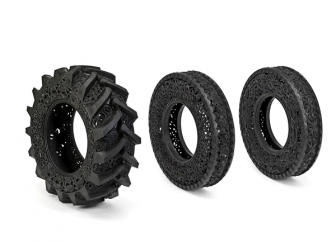 Talanted and multi-faceted artist and decorator from Belgium Wim Delvoye has created a collection of amazing decorative tires titled "Pneu". This collection contains used car tires with hand-carving intricate patterns and floral motifs on their surface. Delvoye's own personal way of describing his artwork in an ironic fashion is "glocal", referring to a combination between "local" and "global". If you're interested in creative recycling don't forget to check sculptures from car tires – Mind-Blowing Tire Sculptures by Yong Ho Ji. Have fun!
Tires recycling isn't a problem for Korean artist Yong Ho Ji. He uses tire strips and synthetic resins to create unusual sculptures. Along with sculptures and busts of familar animals this collection contains hybrid animals and hybrid humans. The sizes of his creations vary from an eleven inch high dog to a goat with five feet tall horns to a ten feet long shark. "Ji's work became famous after it was exhibited at New York's Gana art in 2008 and since then has been shown around the world. To use recycled tires in his art form was a conscious decision by him as he wanted to make things which subtly conveyed the message about humanity's responsibility towards nature and its conservation." Have fun!