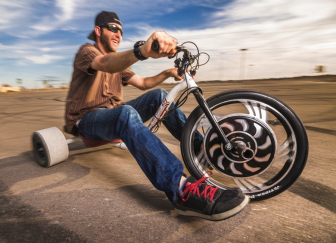 You can now buy an electrick drift trike from Local Motors! "An electric-powered drifting tricycle for adults. Sturdy construction. Unique style. Hillsides NOT required." A traditional Tricycle design, typically with a 20″ front wheel on a BMX fork, with rear wheels consisting of go-kart tires lined with 10″ PVC or HDPE pipe. The plastic sleeve allows for super easy drifting, even at low speed, due to the lack of traction. This sport started out with downhill runs, but is starting to evolve into flatland electric powered racing.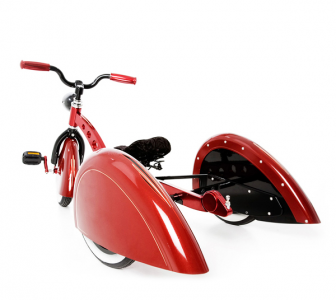 Company Kid Kustoms aims to make a tricycle, rather a children's tricycle, a source of pride, both the child and his parents. This tricycle called "Enzo Trike" comes with a huge list of accessories including a deep aluminum tub fixed to a single axle and custom billet disk wheels, or the matching 52 spoke wheels. Crafted from the finest material available and certain to become a family heirloom, the trike features interchangeable fenders with functioning brake lights, custom pedals, headlights, exhaust tips and grips to make sure no two trikes are alike. The special shape of the wings and frames, headlight, and other design decisions, force these tricycle to look very special. You'll be able to make your child happy for $950. You can buy it here.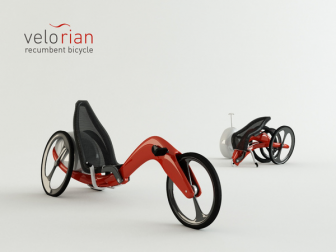 Created from carbon fiber and aluminium this stylish Velorian trike was designed to make it transport easier and for space saving. Its creator designer from Lithuania Mantas Palaima assures that this big and comfortable trike can be folded down to 1210 x 530 x 755 mm within a few seconds. This trike is highly stable thanks to the fact that rear wheels have 10 degrees of camber. "Because of split handlebar and track rods this recumbent steering became simple even for beginners. The seat designed to smooth out or damp shock impulse." So don't stop and check this elegant and interesting trike out.