Nowdays wallpapers look little "old-fashioned". And other solutions become more and more popular. We've already shown you a few variants of wall decoration such as Kids Room Decoration from e-glue or Modern Photo Wallpapers by Eazywallz. In this post you will see beautiful steakers from Not On The High Street which are a fabulous way to make a space pop. In their collection you will find creative steakers as well as elegant ones. Take a look at these beautiful typographic prints that looks great on walls!
In comparison to wallpaper mural of the 1970s modern version of wall treatments looks modern and will suit those who prefer the professionally designed look. Today's wallpaper murals allow designers and homeowners to turn personal photos, fine art prints, natural images and scenes, or patterns into wallpaper murals. The following collection was created by paper designers Eazywallz. There are no size limits and the images can be applied to bureaus, closets, and other large voids.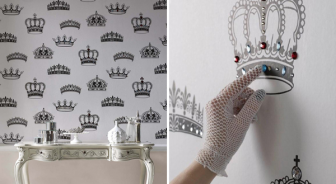 This bold black and white wallpaper collection "Crowns and Coronets" created by UK-based company Graham & Brown was inspired by the highly anticipated royal wedding. "In celebration of the forthcoming Royal Wedding Graham & Brown are proud to present Crowns and Coronets featuring a right Royal riot of regalia. Designed to be fully interactive so you can get creative and Jazz it up with our 'Royal' Jewels – glittering self adhesive jewels that allow you to create your very own tribute to the happy couple."
There are many ways to make your interior stylish and unique. You can decorate walls by stickers. Or use the ideas of the Swedish designer Kicki Edgren Nyborg. Along with wallpaper decorated with colorful illustrations collection contains multifunctional wallpapers. In addition to the stylish wall decoration such wallpapers can serve as a shelf or hide a small lamp from the eyes. The wallpapers are quite unusual. Perhaps your decor needs such unusual.