Polish design studio WAMHOUSE recently has created the new armchair "Przelany". At the first look it looks more like a digital art piece than an actual armchair. The chair seems to be modeled after a pot pouring out coffee – the main chair is shaped like a pot and the way the back of the seat sprays out like a splash of liquid is slightly unreal. The spilling back of the Przelany Armchair is designed two colors – chocolate and red. Take a look!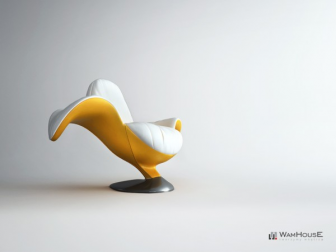 This modern is inspired by and looks like a banana. It's actually named Zjedzony, which means "eaten" in Polish. Luxurious and soft chair design brings original aesthetic and functionality into room decor, offering a comfortable shape and a cheerful color combination. Modern chair design by WamHouse continues the tradition of creating food inspired modern furniture pieces that add fun to interior decorating. Take a look!
Modern and creative armchair "Paszcza" created by Poland-based design studio WAMHOUSE boasts a boldly red cushioned seat that furthers the tongue analogy. The seat in the form of tongue is contained in a solid circular embrace that is simple, sleek and contemporary. Such creative armchair will perfectly suit to the interior of design studios, photo studios or modern fashion salons, or even can be a bold decoration of your home interior. Take a look!