Marija Tiurina is a London-based illustrator & concept artist, she takes fresh fruits and vegetables and turns them into unique watercolor characters, we must say, they look absolutely magnificent! She states what inspired her the most was the mind-blowing selection of fruits and vegetables in a greengrocer in London: "I have been picking green foods that I found intriguing and inspiring and creating characters based on those. Easy!" Check out these gorgeous illustrations below! And don't forget about stunning paintings by Dennis Wojtkiewicz.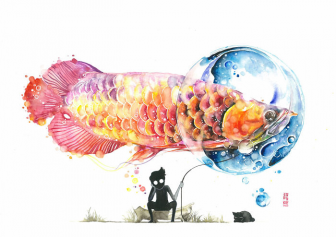 Today we want to show you beautiful watercolors by Luqman Reza. "Luqman Reza or better known to the world as "jongkie" is an artist & illustrator from Kota Wisata Batu, Indonesia. He has gained recognition and appreciation on social networking sites such as instagram for his unique style of expressive illustration which he does in watercolour. His unique style is exemplified as a result of him not merely replicating the reference picture he is using but adding his own imagination and signature style which he has named the "magic effect". Jongkie describes his work as "fantasy world". This is evident through the concept, message and styles captured in each piece of work he produces. Jongkie says "I want to share my vision and inspiring people by illustration." Jongkie never imagined he would be able to turn his hobby and passion into a successful business. Yet, his dream became a reality when more and more people began noticing his work. He now works on a multi-global basis corresponding with different people world-wide as a result of the interest for his work. Prints of his artwork are also available on request."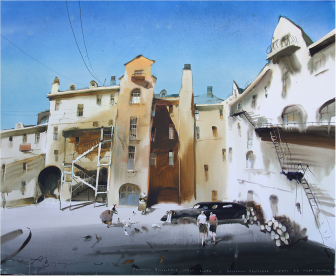 Today we want to show you some impressive watercolor artwork. The artist is nothing but a genius and a living legend – Alexander Shumtsov/Votsmush. His watercolors are full of life, energy, depth, narrative and humor in some cases. Votsmush's grip on the medium, mood, subject and overall context in every single piece is mesmerizing making you feel as if it is not painted on paper with a paint brush but with a magical wand. Enjoy!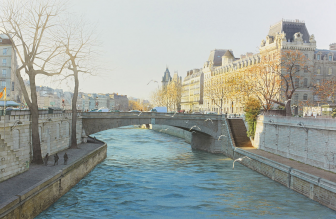 French watercolorist with an impressive talent for capturing city life Thierry Duval was born in Paris, France in 1968. He is one of the best watercolor artists of the moment. His watercolors are characterized by a strong light and precision in drawing, being almost or hyperrealism in the results mainly in his Paris watercolors. By using glazing technique he works in several steps up to get the final, very realistic result. Thierry enjoys photographing the Seine in the early morning, he likes to filter light below decks, roofs gleaming in the rain, the silhouettes of majestic monuments that arose at the turn of an alley, the sounds of Paris, barges, markets, cafes. He likes to observe these lonely passers on the Pont des Arts, he likes to soak up the fall in Paris. This photographic work, nourishes and inspires him in his painting: this leads to the realism of a Paris dreamlike, poetic, nostalgic and timeless. If you love Paris you'll find these Paris watercolors irresistible!