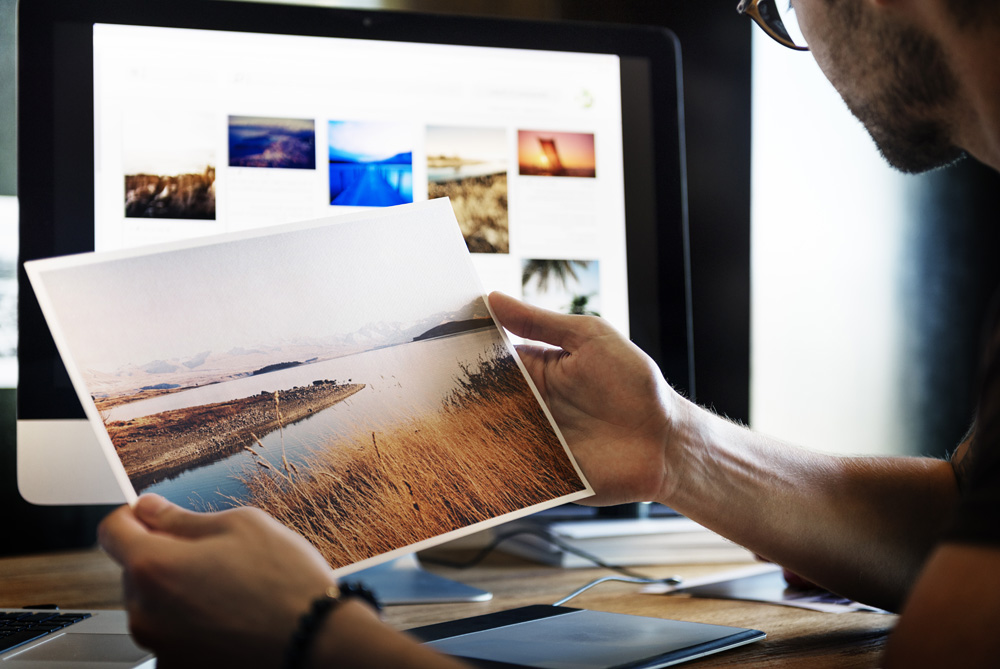 In this article we will tell you about how to make a online portfolio without any special skills in web development. In fact, there are many information in the web on how to create a site for portfolio by yourself. But we will be honest with our reader – if you're not a professional web developer, if you're not an experienced web designer then you should leave this idea since you will get nothing worthy. You won't be able to quickly create a good online portfolio on WordPress. And here the best solution will be using portfolio website builder. By the way portfolio builders is not the only one solution to publish your portfolio online. You can publish your portfolio on such special sites like Behance and DevianArt, you can publish in social networks, but the best solution, of course, is to have your own portfolio site on your own domain name. And for this purpose portfolio builders are the best suitable. This is a special online soft allowing to quickly, easy (and very often even free) make an online site for artist of different niches: designers, photographers, sculptors and other artsy people. Website builders – is the easiest way to make a site for publishing a portfolio – both photo and video. Modern portfolio online builder have easy-to-understand web interface, they are SEO friendly and easily integrated with social networks. So, you will be able to share your works or photos both on your site and in social networks. Also, the best web builders allow to sell your works directly from your site-portfolio. Also other our post – 15 Best Free Website Builders – can be useful for you if you want to create your own website. And Best eCommerce Web Builders will be useful if you want to create online store.
Since, there are many website builders, we've selected the best, in hour opinion, website builder suitable to make online portfolio. While choosing we guided by the following factors: quantity and quality of web templates, functional opportunities, drag&drop editor, easy to use. So, here are 10 best online website builders:
WIX [ build online portfolio]
If you are a photographer looking to create a beautiful website that will best showcase all your photography work, then one of the best options for you is www.wix.com. This is a website builder which lets you choose from a wide range of pre-designed website templates, customize them according to your needs and then upload your pictures and get the best out of it. It's an easy do-it-yourself process and completely free of charge. Not only is it an easily achievable feat, with the help of Wix, you'll have fun creating your new website as well. It has got in-built image editor, which will help you enhance, edit and retouch your pictures for your photography site.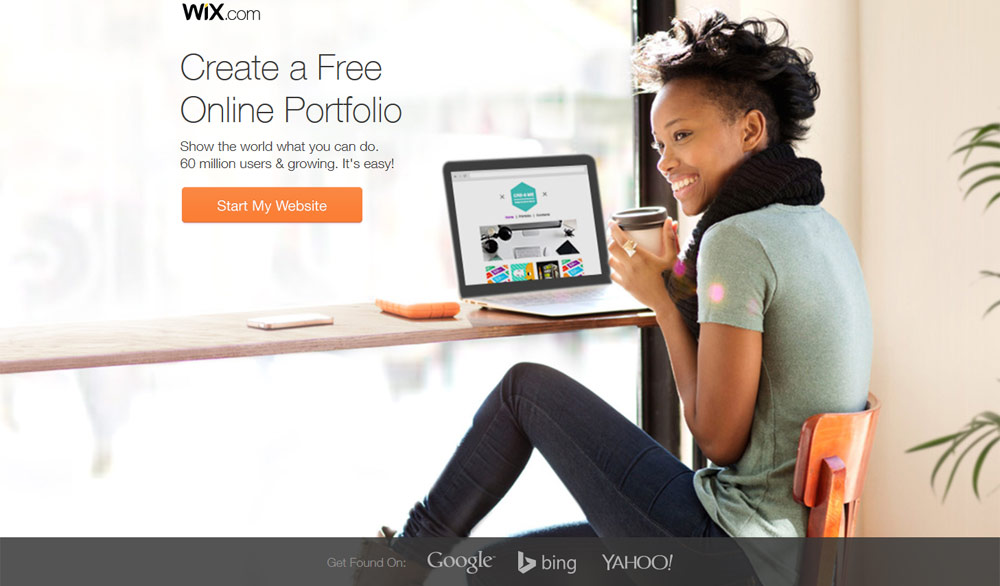 Websites dedicated to photography need to be unique from other regular website. At Wix, you'll find an array of templates, all exclusive for photography portfolios. One of the major assets of creating your photography portfolio with the help of Wix is that, no matter which of the hundreds of beautiful templates that you choose, you have full freedom of designing your website the way you want, thanks to the inbuilt drag and drop functionality. You will be able to place any picture on your website anywhere you want, which will give it your unique touch. Also thanks to the new HTML5 incorporated technology, now it's incredibly easy to incorporate animations and 3D effects, without being a programmer. In fact you can even make your photography website more mobile and tablet friendly, via Wix, thanks to HTML5.
Moonfruit [ build online portfolio]
One of the easiest ways to showcase your work to the world for a modern-day photographer is via virtual means. Building a website takes no time and effort at all anymore, and even the biggest coding-layman could do it. The inbuilt user-friendly website editor in Moonfruit helps you to create the portfolio of your dreams. The focus is mostly on image display, which is why this is the best option to go with while building up your photography portfolio. Another interesting feature this builder allows you to add to your photography website is a slideshow widget to display a series of your pictures. Moonfruits also provides relevant advice to all budding photographers as to how to get noticed and how to spread their networking by linking their website with various social media platforms like Facebook and Twitter.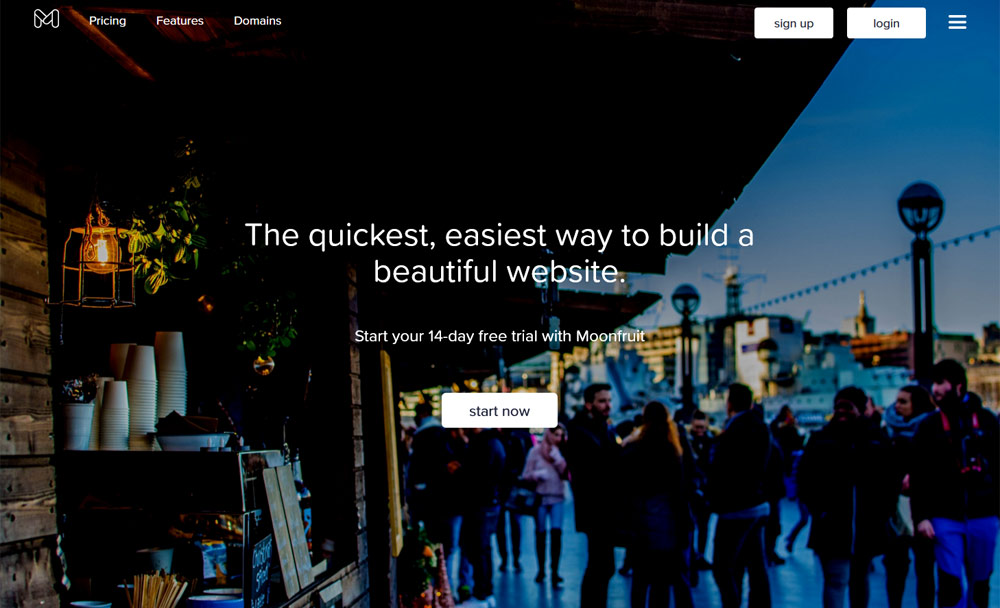 Other than these tempting features, Moonfruit offers photographers a whole range of interesting photography oriented pre-designed templates, which are highly suitable in case you want to build up an attractive online photo gallery. Another attractive feature about Moonfruit is that it offers photographers a free trial. The pricing is also competitive, with three different packages offering varying storage space, bandwidth, and eCommerce functionality being offered to all photographers who want to build up their very own online portfolio-cum-store. As a photographer, you can also incorporate a blog into your photography website with the help of Moonfruit. This will help you to maintain a regular interactive platform with the visitors to your website and build up an online clientele.
Photoshelter [ build online portfolio]
A website builder that caters uniquely to all budding photographers out there and provides them with a multitude of options to create and beautify their website is Photoshelter. This website builder offers photographers a variety of photo editing tools in order to customize their websites according to their personal taste. The inbuilt pre-designed website templates offered by PhotoShelter that you can modify, will showcase your work beautifully to all the visitors on your website. There are helpful organization tools as well at PhotoShelter, which will help you with your picture uploading and formatting so as to make it easily available through online searches. Another unique feature about the PhotoShelter website builder is that it allows you to create private client photo galleries on your website, which you can share with exclusive clients, as well as share on social media platforms, depending on what you see best.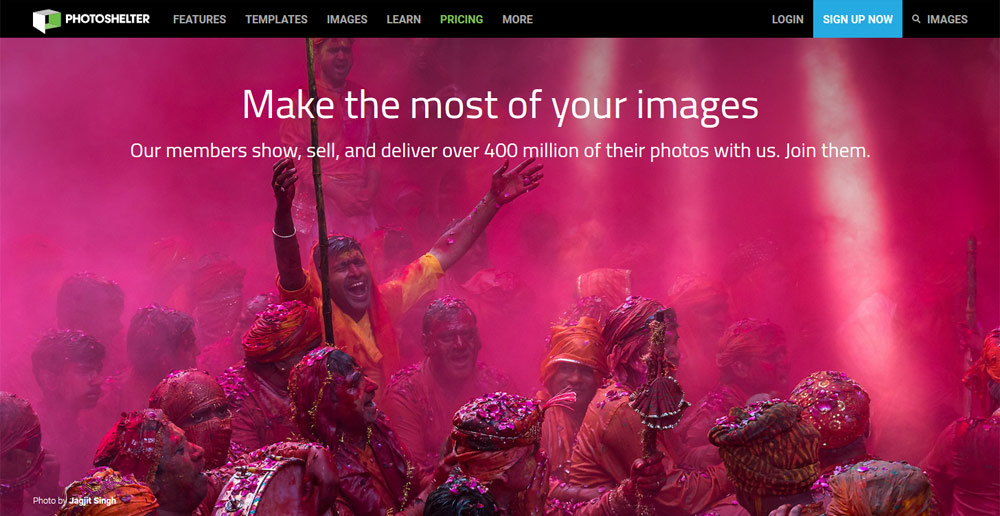 The websites created via PhotoShelter have an intrinsically high quality display, which will make your photographs looks brighter and have a stronger impact on those visiting the website. These high resolution files can also be delivered wherever you want, be it to one client, or displayed on a bigger, more global platform. You can also create an online store, in case you want to take your art to a more commercial level by selling off your photographs. This community of over 80,000 photographers is easy to join, and you can browse through this community by going through the photographer directory on PhotoShelter.
SITE123 [ build online portfolio]
The search for a comprehensive online portfolio builder ends with 123.com. From aesthetics to functional appeal, it covers all! The simple, responsive, multifunctional and flexible interface is easy to work on. No technical expertise needed, an in depth knowledge in coding is not required, nor is there any need for complicated software installations and hardware connectivity. Branded as the fastest, easiest and simplest websites builders out there, 123.com offers practical and useful tool for bloggers, photographers, and businessmen alike. There are effective website creation and marketing solutions for everyone!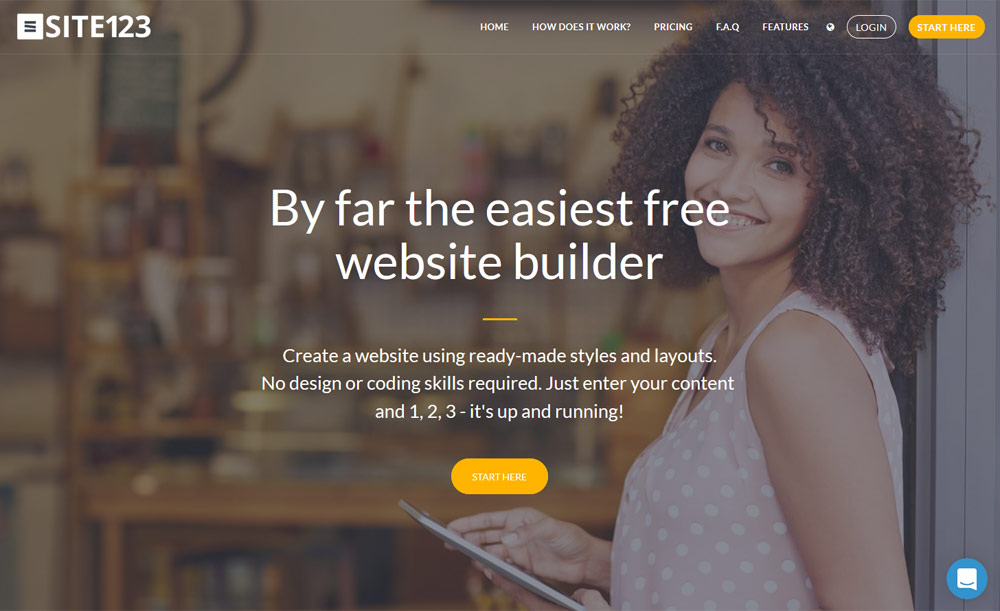 123.com appeals to the portfolio creation needs of a wide audience base, courtesy the several categories that users can choose from. Based on the category selected, site123 provides a befitting template and default layout. The simple yet interactive framework demands no special technical knowledge; just follow the intuitive WYSIWYG builder's menu options, and you'll have a portfolio in no time. Choose from several categories of portfolio webpages, and customization options such as parallax, one – page layout, etc. to expand the appeal of your page. And the excellent customer services and support is an added perk. Features such as a massive free icons and image library, preset styles and layouts, and image gallery management mean that you can infuse life into your portfolio in a jiffy. Expanding your portfolio into a fully fledged online sales channel is possible, courtesy ecommerce functionality of site123.com. Leverage strong multimedia features such as audio and video tools, indulge in email and social media marketing with in-built widgets to explore your online portfolio's potential. Other indisputable perks of site123.com include free of charge, even offers affordable packs , free web hosting and web domain name, SEO and CRM readiness, compatible with all operating systems and devices, multi website creation option, ample storage capacity (CDN servers spread globally).
ZenFolio [ build online portfolio]
Zenfolio is a website builder that not only helps you in building up your photography website, but also helps you getting in touch with other photographers by creating a common platform for everybody to converge on. With its award-winning website development services, Zenfolio is sure to help you in establishing the brand value of you as a photographer through the medium of an extensively designed website. All you need to do is open an account with Zenfolio, and you can start working on creating a beautifully designed website right away, without having any kind of programming or coding knowledge. Just a few clicks and drag-drops later you can be sure to possess your self-customized website built on any one of the many pre-designed and customizable templates.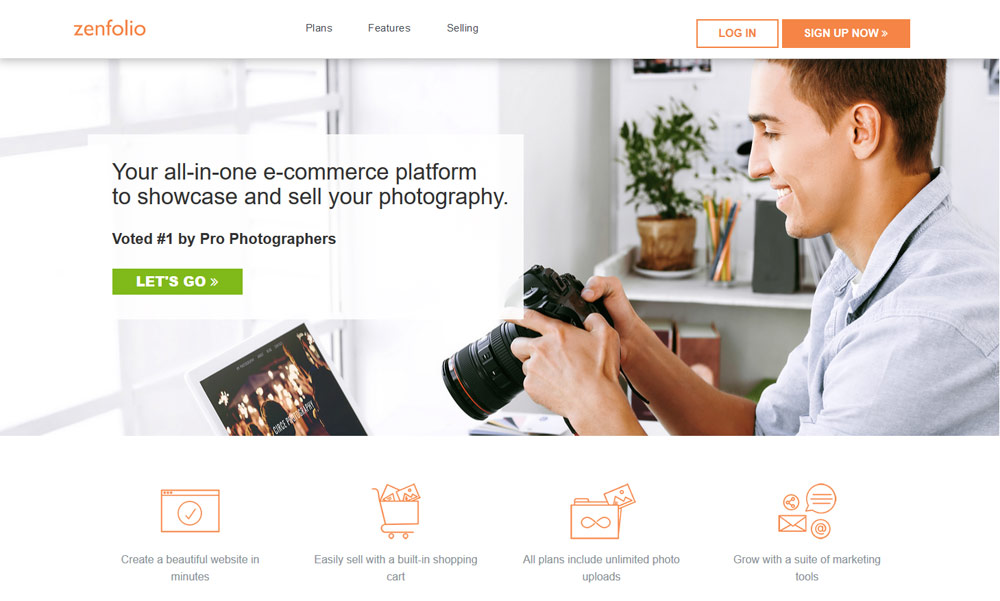 The beautiful galleries that you can incorporate into your website through this website builder will have fast loading, mobile and tablet friendly pages. This website builder also has a tool, called the Zenfolio Theme Designer, which gives you full freedom to control all graphical components of your website. This easy-to-use tool makes it easy for you to edit all these elements by simple point-and-click mechanisms. You can use it to modify text, background designs, buttons, and many more. Zenfolio has also launched Photographer Central, which is a comprehensive photographer directory for better network and spreading brand awareness. You can get a discounted listing on this directory, via Zenfolio, which in the end will help you be recognized as a photographer, generating more traffic to your website.
Squarespace [ build online portfolio]
Squarespace is a website development tool that offers its users a comprehensive, around the clock service. There is a free trial period of 14 days initially when you sign up, during which you will have 24-hour customer service options. The award-winning customer care team works in-house and none of it has been outsourced. The templates that are designed by Squarespace are all created with HTML, Javascript and CSS technologies. The website that you will create with Squarespace comes with inbuilt mobile and tablet friendly versions. The intrinsic Style Editor tool in Squarespace will enable you to customize your website as you wish. You can modify colors, fonts, and design layouts to make your website look unique. The analytics tool will help you monitor the traffic and know as to what is drawing them to your website.
Using the template switching tool on Squarespace you can apply more than one template on your website, and then edit and customize it to fit your requirements. This tool allows you to work on more than one design at the same time. There are over 60 beautiful designs offered by this website builder, all of which have been created by well-known designers. A strong advantage that Squarespace enjoys is the possibility to import your pre-existing blogs from other platforms like WordPress, into the website that you create with the help of this tool. A full range of features are provided on Squarespace, which means that you don't need to depend on any external sources for resources like picture galleries, traffic analytics tool or blogs.
IM Creator [ build online portfolio]
Looking for a useful platform to create your portfolio website? While there are a lot of website builders out there which allow you to add text, images, and even whole photo galleries to your site, IM Creator gives you those features and so many other advanced features including support for blogs, high-resolution images, videos, music, billing and even social media linkage. The best part about IM Creator is that it gives you the option of managing a full-fledged online store. The IM Creator website builder is very simple to understand and even easier to use. The feature rich portfolio website builder allows you to create your own unique website for any purpose and even comes preloaded with website templates for weddings, blogs, fashion, restaurants and other businesses.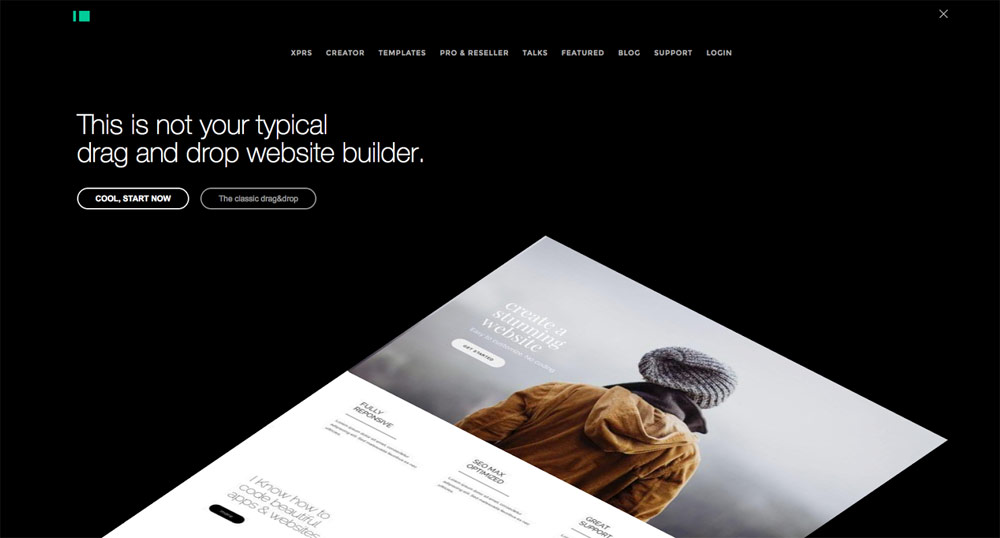 So, whether you are looking to build a corporate or portfolio website, IM's website creator is the perfect way to showcase your talent on the World Wide Web! After spending a few minutes with IM's free website builder, you'll soon be convinced to try out the paid version, IM PRO. You'll also see how simple it is to make your own website without requiring any knowledge about HTML, CSS, or any other complicated computer language. Another great feature of IM's website builder is the strong customer support system that comes along with your package. IM offers a simple and easy solution to all your website portfolio creating needs, available in both free and paid versions.
Virb [ build online portfolio]
Building a portfolio website using VIRB's website builder is unlike anything you might have ever experienced earlier. The developers have made VIRB so simple to use with its effective drag & drop website builder so that you can creatively design your own website without requiring any technical skills. You can use any of VIRB's mobile-friendly themes that can be fully customized to match your unique style. Over a million professionals and businesses alike manage their online presence using VIRB's website builder. VIRB allows you to add content elements such as text, images, maps, and videos by just dragging & dropping them into place. With VIRB, website building is done in real time, saving you the trouble of having to save your work on a separate platform.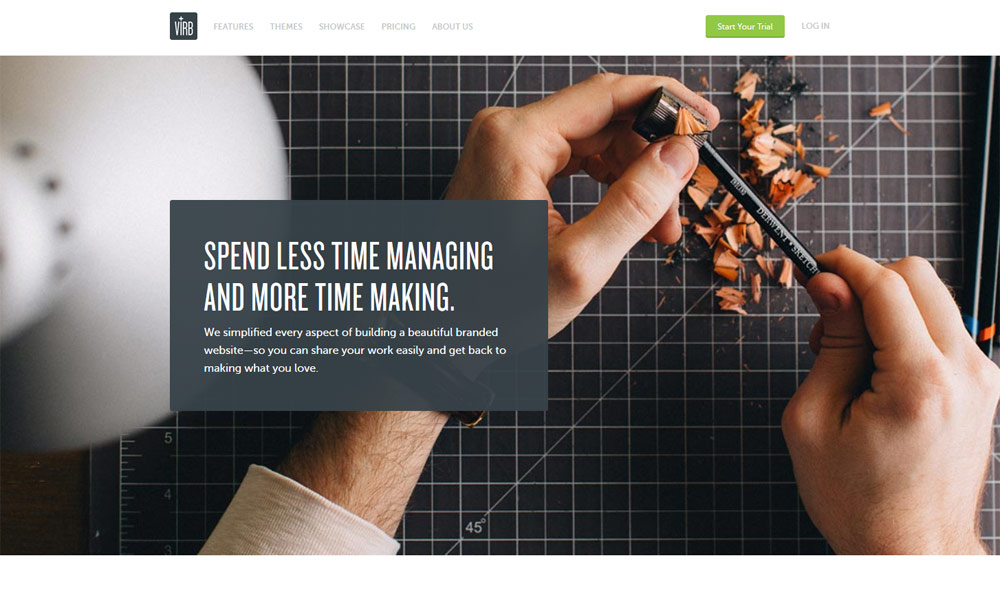 The themes available on VIRB are not just flexible, but easy to customize using some highly unique design elements. Every in-built design template features a dedicated theme editor that offers full HTML and CSS control for custom development. VIRB lets you to select high-resolution stock photos from a huge gallery of images or you can even upload your own in order to provide complete personalization of your portfolio website. The theme editor allows you to play with advanced imaging features such as multiple filter options for improved customization. The VIRB website builder comes with built-in cloud hosting, making your files safer and easier manage.
Krop [ build online portfolio]
Most website builders limit you customization abilities to just changing a few lines of text and a shifting a few images. They also use the same design templates that are already being used by hundreds if not thousands of other users. Krop gives everything you require to create a contemporary, completely authentic portfolio website that truly conveys talent to the world. Krop's advanced features give you access to thousands of beautiful and font styles. With a highly affordable PRO package, you get more flexibility in terms of designing your portfolio website. Krop allows you to link individual photos or entire galleries to your site, which is a great way to showcase you photography skills on your website. The biggest names in photography choose Krop's website builder, which comes with an optional job posting feature to make sure that your work is seen by the best people in the business.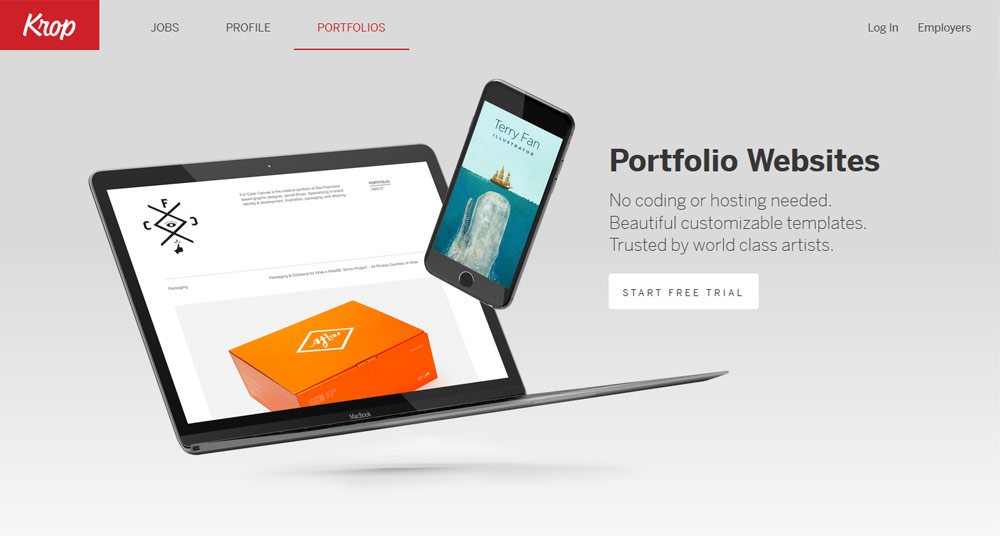 With swift and friendly customer support just a phone call or an e-mail away, you get one more reason to start using Krop's website builder for your portfolio website. And when you're speaking with one of Krop's customer support team member, you know you're in good hands. Websites built using Krop are automatically designed to look stunning on any platform whether it's a PC, iPad or iPhone, android, or any other kind of mobile device. Instead of giving you a dumbed-down version of your website to fit on a mobile display, Krop's portfolio websites are displayed in all their richness on any kind of digital viewing platform, whether its mobile phones or tablet PCs.
Porfoliobox [ build online portfolio]
Porfoliobox is an award-winning website builder that is fast, flexible and extremely easy to use. With more features than you could ever ask for, Porfoliobox gives you an unrestricted, feature rich user experience and is completely ad-free, even in the free to use version, increasing your efficiency and your overall user experience. Porfoliobox's site builder come preloaded with fully customizable, sharp, professional design templates which give you countless options in terms of site layout and navigation. This intuitive builder allows you to change the tiniest details, up to the extent of allowing you to completely personalize your portfolio page by giving you options to change banners, backgrounds, text colors and even font sizes. Portfoliobox provides CSS customization for advanced users. And to keep unauthorized visitors from viewing your pages, Porfoliobox comes with a built-in password protection which allows you to protect your whole website or just page specific content. This coupled with copyright protection ensures total safety of your images.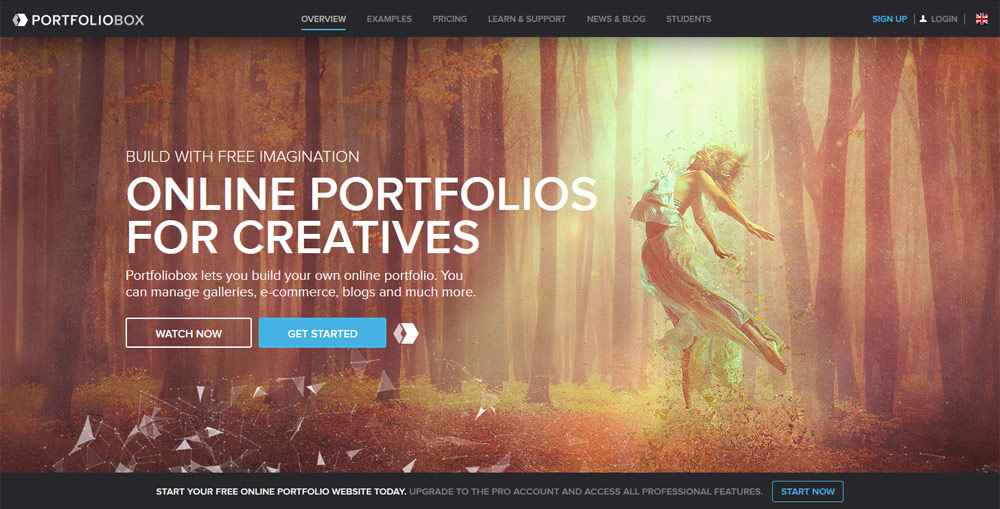 The Portfoliobox site builder also come preloaded with flexible navigation and submenus that allow you to store and edit all your high resolution images. Portfoliobox's other features include integrated submenus avoid unnecessary clutter on your website, making it look as professional as possible. All of Porfoliobox's website templates are HTML-based, giving you easy SEO integration so that you can be found easily. Porfoliobox also comes with an in-built mobile publisher that automatically creates a mobile friendly version of your portfolio that is optimized to viewing on IPhones, android and even blackberry devices. This intuitive site builder also gives you the option to sell your work online with its easy payment integration, giving you a portfolio and e-store, all in one site!