While to the non-native speaker, "Blechmann" might sound like some kind of ancient Alemanian boogie-man, it's actually more of an honorific. The nickname, given to one of Germany's most legendary motorcycle customizers Bernard Nauman, translates to "tin man," and Bernhard Naumann wears it like a badge of honor. The Tin Man's latest creation is a great and powerful Custom BMW R NineT that shows that he is worthy of his metallurgical moniker. While he is known as a tinkerer, the works Naumann creates are no tinker toys. It is a masterwork of metalwork and imagination. With a bit of a Postapocalyptic piquancy, he has wrapped the bike in sheet metal (something that would probably be anathema to most lovers of the brand). Naumann describes his bike-customization as an art form used to bring fantasies to life. The proof is in the pudding, and that pudding is a fantastically futuristic motorcycle built out from a 2016 BMW R nineT. Blechmann the Great created a homemade body shape and installed a handmade exhaust system, a new seat bench and modified wheel rims. He finished the R Nine T off with a fresh paintjob: the classic BMW livery. When the smoke had cleared, what he found was a forward-heavy, robustly muscular super-bike from the future. Naumann saw something else, however, and decided to call the bike "Giggerl" – the Bavarian word for chicken. And don't forget to check Old-Styled Extraordinary BMW R50/3 By Titan and Unique 1985 BMW K100 Motorcycles by Impuls.
Motorcycles, don't we just love them? The faster they get, the more our hearts pound. They have the power to make the manliest of man, into a little boy. They just have that undefinable sense of excitement we all want and beg for. However, with the plethora of bikes out there, the right one is often hard to pick. There are so many types of bikes out there, like super bikes , muscles, scooters etc. Getting into picking the choicest of the lot from each type will take a while, so we decided to give you a quick look at the fastest motorcycles in the world in 2018.
Designer Mehmet Erdem always creates mindblowing conceptsmand we've already shown you some of his concepts – BMW Radical Concept and BMW Apollo Streamliner Motorcycle Concept. For his new BMW motorcycle concept, he imagined the future of BMW's R1100, which is a sports motorcycle that was made in the '90s. What you see before you clearly doesn't look like it was from the '90s, unless you're talking the 2090s. The build looks a little like something that would come out of Wayne Enterprises, with its mostly black body, large rear wheel, and intimidating exhaust. As with most of the stuff Erdem dreams up, we wish we could see this thing on the road.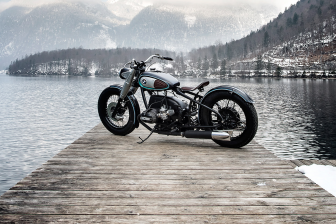 A small shop based in the ancient university city of Graz Titan has created this unusual vintage BMW bobber. Titan decided to buy a 1956-vintage R50/3 frame stored in Herr Zink's attic. They removed the rear suspension from the R50 frame and devised a new mount for the cardan driveshaft. The hunt began for an engine and gearbox from the late 70s or early 80s, and an R75/7 was found for a reasonable price. "We kept the wheel hubs, the engine and transmission, and the fork tubes," says Michael. The forks were fitted with new seals and bushes, and modern Wirth springs slotted in. Then they were mated to the R50/3 frame with a 9° rake kit from the German specialist AME Chopper. The finishing comes from stunning alloy fork claddings—hand made over 70 hours by the famed Austrian metalworkers Blechmann. The wheels are works of art too, with the original hubs restored and mated to new 18" rims with fresh spokes. The rubber is classic block-pattern Avon Mk II. The old school tires will probably struggle to contain the power unless the rider has a gentle right hand: the 745cc boxer motor has been rebuilt with a Siebenrock Big Bore Kit , punching it out to 1070cc and delivering 70 stout German horses. After a fresh coat of high temperature paint, it was shoehorned into the R50/3 chassis and plumbed in to new ceramic-coated pipes, topped off with gorgeous fishtails. It's the tank that's the crowning glory, though. Channeled to sit low on the frame top tube, it's a 4.5-gallon handmade meisterwerk with alloy side covers and grippy kneepads. A touch of candy blue lifts the classic paint scheme – dark blue with white pinstripes. The seat is worthy of special mention too. Tooled from leather, with immaculate inlays and blue stitching, it's the work of the Greek outpost of Autostop—a global leather specialist that designs and produces leather interiors for Toyota, Ford and Chrysler. As a result, this one of the coolest custom BMWs you've ever seen!