Logitech announced the launch of the MX Vertical, the company's most advanced ergonomic mouse to date.The MX Vertical, which was designed in collaboration with ergonomic experts, combines ergonomic design elements with MX mouse performance for a mouse that cuts down on forearm strain and wrist pressure without impacting productivity. Logitech's MX Vertical Mouse features a 57 degree vertical angle, reducing muscular activity by up to 10 percent compared to a standard mouse. It puts the mouse into the same position you might use when shaking someone's hand, offering a thumb rest and a comfortable grip. A built-in 240mAh rechargeable battery provides up to four months of usage, and an included quick charge feature provides three hours of power with one minute of charging.
Russian designer Vadim Kibardin bothered about carpal tunnel syndrome (median nerve dysfunction / entrapment) that occurs with long-term use of computer mouse and developed the "BAT" – the levitating wireless computer mouse. It consists of a floating navigator and magnetic base ring. As any active computer users can be prone to this ailment, the system aims to eliminate numbness, tingling, weakness, or muscle damage in the hand and fingers caused from over exposure to a mouse by elevating the controls to an ergonomic position.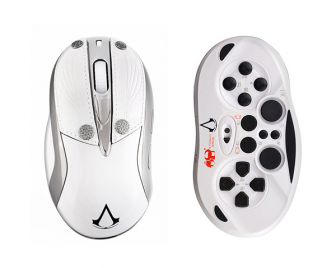 Shogun Bros. has just announced a new version of their extremely popular Chameleon X-1 gamepad / mouse combo clicker [you can buy it here]. Available in two different colors, "Altair white" and "Ezio grey", it features antique decorated leather on the mouse buttons and the same specs as the original mouse, including a hidden gamepad on the bottom, 16 buttons and a 1600 dpi optical sensor. This Assassins Creed Revelations themed mouse will be officially launched at CES 2012 later this month. And then there will be some details on pricing.