A computer mouse is one of the most demanded technical devices. Of the thousands produced in the world mouses – units can only boast of really high levels. Moreover, there are multi-function mouses, optical, with bluetooth, created specifically for the game. We went through dozens of pc and mac mouses to find out which ones are the best of the best. For each specific task, we have chosen the best mouse.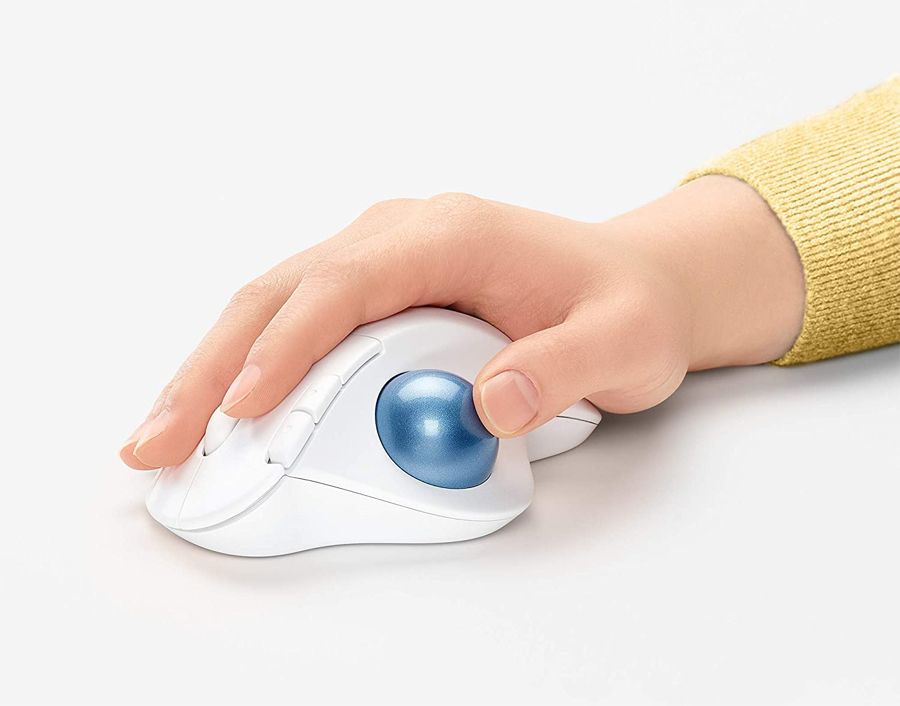 Allow us to "point" you in the right direction if you're considering a mouse upgrade. Whether you're a gamer, editor, or casual browser, there's bound to be something on our list that suits your needs. Here are a few reasons why you need to upgrade your mouse:
Customizable (extra) buttons. Almost all of the mouses on this list come with extra buttons that can be "mapped" to specific functions on your keyboard.
Ergonomic Design. It's a fact that no cheap mice come with ergonomics. Does that even matter, you say? Indeed, because over an extended period of time, you are at risk of developing arthritis or carpal tunnel syndrome with the bad wrist posture that cheaper mice offer.
Much higher DPI. DPI stands for "dots per inch". A higher DPI means the mouse will have a higher sensitivity to smaller movements. You can drive a fast car slowly, but not vice-versa. Similarly, you can "drive" a high DPI mouse slowly, but in tasks like video editing, cheap 600 DPI mice won't cut it.
The Best Computer Mouses (data for 2022):
| | | | | | |
| --- | --- | --- | --- | --- | --- |
| Mouse | Sensitivity | Wireless | Buttons/Customizable Buttons | Ergonomics | Price |
| Logitech MX Master 3 Advanced | 4,000 DPI Adjustable | Yes | 7/7 | Right-Handed | $89 |
| Logitech MX Master 2S | 4,000 DPI Adjustable | Yes | 7/7 | Right-Handed | $59.99 |
| Apple Magic 2 | 1,300 DPI Adjustable | Yes | 0/Gestures Customized Through App | Left & Right-Handed | $55.50 |
| Microsoft Arc | 1,300 DPI / 1,200 FPS | Yes | 0/Gestures Customized Through App | Left & Right-Handed | $54.29 |
| Logitech MX Vertical | 4,000 DPI Adjustable | Yes | 4/4 | Right-Handed | $78.95 |
| Logitech MX Ergo | 2,048 DPI Adjustable | Yes | 8/6 | Right-Handed | $85.49 |
| Logitech Pebble M350 | 1,000 DPI Non- Adjustable | Yes | 3/0 | Left & Right-Handed | $23.99 |
| Microsoft Mobile 3600 | 1,800 DPI Adjustable | Yes | 3/0 | Left & Right-Handed | $20.99 |
| Microsoft Intellimouse Classic | 3,200 DPI / 3,000 FPS | No | 5/2 | Left & Right-Handed | $40.37 |
| Razer DeathAdder V2 | 20,000 DPI | No | 8/8 | Left & Right-Handed | $44.99 |
| Logitech ERGO M575 | 2,000 DPI | Yes | 5/5 | Left & Right-Handed | $54.99 |
| Jelly Comb 2.4G Slim | 2,400 DPI Non-Adjustable | Yes | 3/3 | Right-Handed | $13.99 |
| Razer Basilisk X HyperSpeed | 16,000 DPI | Yes | 6/6 | Right-Handed | $44.99 |
| ROCCAT Kone AIMO | 16,000 DPI | No | 24/23 | Right-Handed | $65.89 |
Best Mouse For Creatives
We consider this high-end Logitech MX Master 3 Advanced wireless mouse to be the best mouse for computer creators. With its customizable buttons, it has been the go-to mouse for photo, video, and audio editors since it was launched. Even today, professionals at the top of their game love using this mouse (some just use it for its striking good looks though).
Logitech claims 65 days of battery life for the MX Master 3, and even offers app-specific customizations on the mouse. That means that the same button can do two different tasks in two different apps.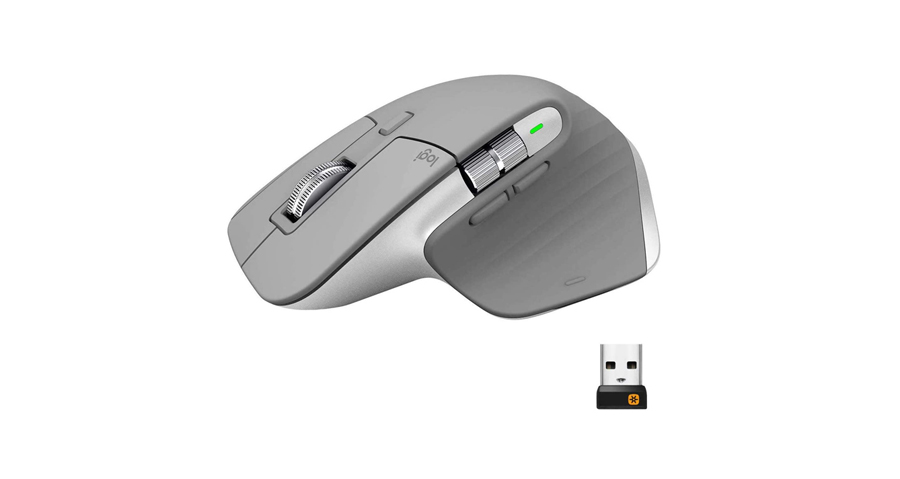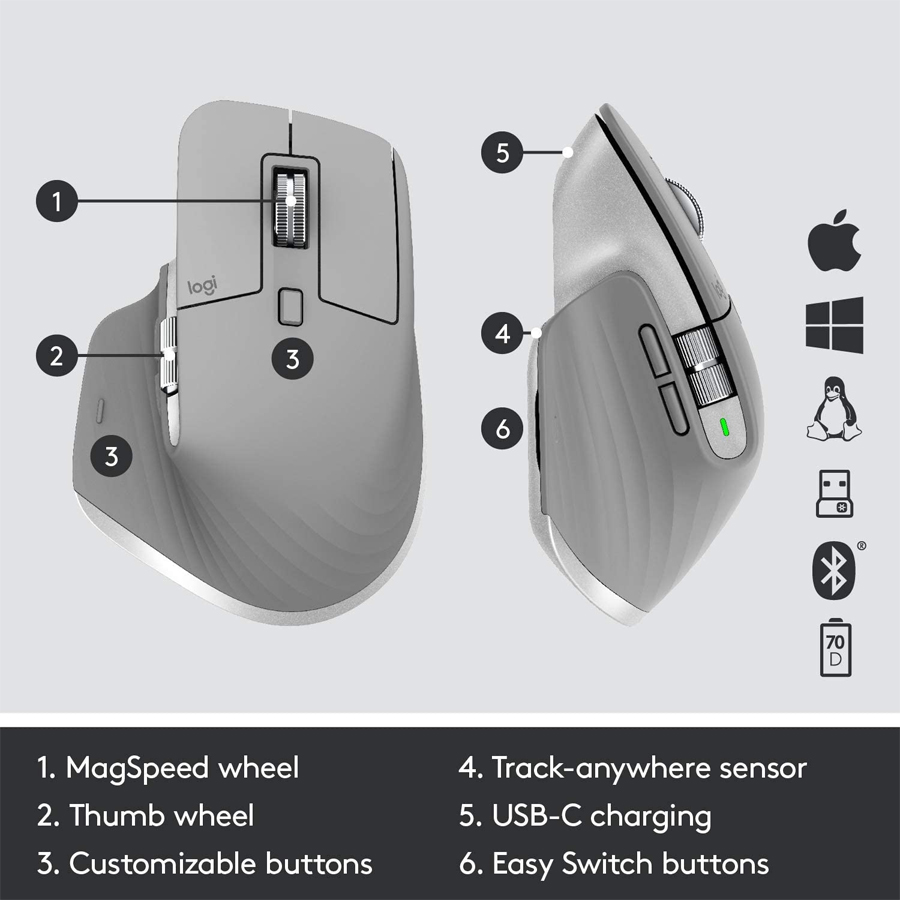 Best Mouse For People With Multiple Computers
So you're that person. The one with multiple PCs and a couple of laptops. Problem is, with all that money going into the high-end devices you need for work, there isn't much dough left over for an expensive mouse. No worries on this score – Logitech has you covered with their MX Master 2S Wireless Mouse , the best computer mouse overall.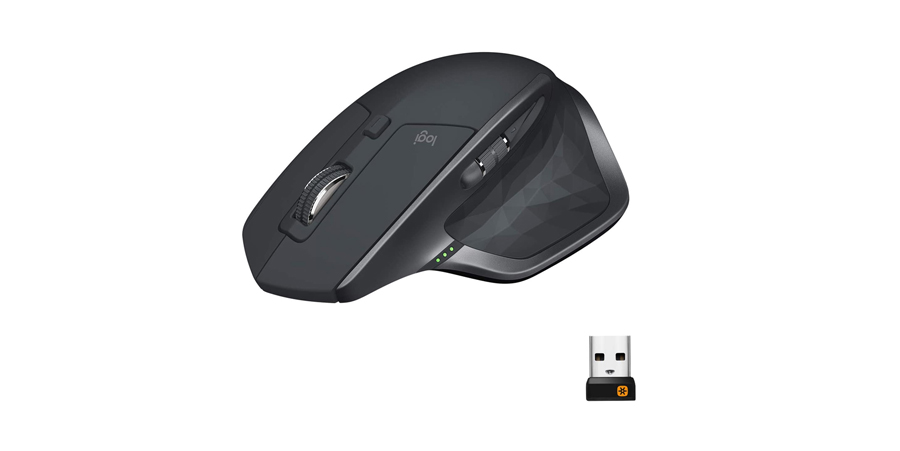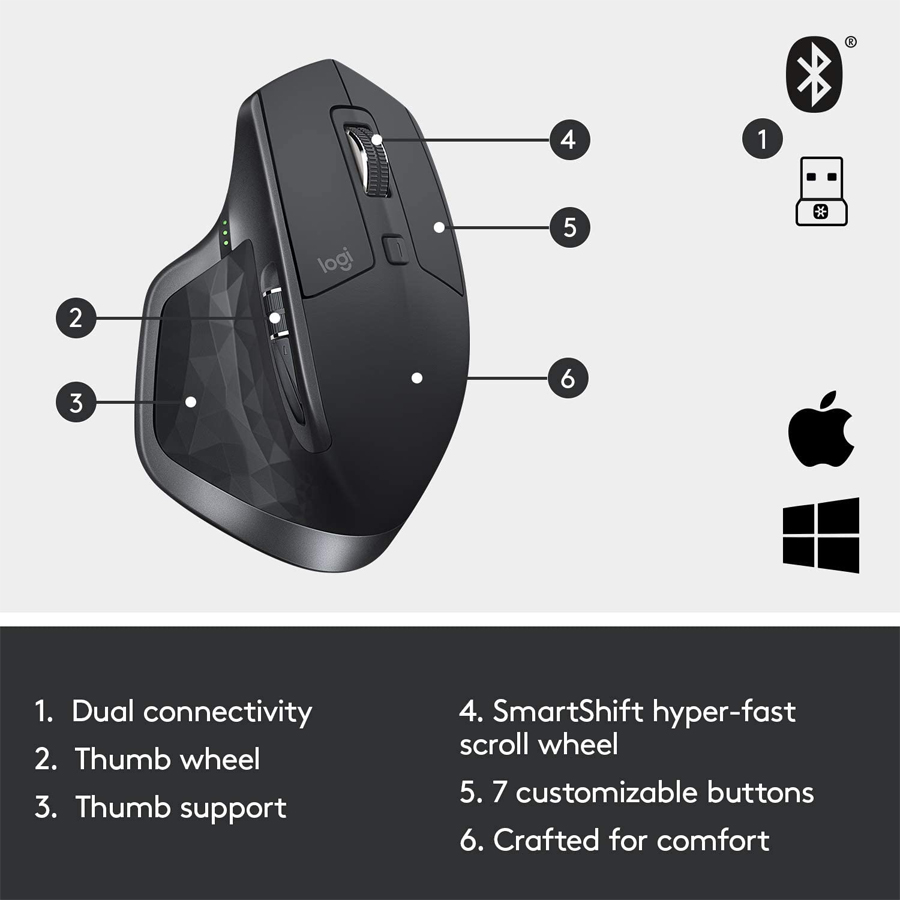 Best Mouse Computer Mouse For Mac Users
Apple Magic Mouse 2 was designed to complement their macOS devices, but there isn't anything stopping you from using it with Windows-based devices. You can simply pair it using Bluetooth to your PC, but additional device drivers may be needed for all functions to work properly. The interesting thing about this mouse is that it has no buttons at all; the mouse is touch-controlled. This makes it the perfect cross between a trackpad and a mouse.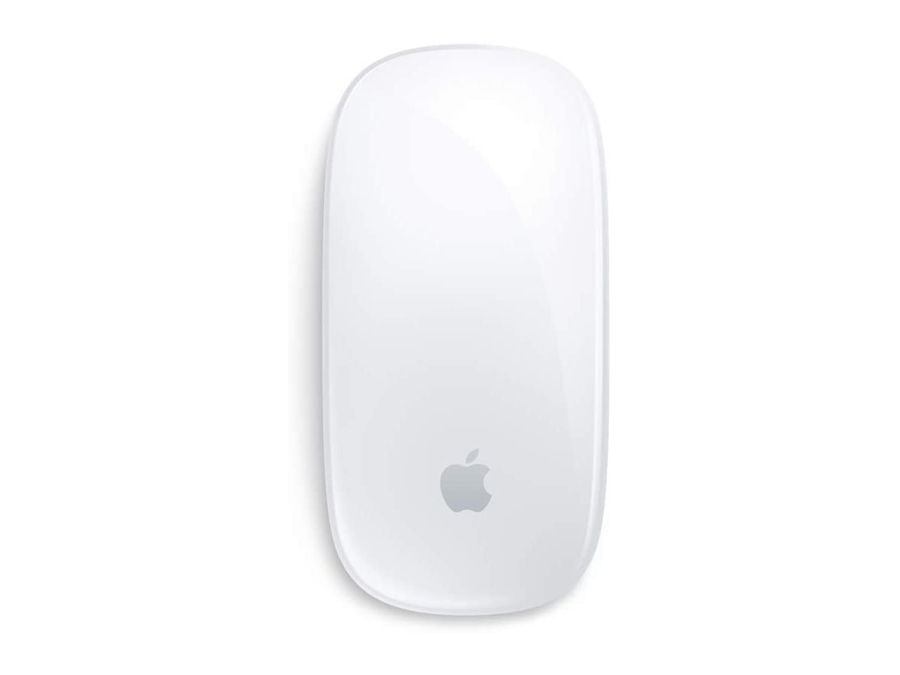 Best Mouse For Travelers
Microsoft Arc Mouse is pretty interesting because it is 100% backpack-friendly. Why? Because you can press down on its u-shaped design, and it'll snap down and "snap" flat for ease-of-packing. This prevents it from breaking during transit, and its curved shape makes it super comfortable to use. Some people might even go so far as to call the Microsoft Arc mouse a conversation piece.



Best Mouse For People With Health Issues/Seniors
Another statement mouse, the Logitech MX Vertical is a mouse like no other, for it rests on its side. Angled at 57°, it attempts to imitate the normal angle at which people shake hands with each other. Logitech claims that this feature reduces muscle stress by about 10%. They aren't lying either — the mouse is a delight to use and takes no getting used to because the controls feel super-intuitive. This is the reason why we consider the Logitech vertical to be the best wireless computer mouse overall.
Also, the mouse provides a very comfortable stretch that you can feel right up your forearm — like a mini massager. The mouse features USB-C fast charging (1 minute of charge = 3 hours of use) and can connect to three devices simultaneously.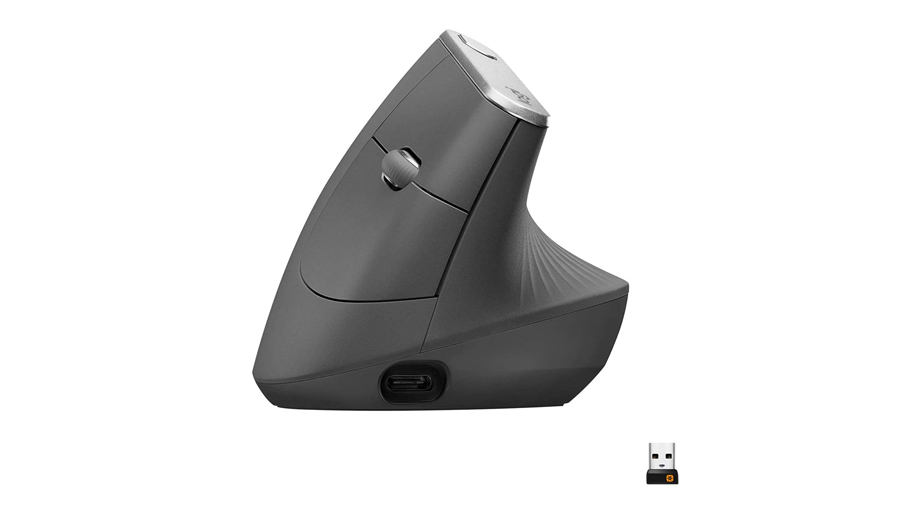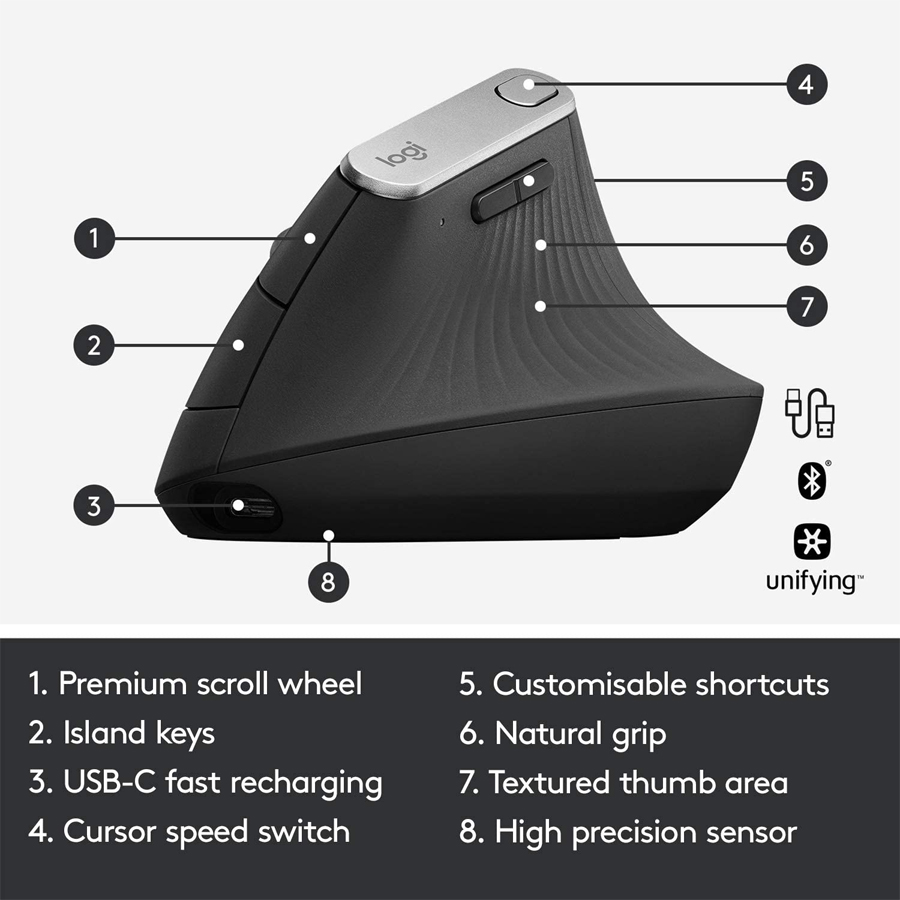 Best Mouse For Portability
Logitech MX Anywhere 3 Compact Performance Mouse is simply a follow-up option to the immensely popular Logitech MX Anywhere mouse. There was a time when you couldn't walk into a cafe or coffee shop without coming across at least two people sporting it. Like most of the numerous other Logitech options on this list, the Logitech MX Anywhere 3 also connects to 3 devices simultaneously.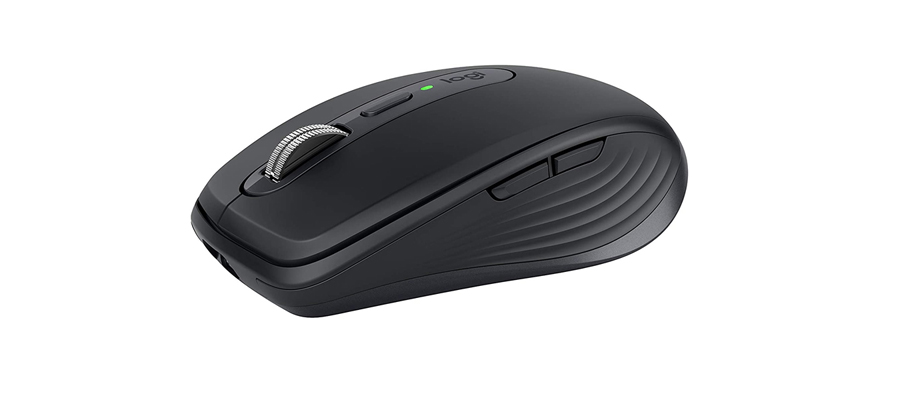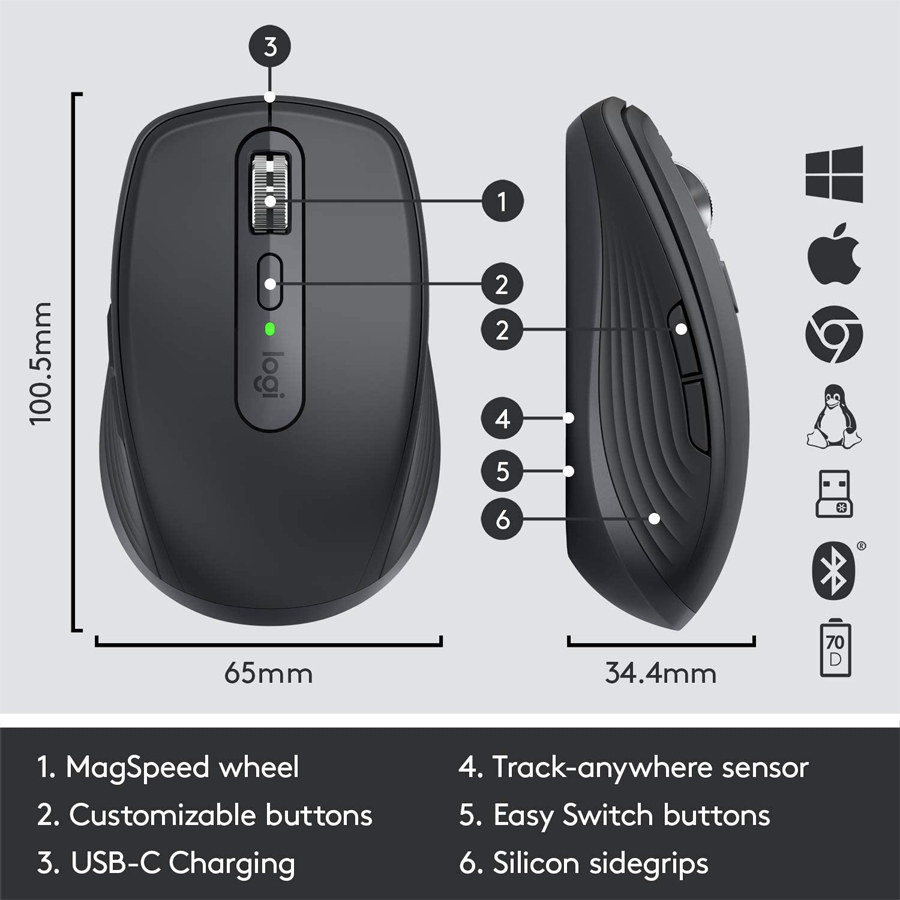 Best Mouse For Small Workspaces
Logitech seems to take a great deal of pride in manufacturing one-of-a-kind products — and their MX Ergo Wireless Trackball Mouse is no different. Aside from increasing your productivity tenfold, trackball mice are simply, well, fun. The mouse angle is customizable from 0° to 20°, hence why it is called a "semi-vertical" mouse. It also features preset app customizations for browsers, Adobe apps, FinalCut Pro, and MS Office apps.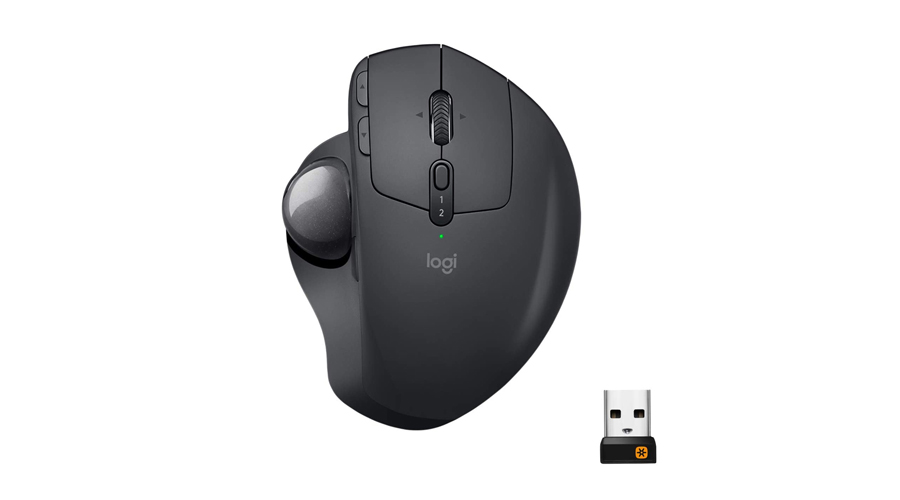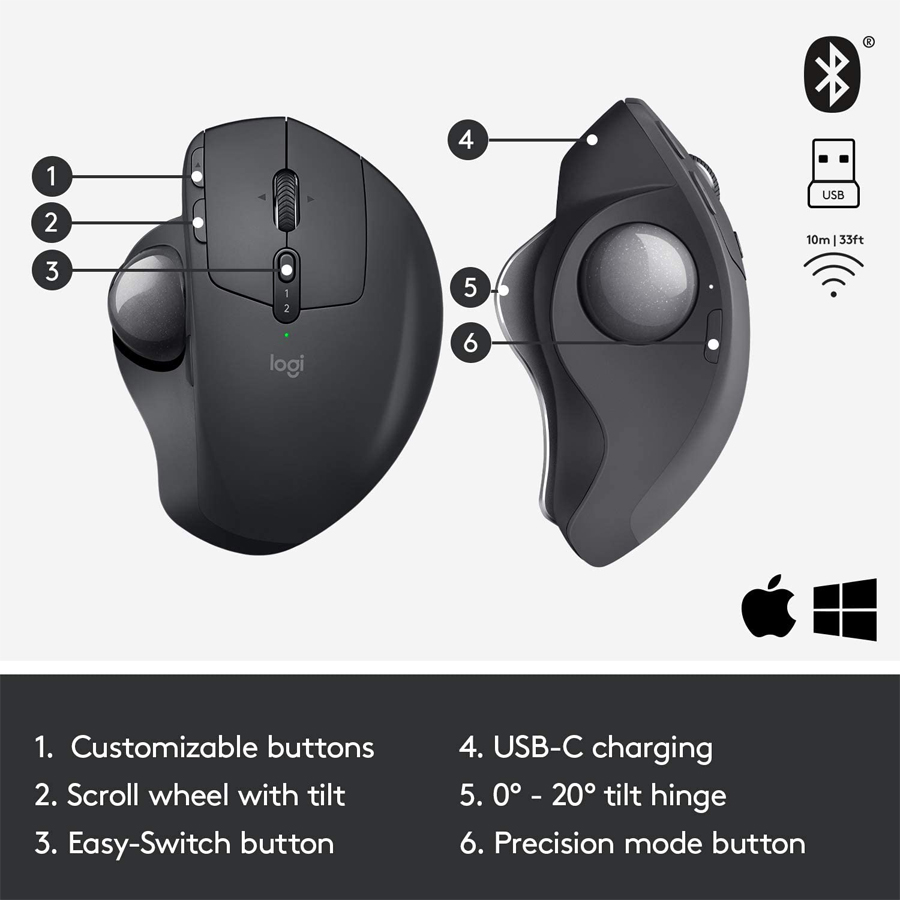 Best Mouse For A Style Statement
The Logitech Pebble M350 Wireless Mouse can be summarized in three words: modern, slim, and beautiful. Available in 5 color variants, it is undoubtedly the hippest item on our list. The 5 colors are: off-white, graphite, eucalyptus green, blue, and rose pink. The M350 is also on the more affordable side of this list, retailing at $25.
The M350 is what is known as a "silent mouse", meaning that it makes little to no clicking sound when in use. The click "feel" is still there, however, so it feels just like a normal mouse. It is also tiny enough to slip into your pocket.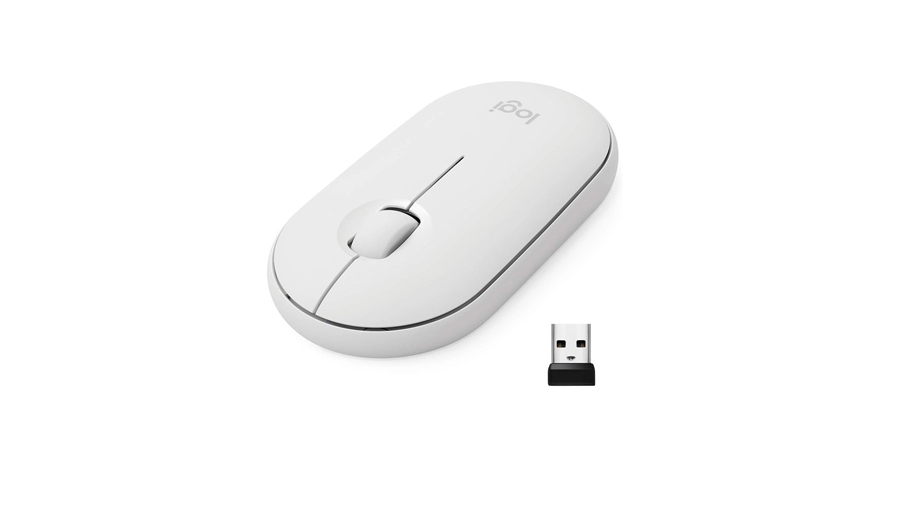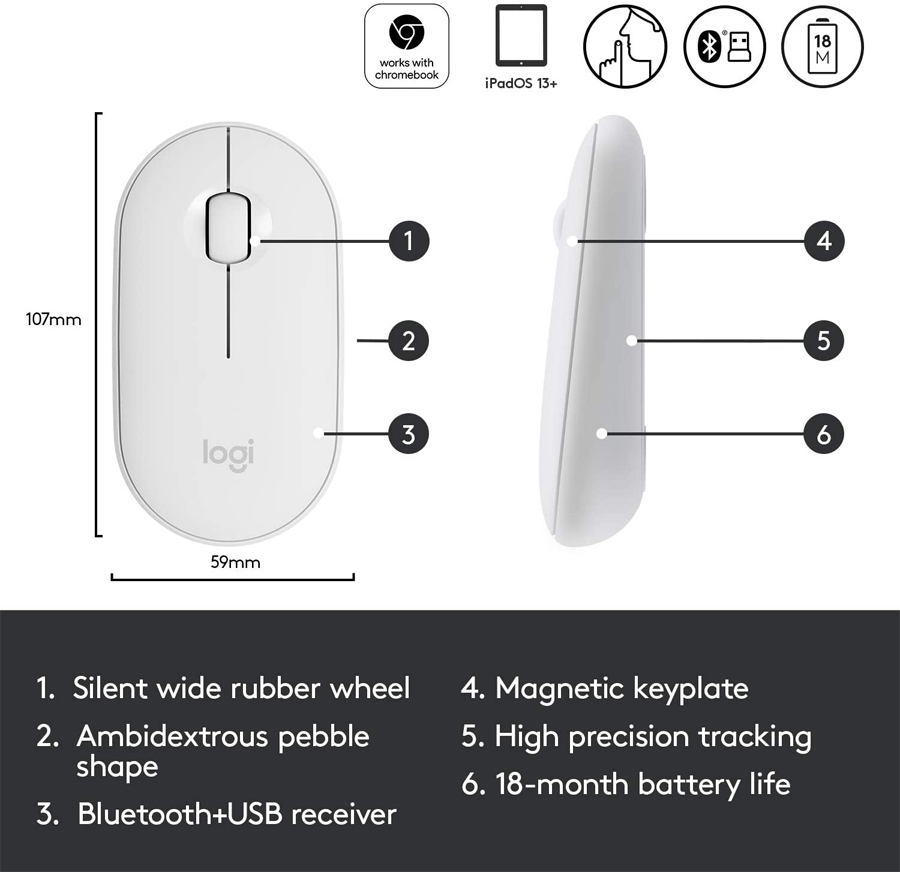 Best Mouse For People On A Budget
Although it has only three buttons (including the scroll wheel button), the Microsoft Bluetooth Mobile mouse 3600 does what is promised: it acts as a mouse. It does a damn fine job of it too, across all platforms (Windows, Mac, and Android). The mouse is ambidextrous if you reverse the left and right-click buttons from your settings panel. All in all, this is the best wireless computer mouse if your purse strings are tight.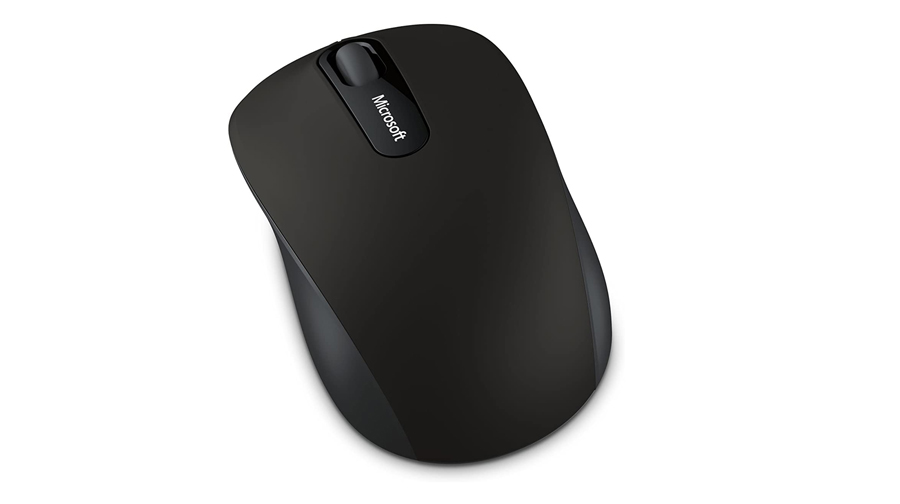 Best Mouse For People Who Like Retro
The Microsoft Classic Intellimouse is based on the hyper-popular MS Intellimouse 3.0 and is best suited for people who are used to the old OG Microsoft wired mice. Pretty much a fan favorite, this wired mouse is also available in a slightly more expensive Bluetooth variant. The mouse buttons are rated for 10 million actuations; that's the highest of any mouse on this list, and the scroll wheel is rated for 300,000 actuations.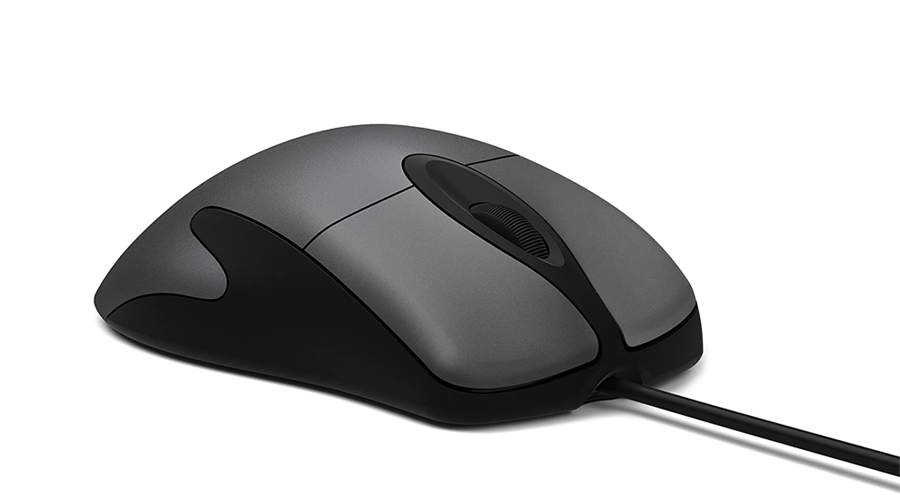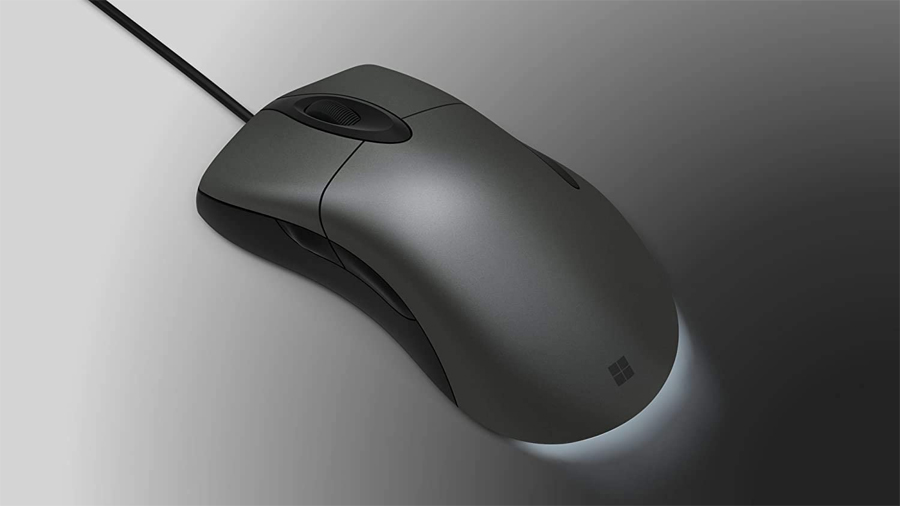 Best Mouse For Gamers Who Need The Lowest Possible Lag
This is probably the only mouse on this list that doesn't need any introductions made on its behalf – razer is pretty much a household name nowadays. Many people consider the Razer DeathAdder V2 Gaming Mouse to be the best computer mouse for gaming currently on the market. You can also store 5 preset configurations on the mouse's inbuilt memory.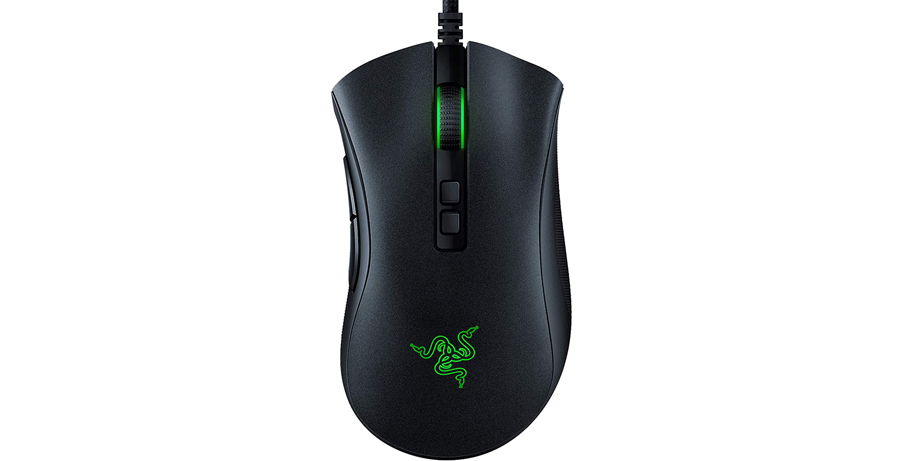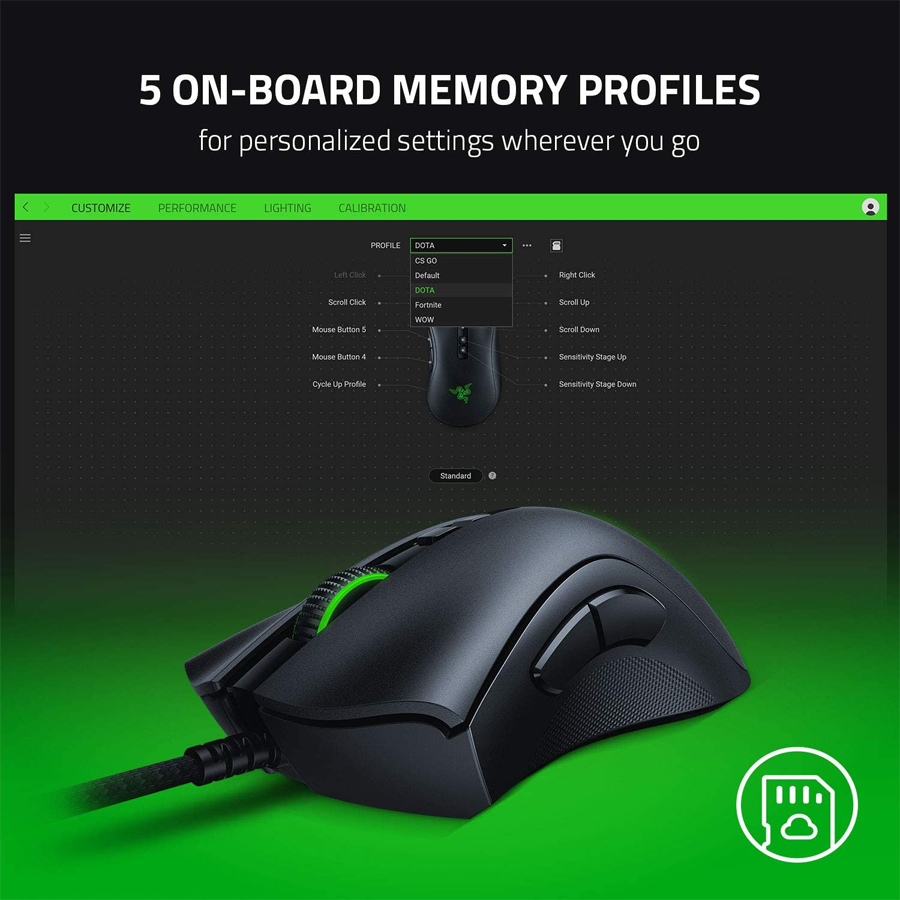 Best Mouse For People Who Need A Long Battery Lifespan
Logitech ERGO M575 Wireless Trackball Mouse is simply an upgrade to the Logitech MX Ergo Trackball variant that we introduced earlier. This version of the mouse supports iPad OS versions 13.4 and later. At a price point of $54.99, it seems to be a steal deal for a device that works with Windows, Mac, iPad, and Android. There is also a (claimed) battery life of 2 years.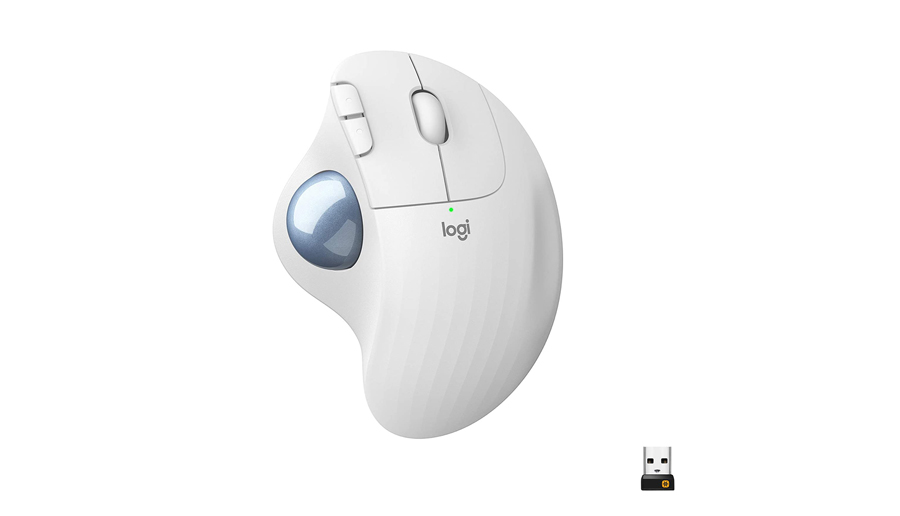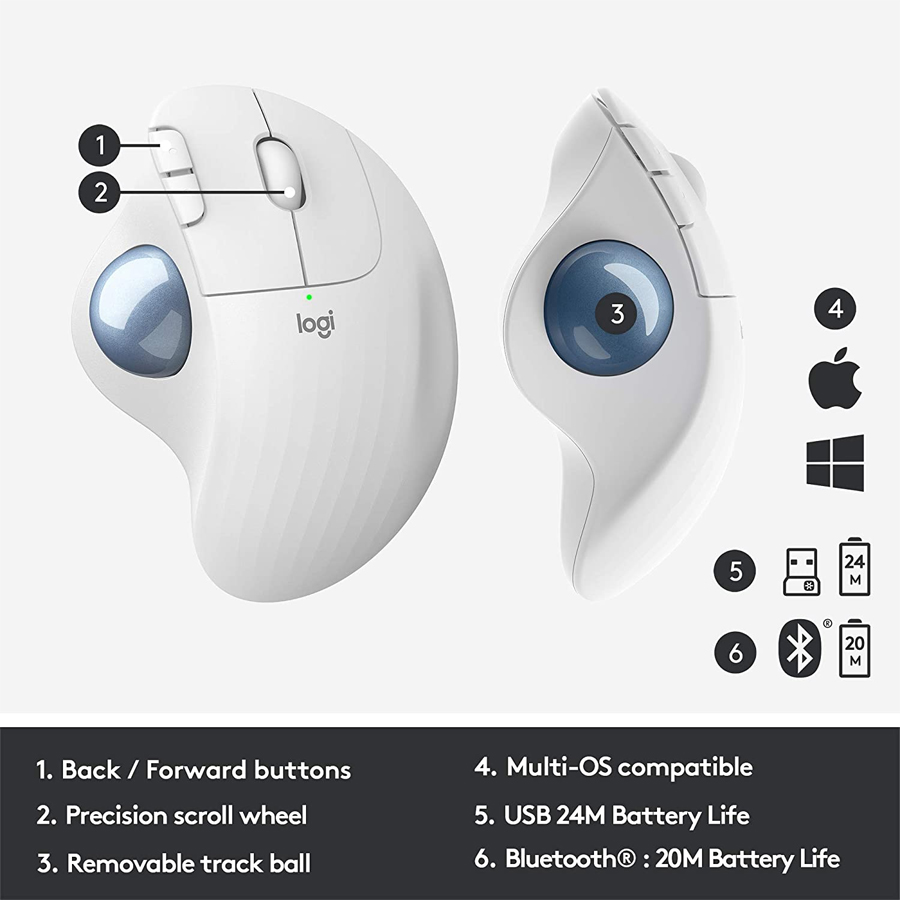 Best Colorful Mouse – Jelly Comb 2.4G Slim Wireless Mouse
The cheapest option on our list, the JellyComb 2.4G Slim Wireless Mouse retails at $13.99 and is available in a host of colors. Available colors are: black/ silver, white/ silver, purple/ black, pure green, and gray. Our personal recommendation? Go with the black. The best feature about this wireless mouse is that it is backwards compatible with devices as far back as Windows XP and Vista.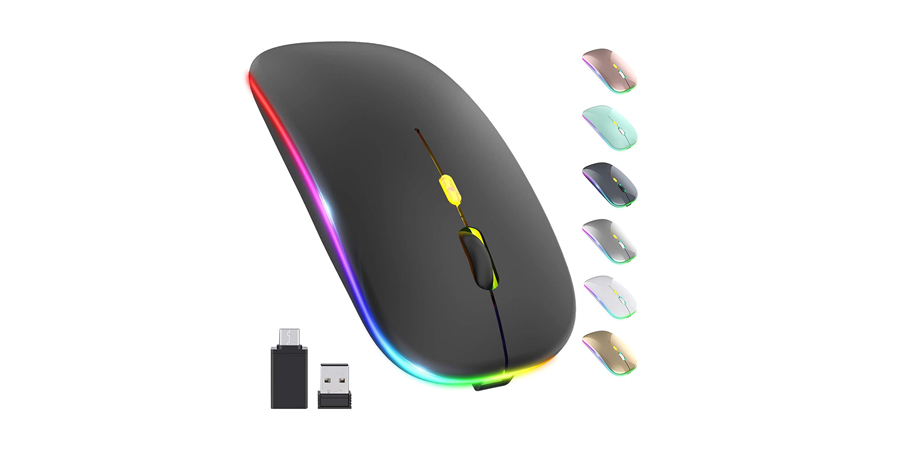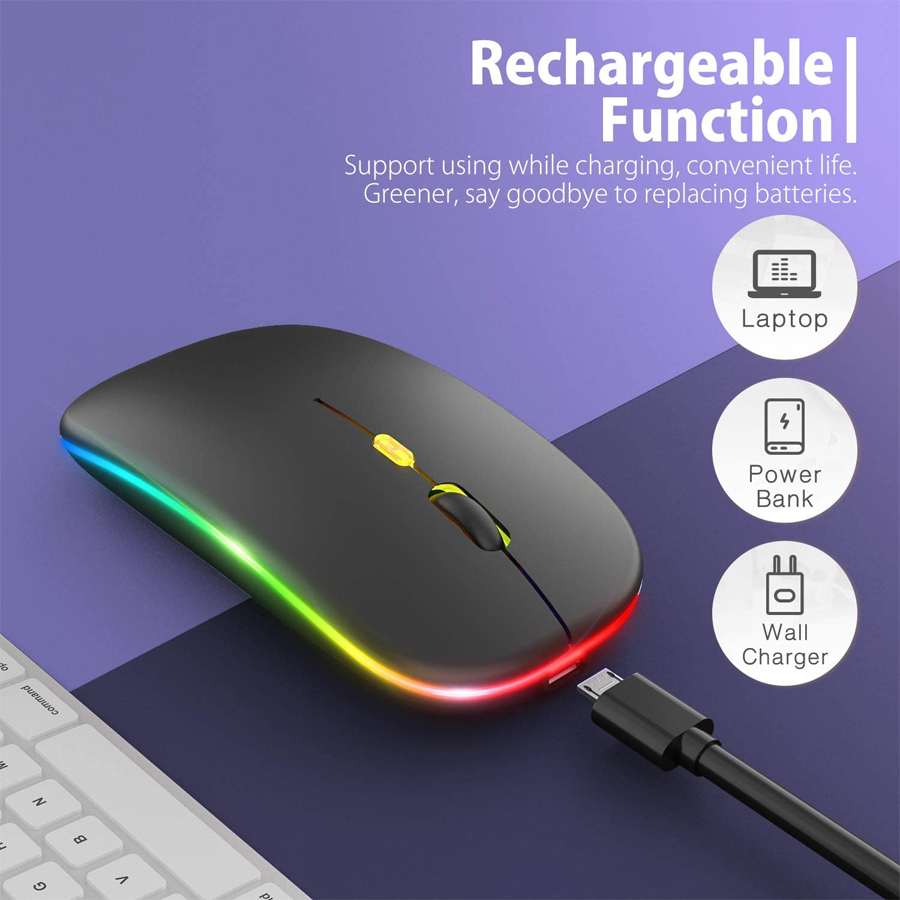 Best Mouse For People Who Need Speed
Think of the Razer Basilisk X HyperSpeed Wireless Gaming Mouse as a wireless, nerfed version of the flagship Razer Deathadder gaming mouse that we covered earlier. The mouse promises 450 hours of battery life in Bluetooth pairing mode and 285 hours of battery life in Bluetooth mode with "hyperspeed" mode on. The switch actuation lifecycle is the highest of any mouse on this list: it clocks in at 50 million actuations per button.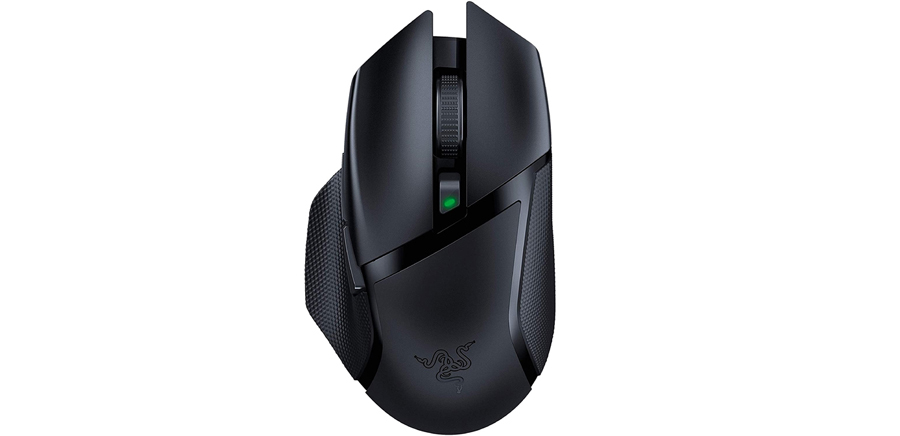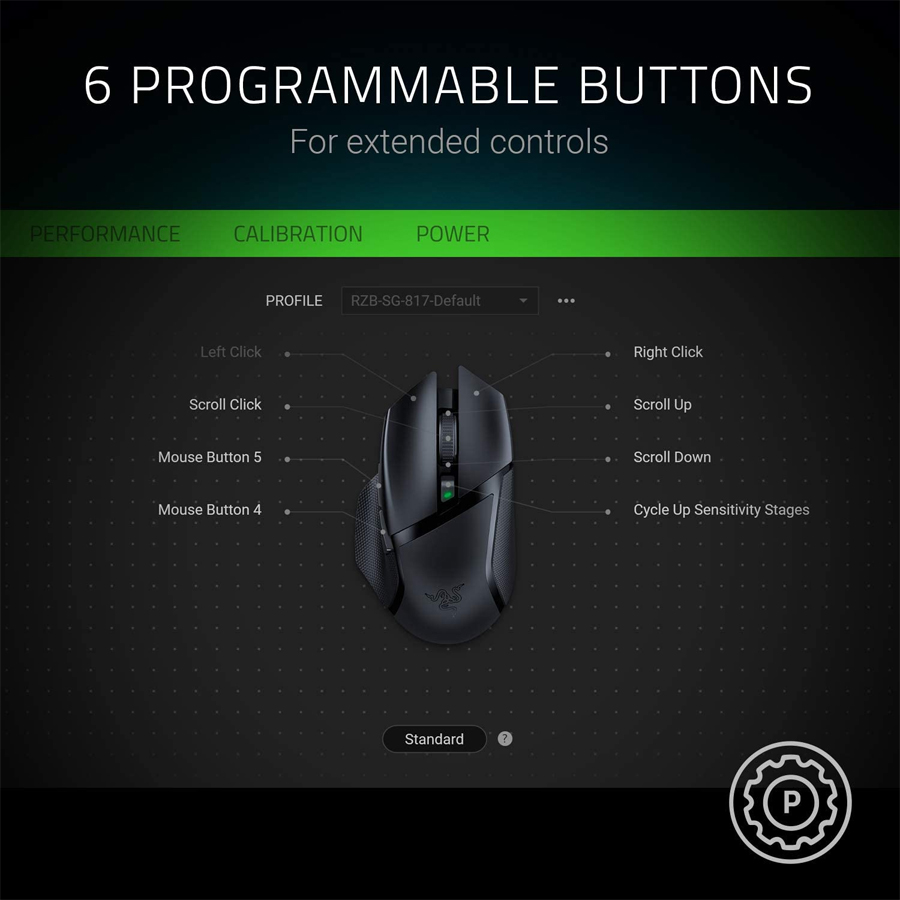 Best Mouse For People Who Use Their Mouse More Than Their Keyboard
Possibly, the strongest feature of ROCCAT Kone AIMO Gaming Mouse is that it has 23 programmable keys. Yes you read that right. We will conclude our hunt for the perfect computer mouse by recommending the ROCCAT AIMO as the best wired mouse in the industry.