The JellyTank by Florida-based designers Blake and Brock Gratton is a desktop jellyfish aquarium customized for homes, offices or commercial spaces. The goal is to create a tank focused on the natural flow that this marine species would typically experience in the oceans whilst offering a mesmerizing, slick and fully functional product. So for all the jellyfish lovers out there, Blake and Brock Gratton have made it surprisingly easier to own a bunch of them as pets in their state-of-the-art tank. Based on extensive research, the JellyTank is user-friendly and easy to maintain in different contexts. To keep the animal comfortable in this habitat, the design includes a laminar water flow pattern which mimics the natural currents and conditions of open water. During nighttime, colored LED lights set the mood by emphasizing the curvy outlines of the design as well as the translucent bodies of the invertebrates floating across the tank.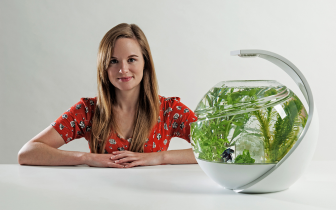 A young British designer Suzy Shelley has just launched the only fish tank that never needs cleaning, water changing or a new filter. 15-litre fish tank Avo is packed full of innovative technology, enabling fish, plants and bacteria work together to create a balanced micro-ecosystem. All you will ever need to do is top up the water and feed the fish. It's so effective in fact, the prototype has been going strong for 18 months without a cleaning and still has healthy fish, plants and clear water! Avo also features automated LED lighting specifically optimised for plant photosynthesis and growth, which promotes clear and healthy water. Avo's unique lighting has the added aesthetic benefit of producing soft red light in the morning, fading to daylight white, to cool blue in the evening. Suzy has just launched a crowd funding campaign on Kickstarter to raise funds to manufacture Avo.
London artist Dean Zeus Coleman (aka Zeus) is known for redefining traditional graffiti with his three dimensional sculptures, paintings and typography. One of his unusual projects is the following fabulous three dimensional graffiti typography fish tank. Definitely unusual and perhaps this small detail will make your interior perfect. If you like fish of course. And if you won't be scares by the volume of work on its cleaning. Have fun!