Today we want to show amazing concept of a grand piano – Oyster. This conceptual instrument ditches the monotonous form of the piano for the natural, curvaceous shape of the sea life by the same name. Because its shape is quite similar to that of the standard piano, there's no sacrifice in tone, quality or performance. It's a beautiful merging of something manmade with nature in perfect harmony!
Goldfinch Pianos and Based Upon – a London-based artist studio collaborated on this remarkable piano. Dubbed, the Baby , this spectacular piano, inspired by the patterns in nature is priced at £475,000 ($708,500) . "The pianos form is based on the repeating spiral patterns omnipresent throughout our universe. From star-studded galaxies to the florets in a sunflower, the fluid curves of the Baby Piano depict these mysterious patterns – so prevalent in nature. It's called the Twist – a unique Based Upon sculpture – and the result of nine years of design evolution. To date the Twist has appeared as a handful of luxury, limited edition tables and consoles and is now reimagined as an astonishing piano." Based Upon is a London based artist studio, whose team designed the music piece treating the same as a sculpture. It shaped according to repeating spiral patterns present throughout our universe.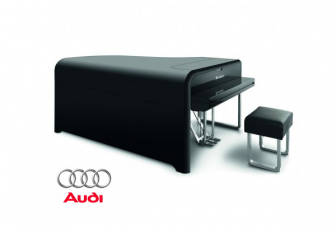 This collection represent you the most creative, stylish and definetly unusual grand pianos from all the world. These grand pianos were created by famous design studios, sometimes in tandem with instrumental manufacturers. Some of them excist on one exemplar. Some of them are available in limited edition. And many of them cost more than $100,000. Audi Grand Piano, Porshe Grand Piano, Schimmel Pegasus… Wonder if the sound quality correspond to their appearance?