The word 'Lego' is the abbreviation of the Danish words 'leg godt ', meaning 'play well'. Lego has been intensely popular among both adults and children since 1932. It has even spawned its own movies of late. Listed below are 15 of the biggest LEGO sets ever made.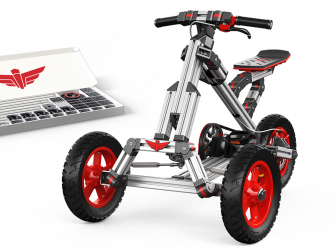 Infento is like a real-size Lego or Meccano kit where you can build unlimited real rides together with your child! With several kits to choose from such as a wagon, tricycle, or bike, the unique rides are all constructed using a single hex tool, and all parts are designed to be multi-functional and multi-adjustable, meaning that when you´re in for something different or when a child outgrows their ride, the endless possibilities of Infento simply brings you a new ride. "We offer 3 Kits and 2 Add-ons. In total you can build 18 incredibly cool rides. But as always with Infento, the possibilities are endless and you can also create your own awesome rides. This is all up to you. So, 18 is just the number of rides we created for you and your kids." With Junior Kit you can build 6 rides for little ones between 0 and 5 years old. The rides in the Junior kit will teach your child how to walk, bike and move. You can build a walker, scooter, balance bike, balance trike, balance carrier and a tricycle. With the Creator Kit you will be able to build 9 unique rides. If your child is already older than 4 he can build 3 awesome rides. But this kit comes with so much material you can also build all the 6 rides from the Junior Kit! Master Creator is the biggest Kit. With this Kit you will be able to build 11 rides! You and your child will have their whole childhood fun building and riding. From 0 till 13 years. And there 2 add-ons: Junior Snow for the Junior Kit and Big Snow Add-on for the Creator or Master Creator Kit.
Most of us are still kids inside, which stop at the Toy Section in the shops, like to jump on the trampoline and still remember monsters  from their childhood. This project is devoted to the Child inside us. It gives a chance to take a look at Your fears with a smile and to have a ride them. The author of this Monster project is industrial designer Constantin Bolimond from Moscow.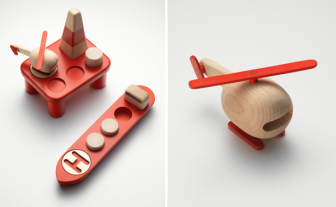 We've already shown you some collections of creative toys such as Leather Pull Toys by Ellen Heilmann or Extremely Stylish Kids Toys. This time we want to show you another great example of kids toys. They are featered on New Nordic – Architecture and Identity exhibition at the Louisiana Museum of Modern Art. This is set of wooden toys depicting modern day industrial icons, while at the same time honouring traditional Nordic craftsmanship made by Permafrost. The exhibition is open until October 21st in Copenhagen. Have fun!