More than one generation of kids has grown on legendary Lego construction toys. Lego company exists since 1932 and make the best constructors in the world. The best and the biggest ones you would ever buy. By talking about the size of constructors we mean not only the size of a model created in result but number of included pieces. The biggest constructors contain over 5000 pices and it will take you at least a month to build such construction set. So, here are top 20 best construction sets ever.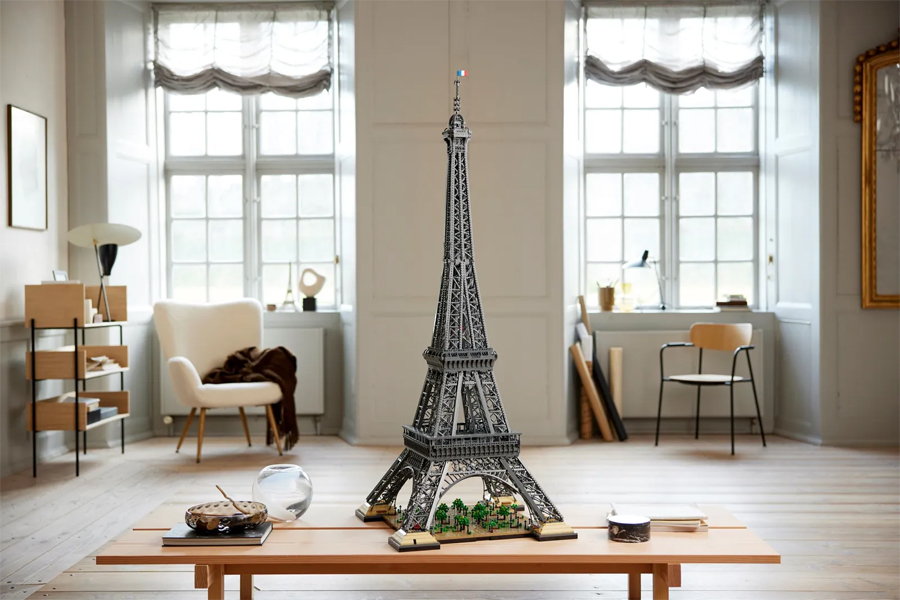 The word 'Lego' is the abbreviation of the Danish words 'leg godt', meaning 'play well'. Lego has been intensely popular among both adults and children since 1932. It has even spawned its own movies of late. Listed below are 20 of the biggest LEGO sets ever made.
Biggest LEGO Sets Ever Made Comparison (Data for 2023):
| | | | | | |
| --- | --- | --- | --- | --- | --- |
| LEGO set | Pieces | Year | Product Line (LEGO Theme) | Item Weight | Price |
| Eiffel Tower | 10,001 | 2022 | ICONS | 24 lbs | $629.99 |
| Titanic | 9,090 | 2022 | ICONS | 23 lbs | $989.99 |
| Colosseum | 9,036 | 2020 | Creator | 26.46 lbs | $499.99 |
| Ultimate Millennium Falcon | 7,541 | 2019 | Star Wars | 29.60 lbs | $848.84 |
| AT-AT Ultimate Collector Series | 6,785 | 2021 | Star Wars | 28.90 lbs | $897.42 |
| Hogwarts Castle | 6,020 | 2018 | Harry Potter | 16.22 lbs | $469.95 |
| The Taj Mahal | 5,923 | 2008 | Creator | 14.08 lbs | $639.50 |
| Santiago Bernabéu Stadium | 5,876 | 2022 | ICONS | 15.07 lbs | $499.99 |
| Diagon Alley | 5,544 | 2020 | Harry Potter | 14.64 lbs | $549.99 |
| Camp Nou FC Barcelona | 5,509 | 2022 | ICONS | 17.36 lbs | $349.99 |
| Ultimate Collectors Millennium Falcon | 5,197 | 2007 | Star Wars | 23.59 lbs | $3,488.79 |
| NINJAGO City | 4,867 | 2017 | NINJAGO | 13.56 lbs | $933.22 |
| Ultimate Collectors Imperial Star Destroyer | 4,784 | 2020 | Star Wars | 27.36 lbs | $1,174.97 |
| Ghostbusters Firehouse | 4,634 | 2016 | Ghostbusters | 13.98 lbs | $1,099.99 |
| Lion Knights' Castle | 4,514 | 2022 | ICONS | 10.12 lbs | $399.99 |
| Tower Bridge | 4,295 | 2011 | Creator | 9.26 lbs | $319.99 |
| Big Ben | 4,163 | 2016 | Creator | 7.91 lbs | $575.00 |
| Roller Coaster | 4,124 | 2019 | Creator | 16.02 lbs | $576 |
| Liebherr R 9800 Excavator | 4,108 | 2019 | Technic | 17,66 lbs | $740 |
| The Disney Castle | 4,080 | 2016 | Disney | 12.70 lbs | $575 |
| Rough Terrain Crane | 4,057 | 2018 | Technic | 12.94 lbs | $299 |
LEGO Technic Rough Terrain Crane – 4,057 pices [ buy here ]
Nothing taps the young mind's engineering and tech potential that LEGO's Technic series. With an emphasis on technical and engineering aspects of real-life vehicles, the LEGO Technic Rough Terrain Crane #42082 is another stellar offering.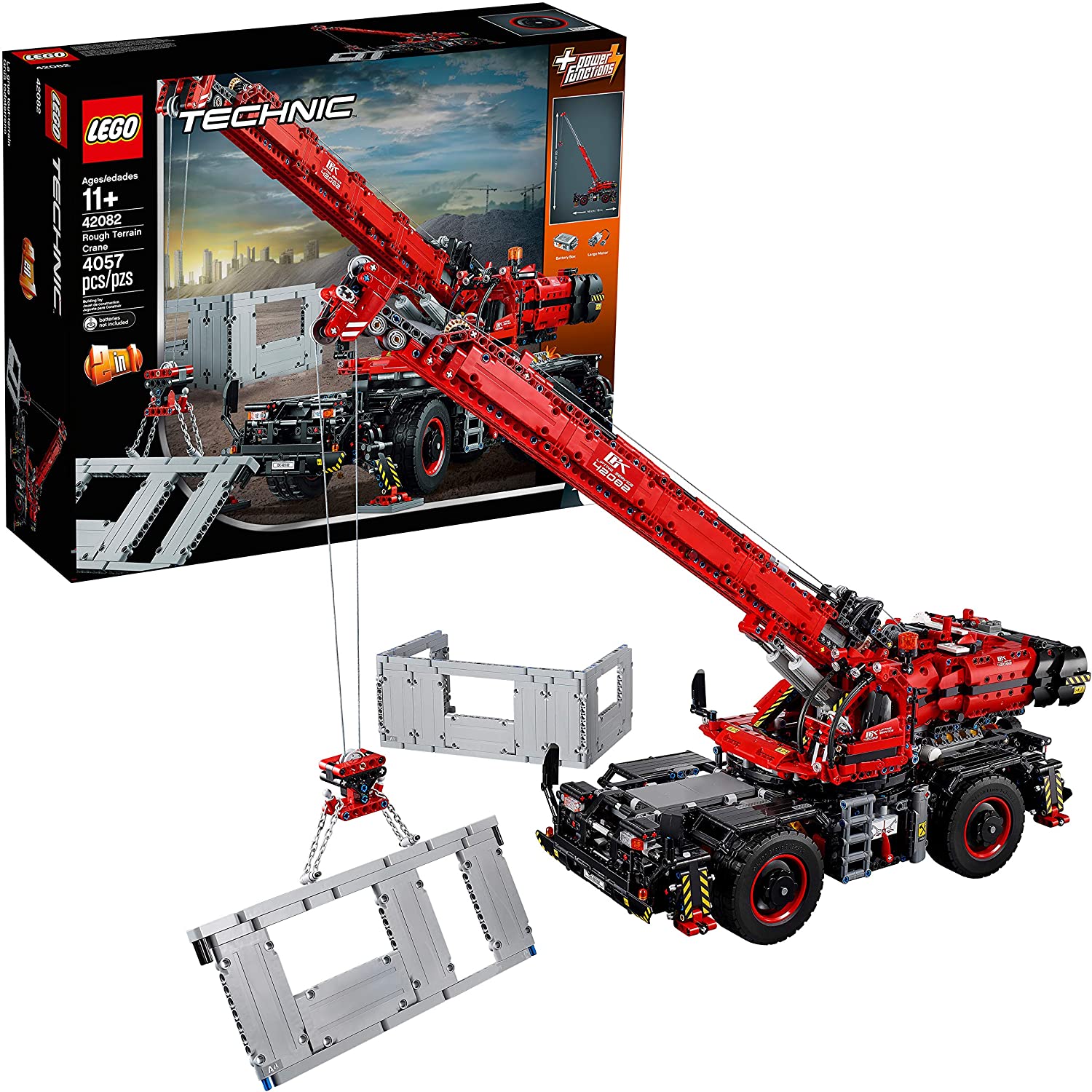 Battery-powered and capable of performing locomotive and constructive functions, this 4057-piece wonder was created by the best minds in the Danish toy company in 2018. Challenging the tech capabilities of LEGO hobbyists, the set comes at $280 and spans 20 cm wide, 27 cm high, and 76 cm long.
The technic rough terrain crane isn't just a wonderful display, but also comes with "Power Functions." With a possibility to create a Mobile Pile Driver as well, this tech wonder in typical red and black color is a fun and challenging chance for young minds to explore their engineering interests.

LEGO The Disney Castle – 4,080 pices [ buy here ]
Now is the time to bring your Disney fantasy to life with LEGO The Disney Castle #71040. Coming with 4080 pieces, it makes for a detailed structure that gets over 2 feet in height, 18.8" (48cm) wide, and 12" (31cm) deep. Plus, this massive box with a Lego set for the Disney fans also has some hidden elements. Just pick up the roof section, and thank us later.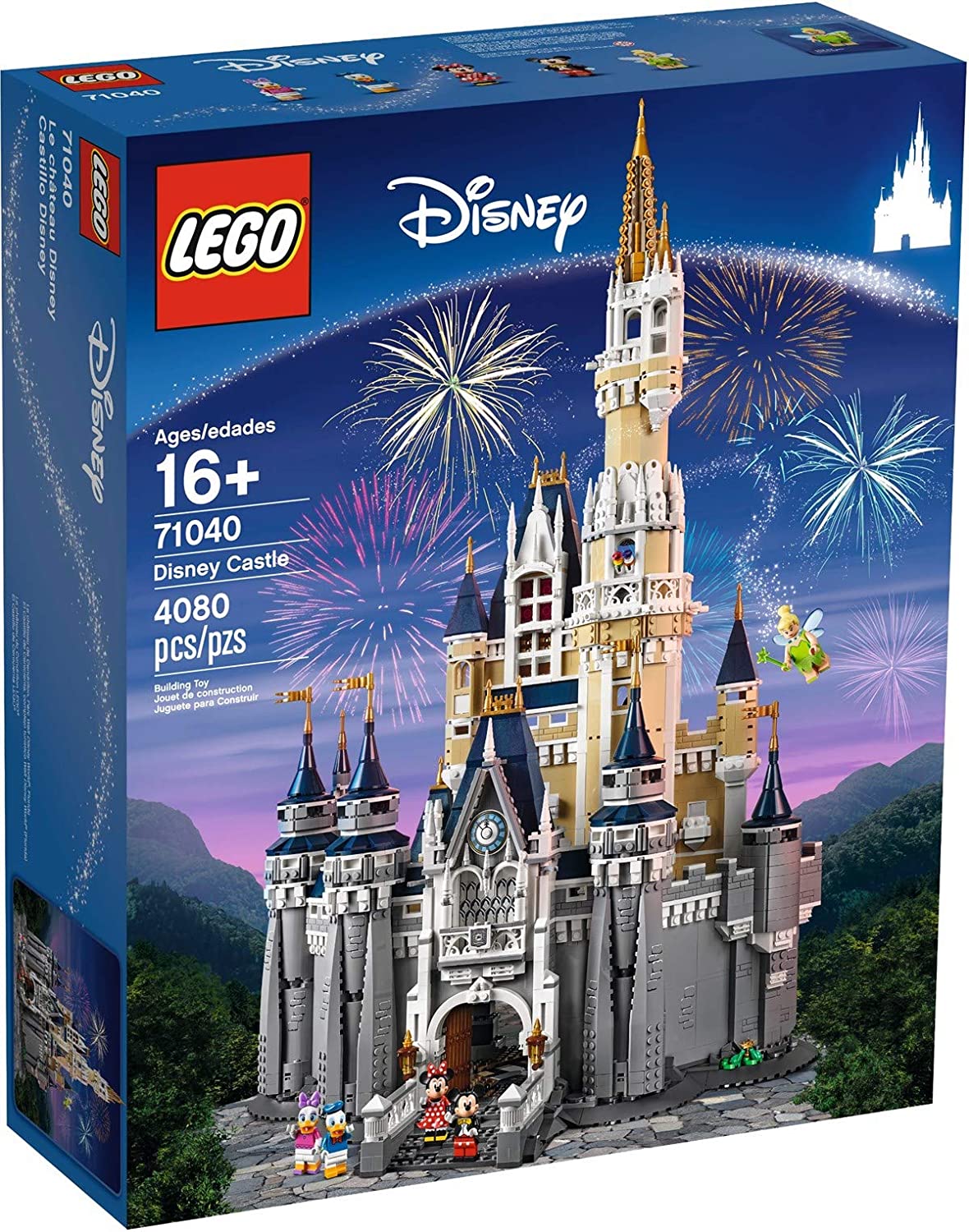 With 5 mini-figures that include Mickey Mouse, Minnie Mouse, Donald Duck, Daisy Duck, and Tinkerbell, it is a realistic build for hours of family time and many more hours of role-playing fun.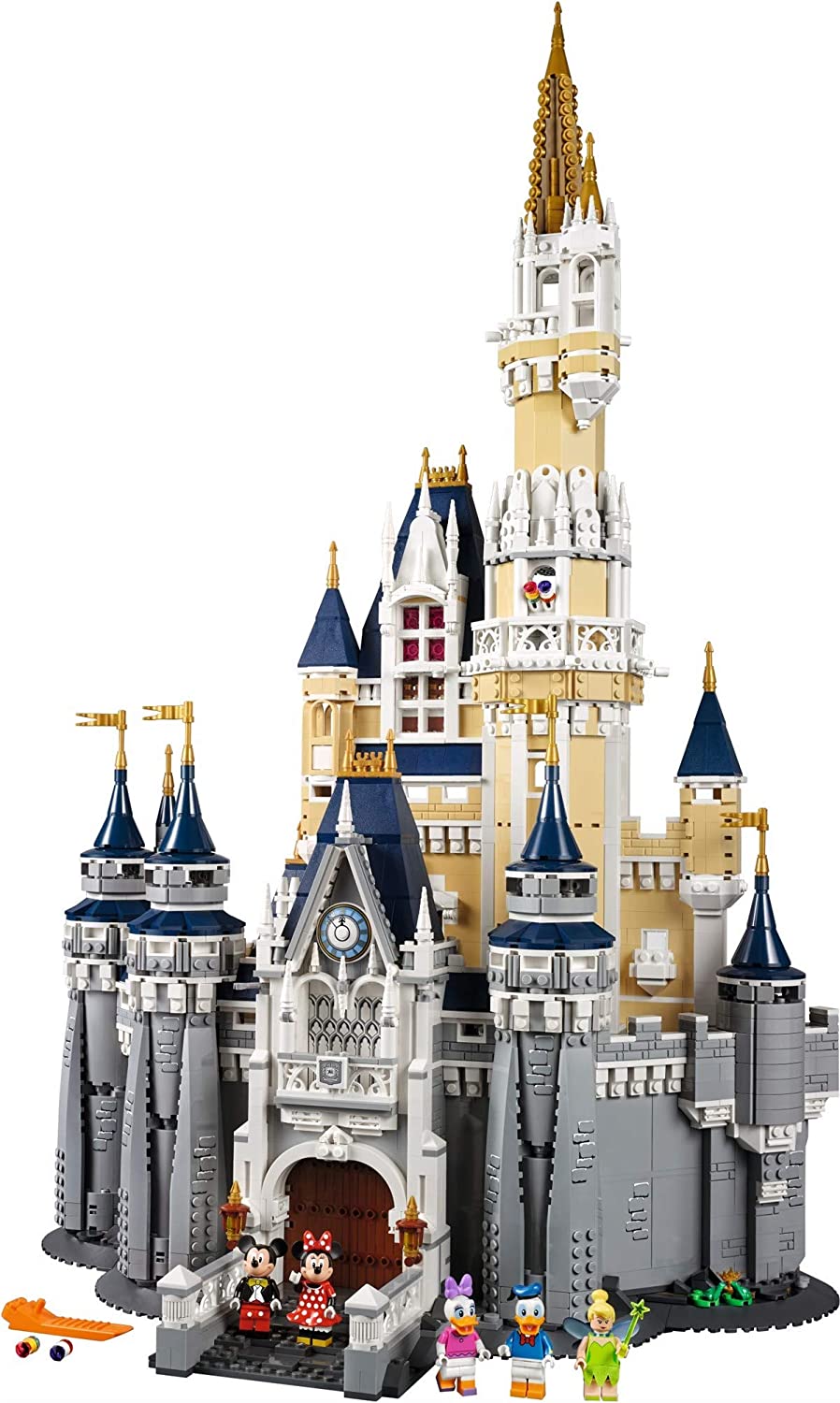 The set comes with a four-story main building and five-story golden spiral towers with assorted Disney elements and rooms. Plus, you can also launch the fireworks from the golden tower. Age-appropriate elements for 16+ Disney fans, The Disney Castle #71040 is a treat to the eyes and well, of course, an utter solace to the fairy tale loving heart.

LEGO Technic Liebherr R 9800 Excavator – 4,108 pices [ buy here ]
LEGO Technic Liebherr R 9800 Excavator #42100 is a treat for all those who love machines. A heavy-duty offering with 4,108 pieces and priced at $450, it takes inspiration from the Liebherr hydraulic excavator that's an important part of the mining industry.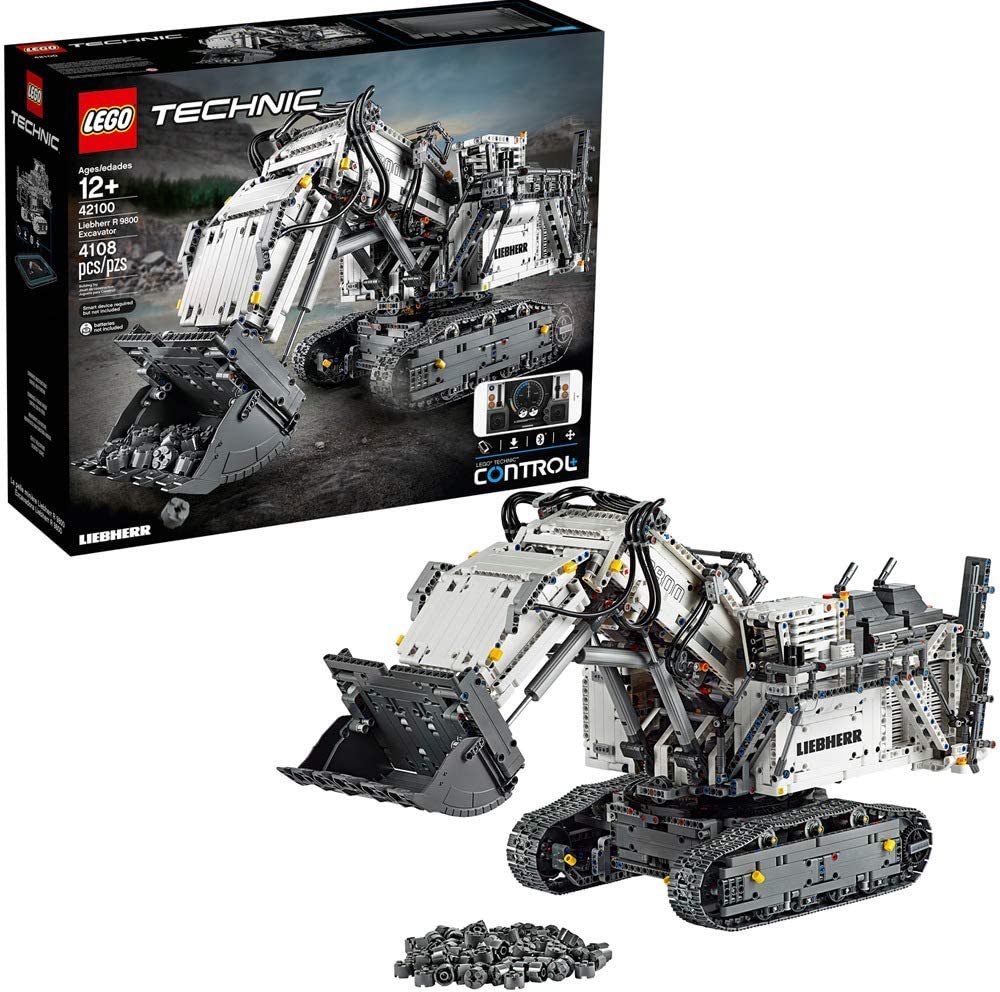 Impressive visuals and its technological prowess make it worth the dent that it creates in your wallet. And guess what, it can be controlled from a smartphone too. It comes with a fancy and functional LEGO Technic Control+ App. You can connect it with 2 Smart Hubs through Bluetooth and run the vehicle using preset commands.
Measuring over 39cm high, 65cm long, and 27cm wide, it no doubt is LEGO's most realistic and technologically impressive offering. A treat for the tech geeks looking for building something humongous with bare hands.

LEGO Creator Roller Coaster – 4,124 pices [ buy here ]
In 2018, LEGO brought all your dreams of an in-house roller coaster come true with the LEGO Creator Roller Coaster #10261. With two trains and 3 cars in each of them, the ultra-realistic model is an absolute delight for the skilled builder. Packed with authentic details and a working chain lift model makes you in charge of creating a superb roller coaster ride. To keep your creative insights in overdrive, the set comes with a 44-piece track and 7 rail elements. Plus 7 mini-figures to populate your roller coaster and the adventure park that it stands in.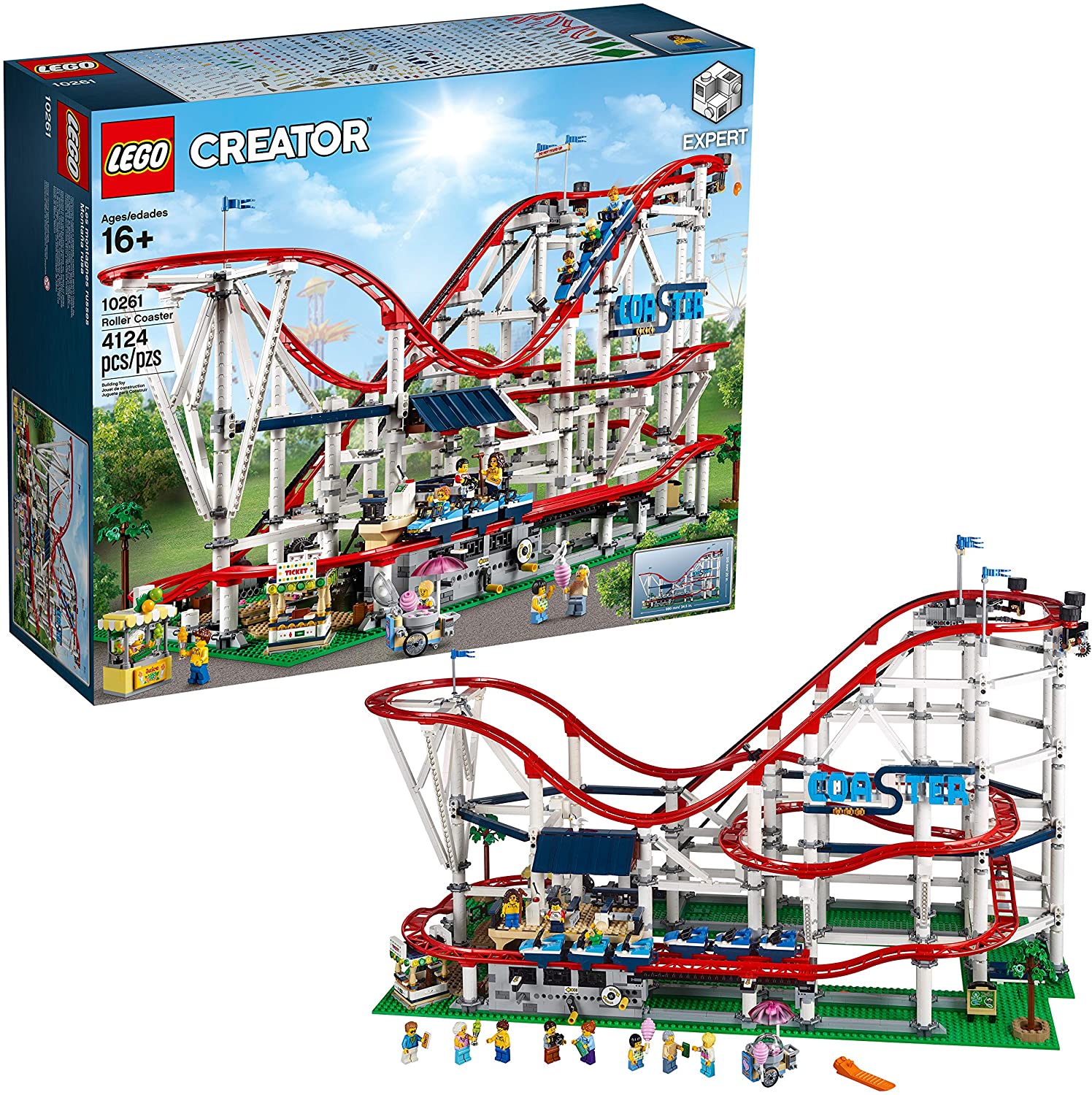 Measuring 20" (53cm) high, 34" (88cm) wide, and 16" (41cm) deep, the $379.99 set comes with 4124 pieces to make sure you have a life-like roller coaster for display. And it can be motorized with LEGO® Power Functions 8883 medium motor and 88000 AAA battery box.
LEGO® Power Functions and LEGO BOOST can also come in as handy upgrades for your LEGO Creator Roller Coaster #10261 if you want realistic sound effects and chain lift automation.

LEGO Creator Big Ben – 4,163 pices [ buy here ]
If you can't get enough of London, here is the Big Ben set for you in all its characteristic splendor . And that is only because of the famed detailing of the LEGO sets, here in the form of a sculpted façade with windows, statues and shields, the cherry-in-the-pie clock tower with its golden spires and awesome design, the Ayrton Light, and 4 beautiful clock dials with functional hands. There is also the 96 meters neo-gothic Elizabeth Tower, complete with the adjoining east wing of the Palace of Westminster.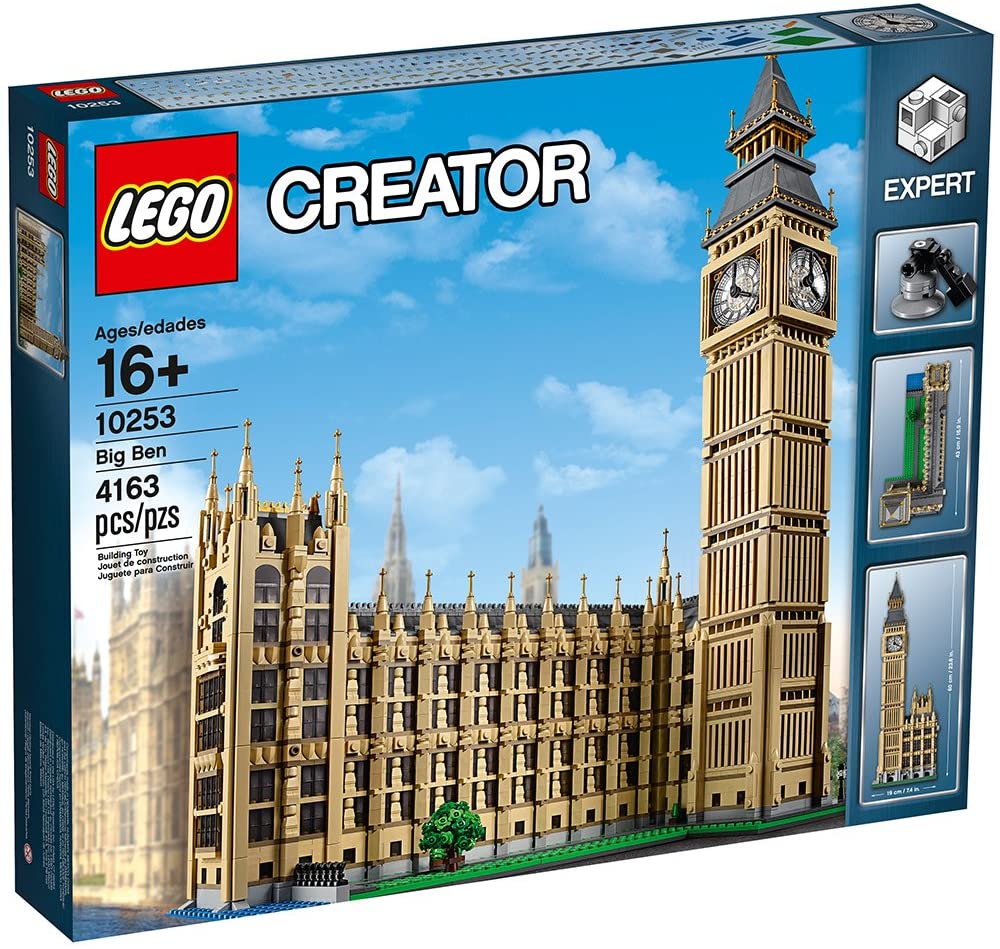 To complete the London flavor , there is an adjacent grass area, trees and a sidewalk to depict the location of the building. As an added bonus, you get to see the Big Ben bell once you remove the top of the tower (yes, we did mention detail).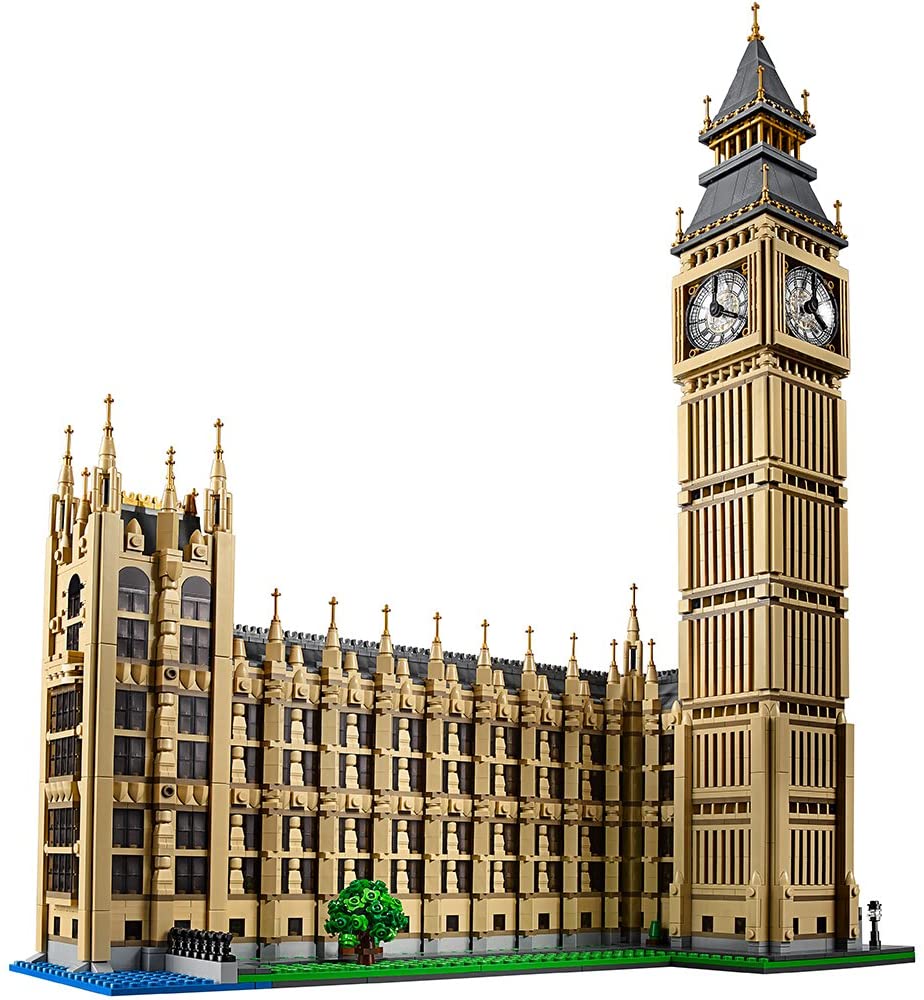 This set is for toddlers aged 3 and above who are just starting out with LEGO, and has 4163 parts in all. Being 60 cm high, 44 cm wide and 20 cm deep after completion, it is one of the bigger LEGO models.

LEGO Creator Tower Bridge – 4,295 pices [ buy here ]
Here is another iconic landmark to add to your collection. Featuring advanced building techniques and rare colors and elements, the Tower Bridge set comes with its pair of towers and a drawbridge that you can actually open. It also has 4 mini vehicles – a London taxi, the classic red double-decker bus, a yellow truck and a green car. The bags in the box are deliberately left unmarked to make this more interesting for older LEGO enthusiasts in the 16 to 20 years age group.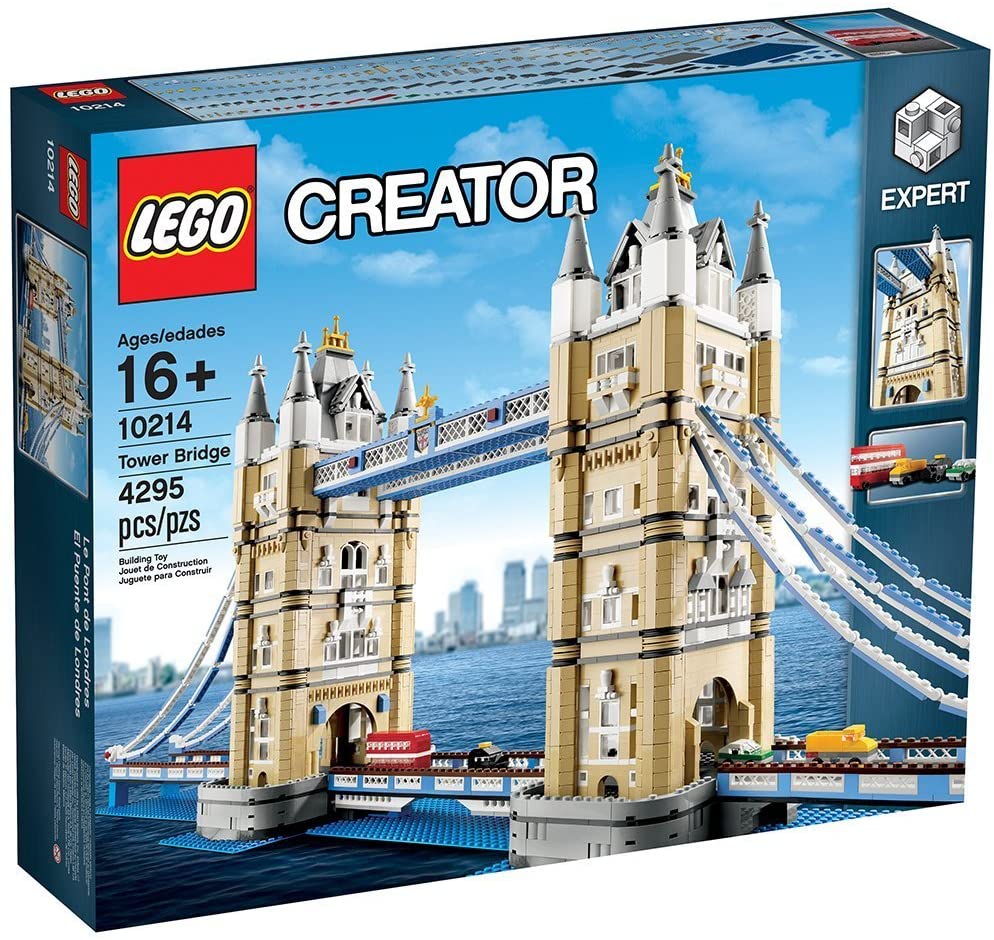 A completed model of the LEGO Tower Bridge would be 40 inches in length, 17 inches in height and 10 inches in width.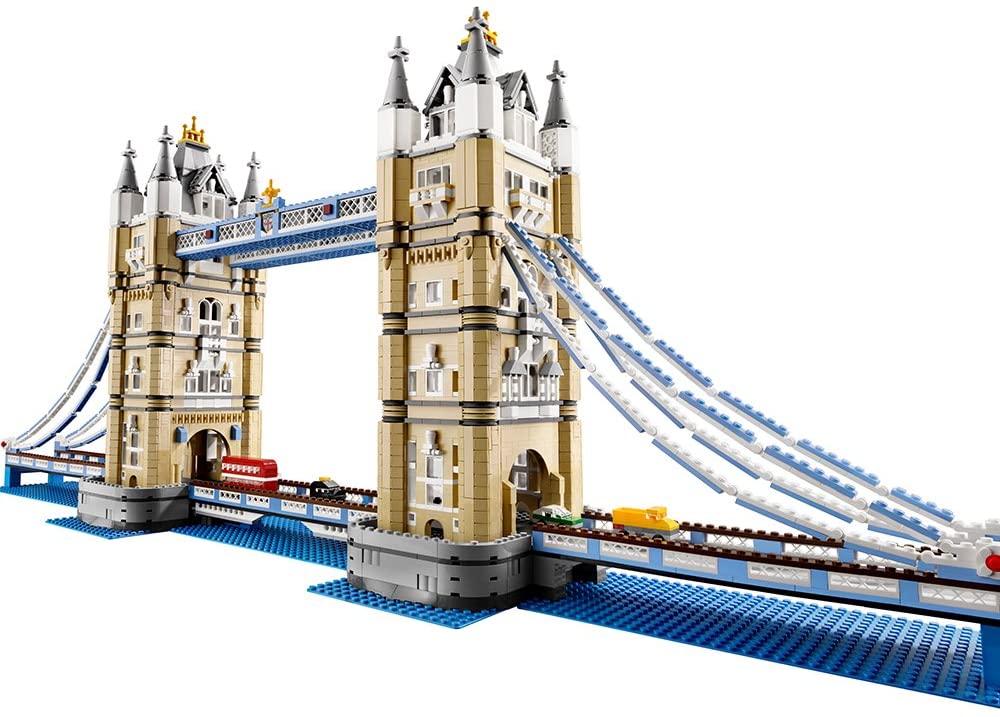 LEGO ICONS Lion Knights' Castle – 4,514 pices [ buy here ]
The LEGO Lion Knights Castle which was first launched in the late 1970s is a much-loved classic. And this new Lion Knights Castle 10305 packs a powerful punch of new features while keeping LEGO's legacy alive. It truly satiates fans' will for a rewarding building experience.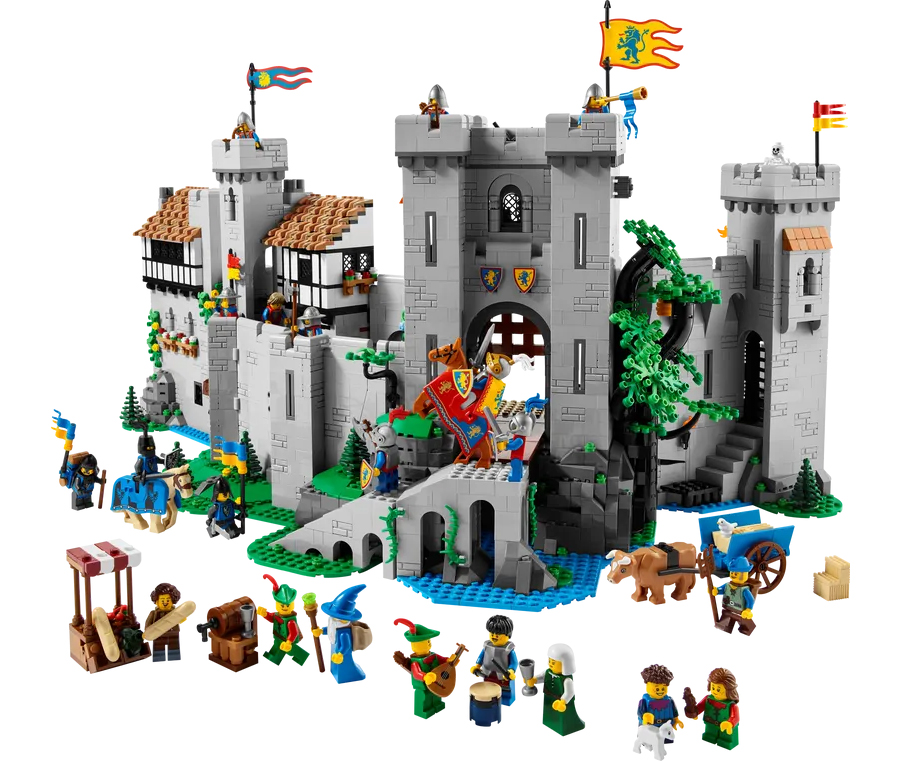 Set to launch in August 2022, the set is priced at $399.99 and comes with 4515 pieces including 22 Minifigures. For the storytellers, this opens up the opportunity to weave engaging tales. Stories around the queen, archer, knights, wizard, and forest people make for hours of uninterrupted gameplay. Plus, it has a detailed interior that features secret passages and hideouts. There is also a mill with a turning waterwheel, towers, turrets, and living quarters. Plus, movable walls that further add to your story-building fun.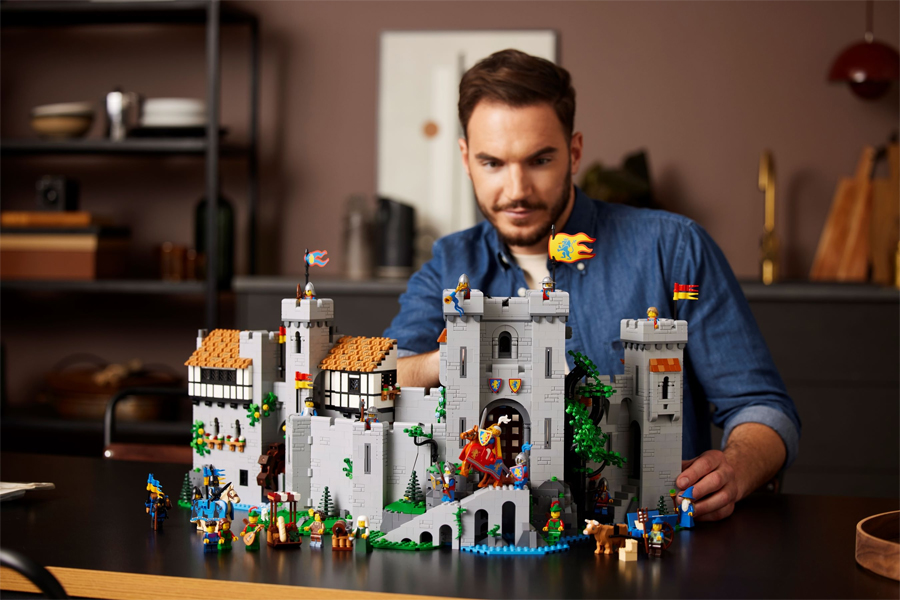 44 cm wide and 33 cm deep, the castle stands at a magnanimous 38 cm tall when complete. Rebuild, relive, and reimagine all the fun that the 1978 castle brought to you.

LEGO Ghostbusters Firehouse – 4,634 pices [ buy here ]
With over 4,600 pieces, you can recreate some of the legendary Ghostbusters moments with the 3-storey Firehouse Headquarters featuring a lab, a containment unit for you to put in Slimer (yes, he is there), a darkroom, a garage bay, an office area, sleeping quarters, a bathroom, and a recreation room. It also includes the 9 minifigures of Egon Spengler, Louis Tully, Peter Venkman, Winston Zeddemore, Dana Barrett, Raymond Stantz, Janine Melnitz, the Zombie Driver and the Library Ghost (who is an old lady with a double-sided face), in addition to Slimer, Blue Ghost and Pink Ghost.
To get the right feelz , you can suspend the ghosts on the exterior of the building with transparent arms. There is also a host of other features. The LEGO Ghostbusters 75827 Firehouse Headquarters Building is over 14 inches in height, 9 inches wide (which doubles up when you open the walls) and is 14 inches deep. The doors of the Headquarters can be opened to fit in the 21108 LEGO Ideas Ghostbusters Ecto-1.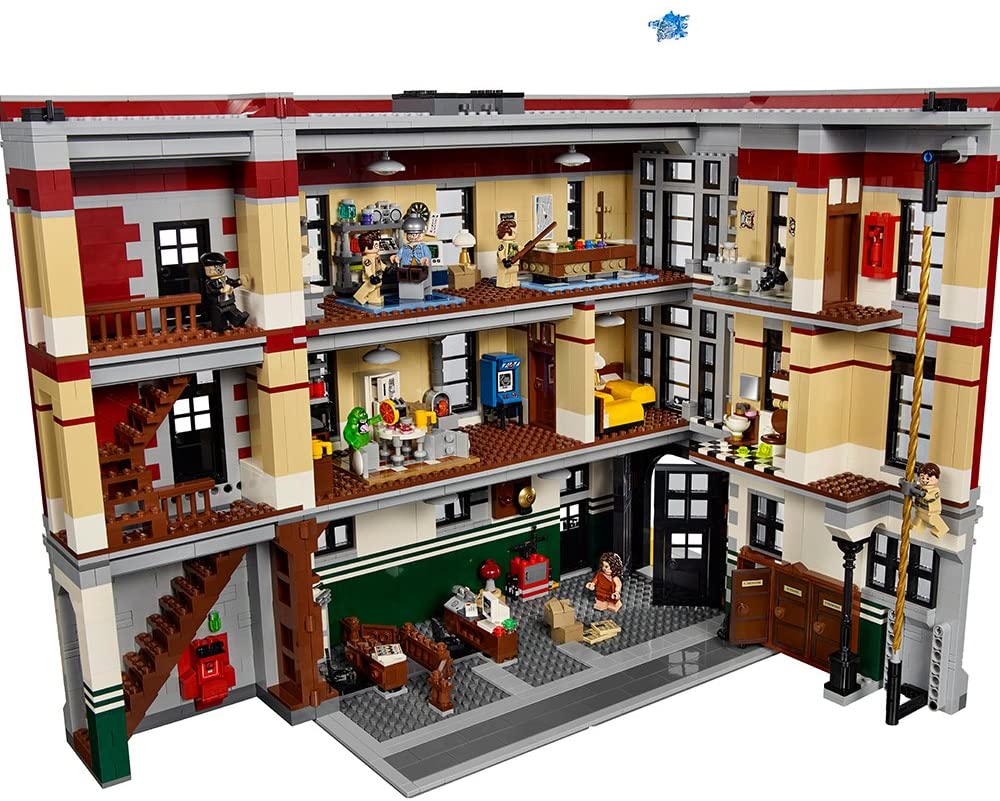 LEGO Star Wars Ultimate Collectors Imperial Star Destroyer – 4,784 pices [ buy here ]
The most feared galactic empire is now yours to build. With LEGO's Ultimate Collector Series Imperial Star Destroyer #75252, you can build the military unit of the empire that Sith created in the Star Wars Universe. And this really big LEGO with 4784 pieces is an intricate built with surface design, sharp triangular shape, and a grey color base that takes you to space.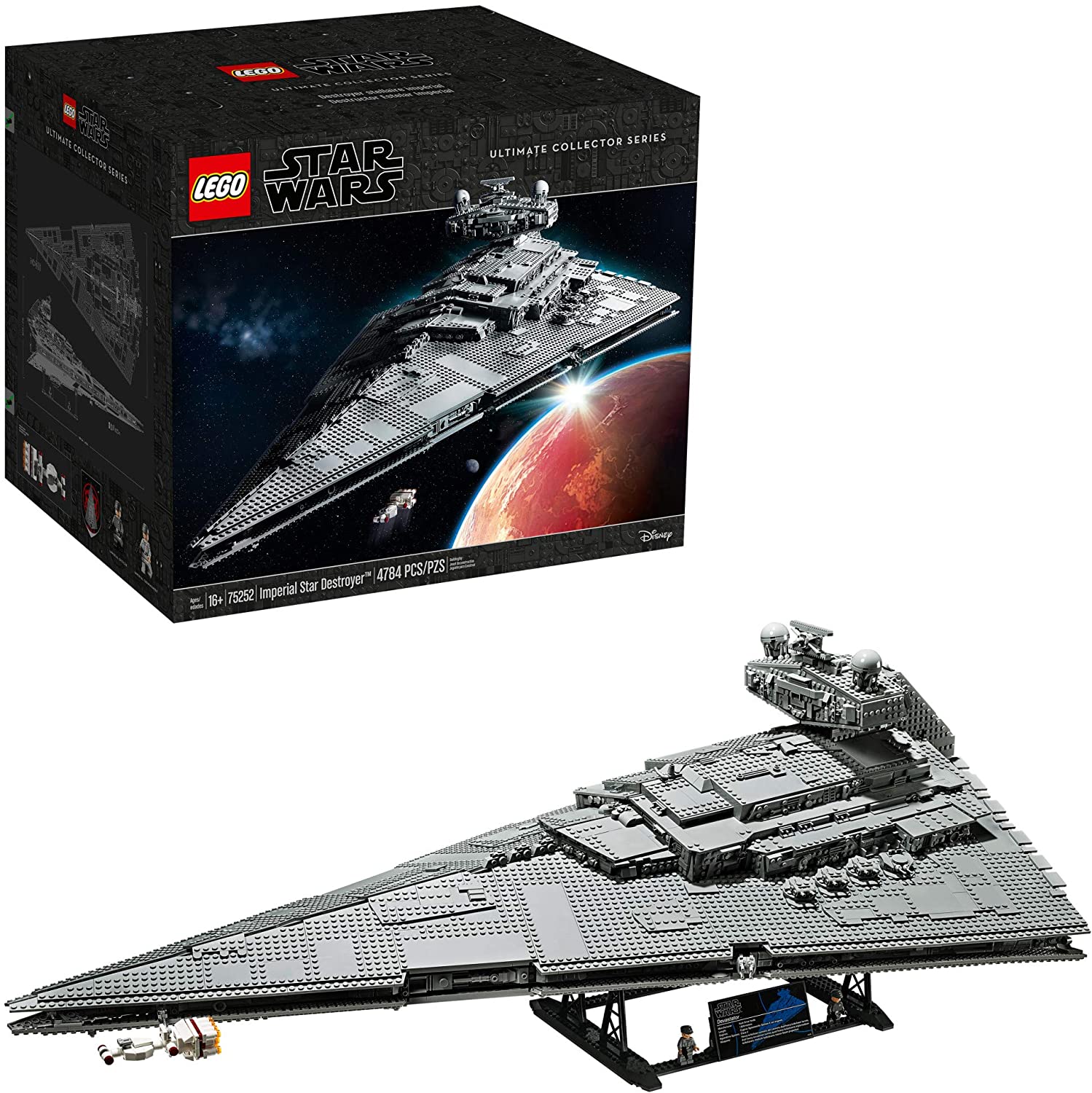 Ranging between 2 to 3 wide when completely built, it is likely to keep you busy for up to 20 to 50 hours. And well, entertained forever. Priced at $700, the Imperial Star Destroyer #75252 makes for an attractive display and something that people won't be able to take their eyes off.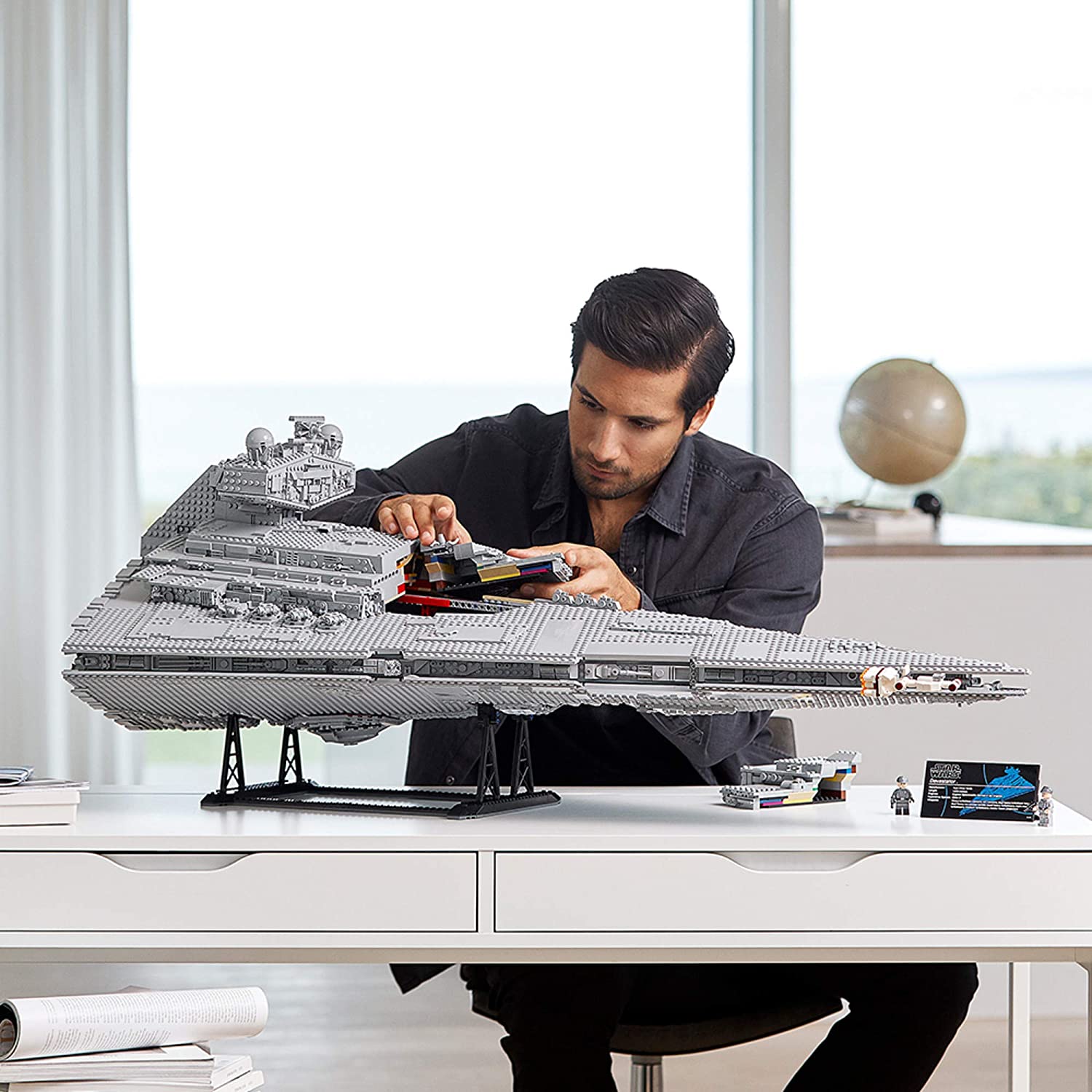 Make sure you have a perfect display place to give the monstrous giant the space that it deserves.

LEGO NINJAGO City – 4,867 pices [ buy here ]
The LEGO NINJAGO City #70620 with 4,867 pieces is all that you need for building your own Ninja dream. Measuring over 24" (63cm) high, 12" (31cm) wide, and 16" (42cm) deep when completely assembled, the 3-level model lets you enact and relive some of the most iconic scenes from THE LEGO® NINJAGO® MOVIE™.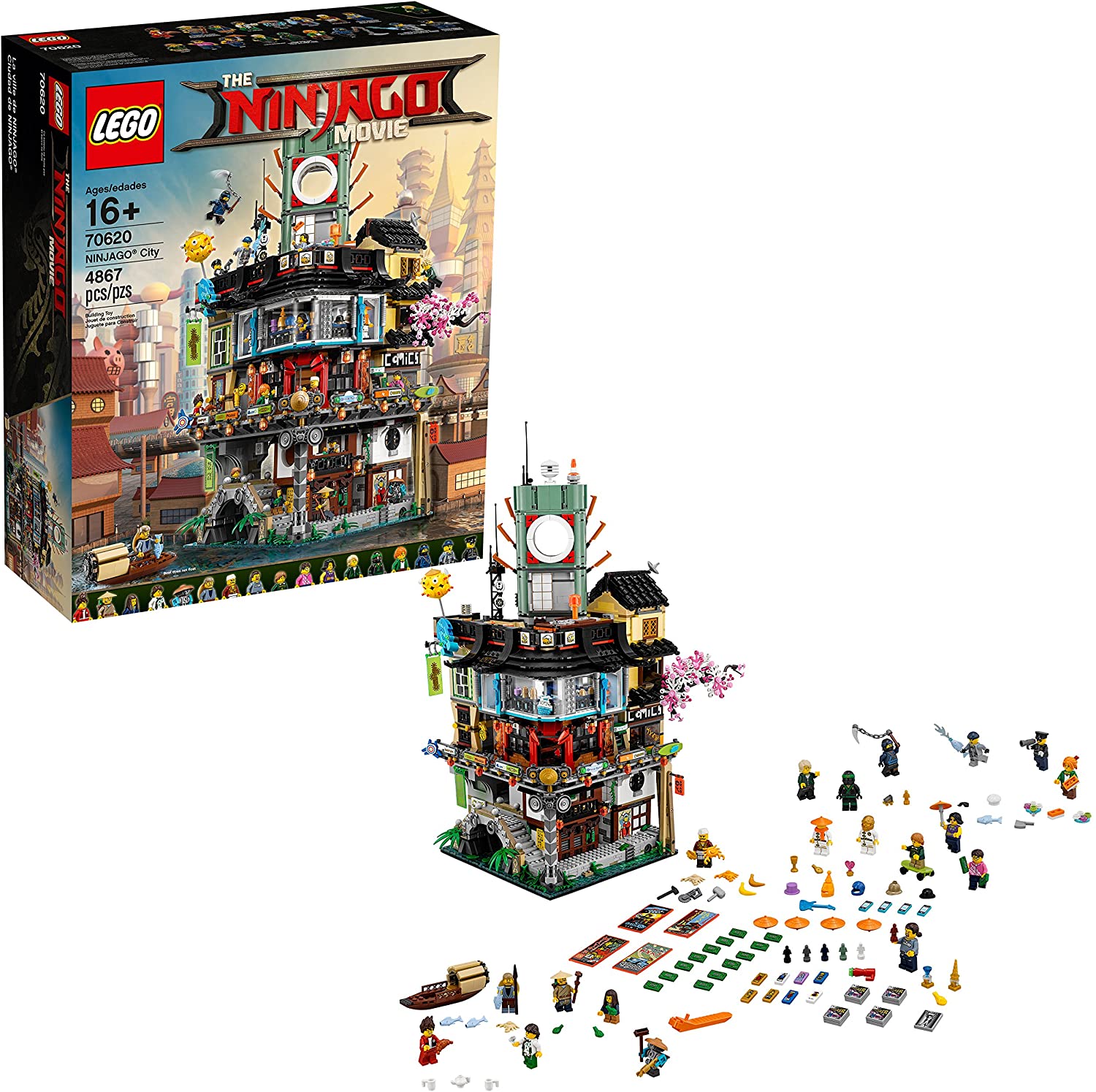 And if you think it's just building a building with blocks, be told that there is something (actually a lot!) on each floor. Each of the three floors comes with shops, buildings, and residential structures to give the completed model a realistic Ninja city vibe.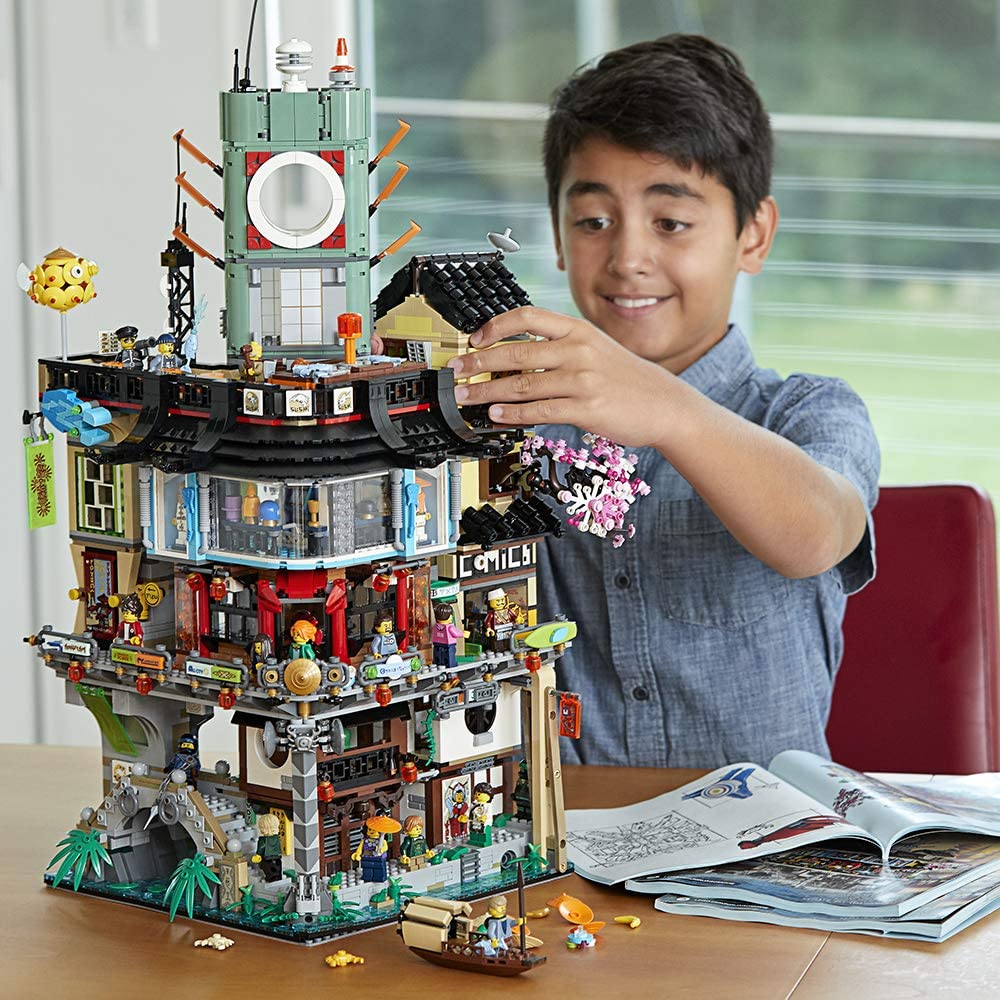 A wholesome building adventure awaits you with 16 mini-figures to populate the piece.

LEGO Star Wars Ultimate Collectors Millennium Falcon – 5,197 pices [ buy here ]
LEGO has an intense fascination for Star Wars, and what better way to celebrate it than with the most important and famous vessel in the Star Wars universe? With 5197 pieces, this was the biggest ever LEGO model when it released in 2007 and it was noted as one of Lucas Licensing's favorites. Keeping up with the grandeur, this measures 33.1 inches in length, 22.2 inches in width and 8.3 inches in height.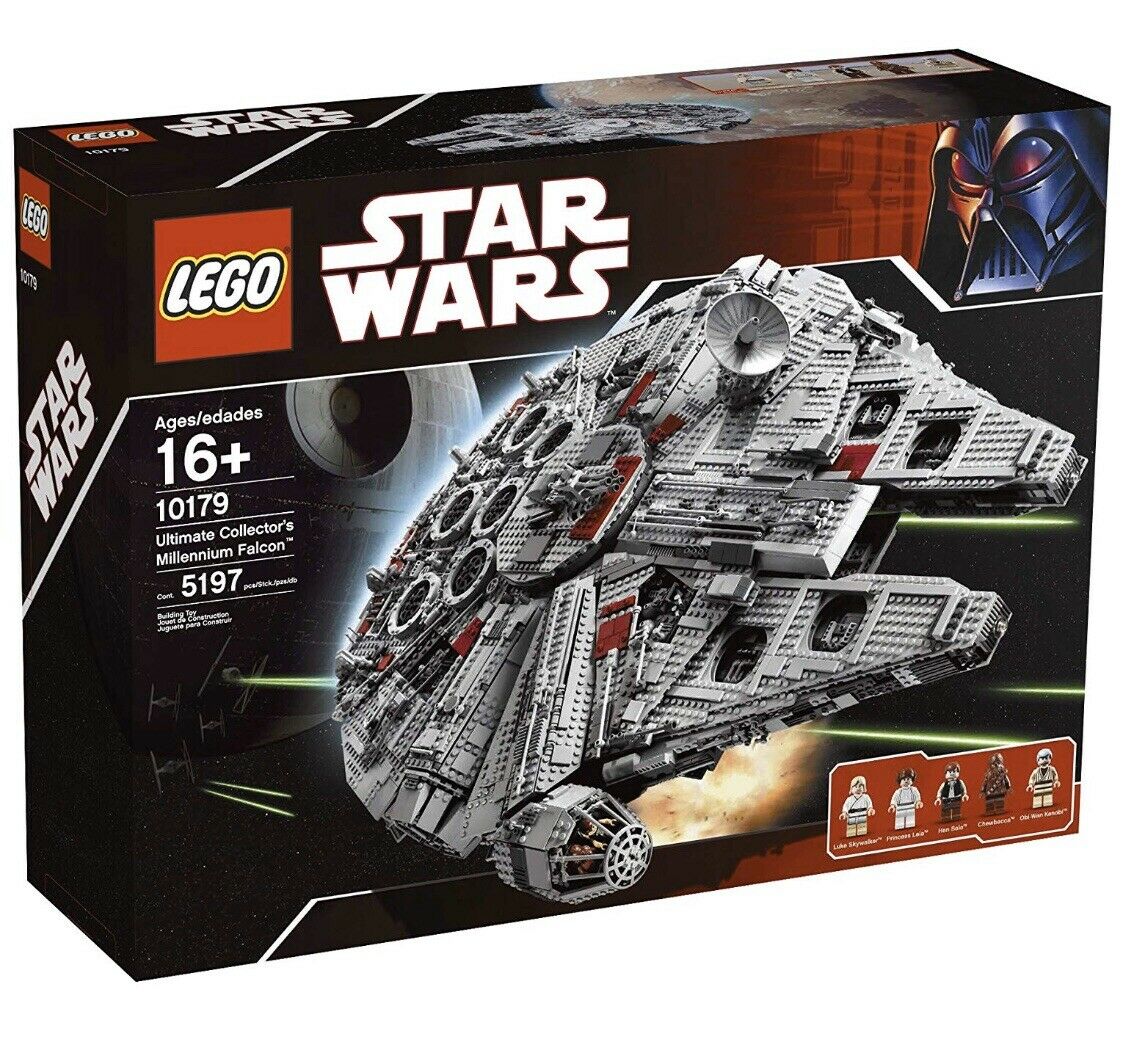 The cockpit top can be removed to access the minifigures of Han Solo, Chewbacca, Obi-Wan Kenobi, Luke Skywalker and Princess Leia Organa. The guns in the top and bottom turrets are rotation enabled, and the top gun turret can be removed to accommodate mini-figures. Intended for ages 6 years and above, this is one of the pieces that inculcate discipline, organization and observation in the builder.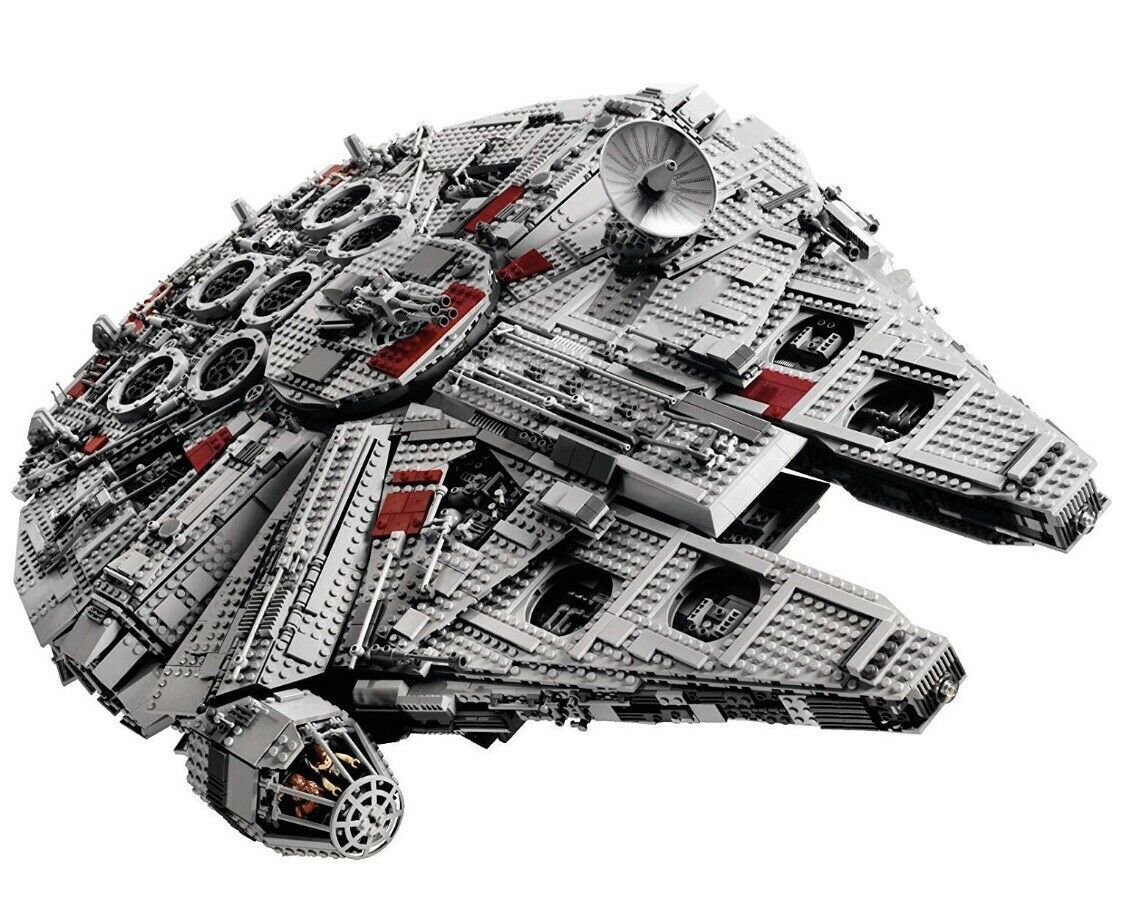 LEGO Camp NOU – FC Barcelona – 5,509 pices [ buy here ]
A rewarding build for all FC Barcelona fans, the Camp Nou FC Barcelona 10284 is a must-own LEGO set. It lets fans build the spectacular Camp Nou Stadium in all its glory. It is a 5509-piece set. And can be split into 5 sections that let you show off every detail of this celebrated stadium's structure.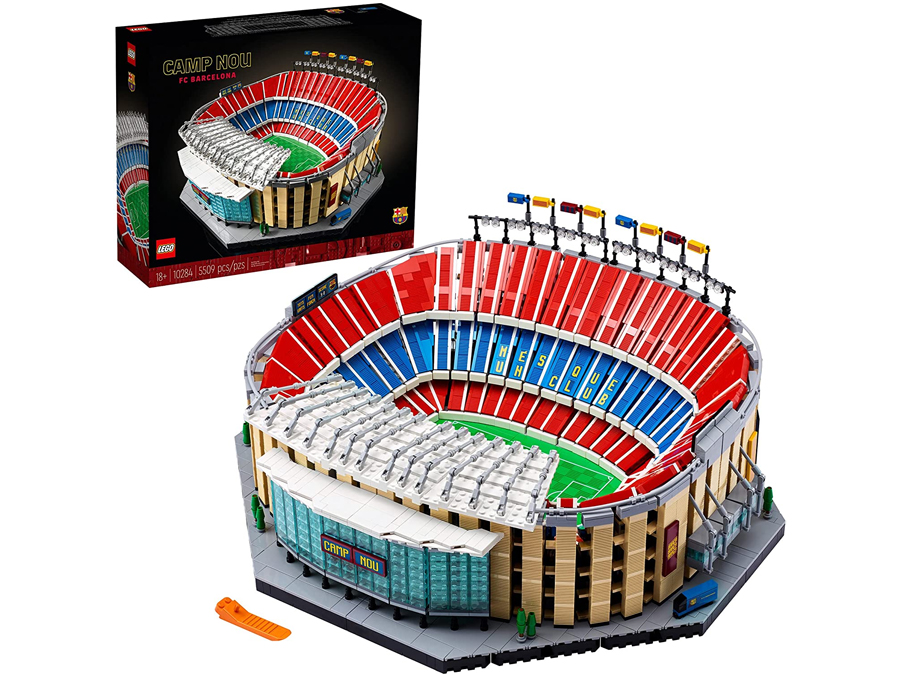 You can bring home this set for $349.99 and regally display your passion for FC Barcelona. Once built, the set's dimensions are 20cm x 49cm x 46cm. It features realistic details like the Barça signs, scoreboards, the Catalan flag, VIP entrance, press section, pitch, player's tunnel, and more. What's more, it also comes with a miniature version of the team bus and stickers and flags in Barca's colors.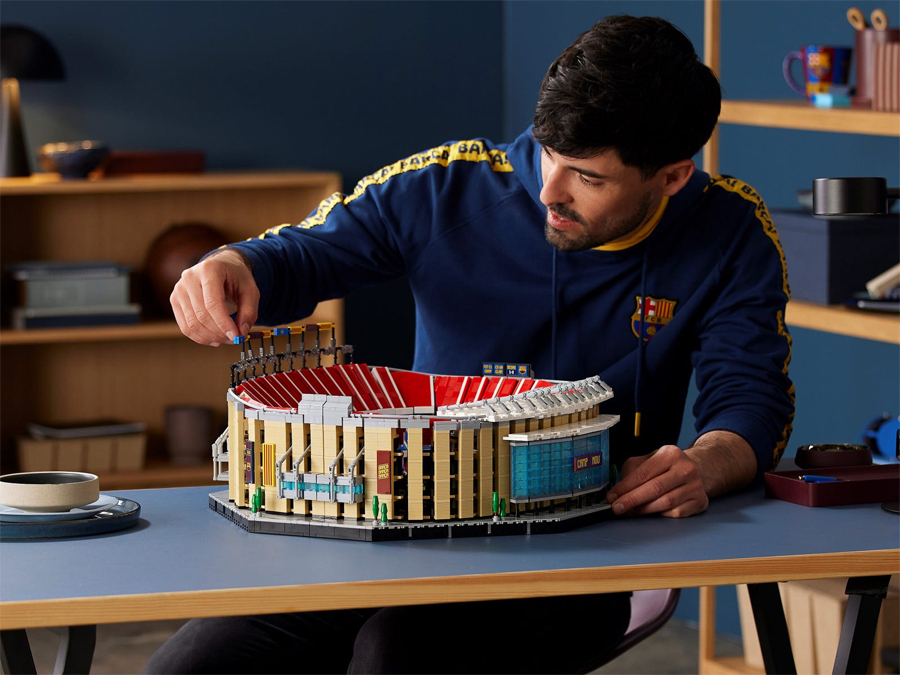 For ardent Barca fans, fine details like the 'Més Que Un Club' (More Than A Club) motto in the stands will be a cherry on the top.

LEGO Harry Potter Diagon Alley – 5,544 pices [ buy here ]
For all the 16+ Harry Potter fans, LEGO launched in 2020, Britain's biggest and the most badass shopping street – the Diagon Alley. Over a meter long, measuring over 11" (29cm) high, 40" (102cm) wide, and 5" (13cm) deep, Diagon Alley #75978 is where you'll find all that you need to rock the year at Hogwarts.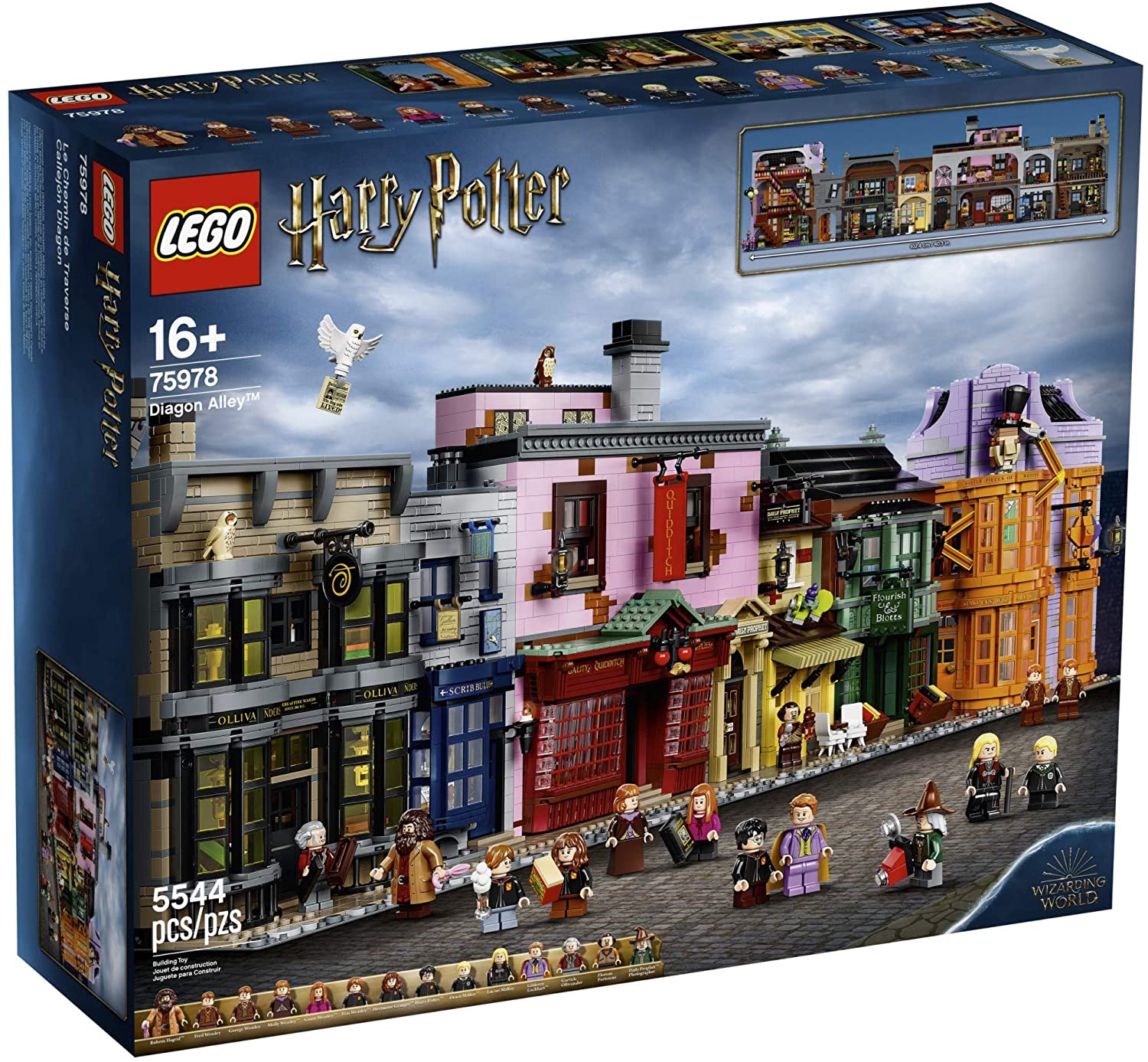 This 5544 piece set is a great gift for any Harry Potter fan. Whether it is for display or you want to build exciting narratives around the magical shopping street, the set has all that you'd need.

You get 4 exclusive mini-figures of Gilderoy Lockhart, Florean Fortescue, Lucius Malfoy, and the Daily Prophet photographer in the set, and it needs no batteries. The Diagon Alley set is 100% hand-powered (the hat lifting entrance to the Twin's Weasley's Wizard Wheezes too!) Get ready to tap the brick wall in Leaky Cauldron pub today.

LEGO Real Madrid – Santiago Bernabéu Stadium – 5,876 pices [ buy here ]
The Santiago Bernabéu Stadium 10299 is an epic attempt by LEGO to celebrate 75+ years of spectacular gameplay by Real Madrid. It is an accurate scale model of the most celebrated football stadiums. And it easily is the best possible gift for a Real Madrid fan. Launched in 2022, it is a 5,876-piece Creator Expert set. Costing $349.99, the set is 14cm high, 44cm wide, and 38cm long.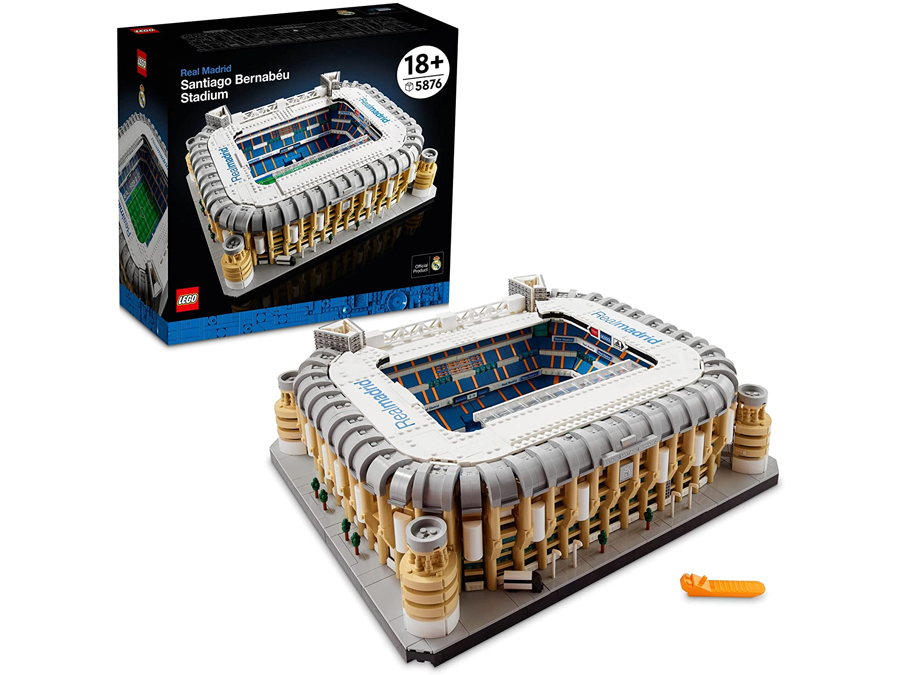 What makes it truly a treat for Real Madrid lovers? It lets you relive iconic moments with real-like features. These include the four towers on each corner. Plus there is the pitch (with the signature grass pattern), banners, and scoreboards. And of course, the Real Madrid FC branding.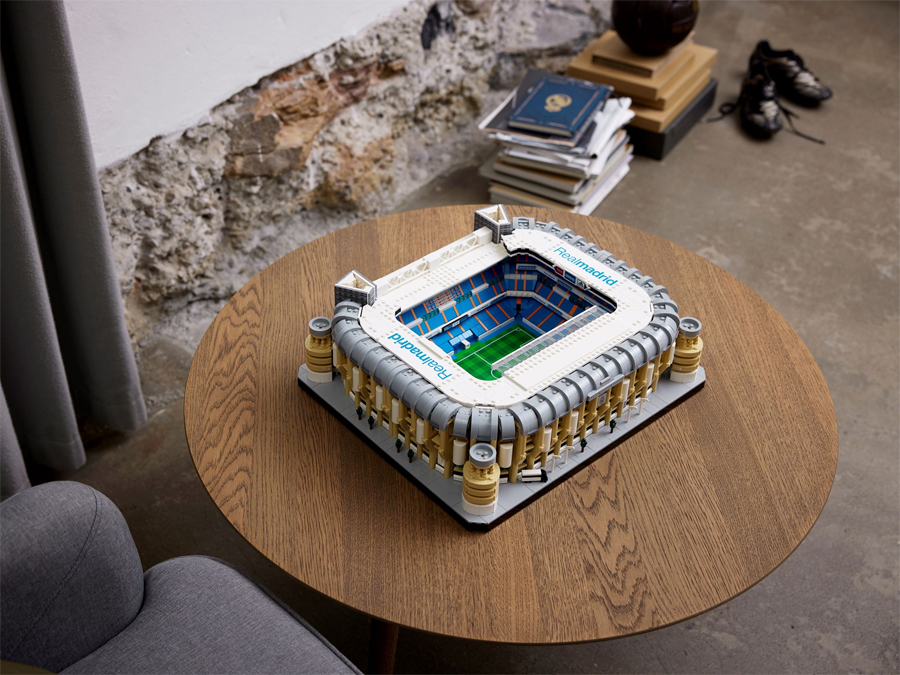 When on display, you can lift the stadium roof. And then drive conversations around its clearly visible internal details.

LEGO The Taj Mahal – 5,923 pices [ buy here ]
This is an exclusive chance to build one of the wonders of our world for the experienced builders who can use the advanced building methods , and focus on very minute and real nuances of architecture. It features details like base, domes, minarets, finials, stairs , and arches.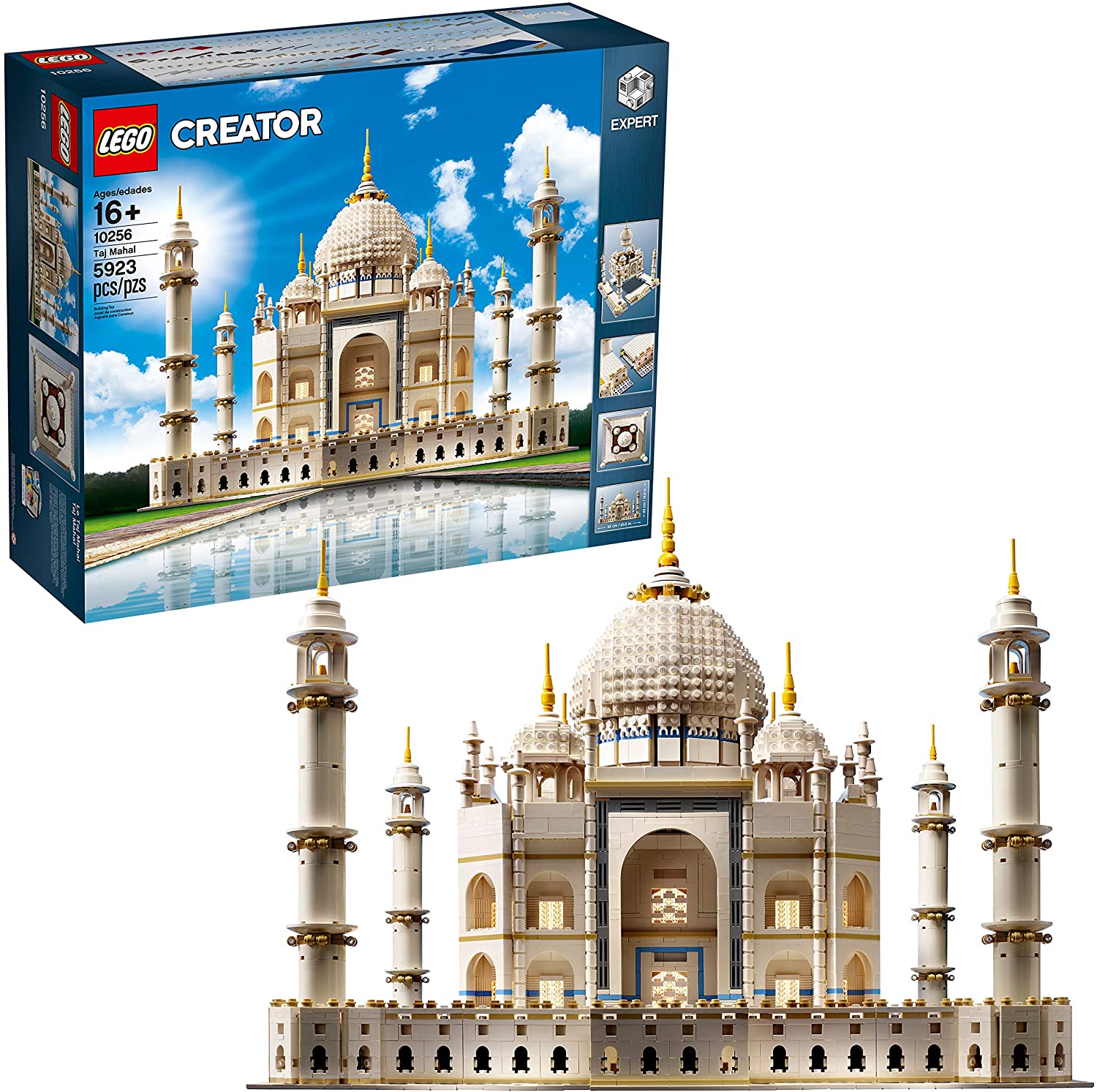 With 5,922 pieces, it features the largest number of elements in one set and has to be assembled in 3 sections for easy transportation (though many have reviewed that some pieces cannot be assembled). It has a width of over 20 inches and is over 16 inches tall. This set is r ecommended for those over 14 years of age.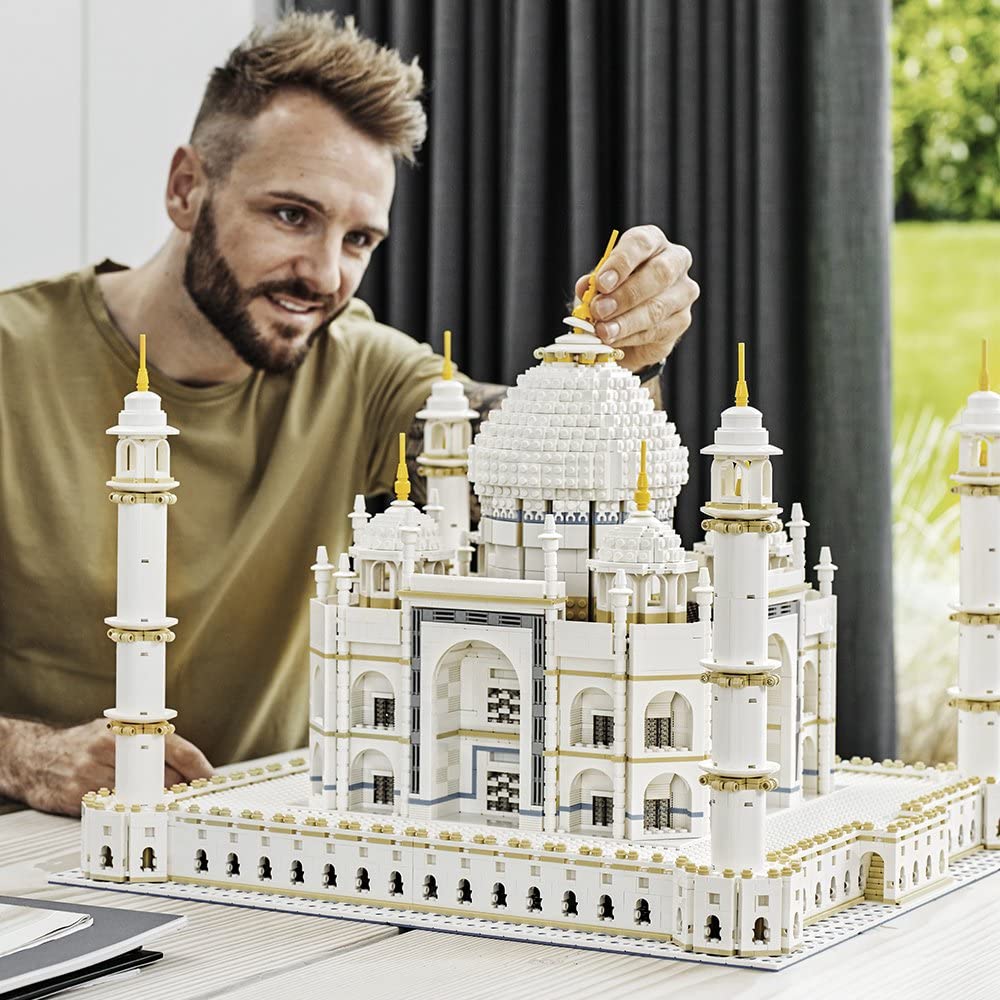 LEGO Harry Potter Hogwarts Castle – 6,020 pices [ buy here ]
One of the biggest among the list of the biggest LEGO sets, Hogwarts Castle #71043, is 6,020 pieces of pure bliss for the magic-starved muggles. Measuring over 22" (58cm) high, 27" (69cm) wide, and 16" (43cm) deep when built, Hogwarts Castle has all that you can remember from the films.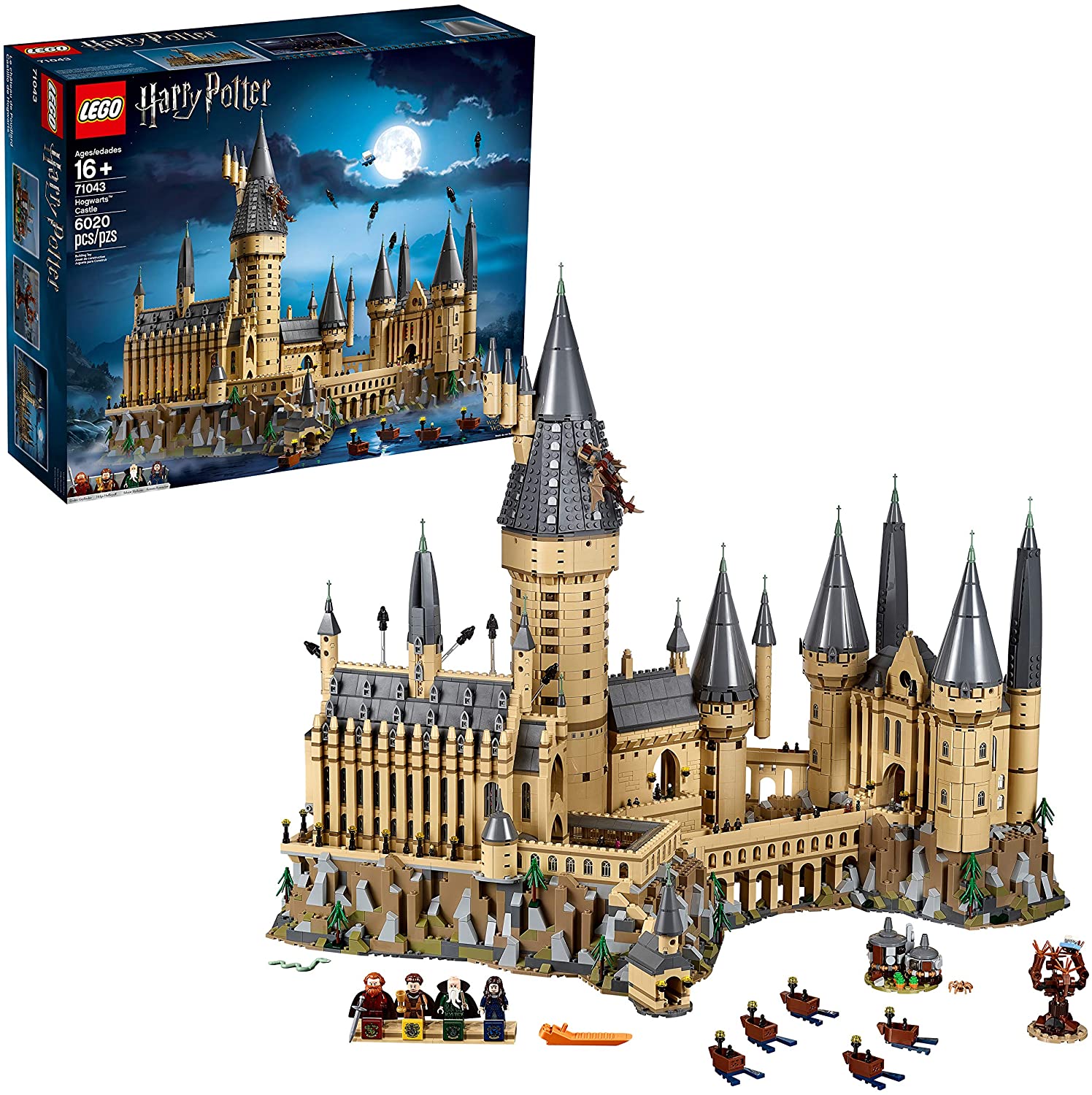 Made available since Sept 01, 2018, the set is all set to keep you busy for a couple of each day for almost a week. Suitable for ages 16+, the set has 4 mini-figures and 27 micro figures to give a 100% realistic vibe. And did we mention 5 dementors too? It isn't really for the faint-hearted!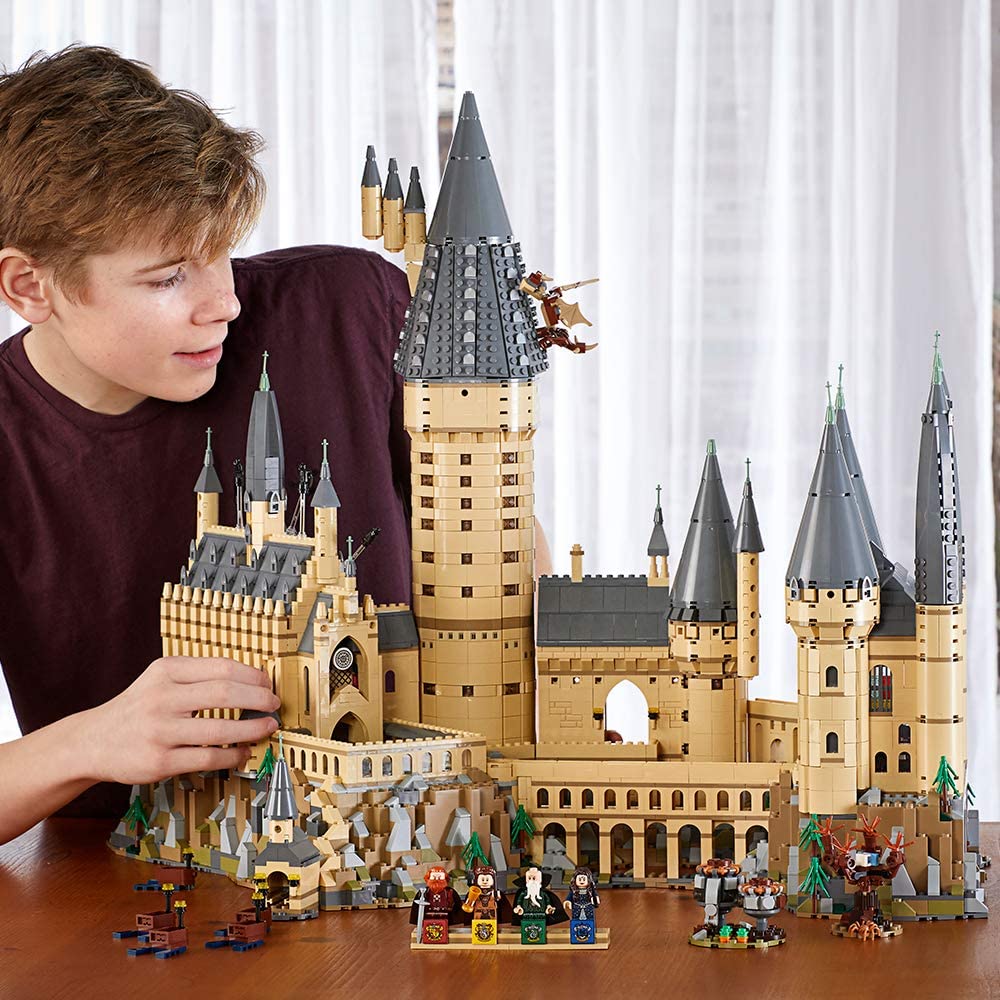 Wands at the ready, Accio Hogwarts Castle #71043, and start weaving your wizarding dream today.

LEGO Star Wars AT-AT – 6,785 pices [ buy here ]
Nothing less than a dream come true for Star Wars fans and advanced LEGO builders, the AT-AT 75313 is a part of the epic Ultimate Collector Series. The magnificent model's key attraction is easily the posable legs and head. That lets you recreate "The" scene from Star Wars: The Empire Strikes Back.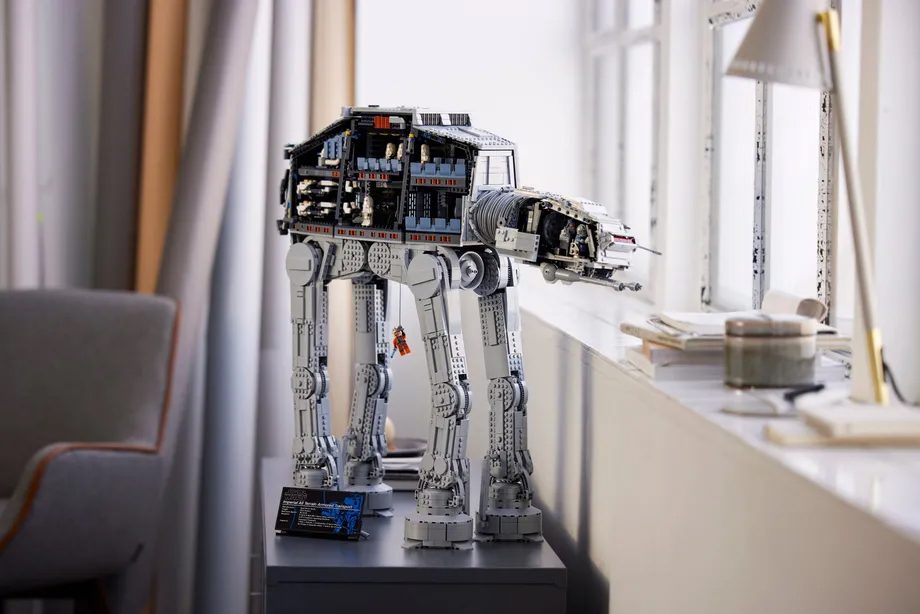 Priced at $799.99, the AT-AT 75313 comes with 6785 pieces which include 9 Minifigures and 2 speeder bikes. Yes, the Luke Skywalker Minifigure is included and can be attached with a cable. Further, the model has space to house up to 40 Minifigures, so everything you imagine can be true with this one.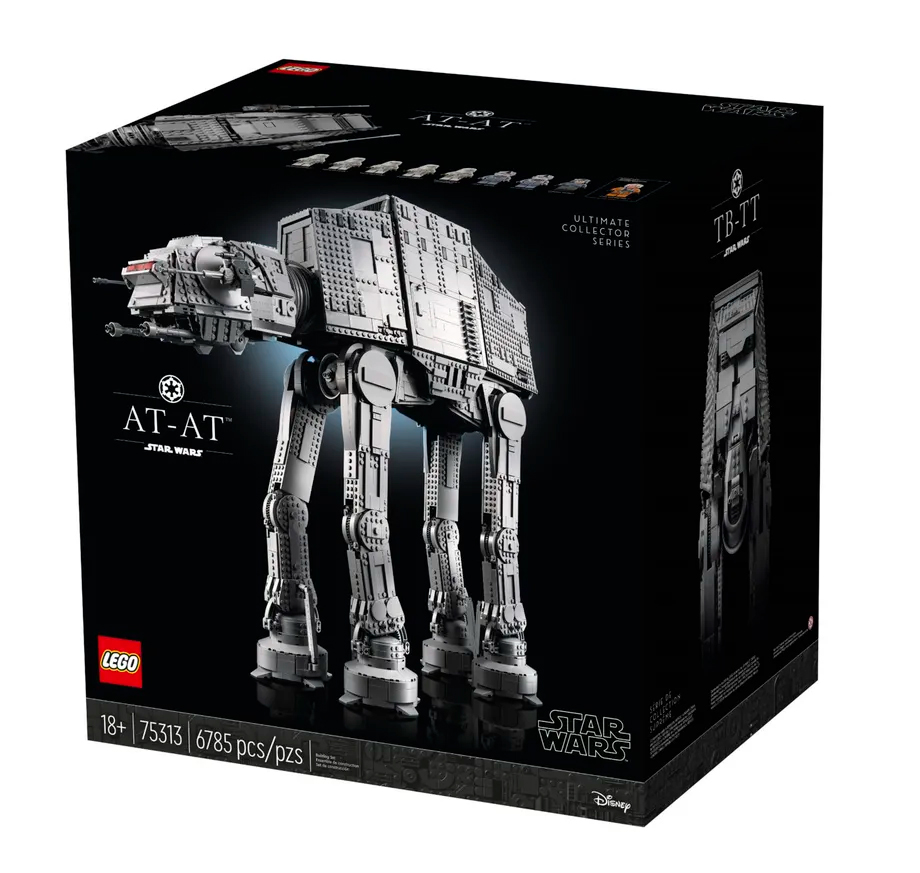 62cm high and 69cm long the AT-AT stands 24 cm tall. That ensures it becomes the center of attraction no matter where you place it.

LEGO Star Wars Ultimate Millennium Falcon – 7,541 pices [ buy here ]
Want to have the most iconic vessel in the Star Wars universe built to scale? Yes, this is the very ship won by the smuggler Han Solo from Lando Calrissian in a game of sabac , and in this pack are included the customary LEGO mini-figures. You also get to test your skills as a pilot by navigating the Kessel Run in less than 12 parsecs and attacking the Death Star.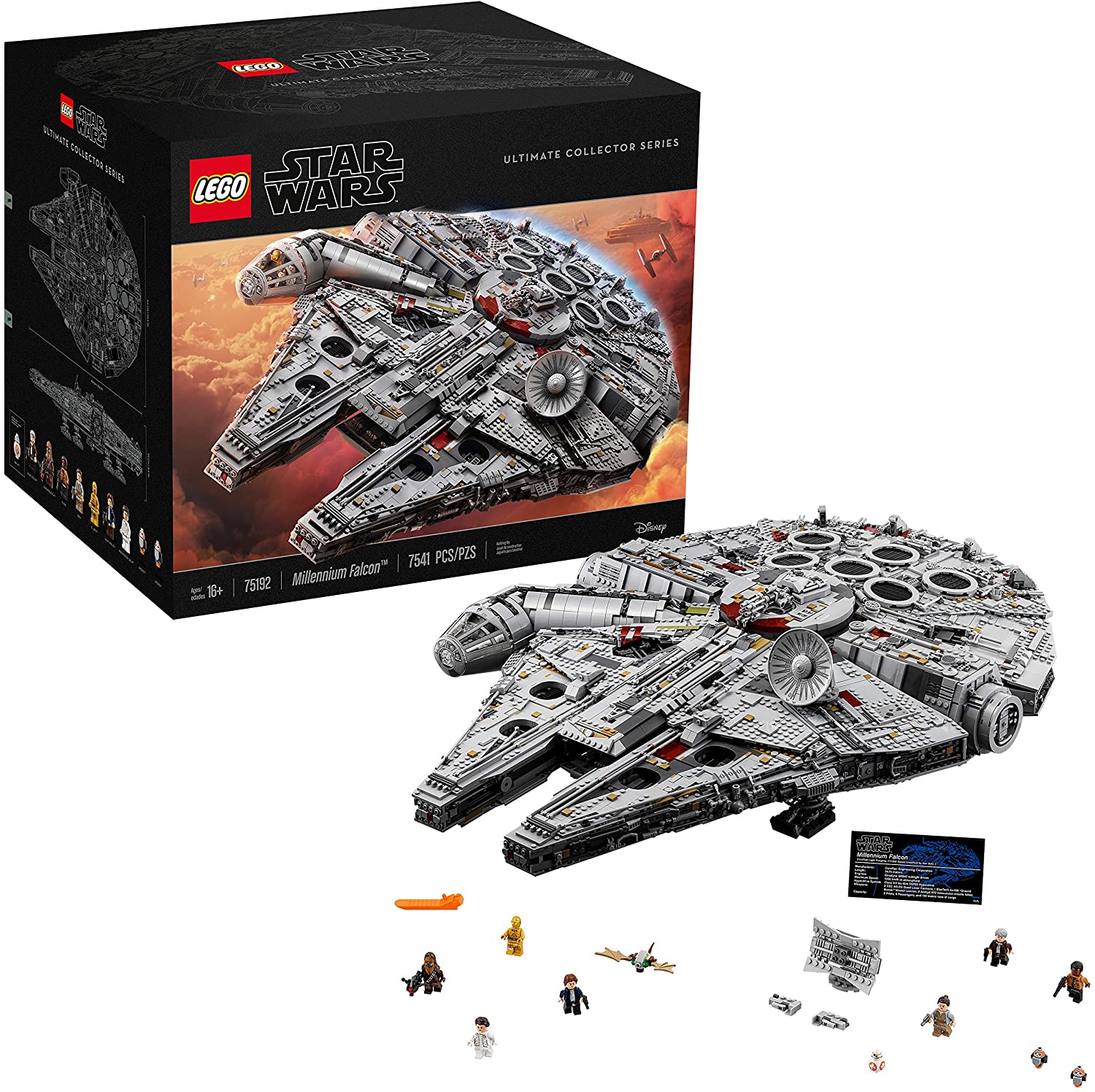 Being over 33 inches long, 22 inches wide and eight inches in height, this would be the ultimate prize for any Star Wars fan. It has some very cool features like rotating quad-laser turrets and radar dish, and a boarding ramp with extension features.You get to head your ship with a crew of four mini-figures in the removable cockpit. The landing gear has a stable base.

LEGO Creator Colosseum – 9,036 pices [ buy here ]
The largest amphitheater in the world, the Colosseum, Rome, is an architectural masterpiece. It commands historical importance and is a symbol of the imperial Roman past in Italy. And LEGO lets you have a mini-version of this Wonder of the World. You can now grace your display table with the Colosseum set.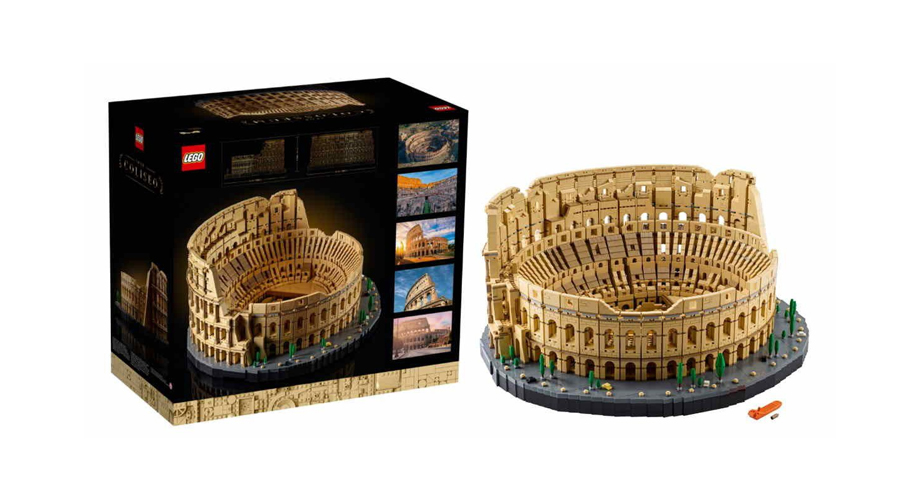 Almost a foot high (10.5″), 23.5″ deep, and 20.5″ wide when complete, it is the largest set so far. With 9,036 pieces, it takes days to build. But it will be worth the time as it will forever remain the pride of your collection.
The magnificence of the Colosseum, Rome, is spell-bounding. And for the detail-oriented architecture geeks, the LEGO Colosseum tries to emulate even the smallest of details. With great precision. The set is 3-storied and has the surviving archways and olive trees. Plus, other original features like travertine paving stones too. Also, there are three types of columns in the LEGO Colosseum – Doric, Ionic, and Corinthian. The set, with its free-standing elliptical shape, looks as intriguing from the inside as historic it looks from the outside.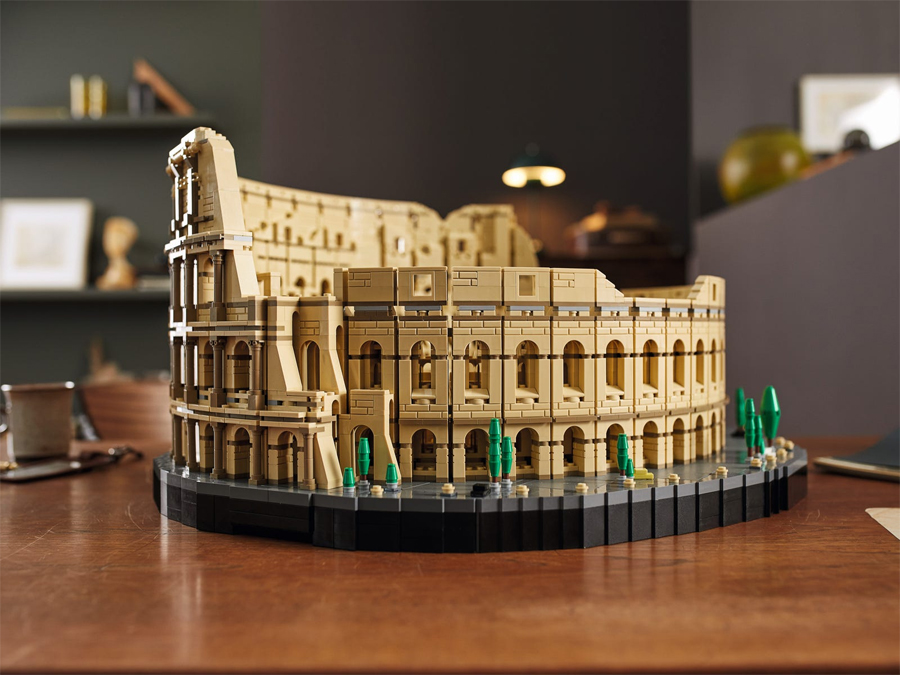 A part of LEGO's Creator Expert line, the set is targeted at creators above 18 years of age. And those with an ardent interest in history and architecture. Want to test your patience and LEGO-building skills with something bigger and better than anything that you have ever tried? The all-new LEGO Colosseum 10276 will be a worthy investment.

LEGO ICONS Titanic – 9,090 pices [ buy here ]
A perfect gift for history memorabilia collectors, Titanic fans, and LEGO building enthusiasts, the LEGO Titanic 10294 lets you build the ship of your dreams. With a whopping 9,090 pieces, this is a Creator Expert exclusive set that was released in 2021. It is a tribute to the Titanic, which set sail in 1912 for a fateful journey.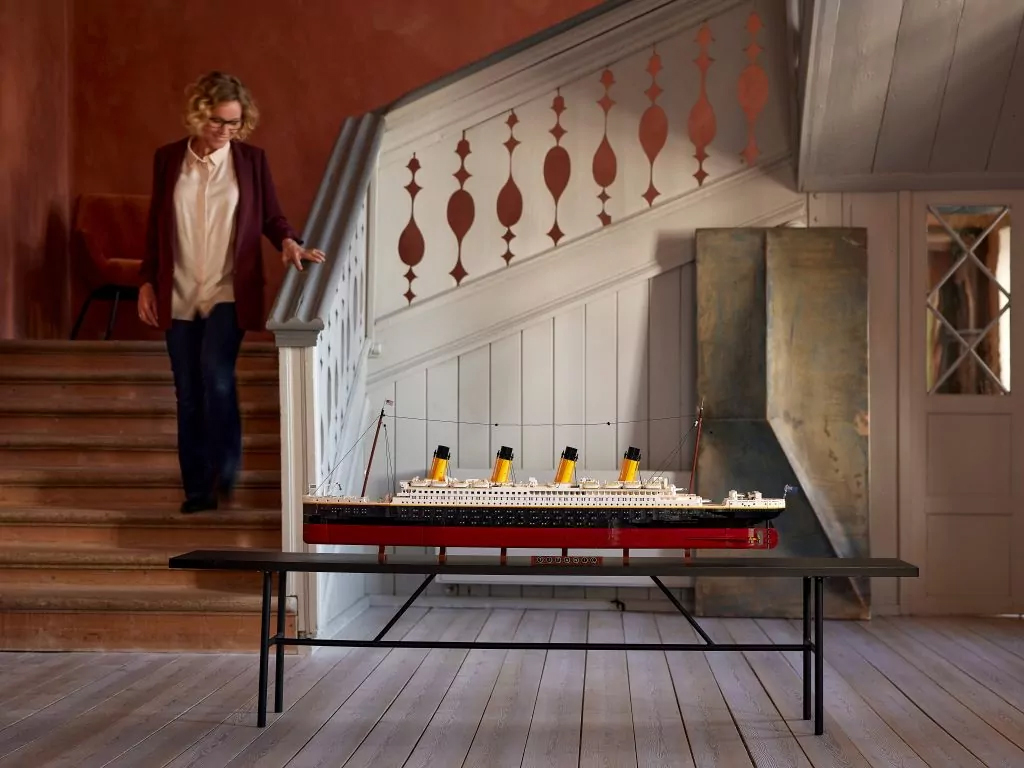 Priced at $629.99, it definitely feels like a heavy investment. But it has cross-sectional views. The features of the original ship are faithfully recreated. And it is a working model where you can turn the propellers to watch the piston engines turn inside. All this makes it absolutely worth every penny. Plus, it comes with a stand and a nameplate that add to its glory when displayed.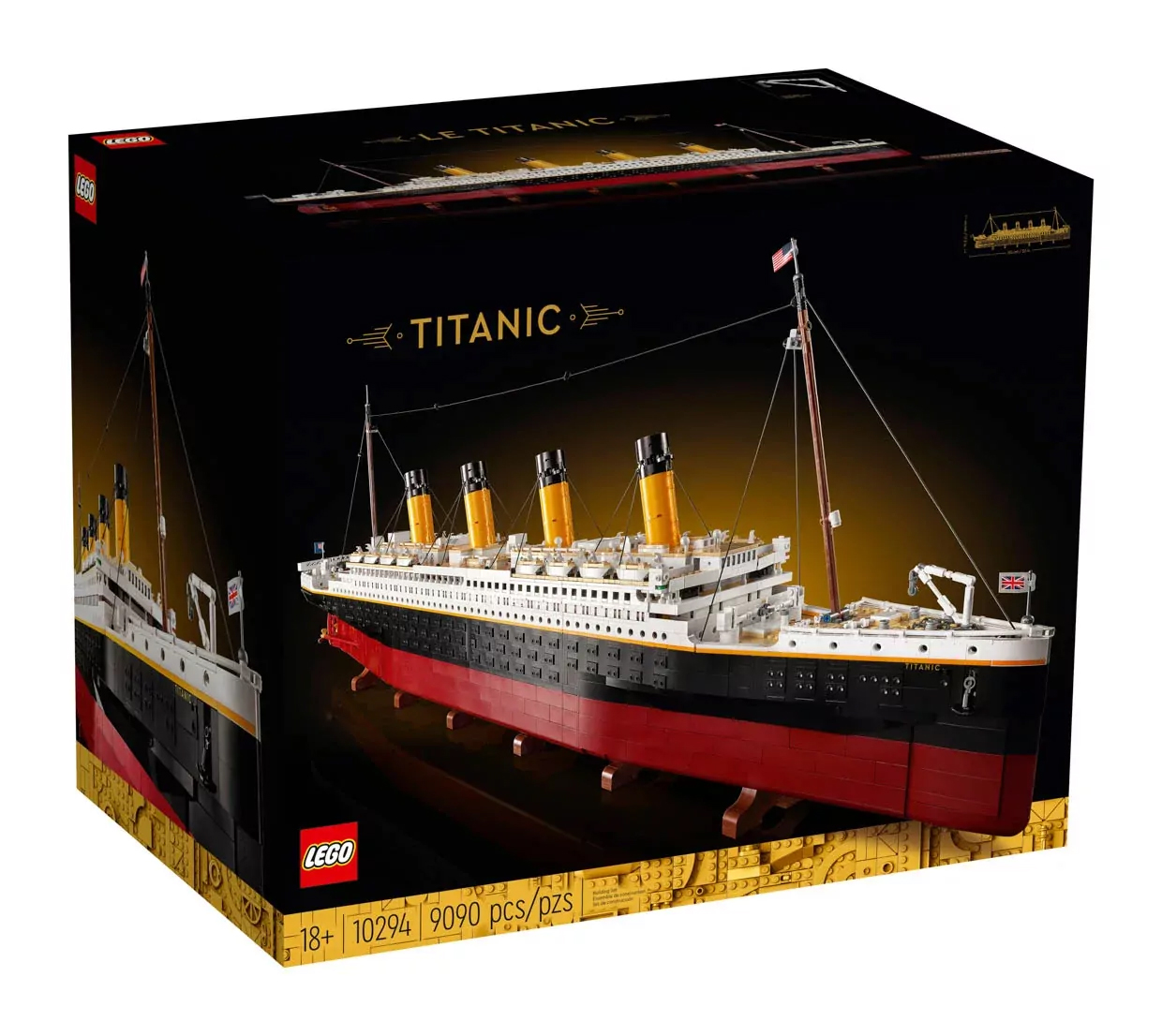 The 1:200 scale model is 44cm high and 16cm wide . And it is one of the largest LEGO models ever with a length of 135cm.

While these pieces are differently priced, they are incredibly fun. So immediately grab the ones you can lay your hands on and start building. These are not only good for increasing concentration levels but can also help in creating bonds among people engaged in building together.
The Biggest LEGO Set – LEGO ICONS Eiffel Tower – 10,001 pices [ buy here ]
LEGO recently has revealed its tallest and biggest set ever. The Eiffel Tower 10307 lets you build one of the world's most iconic landmarks. Newest and biggest set from ICONS collection released in 2022 and contains minblowing 10,001 pices which "authentically" replicates the landmark. That includes the familiar trusswork, three observation platforms, landscaping around the base, elevators, an office at the top, and a broadcast tower. There is also a French flag to position at the very top.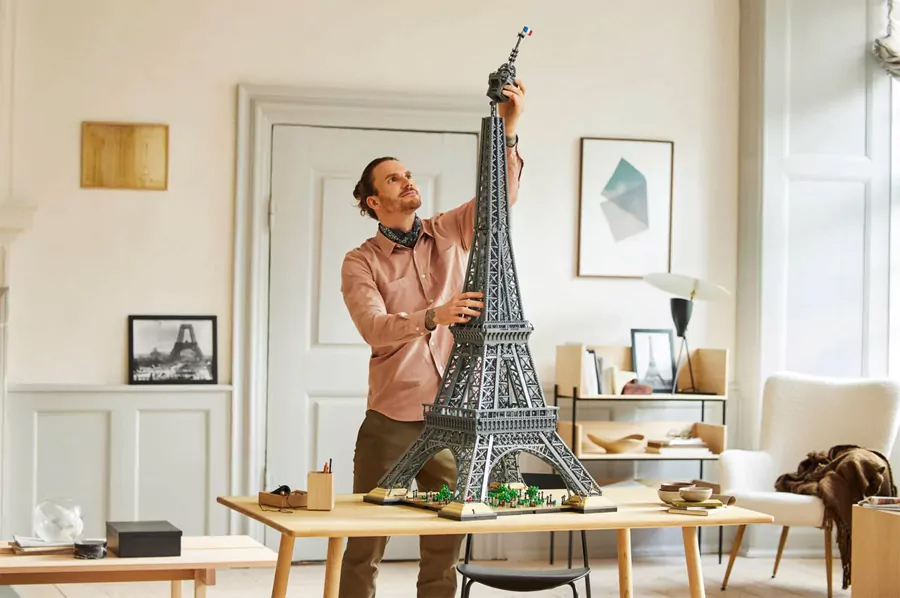 The Eiffel Tower set has a suggested price of $629.99. Though, that price will provide you with many, many hours of entertainment as you attempt to recreate Lego's tallest-ever build.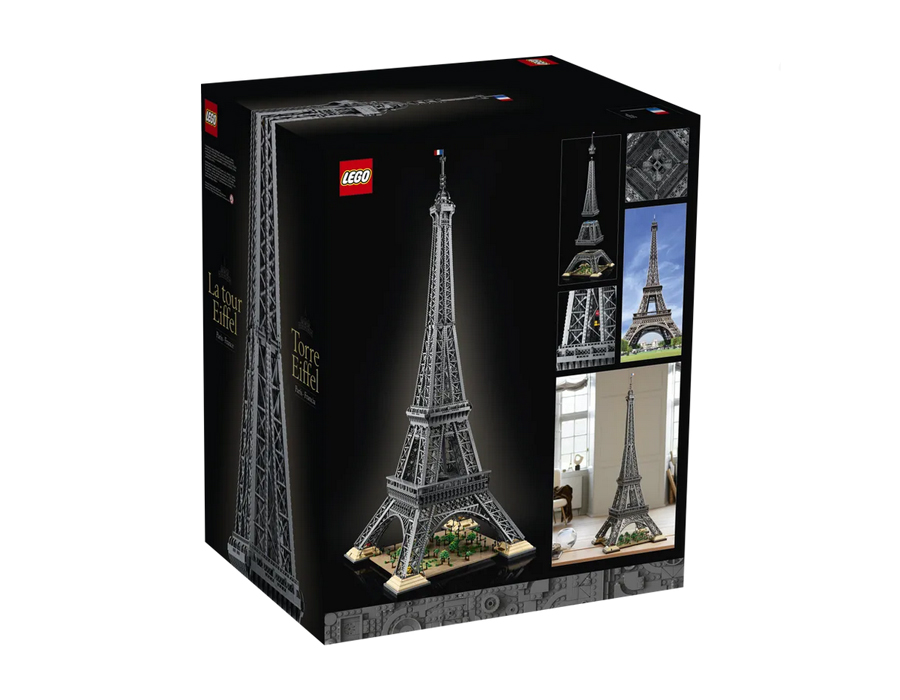 While these pieces are differently priced, they are incredibly fun. So immediately grab the ones you can lay your hands on and start building. These are not only good for increasing concentration levels but can also help in creating bonds among people engaged in building together.