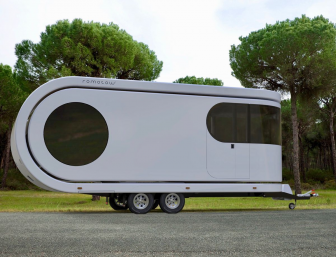 A caravan concept of the future is finally being realised, 6 years after it was first conceived. Dubbed "The Romotow", the contemporary mobile living design replaces the boxy and cumbersome trailer and caravan concept, comprising a central living area that extends outward to create the perfect party deck. Designed by New Zealand-based architectural and interior design firm W2 back in 2012, the Romotow looks like a normal trailer but at the push of a button transforms into a large hosting area. Giving it its main point of difference, a living area uniquely extends out from its sheltered exterior, with an ingenious automated swivel, to reveal up to 70% more floor area. Not satisfied with only the concept, a team of experienced boat builders have taken on the challenge to create the world's first Romotow. Currently under construction in Christchurch, New Zealand, you can follow their progress on Facebook. It should should be complete in just a few months. Meanwhile check other futuristic caravan concept called "Odorico Pordenone".
Built by Austria based Marchi Mobile luxury mobile home eleMMent Palazzo perhaps one of world's most amazing caravan. Measuring in at 45 feet long it has extremely forward thinking exterior shell. The eleMMent PALAZZO boasts a wide variety of amenities that are unparalleled by most if not all motor homes. It has everything you need to live on the road including a fully equipped, fully functional kitchen, master bedroom complete with rainfall shower, and even a motorized upper deck that would make the perfect bar area for taking in the scenery. The cockpit is equally impressive, complete with a touchscreen that lets the driver control all of the key features and functions the eleMMent Palazzo has to offer. And it costs $3 million. So if you have an extra $3 million lying around, it's time to start thinking about picking up one of these eleMMent Palazzo Land Yachts.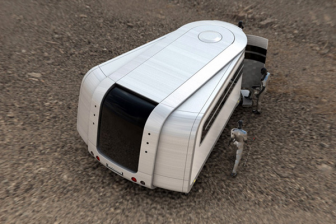 If you don't like cozy trailer home ProtoHaus and want something modern to travel then hightech caravan called Odorico Pordenone is for you. Designer Jakub Novák, a Czech student from Brno University of Technology, created futuristic trailer that expands wide enough to accommodate a living room, a kitchen and a bedroom fitted with a king-size bed. The interior design is elegant yet minimalist and pragmatic and majority of details were designed as multi-purpose spaces. Unfortunately it's a concept but perhaps just for now. Take a look!
Some time ago we've shown you luxury caravan Futuria and now you have a chance to compare it with another one created by architectural studio A-Cero managed by Joaquin Torres. This mobile home was created for long term living and has everything you might need for this even a garage. All furniture is created from Corian to minimize vibration while movement. Interior is created in minimalistic style and could be easily called elegant. So move on and take a look at this luxury RV.