Ex-Rolls Royce engineer Jag Virdie is out to offer an affordable solution to pricey housing – and in style. Conker Living is his entrepreneurial startup that's garnering attention for its versatile £21,000 (US$27,000) 10-square-meter home pods, each spanning roughly 13 feet (3.9 meters) in diameter. The tiny homes can be joined together to form larger spaces and offer greater flexibility when it comes to customized designs. Each 'Conker' has a foundation comprising four anchor points, which makes it more adaptable for varied terrains including uneven ground. The pods have been designed for durability and eco-friendliness. They are made of aluminum and upcycled plastic, using materials sourced locally within the UK. Virdie has capitalized on the pod's spherical structure to harvest rainwater that flows down the sides of the home. This can be filtered and reused either for showering or cleaning. Its heat reclamation system confines warmth within the pod during winter, thus lowering electricity consumption. For now, Conker Living is working on fulfilling its first two orders that will reside along a river. Be sure to check pod Podzook and Skydome.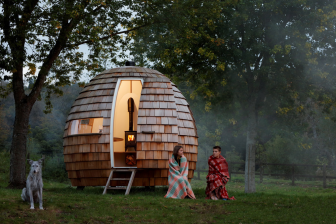 The "Escape Pod" from UK-based design firm Podmakers, is a spherical hideout that lets you get away from it all. This unique space is a versatile backyard dwelling cab be used as a garden retreat for workers, visitors, a music or writer´s studio, or anyone in need of a little timeout. Crafted from a mix of birch plywood and European oak, the 75-square-foot prefabricated unit can be easily customised depending on what the owner wants from distinct window designs, heating source, to window placement and built-in furniture. To add to its uniqueness, the entrance is through a unique aircraft-style plug door with a wooden hinge. Don't forget to check other great examples of round houses: Podzook and Skydome.
International advertising company Anomaly, in collaboration with Fabian Mazzola of Bitlens Studio, has created a luxury camping pod influenced by MINI's F60 Countryman. The concept reflects MINI's philosophy and takes the car's compact, round shape. The pod features a completely functional living space, a kitchen, bedroom and bathroom. Bitlens Studio + Anomaly's award-winning concept camping pod is self-sustainable and clad in weather-sealed material, giving it the ability to withstand a multitude of climates. Although compact, the pod includes the necessary amenities that one can find in their own home. "This idea came up as I wanted to create an idea, an illusion of a futuristic pod that came with all the accommodations a home has" explains the designer. If you're looking for unusual cars you should check our list of the most expensive car in the world.
Judy Bernier instantly fell in love with Archipod, a new concept in backyard office design. The sad fact was that they were only available in the UK. After working with Archipod's inventor Chris Sneesby, the trained architect formed Podzook to bring them to the United States and Canada and have them crafted in Maine out of local, sustainable resources. Along with the locally-sourced wood, a close-by company makes the insulation out of blue jeans. The shingles come from a small company just a few towns over. While they could cut corners and crank them out, Podzook wants to keep the quality top-notch and made one at a time. Whether you want a backyard office, playhouse, guest room, or just a place to call your own, the Podzook is the coolest eco-friendly pod you'll probably come across.