While many of his movie characters are known for their sheer physical prowess and power of will, Sylvester Stallone is actually quite a bit more refined. In fact, he's a card-carrying member of Mensa, the high IQ society. And now, he's put those smarts to good use by helping create the RM 25-01 Tourbillon Adventure Watch with his friend and watchmaker, Richard Mille. Richard Mille is one of 25 luxury watch brands for men. For those unfamiliar, a tourbillon is a watch feature that helps counter the effects of gravity on a wristwatch. It's also one of the most complex mechanical complications ever envisioned and is widely regarded as being an impressive if unnecessary addition. While this watch has one tucked within its gears, its only one part of the many that make this watch an altogether insane feat of watchmaking. The RM 25-01 also features magnetic shielding, a titanium-carbon TPT case, a detachable compass, a level, and even an emergency compartment that houses a water-purification tablet. That, plus a dozen or so more features, give this watch a price of $983,000. Oh yeah, and only 20 will ever be made.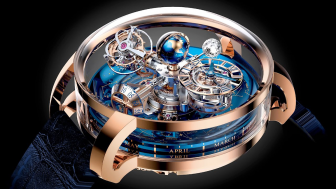 For those who thought that improving technology would render the classic watches obsolete, doesn't seem that time is coming anytime soon. Luxury watches continue being coveted pieces for the enthusiastic rich. Here we take a look at the top 25 luxurious watch brands for men.
After the partnership with McLaren F1, which produced the RM 50-03 last year, Richard Mille is now presenting the first timepiece developed in collaboration with McLaren Automotive, the RM 11-03 McLaren Automatic Flyback Chronograph. Limited to just 500 pieces globally and priced at Swiss Francs 180,000 plus tax, the new watch will be made available initially mainly to McLaren Ultimate Series clients. "The idea was to take on a real technical challenge, and come up with something other than a mere dial with an inscription, for example. I find the 720S designed by Rob Melville mesmerising beautiful, and we wanted to give the RM 11-03 McLaren curves that were similarly both aesthetic and functional".
Bespoke timepiece company Richard Mille asked French street artist Cyril Phan, aka Kongo, to add a his graffiti style to every component of their 'RM 68-01 tourbillion'; model. Working closely with the research and development team, they first selected an asymmetrical case that added extra punch to the design. The paints had to tested to adhere to the delicate titanium movement as well as the weight, as not to throw the pieces out of balance or impede the mechanisms. It took about a year to perfect the process and design necessary to protect the gears, using special tweezers for treating the pieces without touching them. Microscopic letter stencils, barely visible to the naked eye, cut from thin sheets of metal created graffiti art never found on a timepiece before. Cyril Phan also employed very special pens for his airbrush system that deposits paint drop by drop to apply the particular paint on the metal surfaces. For each watch, the French artist wanted to inflect a graphic vocabulary with letters, words and colors – basically the same as painting on a canvas. Never before has a graffiti taken shape on the bridges and baseplates of a watch, making the Richard Mille 'RM 68-01' a truly contemporary piece of art within the timepiece market.