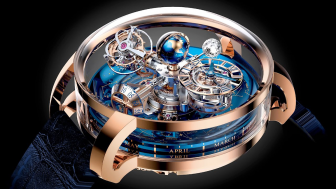 For those who thought that improving technology would render the classic watches obsolete, doesn't seem that time is coming anytime soon. Luxury watches continue being coveted pieces for the enthusiastic rich. Here we take a look at the top 25 luxurious watch brands for men.
Ulysse Nardin introduced the Grand Deck Marin Tourbillion at Baselworld 2016. The nautical-inspired design and function of the chronometer is inspired by the deck of a ship. Made from hand-crafted wood inlays, it also features a boom that reaches out to the 12:00 position to indicate retrograde minutes. Even this is represented, well aligned to the marine thematic. The indicator runs horizontally across the face of the watch in a fine arc shape that resembles the latitude line used by mariners. On reaching 60 minutes, the boom automatically resets to 0. Little nanowires that resemble the masts of a ship cause the pulling of the boom. A second barrel incorporates a stunning 60-second flying tourbillion escapement at the 6:00 mark that features the Ulysse Nardin anchor at the heart of it. It functions with the help of fibers, thinner than human hair. At 5:00 and 7:00 are situated two large disks that drive the 'jumping' hours. The hours are displayed digitally. The watch leverages a complex manual-winding movement called Caliber UN-630, which consists of an incredible 469 parts and offers 48 hours of power reserve. The Ulysse Nardin Grand Deck Marine Tourbillion chronometer will retail for about 285k Swiss Francs, which is around $293k.
Swiss luxury watch manufacture Ulysse Nardin unveils Jazz Minute Repeater, a brand new complication timepiece uniting traditional watch making with the fine art of hand-engraved Jaquemarts. Inspired from JAZZ, the iconic music genre brought to life by African American's in the early 1900s, this timepiece from Ulysse Nardin boasts an artist applied 18 carat gold "musicians" on a genuine black onyx dial depicting the performance of a music band on stage. When the minute repeater lever is activated, the hours, quarters and minutes, or a combination of these units, chime, and the band begins its show, playing along with the time. The workmanship of the Jaquemarts or animated figures that move in sync with the activated minute repeater is a rare art which requires exceptional talent and known how. The highly precious platinum case measuring 42 mm diameter houses the manual winding movement UN-74 which powers this complication timepiece. The Jazz Minute Repeater will be produced in a limited-edition of 18 pieces in platinum.