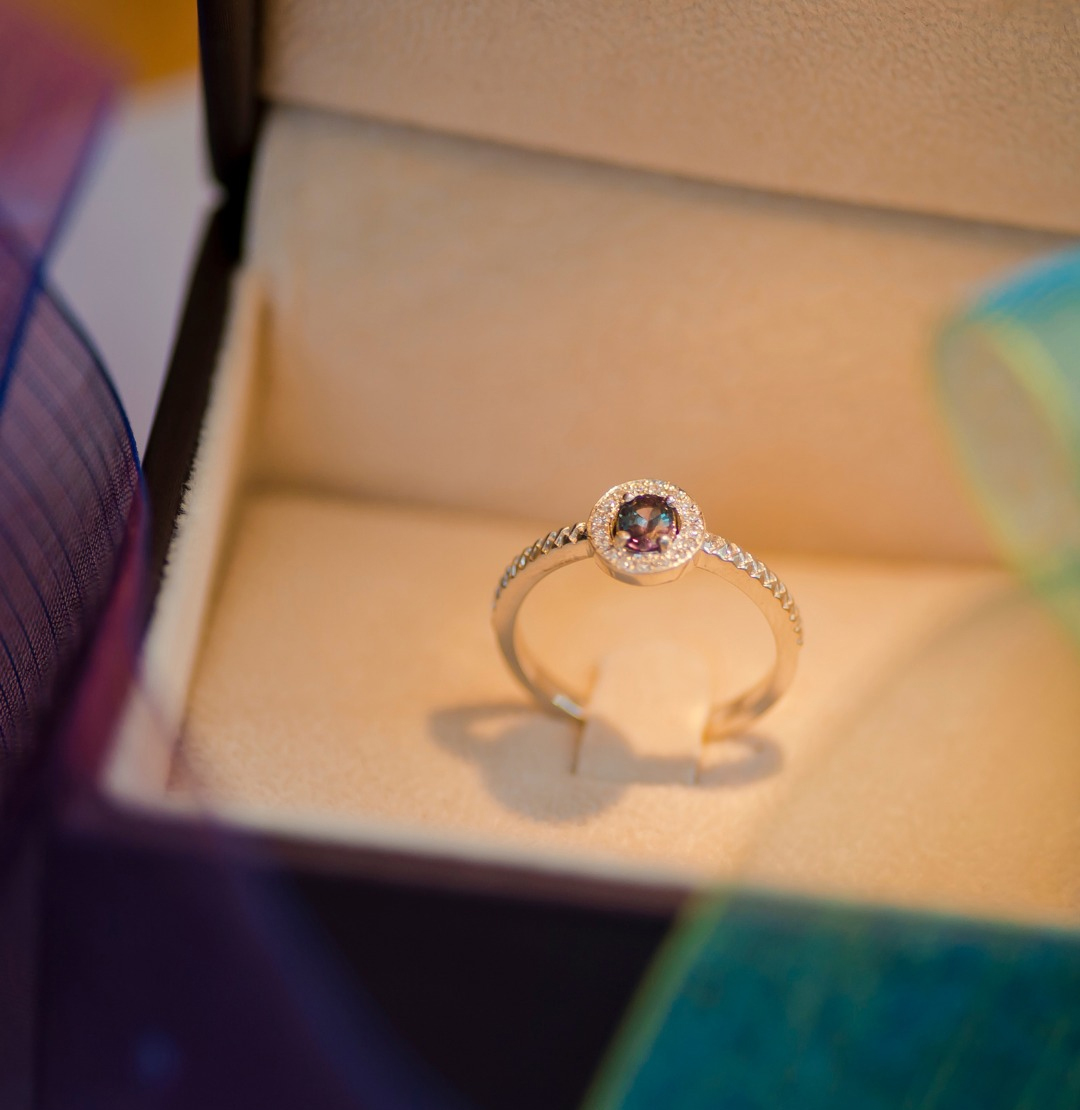 Gemstones have long been a part of the human culture. In fact, even before we started writing down history. And they have been used to not just beautify jewelry. But also to decorate a wide range of other items like combs, weapons, plates, etc. The first known use of gemstones in jewelry can be traced back to the Greeks in 1600 BC. Today there are over 200 natural gemstones that we know of and use in ornaments.
While it might seem that the shiny little (or large!) pieces of crystalized stone are only used in jewelry for their aesthetic appeal, that's not the case. Astrologists also suggest specific gemstone rings for positivity, good luck, and safety from negative vibes. How can stones make that possible? Well, gemstones reflect light. And thus, they are known to exude unique rays that affect mood and mental status. Each gemstone also has its unique sentimental values and healing properties. That's why choosing the right gemstone for your jewelry, like rings, is important. With the right choice, you can make your rings so much more special and powerful. And of course, more impressive and mesmerizing. And don't forget to check 7 jewelry pieces that made a history.

Note: Please make sure that the stone is really natural before buying. The best way to do this is to check with the seller for an appropriate certificate - GIA, Gübelin or any other reputable lab gems. Remember that we're not responsible for your purchases and publish information based on the data provided by the seller in the public domain.
Now let's take a look at 20 natural gemstone rings that come with an exquisite charm and extraordinary properties.
1. Alexandrite Stone Platinum Ring
Alexandrite is a color-changing gemstone. It is green like an emerald by the day and red like a ruby by night. Put in the fluorescent lighting and you'll find it bluish-green. And it turns purplish-red in candlelight. But there's more to it than just being a piece of elegant fashion wear. It is also known to promote creativity and positivity. Especially suited for people born in June, it is also ideal for those born under the zodiac sign Cancer.
One of the mot beautiful Alexandrite rings right here from Safiya features a rare Emerald-cut natural Alexandrite. With numerous diamonds by the side for accent, it further makes the Alexandrite shine. Cast in platinum, this gemstone ring is truly magical. Want to make heads turn no matter where you go? This one's the ideal pick.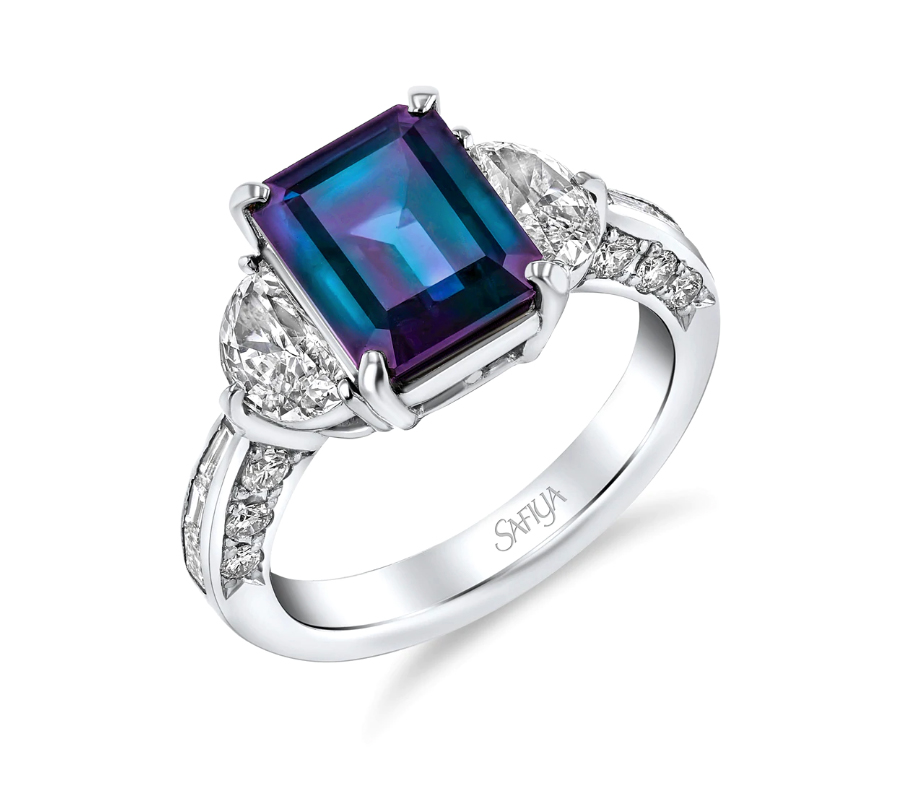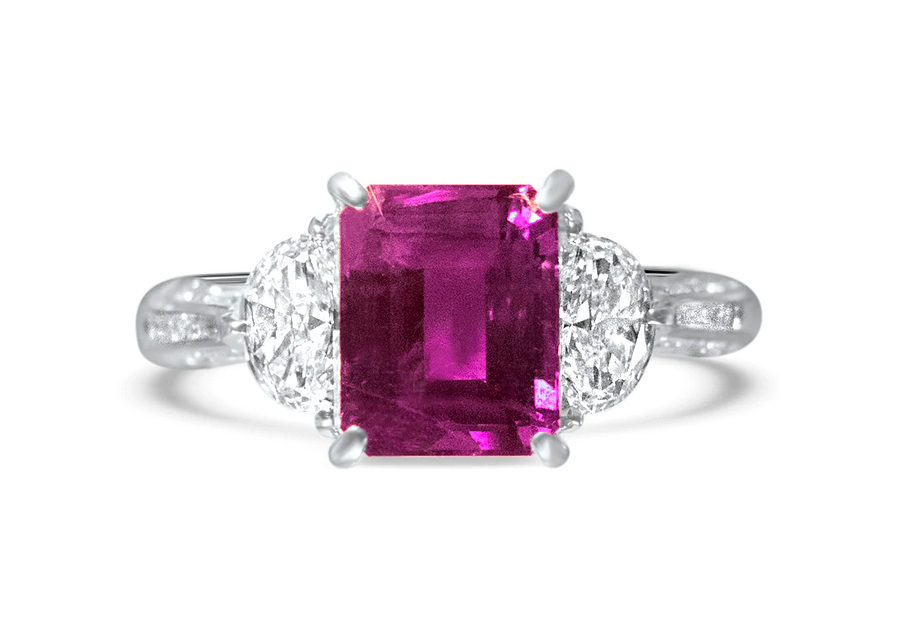 2. Round Opal Stone White Gold Ring
Associated with eroticism and desire, Opal is a seductive stone. It can intensify emotions, remove inhibitions, and bring loyalty and faithfulness. Ideal for engagement rings, the stone can add grace to women's or men's gemstone rings alike.
This round Opal stone engagement ring from Allurez comes in a hidden halo cut. That's what makes the center stone shine even brighter. Plus, the string of accent diamonds on the side makes it a visual treat from any angle. It is cast in 18k white gold and showcases the Opal's spectacular rainbow of colors. Thus, this one is especially suitable for seekers of gemstone engagement rings .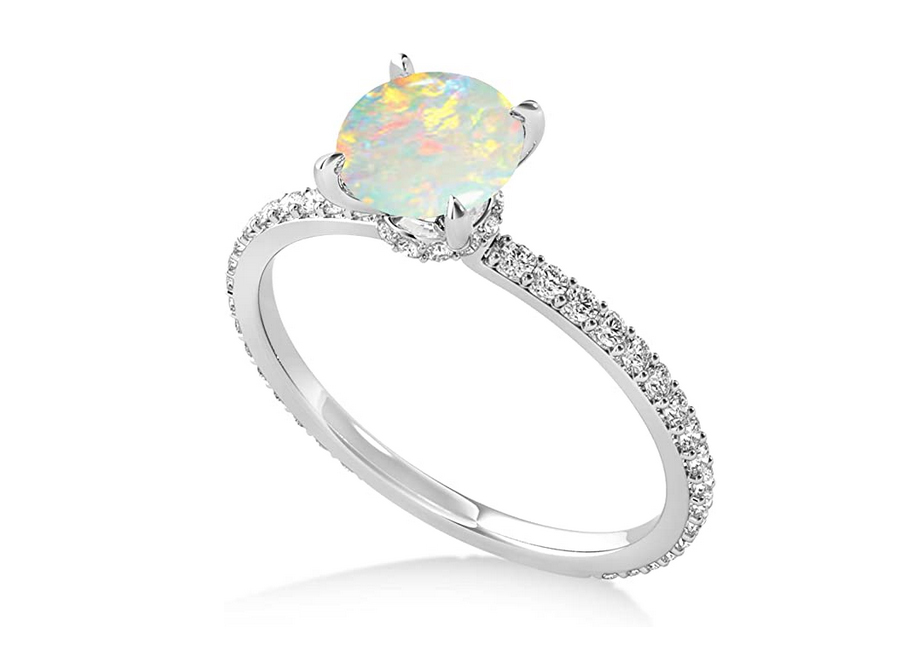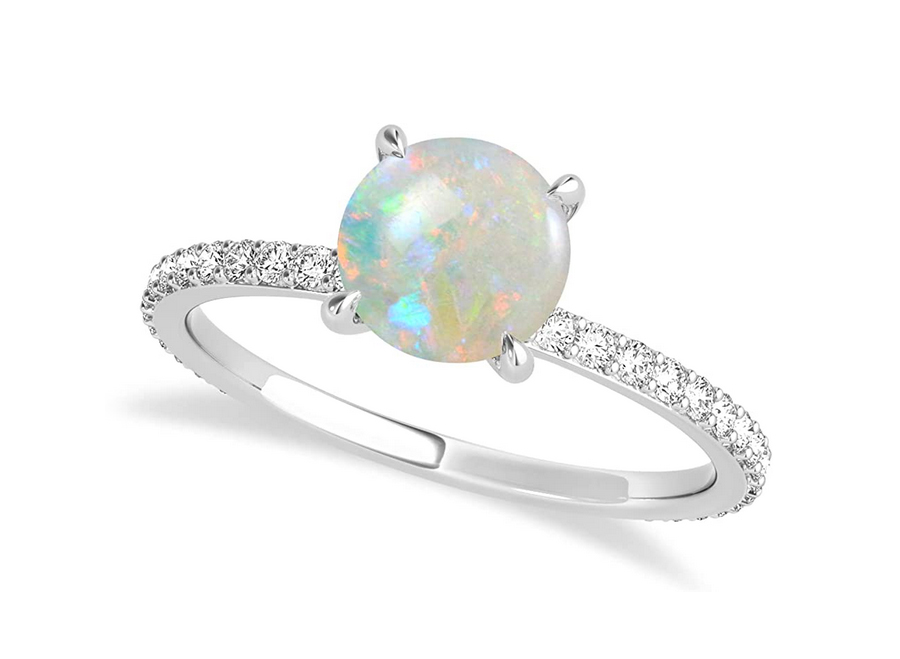 3. Red Teardrop Ruby Ring
Not many other things can match the grandeur of your relationship with the lady of your dreams right? But a red ruby set in 18K white gold, surrounded by sparkly diamonds to adorn her finger sounds just about right.
A unique pick among the many options for anniversary gem rings , this one is special on two grounds. One, the ruby. Tied to emotions, love, and raw passion is often known to keep the love in a marriage intact. It is also a positive harbinger of wealth and prosperity. And two, it is the teardrop cut. It does not just look extremely pleasing to the eye. But it also signifies the tears of joy that you get when you look at your beloved.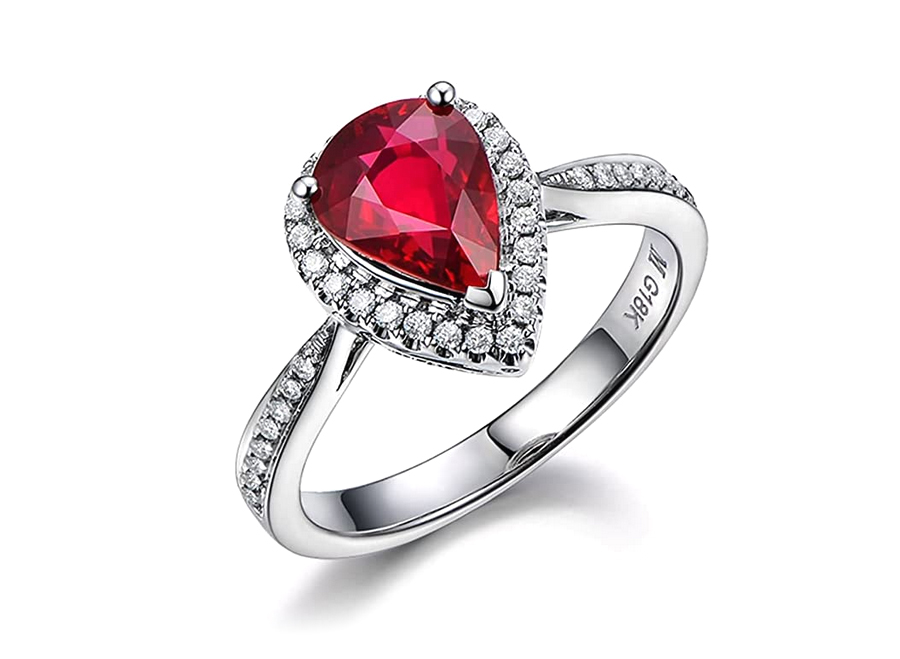 The moissanite engagement ring in this selection exudes timeless elegance and modern sophistication. It features a colorless Moissanite stone, gracefully set in a six-prong setting to enhance its brilliance. This central gem is encircled by a discreet halo of melee stones, adding depth and sparkle.
The band, distinguished by its substantial width, combines prong-set round stones and channel-set princess cut stones in a unique, three-row design. This mix of stone shapes and settings creates a captivating visual texture.
Available in 14k or 18k gold, or platinum, this ring adapts to various personal styles. Its design allows for customization in stone choices, making it not just a beautiful piece of jewelry, but a personalized symbol of love and commitment.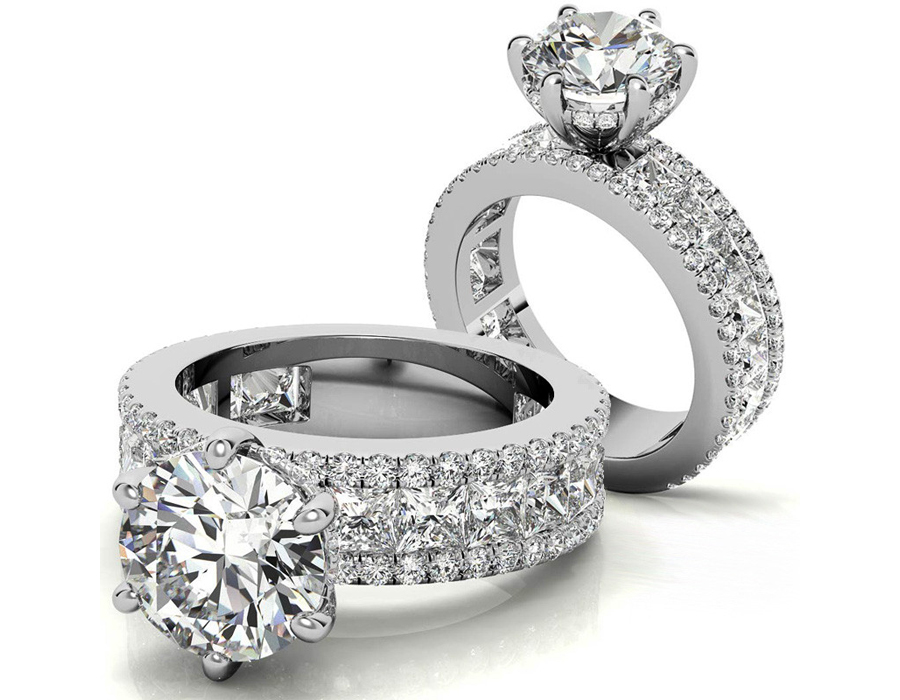 5. Tanzanite Gemstone Engagement Ring
Well-known as the stone of transformation, Tanzanite has a multiplicity of psychic powers. It can diffuse old patterns of karma. It encourages introspection, promotes wisdom, and stimulates certain chakras too. Plus the lilac-blue to sapphire-blue hues make the wearer the center of attention. No matter where they are.
Now picture this rarer-than-diamond stone sitting in a halo ring. Pure grace, right? With a solitaire cut and shimmery side stones, the look of the ring becomes all the more mesmerizing. This blue stone ring is ideal for pampering yourself as it fosters a connection between the mind and the higher realm. And it is also a perfect gift as it dazzles everyone who lays eyes on it.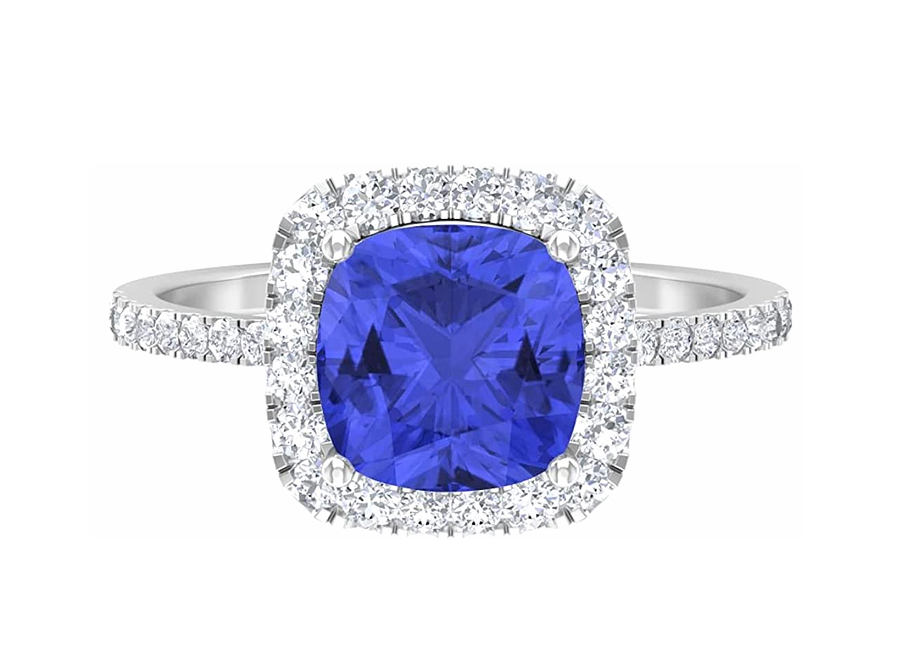 6. Natural Blue Aquamarine Ring
Diamonds don't fit your budget? But your heart is set on nothing but unique gemstone rings that will make you stand out? Let Aquamarine bail you out of the fix. Known to bring balance and stability to the life of the user, this rare gem is believed to be the treasure of the mermaids. It is also associated with trusting and letting go. And was used by sailors for protection and good luck on their water travel.
The 3.95-carat natural aquamarine ring with diamonds is set in 14K gold. And it is definitely the right choice to bring positive vibes to your life. Exclusively handcrafted it will be a perfect gifting choice for gemstone jewelry enthusiasts.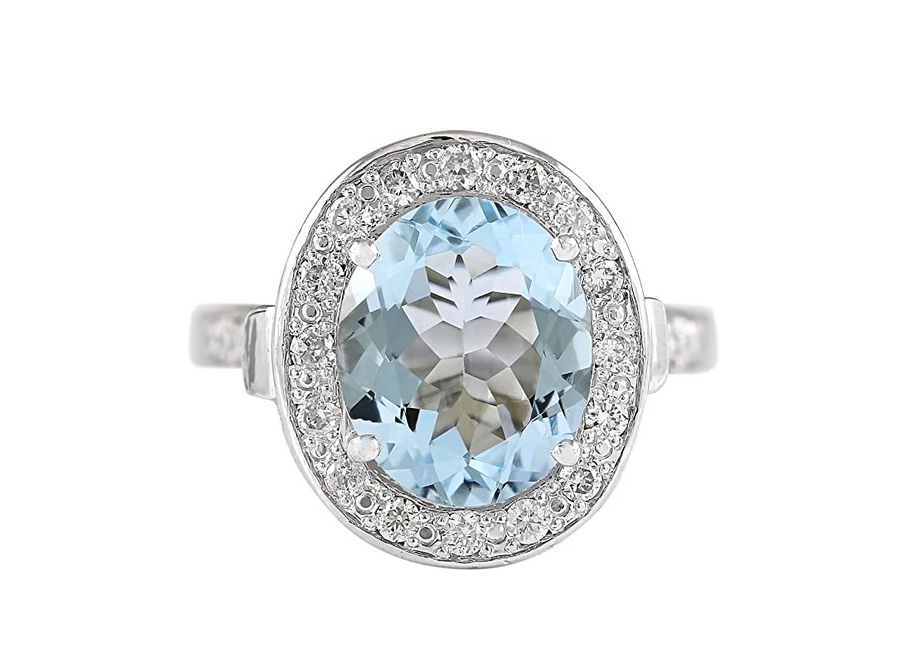 7. Blue Sapphire Engagement Ring
Serene, sophisticated, and stunning… that's sapphire for you. The deep blue-hued gemstone is known as the stone of wisdom and serenity. It can calm your nerves. Dispel depression. Release mental tension. Facilitate mental clarity. And help the wearer with the will to tackle obstacles. And not to mention, it is a classic statement of royalty and pricelessness.
Fancy something as precious as a blue sapphire engagement ring for your beloved? This 2-carat vintage ring with princess cut sapphire is the best among gemstone wedding rings that you can find. Ideal for engagement and weddings this classic piece lets you start off a lifetime relationship with something as special as your bond.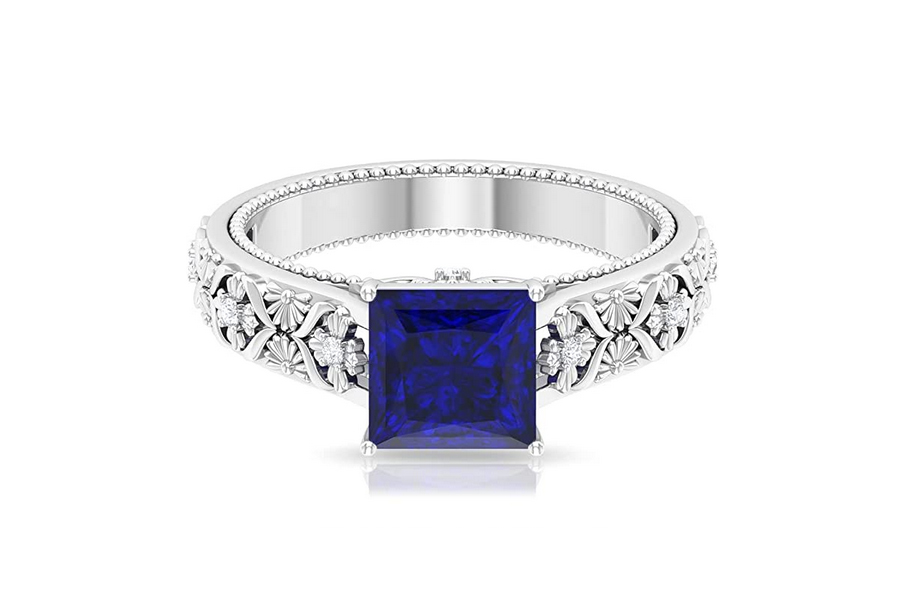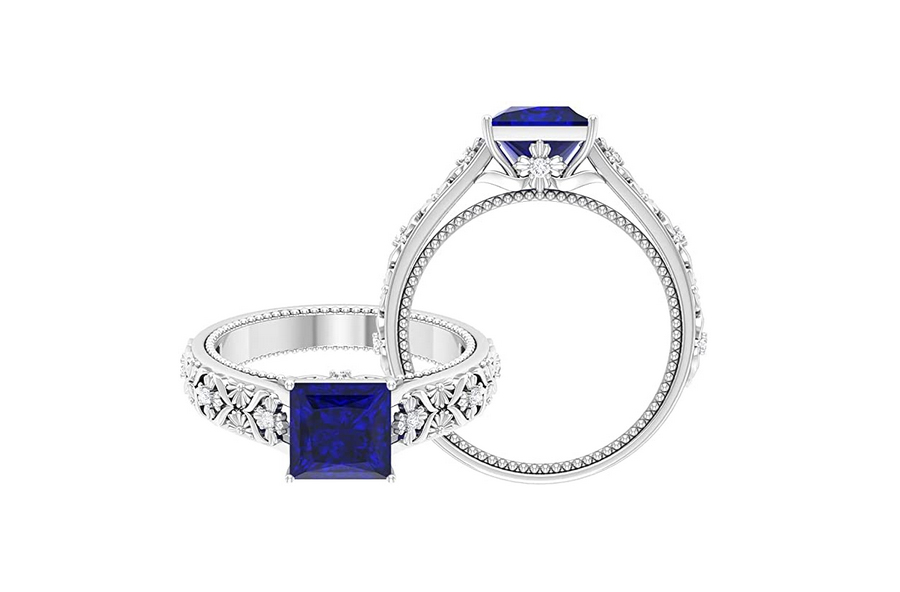 8. Blue Topaz Stone White Gold Ring
A vivacious blue topaz can bring more than just beauty and charm to your life. Known as the stone of clarity, topaz, can help you channel your inner wisdom. It also helps you embrace your authentic self and march towards success.
Now add the royal elegance of an emerald cut 2.5-carat topaz with several small yet shiny diamonds set in a white gold halo ring. It becomes the ideal gift for yourself or a loved one, right? Especially if you are looking for precious gifts for December borns, this ring with their birthstone would be perfect. After all, it exudes a charm that not all rings with stones can boast of.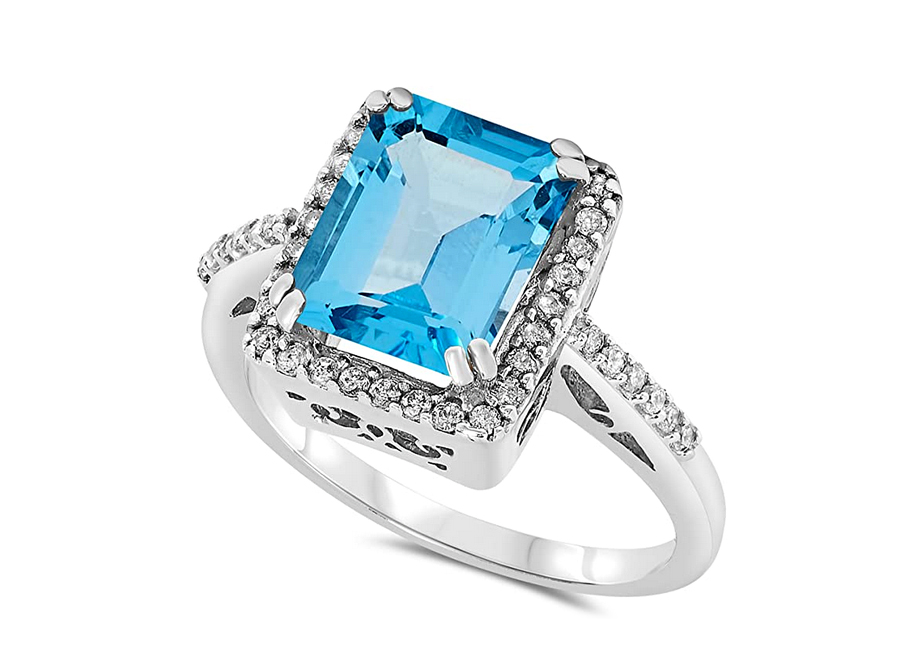 9. Peridot Engagement Ring
Can a stone make you sleep well, become more creative, and find a generally better balance between your mind and emotions? Peridot sure is known to do all of that. And also bring in great luck to the life of the one who dons it. The olive green stone is an ideal pick for use in stone rings.
With this vintage green stone ring , however, you get something even more. A Moissanite in the middle makes it even classier and completes the regal look. Pick it as your engagement ring and bind your BAE in a bond that will last till eternity.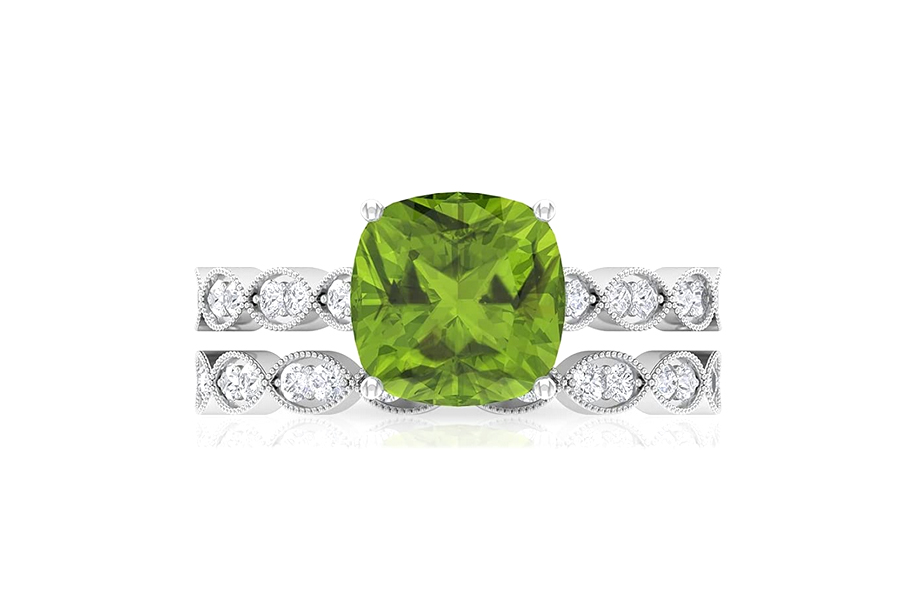 10. Natural Pink Diamond White Gold Ring
The most expensive diamond variety in the market today is the pink-colored gem. A delight, it is a beautiful gemstone it is a symbol of femininity, tenderness, and creativity. A perfect pick for women who are confident in their soft side and ready to take on all the attention.
This exquisite gemstone when set in gold with white diamonds around it, make for one of the lovelies options among real gemstone rings. Ideal for a fancy party where you want all the eyes on you or for daily wear, this one sure tops the versatility list too.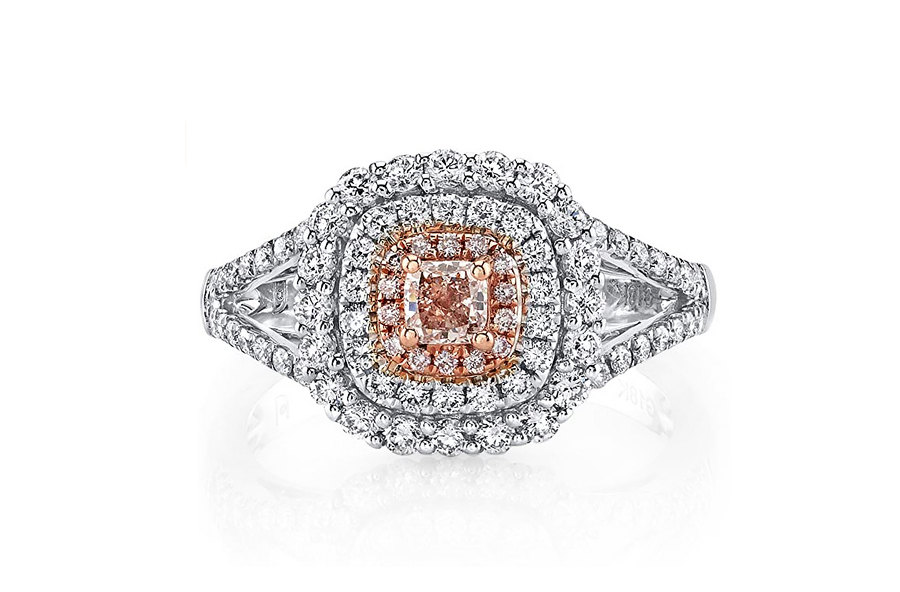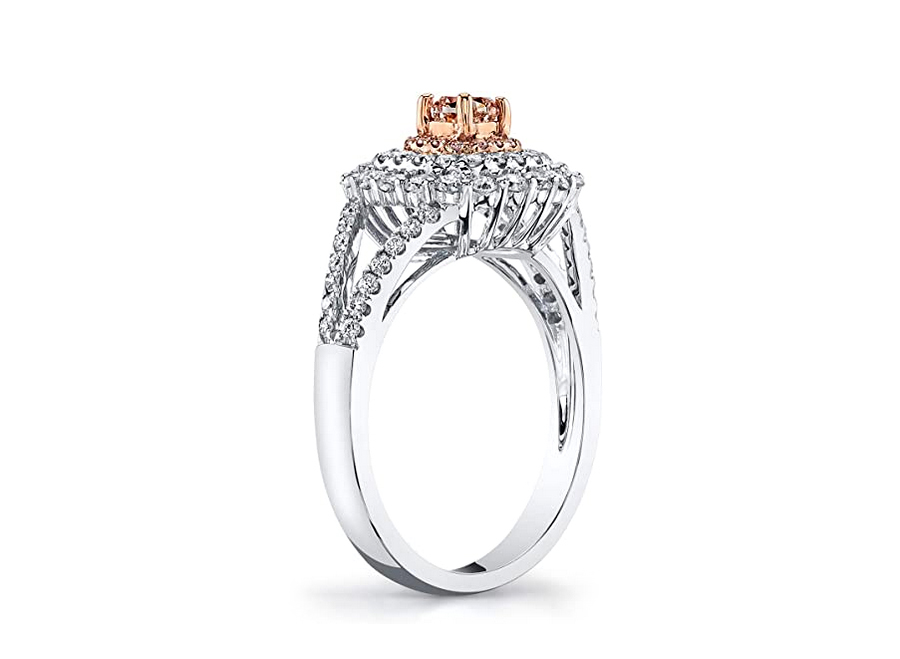 11. Natural Morganite Gemstone Ring
Attuned to the heart chakra, Morganite is a soft pink gemstone. It signifies love, romance, and sweetness. An ideal pick for everyday wear, the gem brings in loving and compassionate energy in life.
This ring right here features a pear-cut Morganite set in rose gold. With stylishly placed diamonds adorning it. You can make it a staple for the office or a special one for days when you want to feel your best. Either way, this one fits just right. Now, you might pick it for just the mesmerizing Morganite. But it won't be long before you fall in love with the delicate charm that the diamonds on the side exude. Either way, you'd have an alluring addition to your collection of unique rings for women .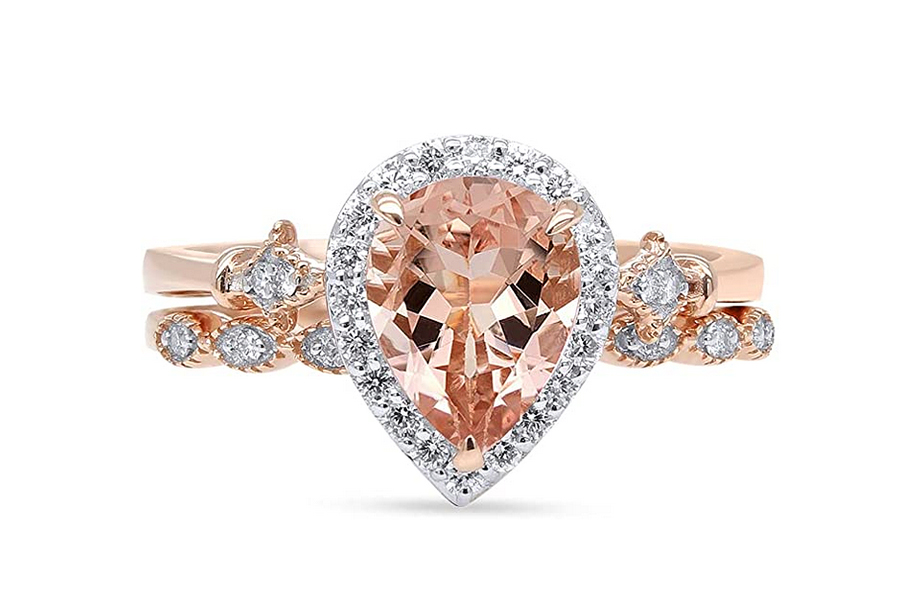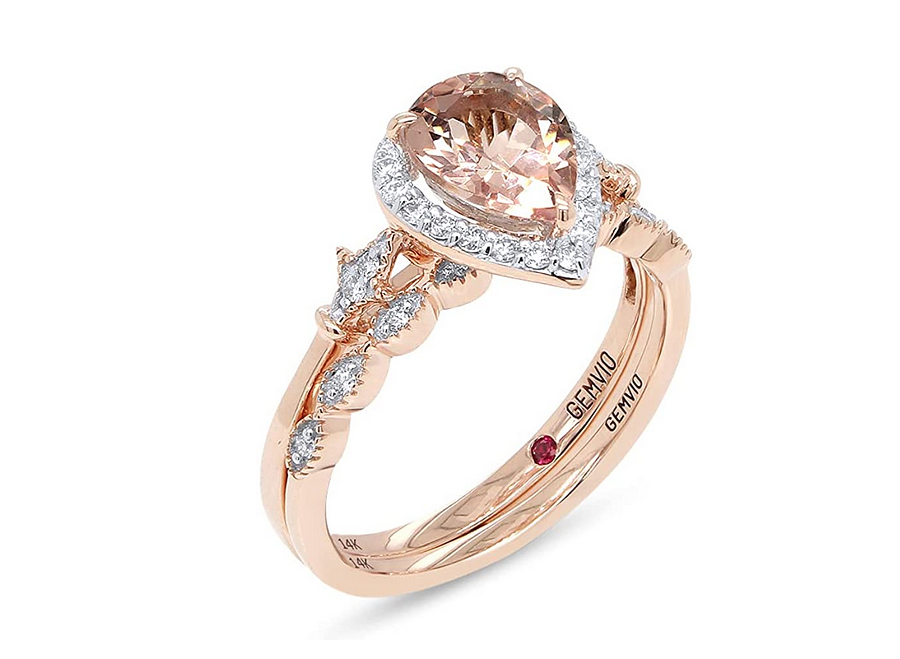 12. Natural Emerald Engagement Ring
Does your beloved have a naturally regal vibe? Then nothing would suit her more than a natural emerald engagement ring. The stone of prosperity, an emerald on your lady's finger would bring growth, prosperity, and financial success in her life. And thus, in yours too.
What's more special in this ring right here is that it has a hidden halo that makes the centerpiece shine brighter. Plus, you have small green stones on the side too. Walk into a room full of people wearing this. And then be ready to be given the absolutely royal treatment you deserve.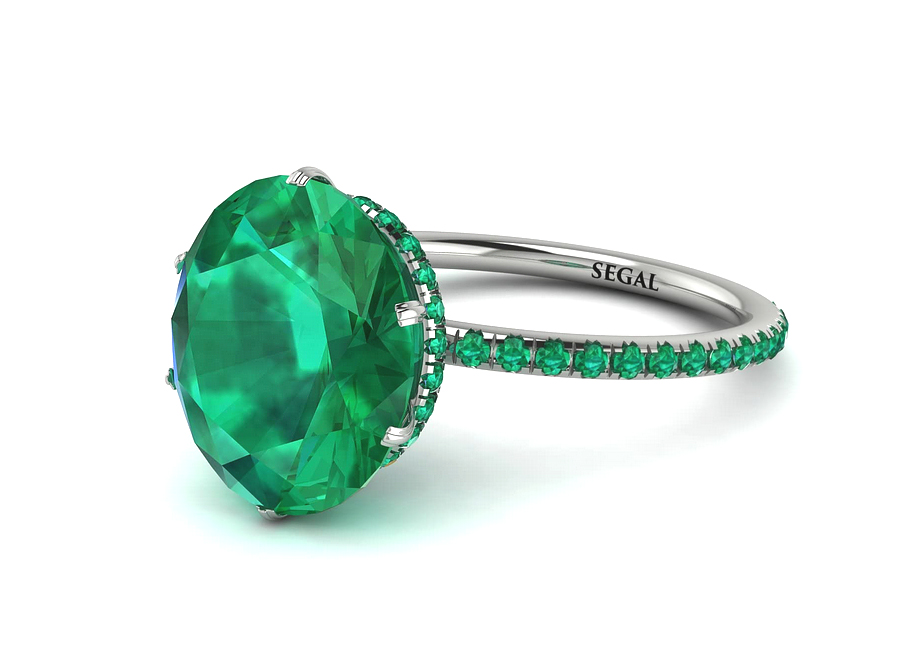 13. Black Diamond Engagement Ring
For those who have a distinctive personality like no other, black diamonds are a perfect match. Just like your unique personality, a black diamond symbolizes the courage to stand apart from the crowd. It also denotes a strong emotional connection, making it suitable for engagement rings.
And this dazzling black stone ring right here ticks all the boxes of perfection. The rose-cut black diamond is set in gold in a halo with smaller regular diamonds outlining it and on the band too. With this as your engagement ring, make sure the love of your life says yes with the glitter of diamonds in her eyes.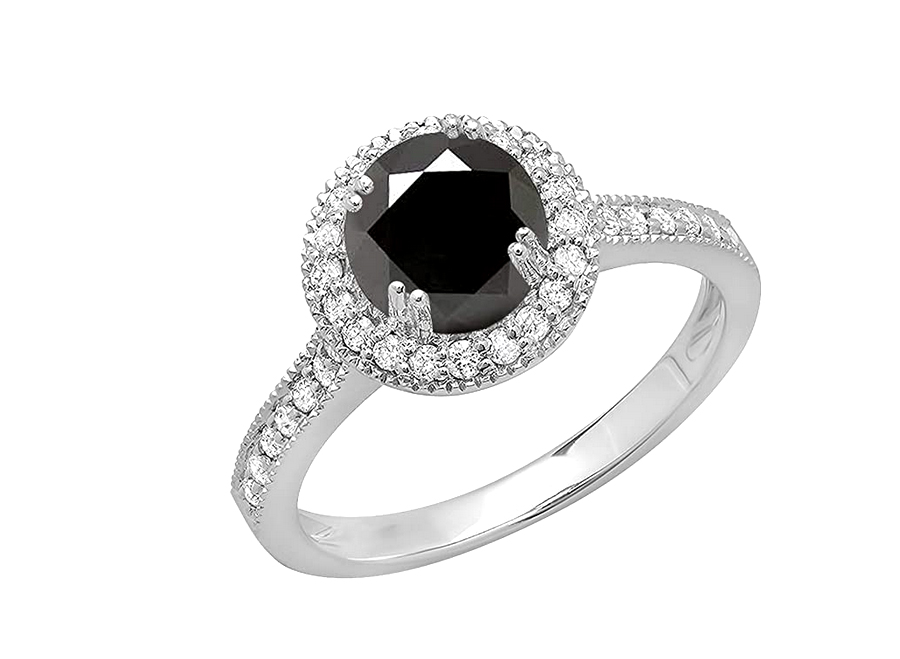 14. Garnet Stone White Gold Ring
Red is the color of passion and love. And that's what a deep red garnet stone symbolizes. Control over anger. Devoted sexuality. Passionate love. And a relationship characterized by trust and sincerity.
But this ring right here is not like any other garnet ring. This one comes with 29 sparkly, hand-cut stones for the brightest sparkle. And the cushion-cut gem in the middle makes it tough for anyone to move their eyes away from your fingers.
The pure lure of gold, the exuberance of the diamonds around the halo and on the band, and the mystical glory of the deep blood garnet in the middle make this ring truly one-of-a-kind.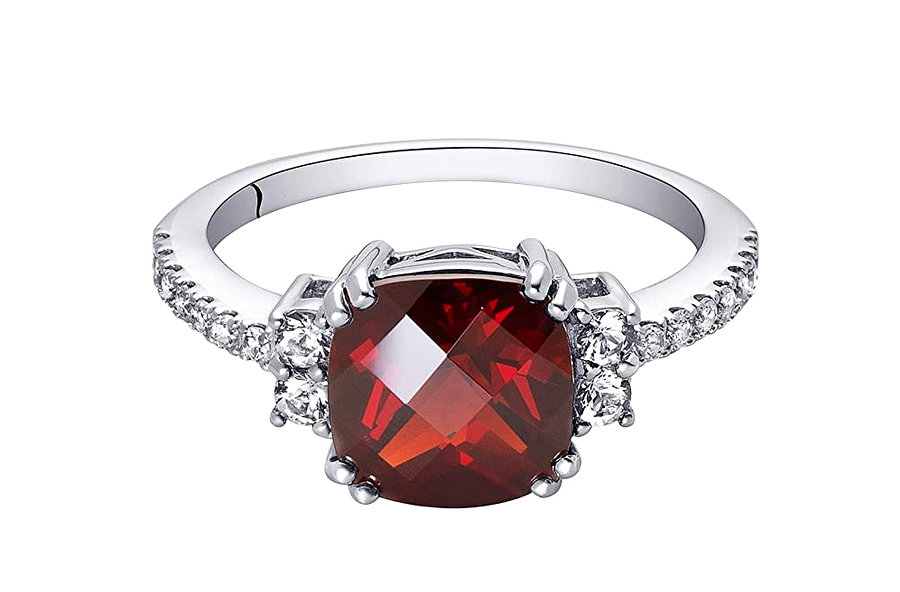 15. Black Opal White Gold Ring
Diamonds might be forever, but what lasts for even longer are opals. With their rainbow of colors, opals are a perfect diamond alternative for those who don't want the same only spark. For the ones who reflect vibrant hues and make all the lives they touch colorful, opals fit best.
Inspired by the Fibonacci spiral, this one definitely finds a top spot in the list of unique rings for women. With its original Ethiopian opal and a 2-in-1 interlocking design, it is a perfect pick for your engagement if you want something that is extraordinary and nothing like the regular rings out there.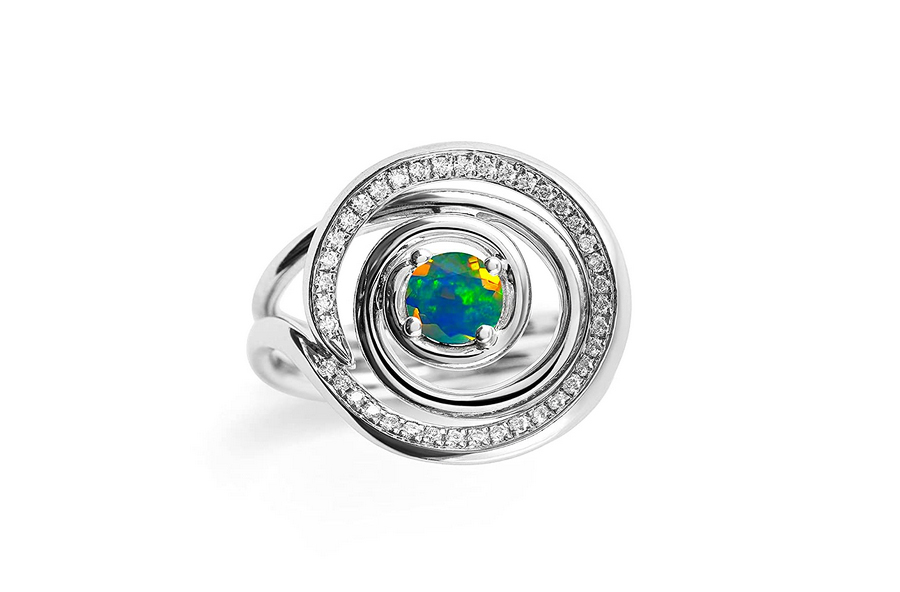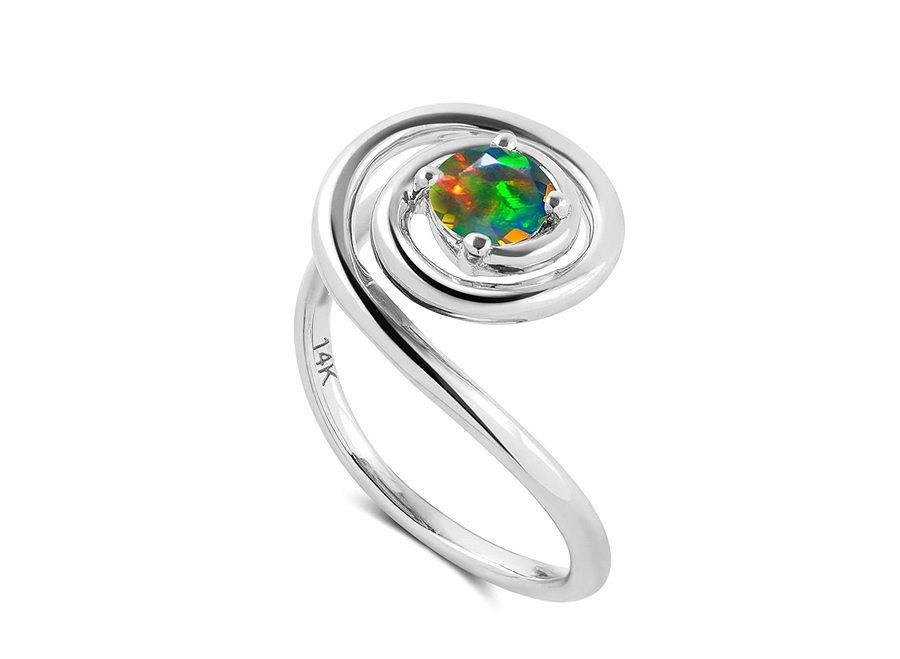 16. Morganite Three Stone Rose Gold Ring
Sparkling diamonds might leave holes in your pocket, but not Morganite. These gemstones in a pinkish hue come with a shine that definitely matches those of diamonds. Moreover, it symbolizes your sweet and compassionate romance. So whether you want a classic ring for your lady's finger or you want to gift yourself the gift of good gemstones, Morganite rises to the occasion.
This tipple rose Morganite ring set in gold gives true meaning to the world beautiful. No matter where you wear it to, its endless charm will always be the topic of discussion.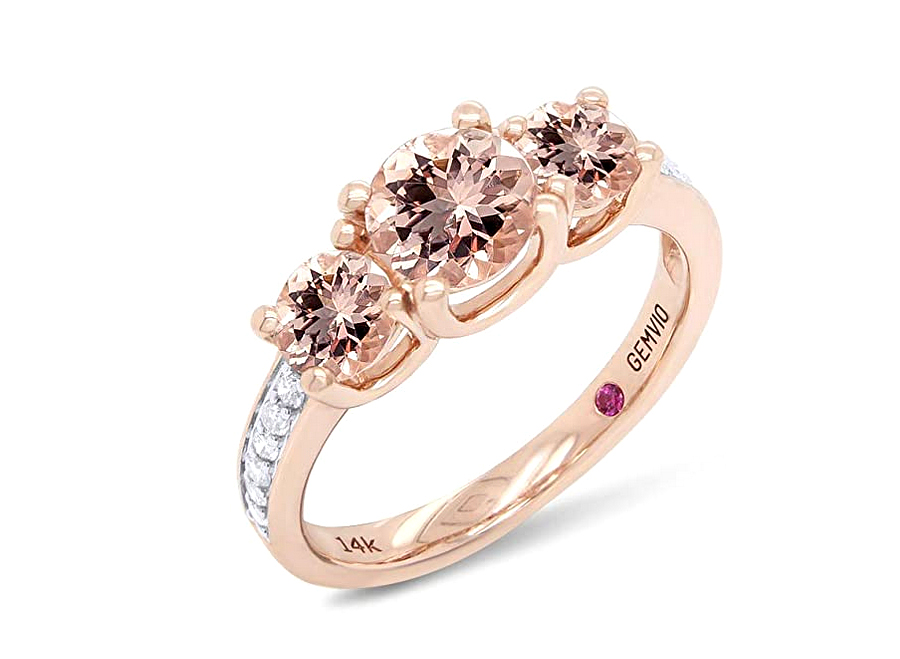 17. Tourmaline Rose Gold Wedding Ring
While any Tourmaline gemstone is a priceless possession, the red one is special. Why? Because it unites your heart and mind and brings joy, compassion, openness, and emotional stability. And not to mention its bling is blinding.
That's why this Tourmaline rose gold ring is a perfect wedding ring. Adorned by clear stones on the side in a delicate design, the ring truly makes the center stone shine in all its pear-cut glory.

18. Fire Opal White Gold Ring
No matter what you have suffered from in the past, fire opals have the power to help you heal. And not just get past the abuse and trauma. It also helps you move forward towards positivity and healthy relationships. Rarer and thus, more precious than regular opals these translucent gems are found in red, orange, and yellow hues.
The orange fire opal in this lovely ring here is accompanied by two diamonds sitting on either side. And 16 more accent diamonds on the band. Woe your beloved with this ring, prove your everlasting love, and watch it become an instant heirloom 'cause who would want to part from such beauty.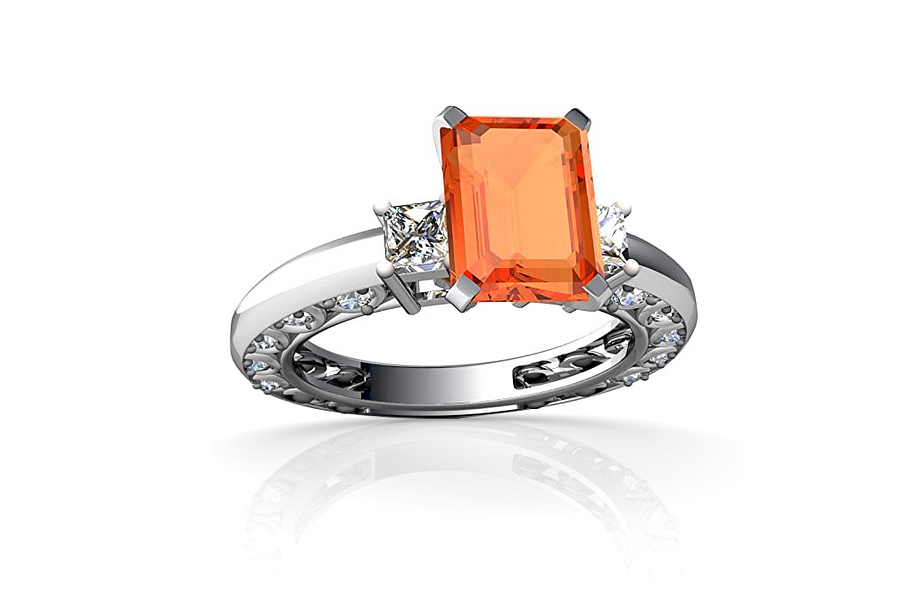 19. Black Sapphire White Gold Ring
Unlike most other gemstones that radiate light, black sapphire with its deep, dark hue seems to absorb all the light that goes into it. And that's what makes it stand out. A lighter-on-the-pocket alternative to blingy gemstones, this one is a catch if you are enchanted by its black beauty.
The oval-cut black sapphire center stone in this ring is accented further by the round-cut diamonds on the side. And the criss-cross curvy design on the band makes it a pleasure for the eye. Wear it once or wear it every day, its charm won't fade and its beauty will be etched forever in the eyes of those who see it.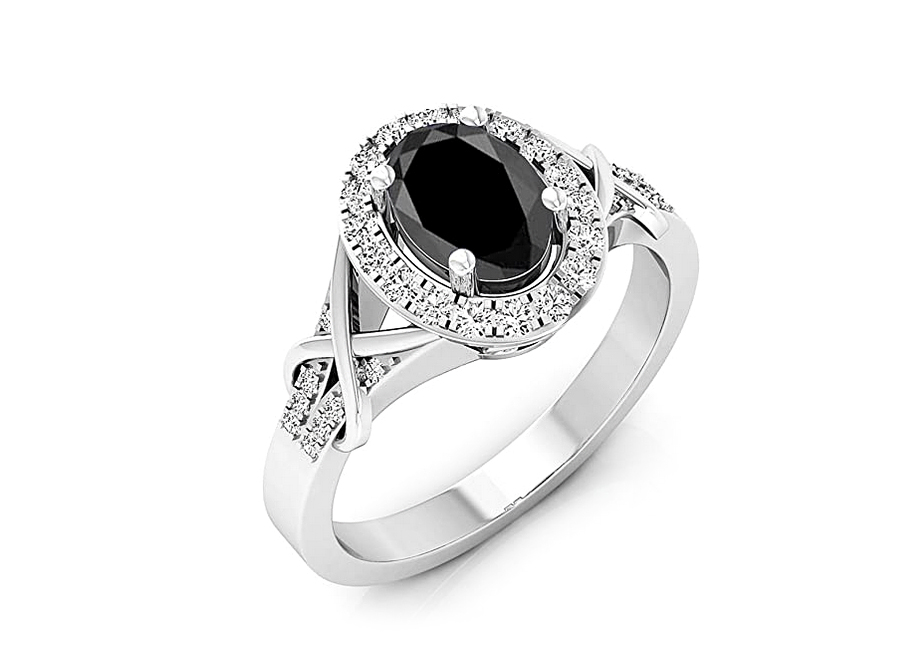 20. Rose Quartz Gemstone Ring
Rose quartz draws most of its effect from its pretty pink color. It purifies the heart, encourages everlasting love, and stimulates trust and harmony in relationships. But that's all that it will do for you. For the onlookers, it is a symbol of your loving and harmonious vibe.
How to bring in the positive effects of rose quartz in your life? With this rose gold ring of course. Lined with tiny precious diamonds on the sides, this ring is ideal for proposals. When worn on the ring finger, it sure will stimulate your woman's heart chakra, with which rose quartz is related. And thus, keep your matters of the heart sorted forever.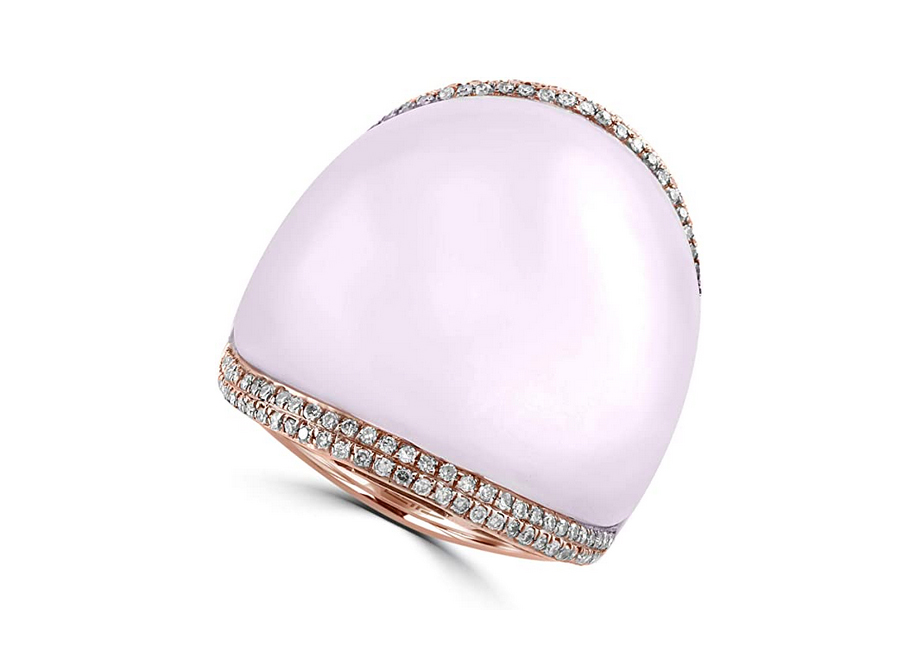 21. White Diamond Gemstone White Gold Ring
Associated with healing, unity, purity, and oneness, white gemstones are a strong symbol of class and grace. And as they say, diamonds are forever, this one is also set to become a part of your forever with your loved one.
What makes this delicately designed ring even more special are the diamond accents that further beautify the round gemstone in the center. The sweet ribbons wrapping around the front and the intricate filigree metalwork make it an antique piece. A gift worth giving at any time of the year and to anyone who has a piece of your heart.