Vintage motorcycle helmets, or as they are also called – retro helmets, are not just an item to secure your head – it is a special style, an honor of old school culture and just a tribute to history. Vintage helmets, like old style motorcycles, are a timeless trend, as are turntables and mechanical watches. From vintage leather helmets with goggles like those worn by pilots in the early 20th century, to retro metal flake helmets from the 80s era. All this you will find in our collection, and every motorcycle helmets has a link where you can buy it.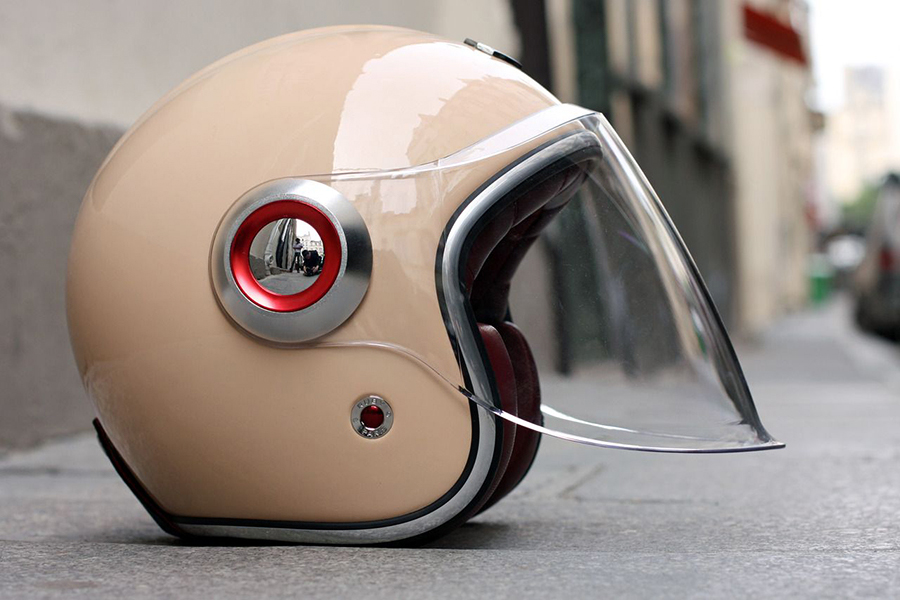 Motorcyclists from all across the world would agree that the best of helmet fashion is behind us. The raw, rustic, and sometimes overtly funky look was eye-catching for sure. But just because we are two decades down the 21st century, it doesn't mean we cannot get that old look back.
Plenty of vintage-style helmets are available online. But not all of them are fit for you.
That's why we have shortlisted the 35 best vintage motorcycle helmets for you to choose from. Whether you are looking for something from the swinging '60s, stylish '70s, or energetic '80s, we've got you covered.
Best Vintage Leather Motorcycle Helmets
Want to add more style to your riding attire? Want a no-fuss security solution for your head? Well, there is nothing that quite does the trick like a vintage leather motorcycle helmet.
Choose from these stylish vintage motorcycle helmets in leather and find your favorite.
1. Airtrix Jet Retro Vintage Motorcycle Helmet [ buy here ]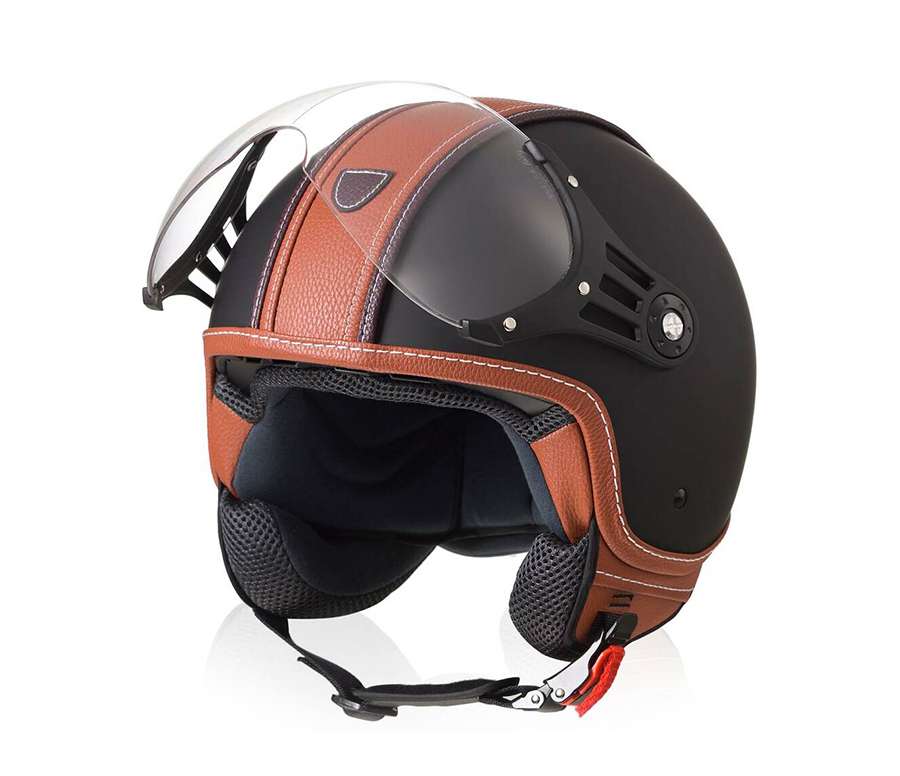 You'd say black and brown don't go together. But that's before you've seen the Airtrix Jet Retro Vintage Motorcycle/Scooter Leather Helmet.
It has an innovative, high-quality design with synthetic leather. And it comes with a detachable lining and scratch-proof adjustable visor. Any rider's pride, it also has a quick-lock mechanism that lets you open the chin strap with just one hand. Also, it is easy to handle the helmet even when you are wearing gloves. Coming in at €64.90, it has a satisfactory performance-price ratio too.
With the Airtrix Jet Retro Vintage Helmet, safety, style, and satisfaction are guaranteed.

2. Hanmi Leather German Helmet [ buy here ]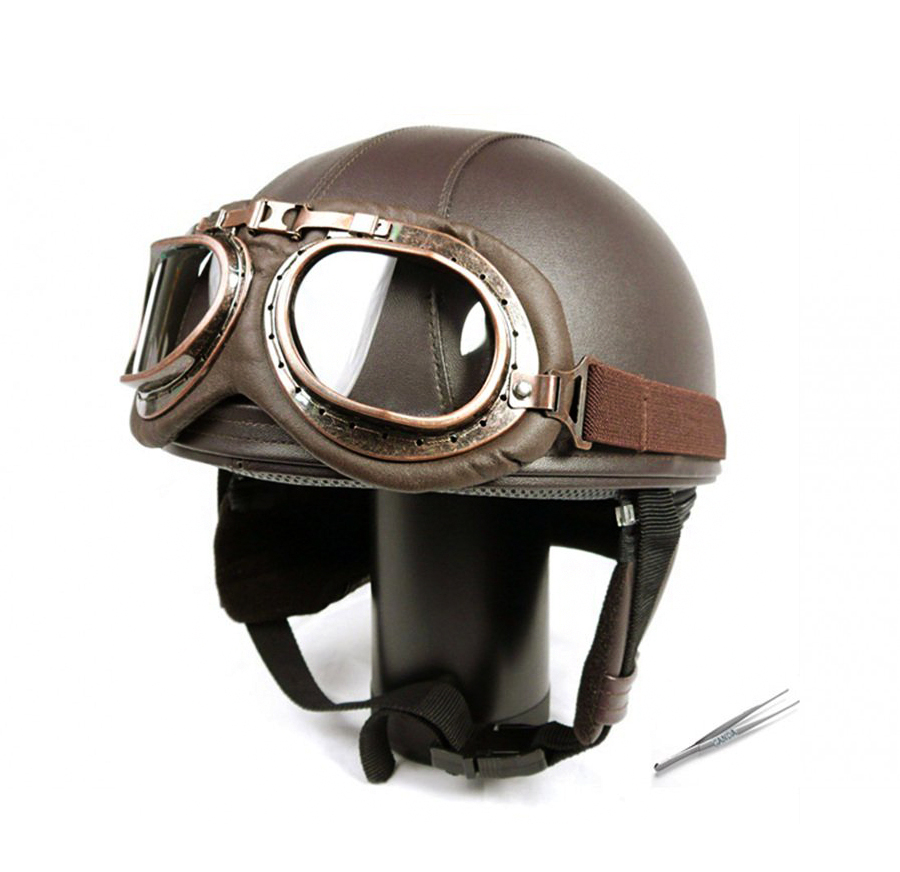 A half leather helmet, in a badass shade of brown, the Hanmi Leather German Helmet is a classy piece, to say the least.
With a 22×22.8 inch size, it is sure to give you a perfect fit and a style that's an instant hit. And at $74.74, you also get free goggles, earmuffs, and a Ganda Anti Electromagnetic Radiation Sticker. A deal that you cannot deny.
The ABS material makes it strong and capable of saving you from impact. Plus, there is a one-touch buckle for the chin strap. Well, that's what we call effortlessly easy and stylish, isn't it?

3. Moto D22 "Leather Brown" Vintage Helmet [ buy here ]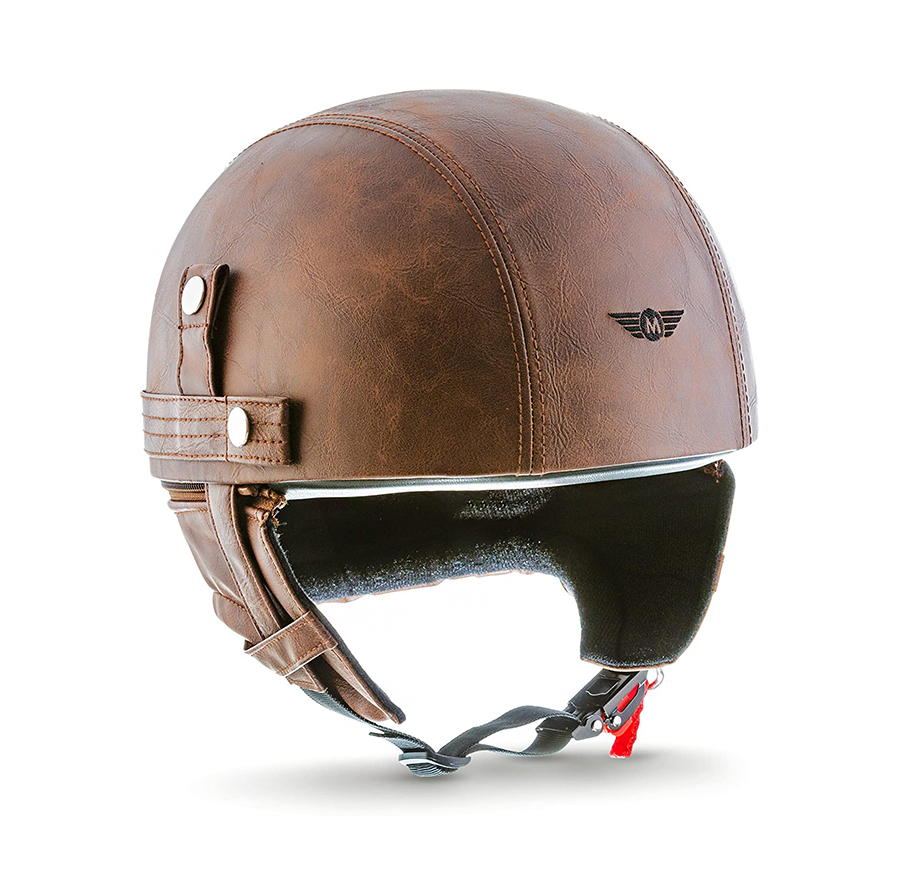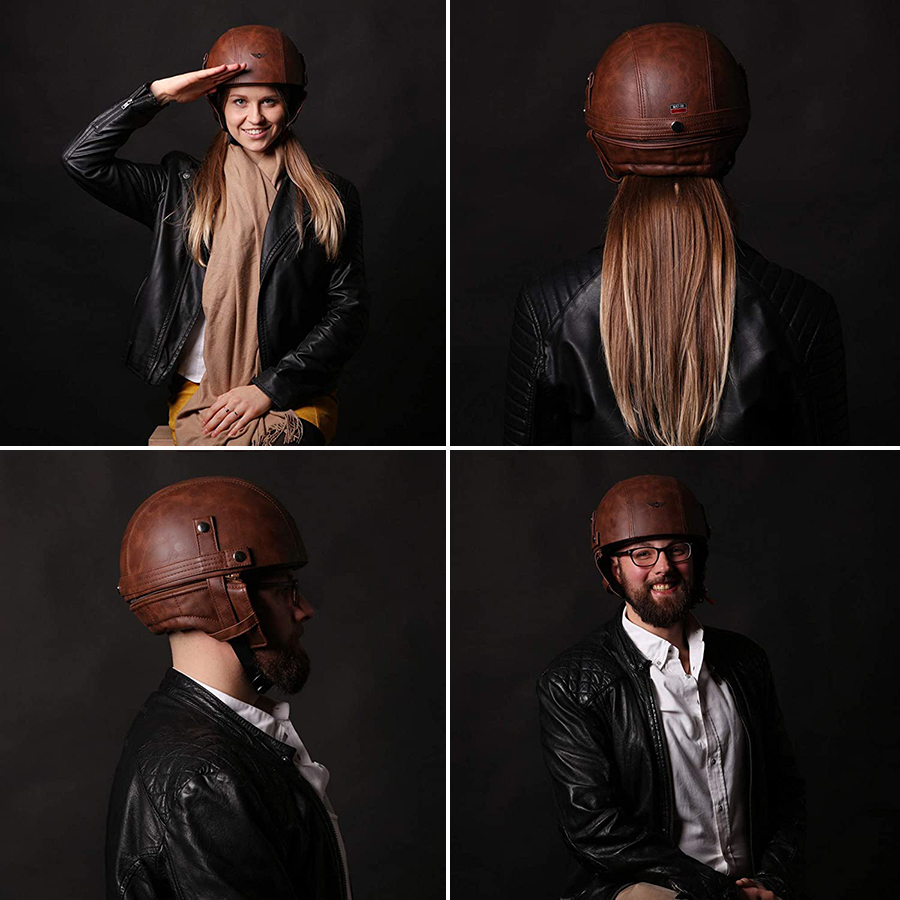 What to do when you want to rock the leather look but not at the cost of your vegan lifestyle? Well, the Moto D22 vintage bike helmet is the perfect solution. Made with 100% vegan artificial leather, it comes in a breathtaking shade of brown.
Suitable for small head sizes (55-56 cm), it also has a quick-release clip. With this, it is easy to click and secure your hardhat in place with just one hand. It also doesn't disappoint those looking for a decent dude look with an extra small shell.
You can also stay assured about safety as fiberglass is used in its making, which makes it lightweight and gives it a superior and stylish look.

4. Bubble Visor Vintage Style Helmet [ buy here ]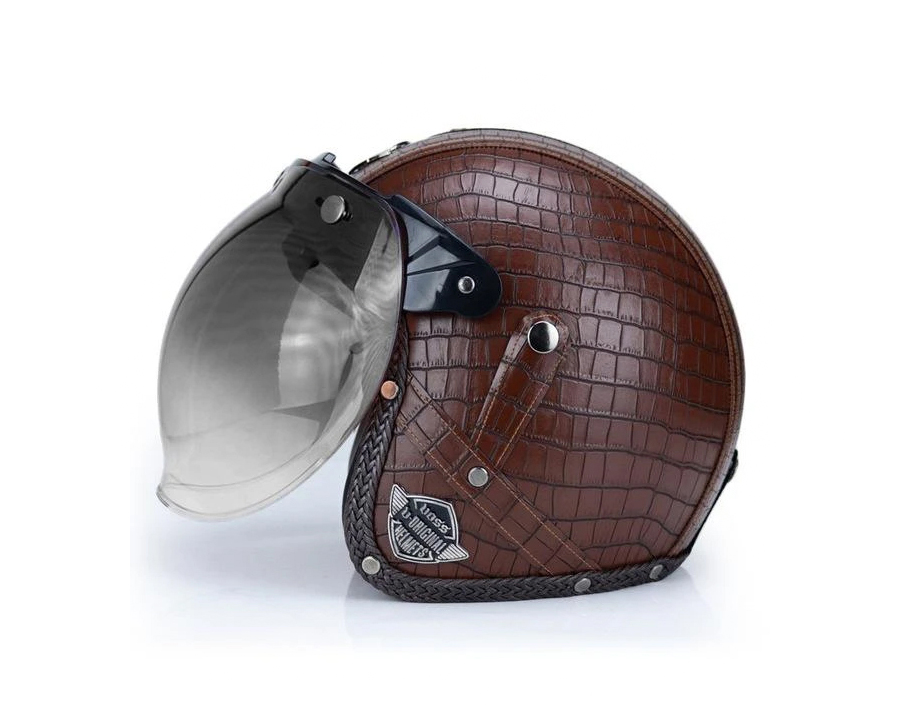 What do you call it when you get style, leather luxury, and safety all rolled into one? Well, we call it the Bubble Visor Vintage Style Motorcycle Helmet .
Available for $154.95, in 5 sizes (S, M, L, XL, and XXL), it comes with a detachable bubble visor. The EPS high-density layer keeps your head safe and provides cushion protection. It can be disassembled and washed and is made of cool and breathable material.
The bubble visor keeps you safe from wind, rain, and sun. And you can also take it off for an open-face swag. Let your mood decide the style, while safety and comfort stay constant.

Best Vintage Full Face Motorcycle Helmets
A vintage full-face motorcycle helmet is a guarantee of full protection. Covering your face, chin, neck, and head, these helmets keep you safe from sun, wind, dust, noise, rain, and everything else. And with the added vintage charm, you are set to look and feel your best.
Here are our top picks in this category for you to consider:
5. Biltwell Gringo S Helmet [ buy here ]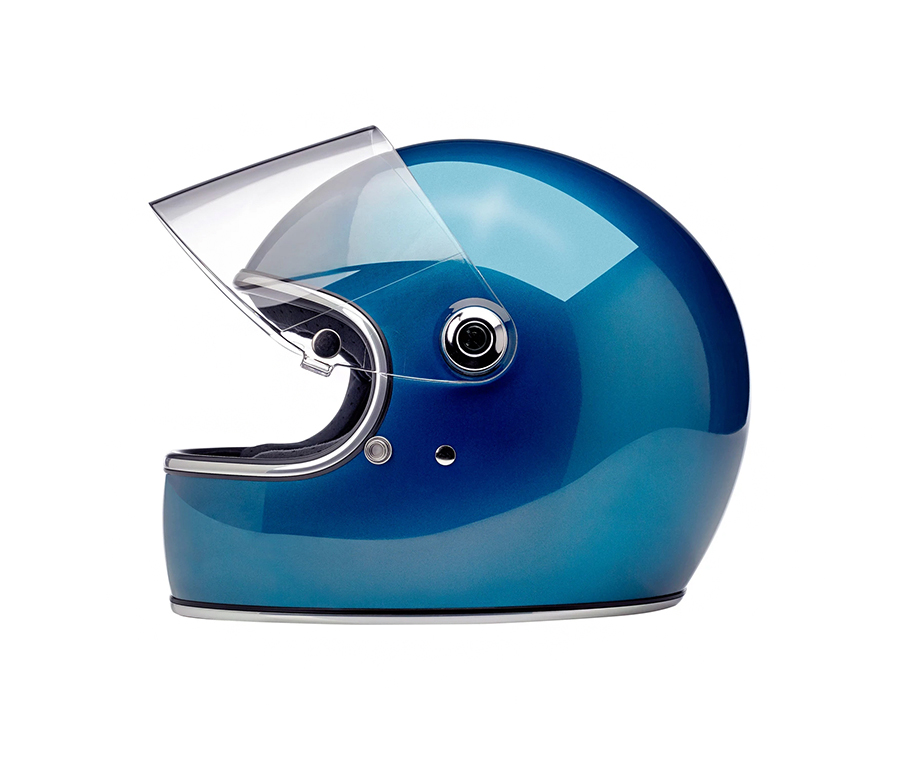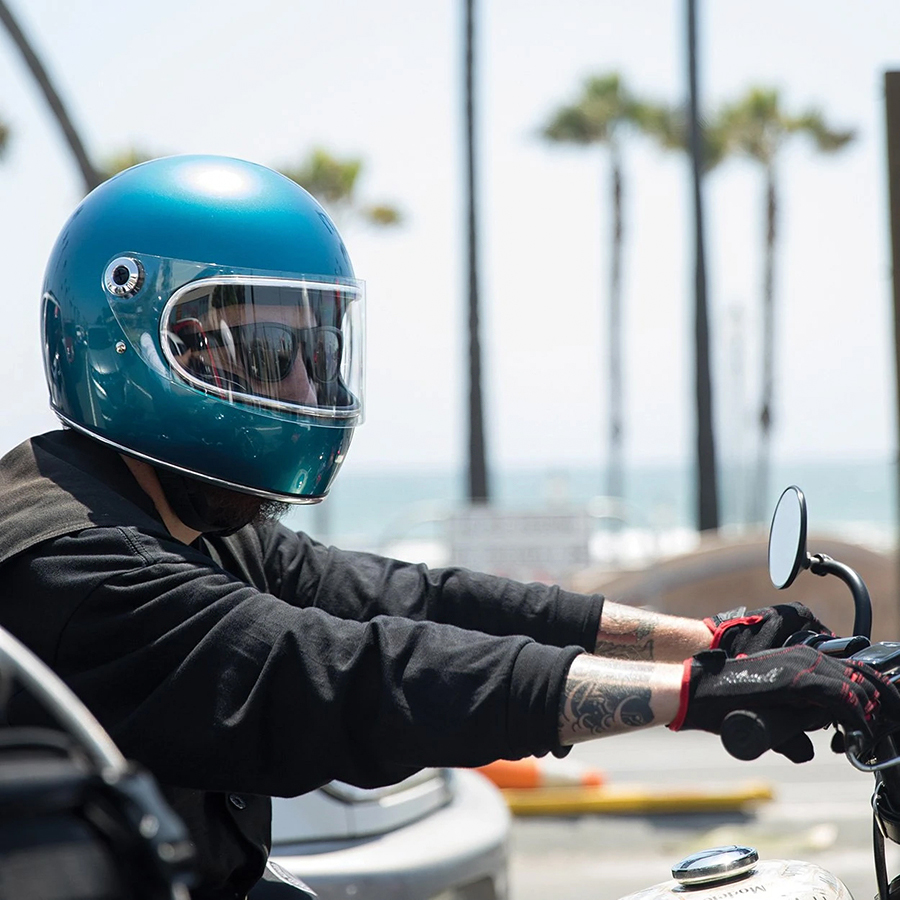 For $219.95, you can bring home Biltwell's Gringo S ECE Helmet in a glossy pacific blue color. It is a total stunner that warrants second glances from people no matter where you are headed.The helmet also features a flip-up face shield. And has a 3-piece ECE safety liner to save your head from any impact while making sure you are comfortable.
And with the chin bar pad on the adjustable chin strap, you are safe from frontal impacts too. The comfort liner is replaceable. And the fleece Lycra touch points make sure precipitation is absorbed, and it never creates an issue.
Moreover, the shield has undergone anti-fog and anti-scratch treatment, which means ease and durability are a given.

6. TORC T1 Unisex-Adult Retro Full-Face Style Motorcycle Helmet [ buy here ]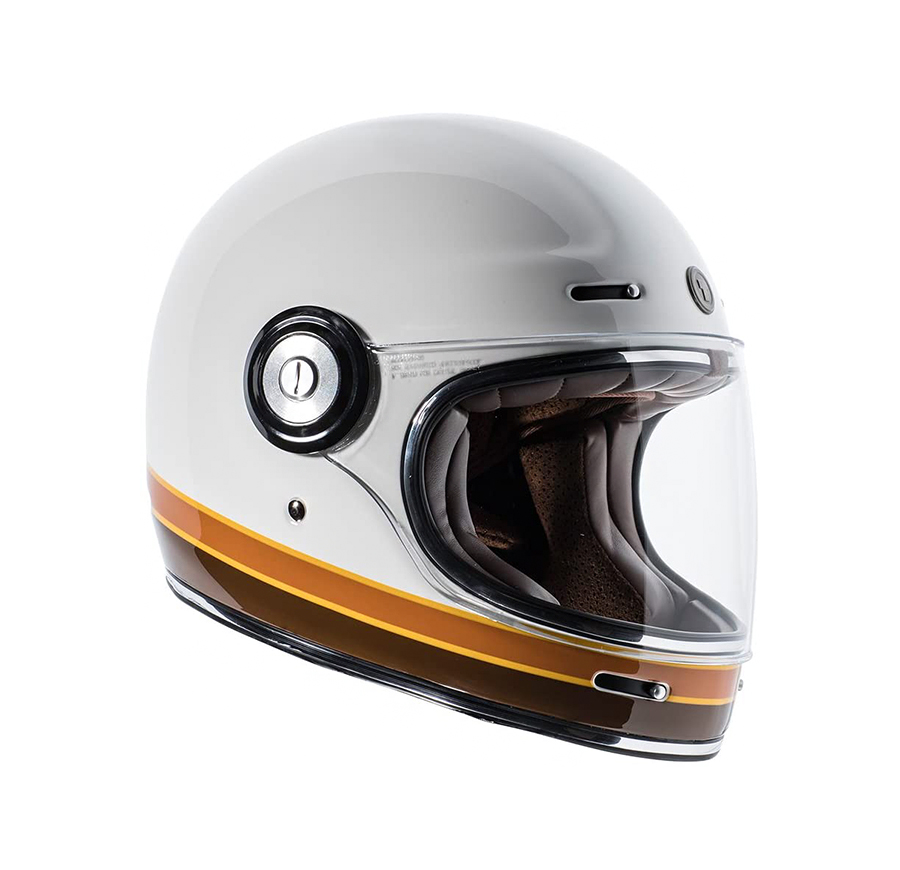 With a white body and a golden-brown rim, the TORC T1 is a unisex adult retro helmet. The full-face style motorcycle helmet is the perfect pick for anyone who isn't ordinary.
With fog and scratch-resistant shield, you can be sure that it will last longer and give you the utmost comfort. Another of the features that give it safety-laden comfort is its antimicrobial inner lining. The hard body keeps you protected from outer impact. The cool colors make sure you look your classiest best while you ride. And the sweat-wicking faux suede liner keeps you comfortable.
The Unisex helmet also has chin vents that keep the air flowing while not compromising on safety in any way.

7. Blauer HT 80S Helmet [ buy here ]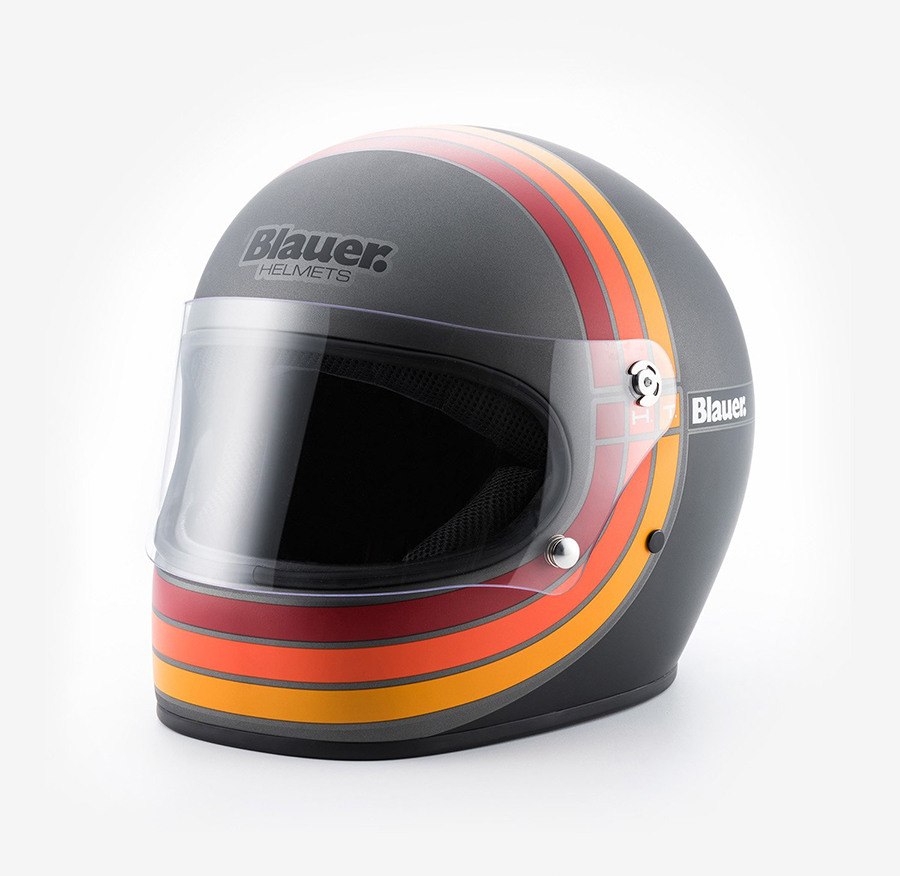 An old school style full-face helmet, the Blauer HT 80S, never fails to make people turn around and sneak second glances. With a Titanium Matt finish and three colorful bands adding a dash of blazing energy, it is as cool as it is comfortable. The external shell is sturdy and stylish. And the inner fabric is sanitized, EPS-certified, and has differentiated intensity. Plus, the double layer offers effective protection against impacts.
The inner parts of the Double D chin strap can be easily removed and washed. You can buy the HT 80S for €369.00 and pick from M, L, or XL sizes.

8. Bell Bullitt Helmet [ buy here ]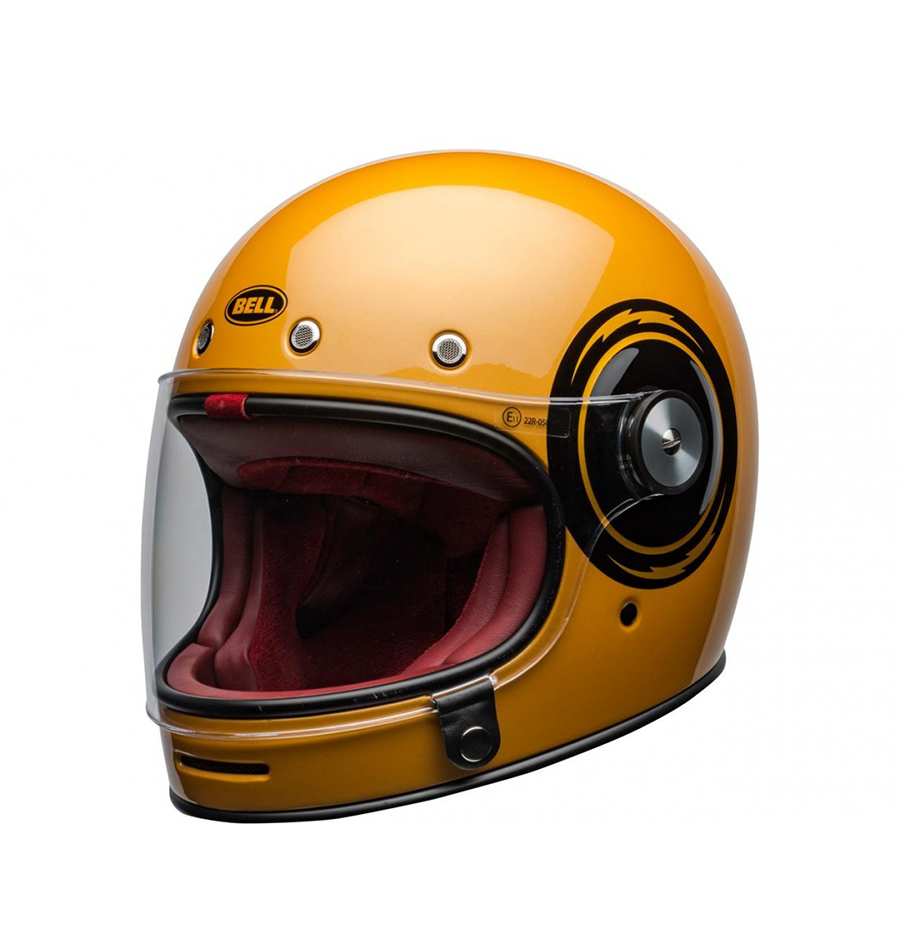 When the style of the '60s and '70s meets modern design and high-end safety, you get the Bell Bullitt Helmet. With a look that will instantly make you feel like you are in a retro-style sci-fi flick, it is a great buy at $419.95.
With leather interiors and quality-assured parts and pieces, it looks like a piece of functional art. You get multiple shield options and fiberglass composite.
Plus, the clear face shield gives you a very classy look. The front chin vents keep your ventilation needs covered. And the integrated speaker pockets make sure you know you have modern tech backing the retro look.

Best Vintage Open Face Motorcycle Helmets
If you want to look and feel cool, open face motorcycle helmets are for you. You can see and hear better and be more aware of your surroundings. And, of course, a vintage open face motorcycle helmet makes you stand out from the crowd of bikers. We have handpicked the best options available online for you to choose from.
9. SOXON NTNK N325 Urban Green Open Face Helmet [ buy here ]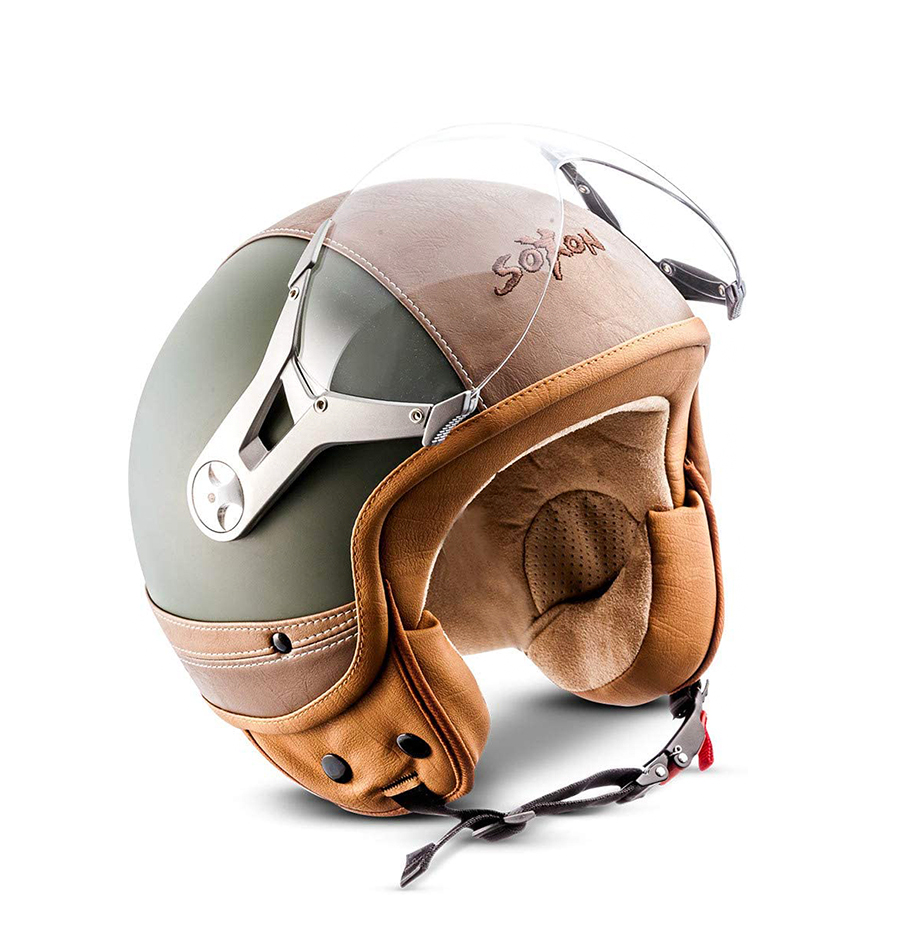 Crusading down the streets in a cool urban green open face helmet doesn't have to be a dream anymore. The SOXON NTNK N325 makes it possible at just $120.90.
DOT approved, this stylish retro style open face helmet comes in an extra small size, and the padding makes sure you are comfortable. The inner lining is soft, partially removable, and washable. Also, there is no chance of odors ruining your biking experience.
With its quick-release fastener in place, it is extremely easy and fast to remove the clasp (even if you have your gloves on). Get ready to be the talk of the town with a unique helmet giving you safety and style.

10. WWQY Open Face Vintage Motorcycle Helmet [ buy here ]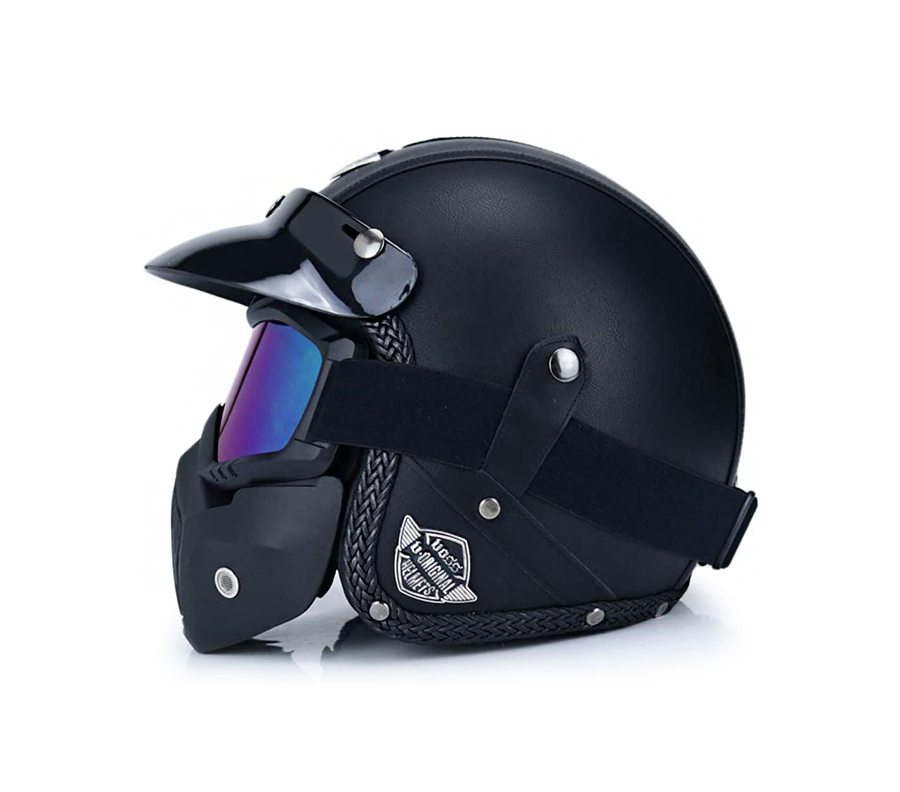 Want an open face helmet that reminds onlookers of the retro Harley vibe? But don't want to break the bank for that? Then the WWQY Adult Open Face Vintage Motorcycle Helmet is what you need.
Available at $89.42, the helmet comes in a classic black color along with a goggle mask and a removable lining. This facilitates quick and regular cleaning of the insides to keep the helmet in top shape. An EPS buffer layer supplements the PU and ABS outer shell made with leather to offer maximum protection from impacts.
DOT approved, the helmet is fit for legal use and also makes sure you roam the city with a realistic retro look.

11. Hedonist Tux [ buy here ]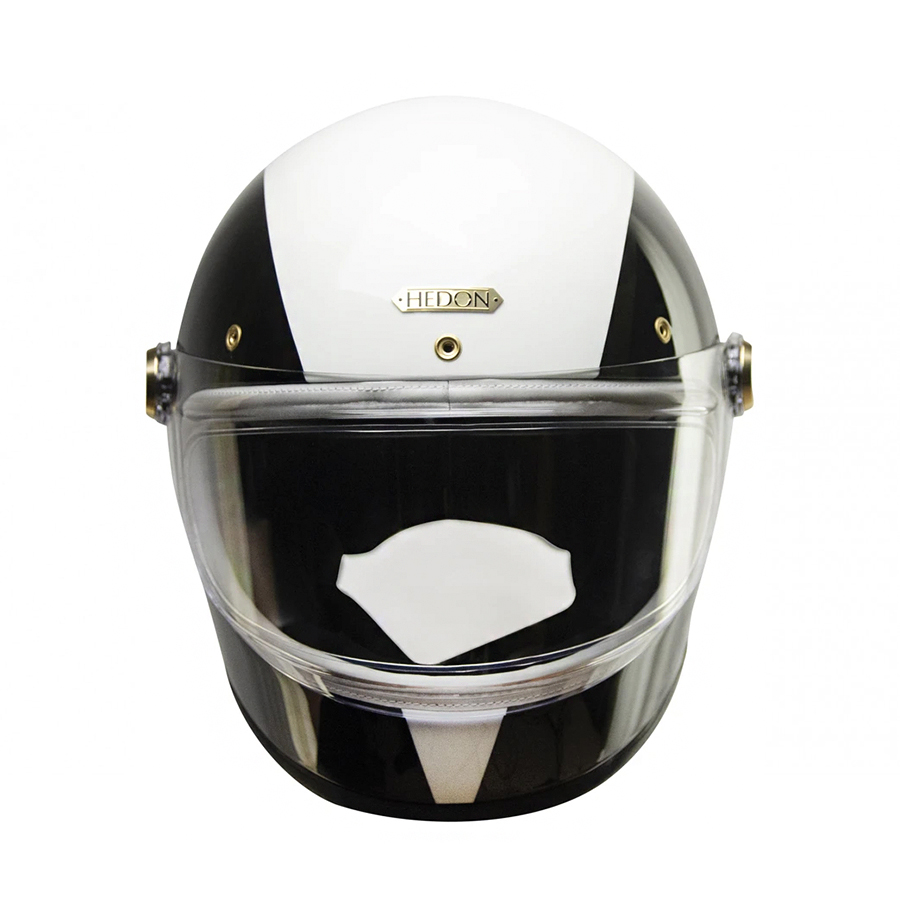 When you are riding your beautiful beast, the fresh burst of wind on your face feels refreshing, isn't it? Well, you can add more style to the perfect feel with the Hedonist Tux.
An open face helmet, the Hedonist Tux lets you make a style statement while keeping safety in mind. Made with fiberglass and carbon fiber, the composite fiber shell keeps you protected against impact.
And the internal antibacterial lining keeps you safe from other types of trouble. Coming in at £349.00, the exteriors are made of brass, and the lining is made of natural calf leather. The gloss finish shell renders style, and the 360-degree cushion padding offers unparalleled comfort.

Best Vintage 3/4 Motorcycle Helmets
While the full face and open face helmets are two different extremes, a vintage 3/4 motorcycle helmet is the best of both worlds. You get decent enough ventilation, plus the lightweight design keeps you comfortable. And of course, you get the required level of protection too. Vintage style 3/4 motorcycle helmets have always been in vogue, and here are a few options that you can consider:
12. TORC T-50 Rebel Star 3/4 Helmet [ buy here ]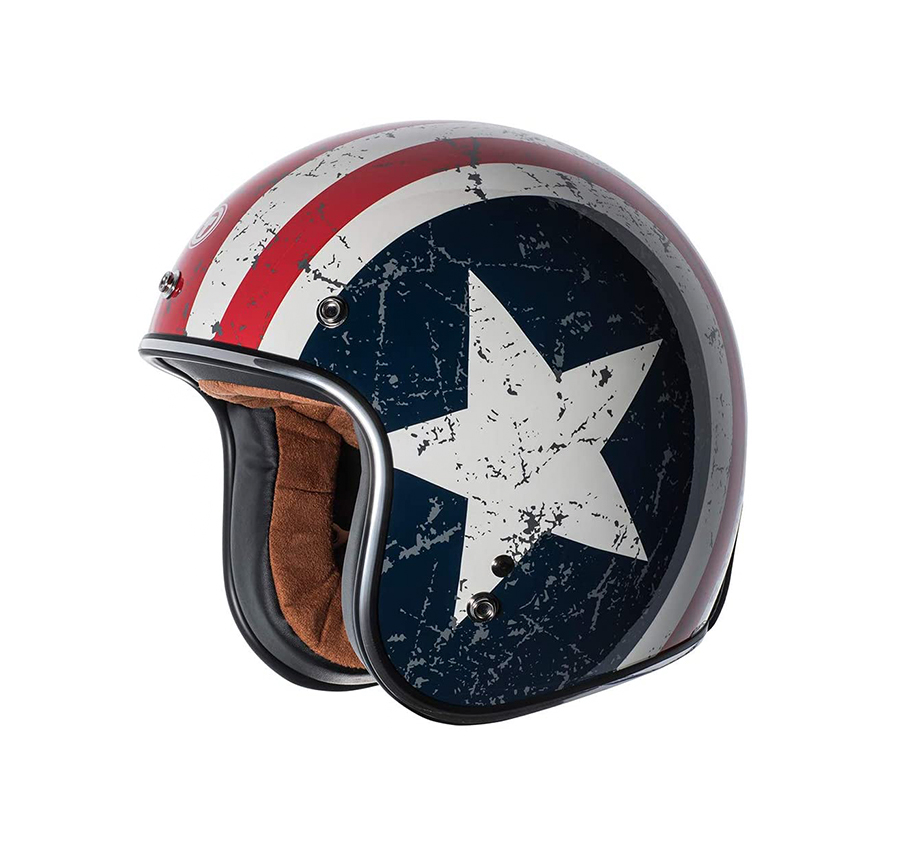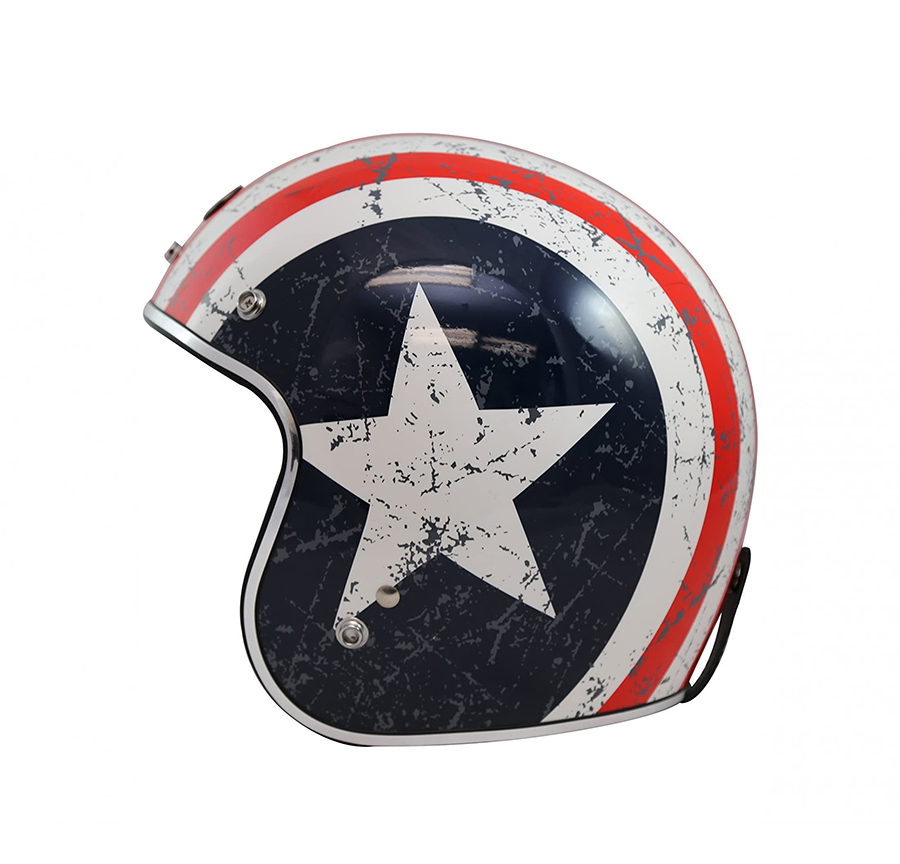 The T-50 Rebel Star is for all those who like adventure, adrenaline, and all things unique. It complements a retro-loving personality with its rugged look and classy features.
Available for $109.99 in all sizes (XS to XXL), it does not just give you a cool dude biker look but also keeps you safe during adventures. The inner lining is antibacterials, and you get multi-density EPS. Together, these features make sure that you are protected both from the inside and out.
The removable visor and cheek pads, along with padded chin strap and D-ring closer, make it feature-loaded. And a great pick for all riders.

13. TORC T-50 Route 66 3/4 Motorcycle Helmet [ buy here ]
The TORC T-50 Route 66 PCH has a stunning design that motorcycling enthusiasts will find exciting and attractive.
Available for $109.99 in basic white (with graphics), it gives an ancient look and feel. A retro enthusiast's delight. But that doesn't mean you will have to ride without modern functionality. It is complete with an ultra-suede liner that gives a leather-like look and wicks away the moisture. No sweat, so hassle, just pure comfort, style, and safety.
The sun visor and the cheek pads are both removable. And you can also wash the cheek pads to maintain cleanliness. Achieve a timeless look with the T-50 PCH keeping you safe always.

14. TORC T-50 Unisex 3/4 Motorcycle Helmet [ buy here ]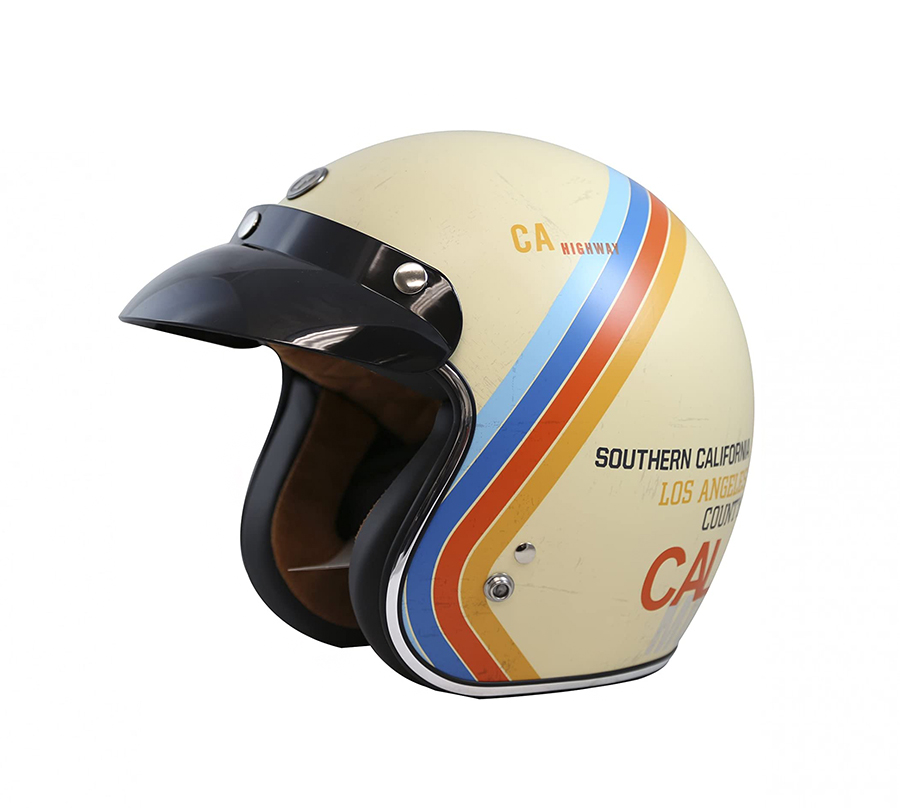 Don't want anything to dim or dampen the experience that you have when you are riding your motorbike? TORC T-50 Unisex 3/4 is the helmet for you. Available in flat white color with an oval head shape, it is the epitome of comfort and style. While it may look like it is brought straight from the days gone by, the technical fiber inside it makes you feel otherwise.
You get the leather-like feel, and yet the cost is nothing but affordable. You can buy it for $89.99 and add more retro class to your hardcore biker persona.

15. Biltwell Bonanza Gloss Blood Red Helmet [ buy here ]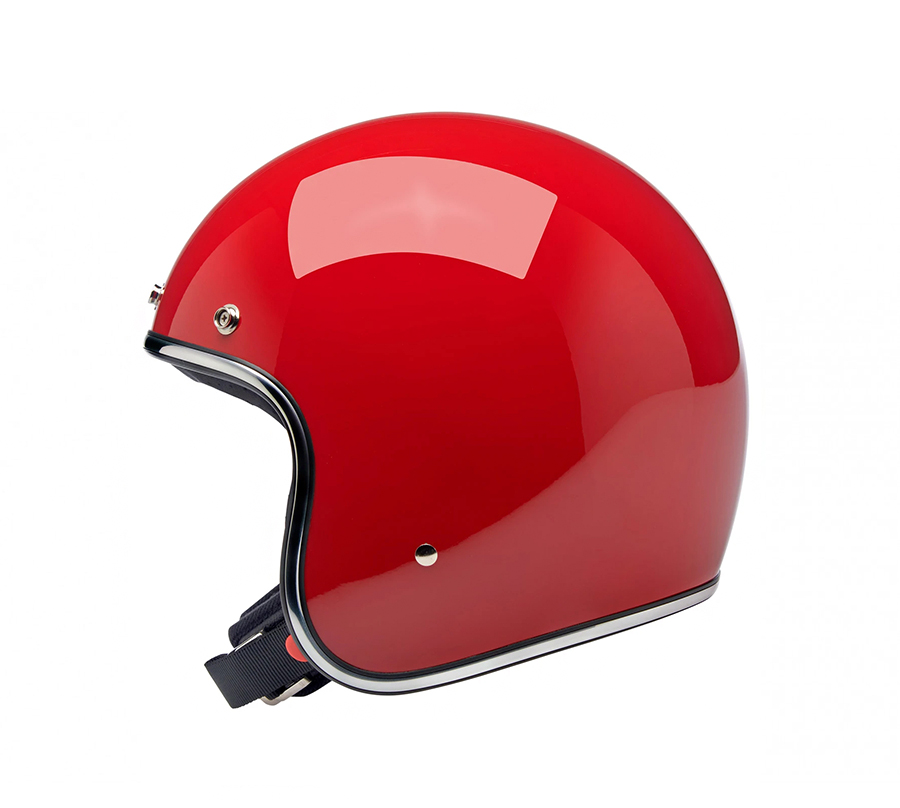 Red is the color that brings out strong emotions of passion and power. But not everyone can carry it with equal poise. But you can be sure that you'll be acing the regal red biker look with the Biltwell Bonanza Gloss Blood Red Helmet.You can buy this effortlessly classy helmet for $99.95. A deal that you won't want to refuse for sure. It gives a royal vibe that is characteristic of the past, but the modern tech that goes inside is worth noting too.
Whether it be the outer shell that is rugged and lightweight in equal measure or the removable comfort liner, it isn't hard to notice the precision that went into its making. And the comfortable chin strap just adds to all the style, safety, and convenience.
Best Vintage Motorcycle Helmets with Goggles
What is better than a vintage motorcycle helmet? A vintage motorcycle helmet with goggles . With goggles built-in into your helmet, you are saved from unwanted objects getting into your eyes. And also, your style quotient goes a notch up. But with multiple options to choose from, you are bound to get confused. To make the choice easier, here are the best vintage motorcycle helmets with goggles.

16. Half Open Face Motorcycle Helmet with Goggles [ buy here ]
A unisex product, the Charim Half Open Face Motorcycle Helmet with Goggles, is a must-have before you set out for outdoor adventures. The strip stars helmet gives a vintage vibe and ensures both your head and eyes are safe. The flip-up visor mechanism makes it very easy to use it in day-to-day life. Plus, you get the guarantee of durability with its anti-scratch and anti-fog features. Moreover, the helmet's lightweight ABS shell saves you from impact while being resistant to dents and deformation.
But all the beauty and strength is not just external. You get an inner buffer layer also. This lining saves your head from injury and offers comfort while wearing.

17. Vintage Leather Helmet With Mask & Goggles [ buy here ]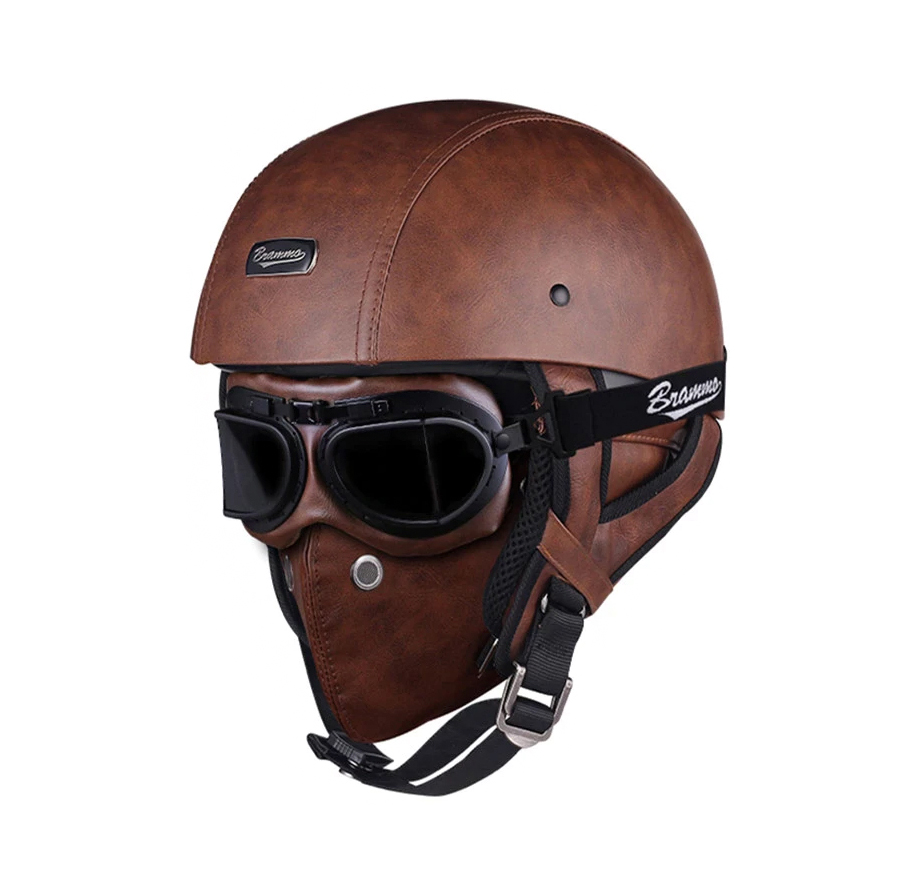 Let your helmet speak volumes about your vibrant personality with the vintage leather helmet that comes with both a mask and goggles. For those who want more, this BrapWrap offering available at $123.95 is a must.A unisex product, the half helmet is available in 3 sizes, M, L, and XL. Measure your size before you order this biker favorite. The earthy brown shade gives a classy vintage vibe. Also, it keeps you safe and stylish in all seasons and is DOT approved.

18. Leather Vintage Motorcycle Helmet with Goggles [ buy here ]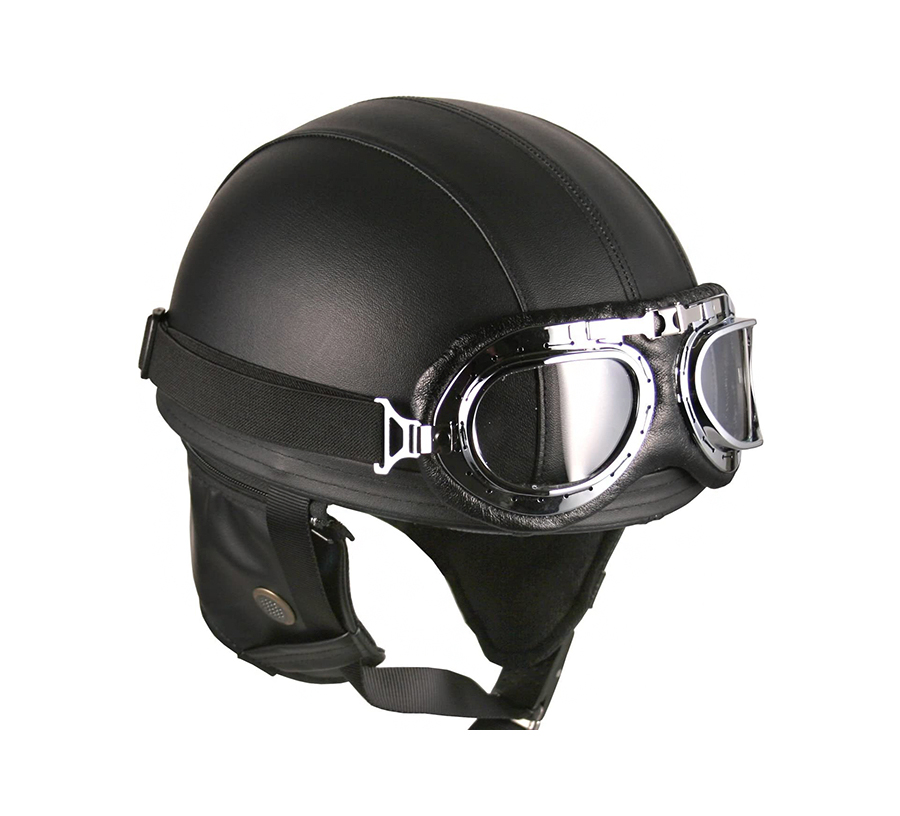 Are German-style helmets your thing? Well, how about you get the vintage, German leather helmet, but it also comes with goggles and earmuffs? Well, that would certainly be great, right? This HANMEI helmet right here is available for just $59.99. And it has a sophisticated German look, a vintage vibe, goggles to keep your eyes safe and vision clear, along with detachable earmuffs.
With the high-quality fabric that is used and a one-touch chin strap with buckle, it scores high on quality and comfort. And talking about comfort, it comes in the large (22 inches ~ 22.8 inches) size, which makes sure you don't have to 'somehow' fit your head into it. No need to compromise on style or comfort for safety anymore.

19. OSHIDE German Style Vintage Motorcycle Helmet [ buy here ]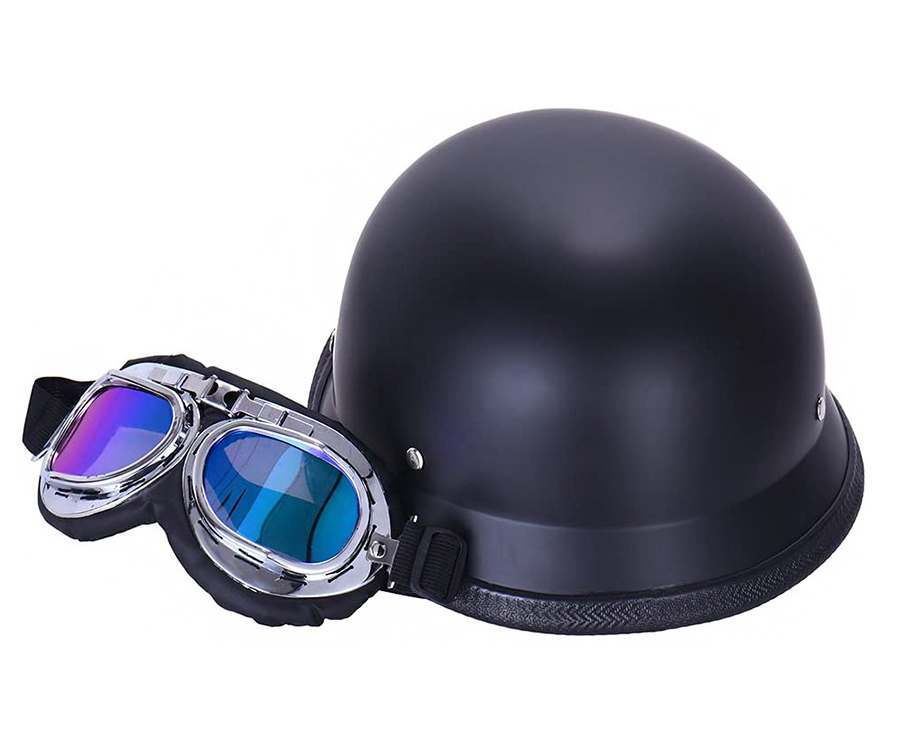 Gone are the days when more protective helmets meant you had to give up on style. With the OSHIDE German Style Vintage Motorcycle Helmet you can make sure you have both style and heightened safety.
The helmet shell is twice as stiff as normal helmets, and top-level ABS is used in its making. The buffer layer utilizes high-density foam. Plus, it comes with goggles attached to make you look more stylish. Concerned about comfort? The velvet inner lining has got you covered with its soft feel.
Bring home one of the most user-friendly helmets, and no matter what the season is, ride in style.

Best Vintage White Motorcycle Helmets
White is an inherently classy color. It is known to bring out the best in people, things, and places. And you cannot go wrong with a vintage white motorcycle helmet . Here are our top picks suitable for classy motorcyclists like yourself.
20. Biltwell Gringo S ECE Vintage White Helmet [ buy here ]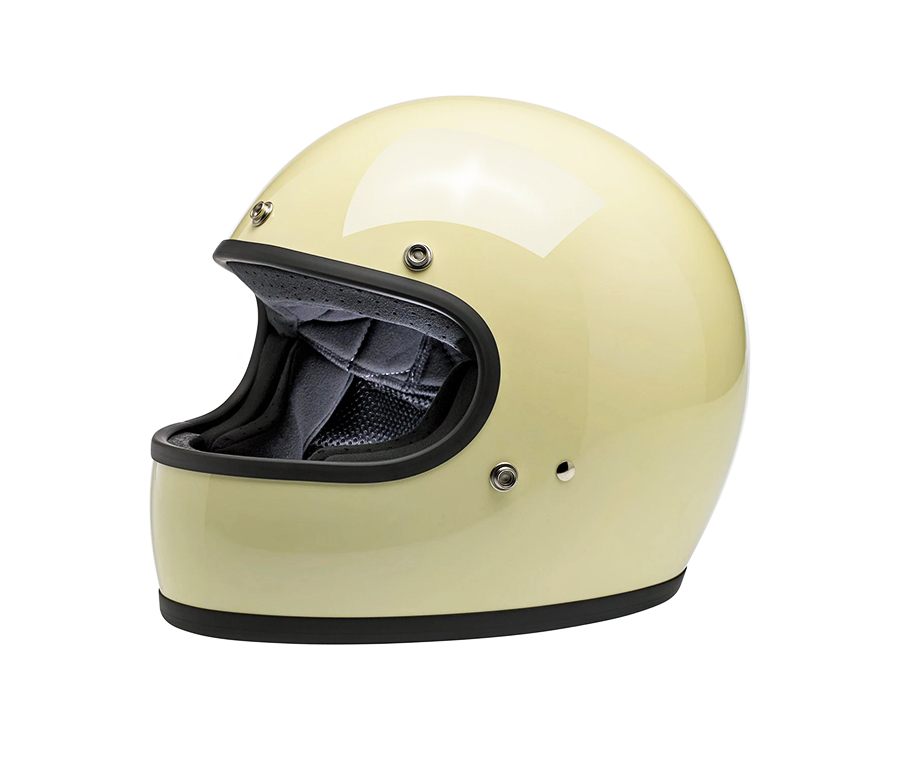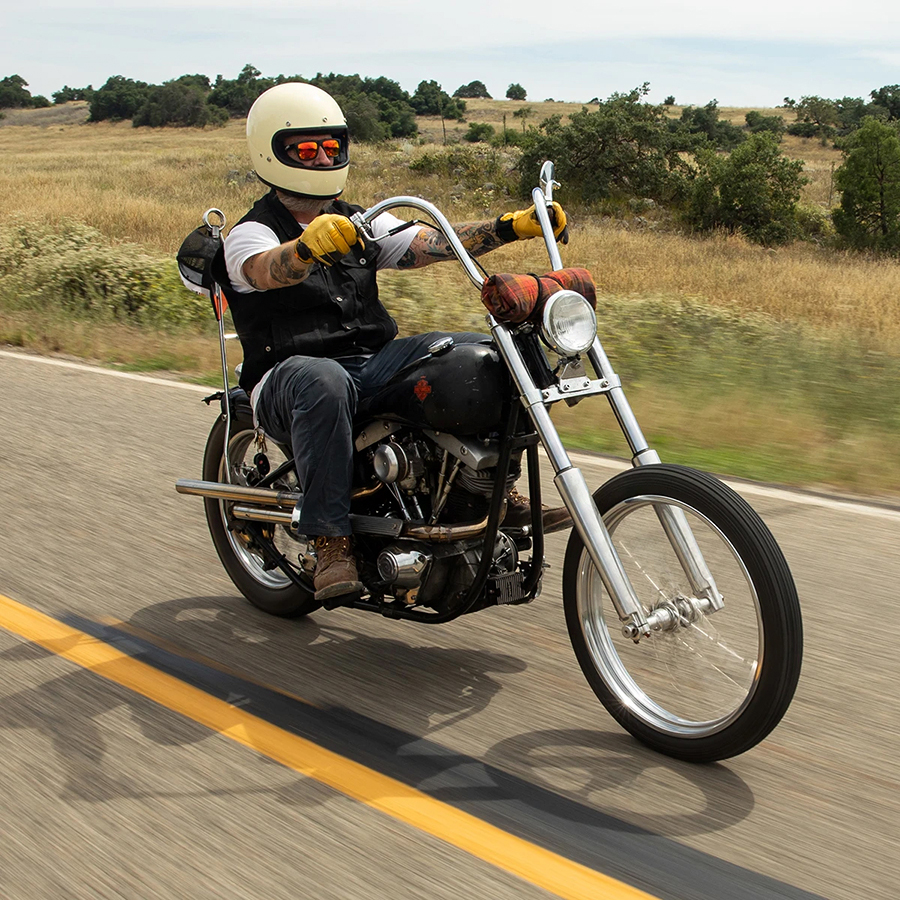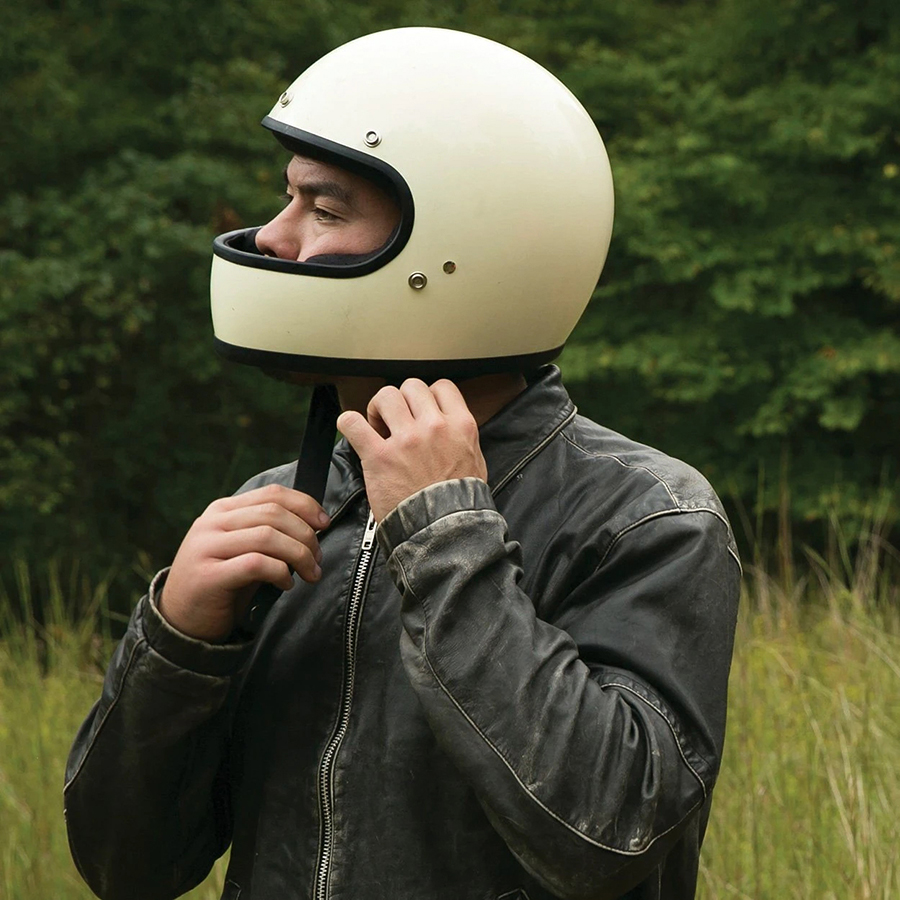 The Gringo ECE Helmet is the perfect fusion of '60s aesthetics and modern technology. And the Gloss Vintage White shade is the perfect way to flaunt your biker personality. Elegant and classy. If you are a minimalist, this helmet will become your favorite in no time. The $174.95 that you'll spend on this one will totally be worth it once you know what it is made of. Its injection-molded ABS is as lightweight as it is rugged.
Why choose when you can get it all. Well, that seems to be the mantra that drove the makers of the Gringo ECE. The inner lining is sturdy enough. And it is surprisingly soft too. The comfort liner and cheek pads are removable, and the chin strap is adjustable. You really do get to choose your own comfort, while the helmet gives you safety and class as well.

21. Casque Torx Wyatt Blanc [ buy here ]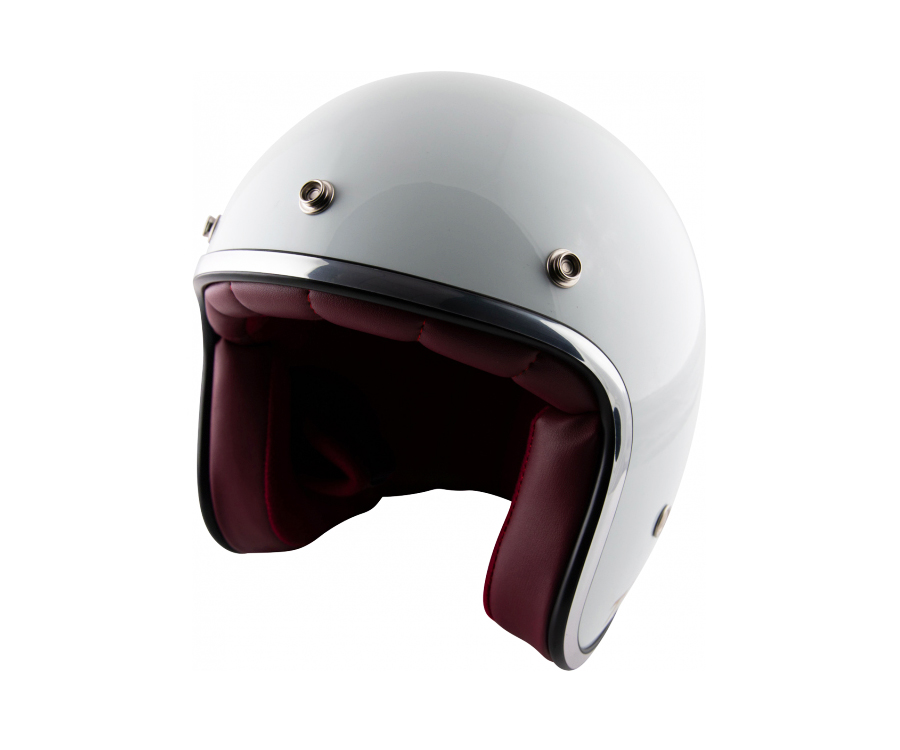 With a polycarbonate shell and EPS interiors, the Wyatt is a sober and elegant helmet. A bowl style helmet, it comes in at € 58.90 and is so feature-loaded that you'll feel safe and comfortable every time you'll have it over your head.
The internal border is imitation leather and resistant to both UV rays and water. Plus, the micrometric buckle on the chin strap is a breeze to operate. Want to wear it with a mask or goggles? The fasteners with snaps at the back make sure you can do that with ease. And your mask/goggles won't keep slipping.
The makers of the Casque Torx Wyatt Blanc did take care of everything for you.

22. Nexx X.G10 Clubhouse SV Helmet [ buy here ]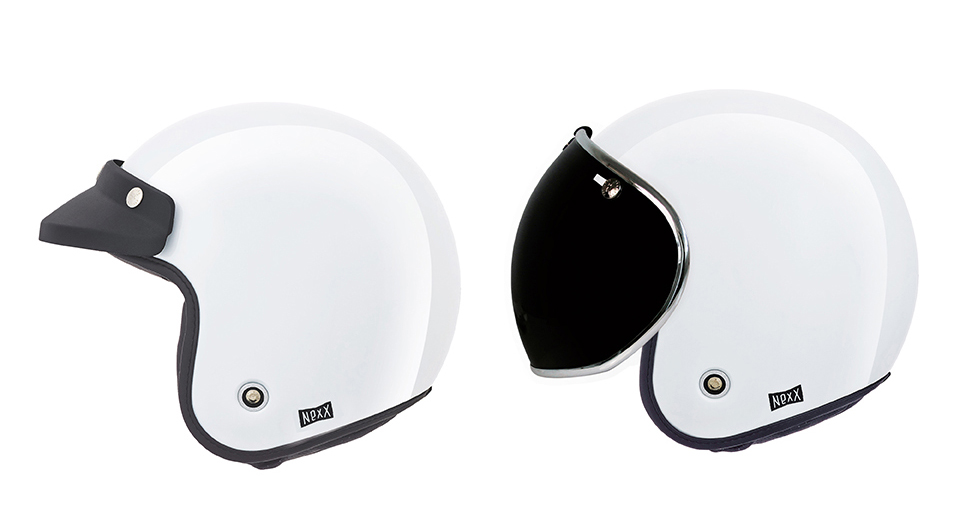 This one is especially for those who take part in speed events. The classy white beauty shouldn't be considered lacking anywhere on safety. With a multi-direction lay up, it has a stiff and strong shell. But don't worry, it isn't going to be heavy on the head. It is impressively lightweight. Also, the helmet is available in three shell sizes to make sure it fits you right.
And the insides offer a whole different level of comfort and luxury. The cushioning inside the Nexx XG10 Clubhouse SV helmet absorbs sweat twice as fast as regular cotton. With that, you also get extra insulation on days when the temperature drops. And the anti-sweat and allergy layer is detachable and washable, too, making it a complete have-it-all package.

23. AGV X3000 Legends Vintage Style Helmet [ buy here ]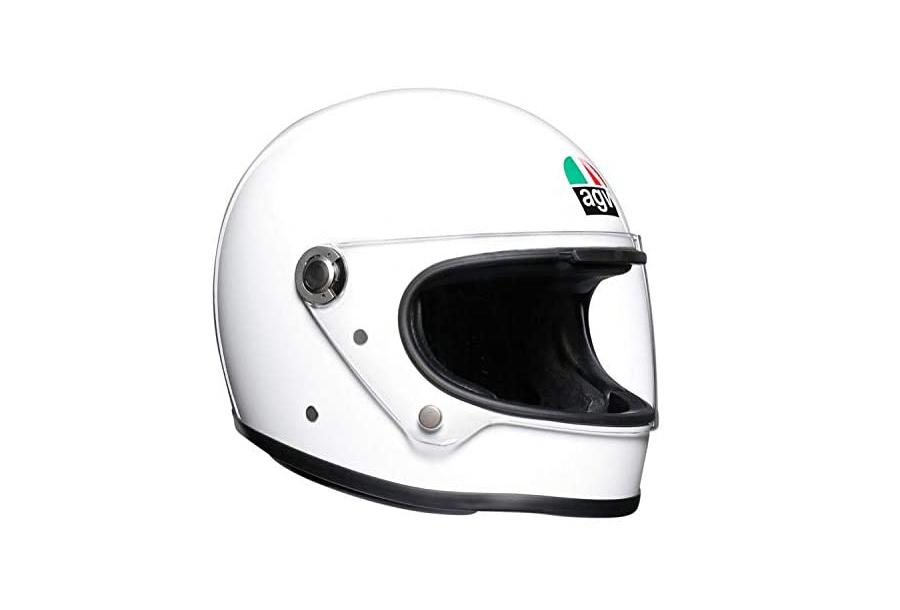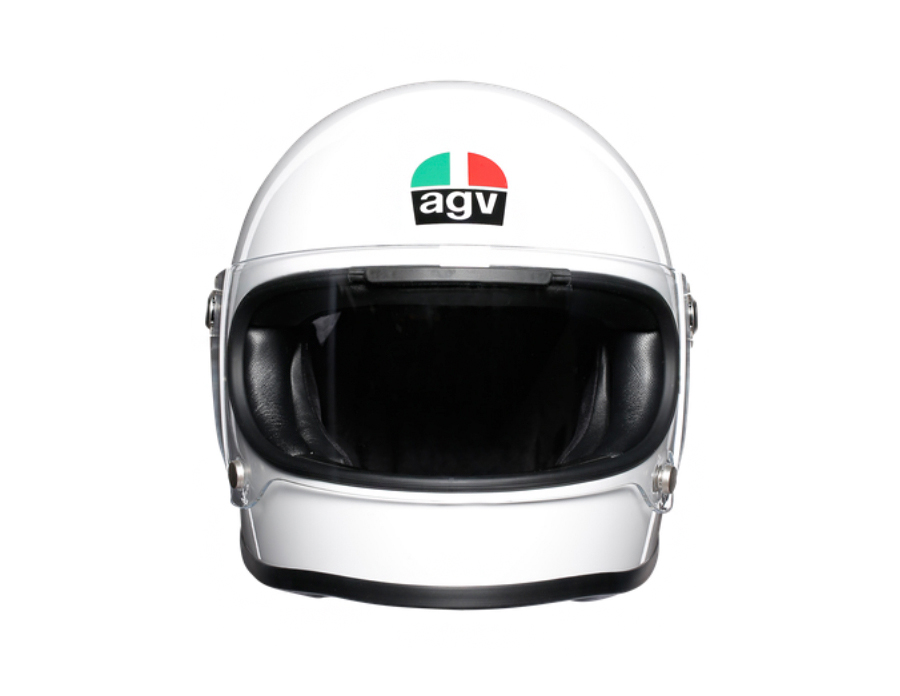 If you are looking for simplicity and elegance in a helmet, the AGV X3000 Legends Vintage Style Helmet is the right choice for you. It is white, which automatically means it is simple and elegant. And it has bold contours on the chin piece, clean lines, and a contrasting lower plate. Now, all these add to its grace and make it look even slimmer. Made of fiberglass, the shell comes in 3 sizes, and the helmet has a Double D retention system. Never again will you have to worry about your safety when you race on.
Plus, the suede fabric and genuine leather in the interiors make sure you aren't missing out on anything on the luxury front, either. And at $379.95, it is a deal that you shouldn't shy away from making.

Best Women's Vintage Motorcycle Helmets
There are a lot of unisex helmets available in the market. But it feels great to be able to choose from options designed specifically for women, right? While there isn't any major functional difference between men's and women's helmets. The only difference is the size and sometimes the colors and graphics. This means if you get a women's vintage motorcycle helmet , you are likely to get a better fit and more color options to choose from. Let's take a look at some of our top picks:
24. Full Face Vintage Motorcycle Helmet [ buy here ]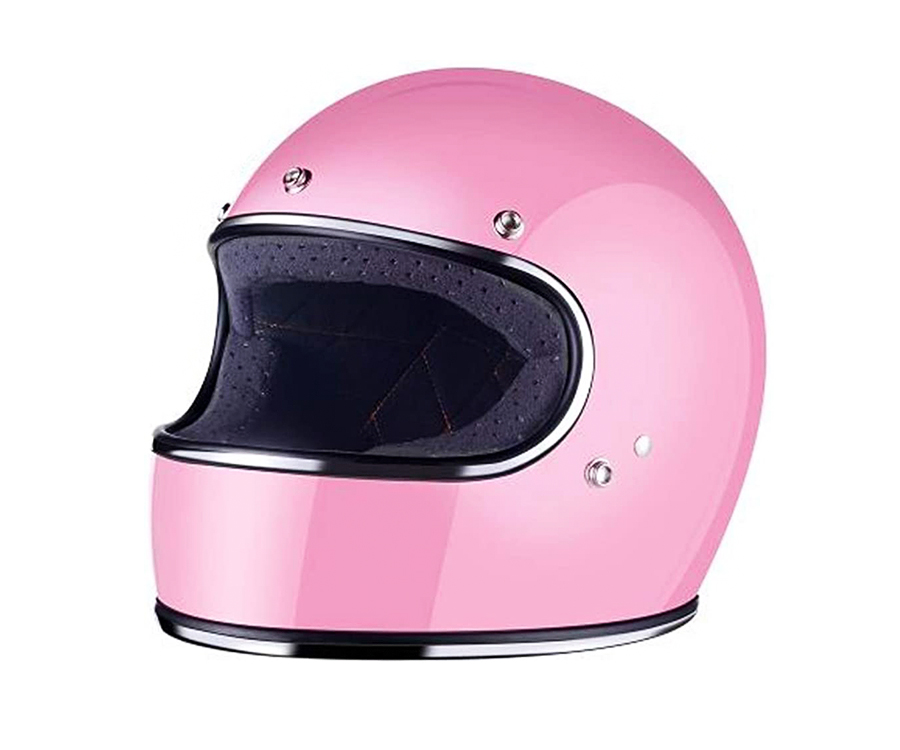 Made of polycarbonate and ABS, the MoRacty full face vintage motorcycle helmet is a great buy for $254.27. Available in a cheerful shade of pink, it perfectly adds to a fun-loving and funky personality.
The EPS shock lining in this DOT-certified helmet serves the dual purpose of making it safe and comfortable. The piece's aerodynamic design also makes sure there is as little wind and noise drag as possible. It also comes with a ventilation system. Reusable and lightweight helmet and cheek pads also add to its comfort and convenience. And the double D-ring design keeps you safe from impact.

25. Foot Care Half Helmet [ buy here ]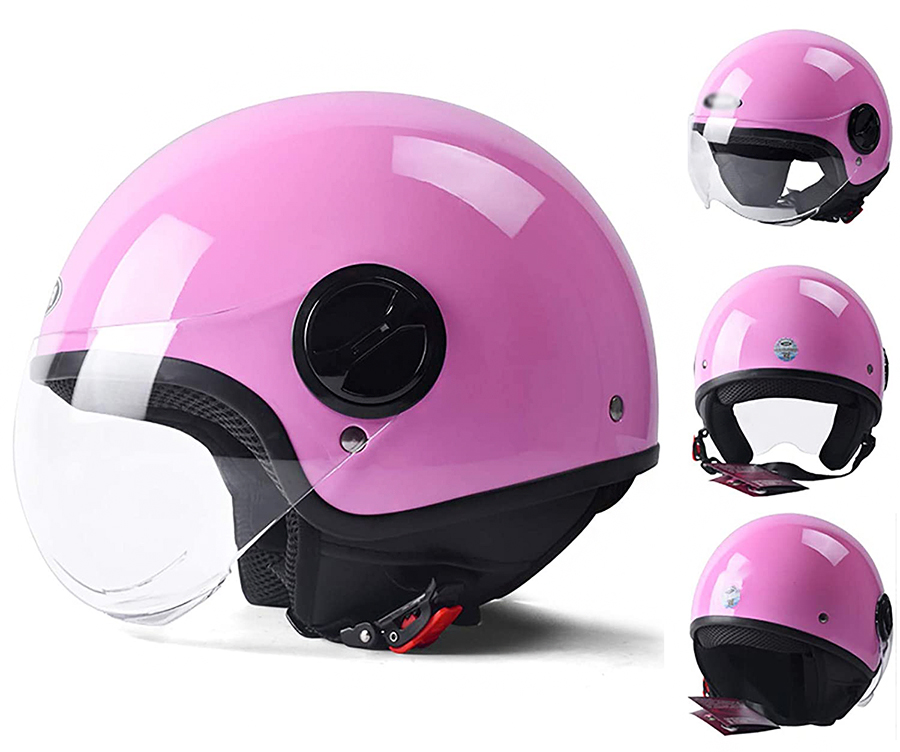 Foot Care's Half Helmet in the bubblegum pink shade is an option worth considering for those who want to ride in style and stay fashion-forward. While the vibrant fashion shade will surely keep you captivated, there is much more to it. The helmet's body is made of scratch and wear-resistant high-quality ABS material. And the inner lining is soft, comfortable, breathable, and easy to clean.
The lens in the front is abrasion-resistant and designed to give you a clear, wide-angle view. Also, the professional DOT/ECE-certified helmet has a quick buckle with adjustable tightness. All these features make sure you get the right fit and 100% safety while biking.

26. Ruby Belvedere [ buy here ]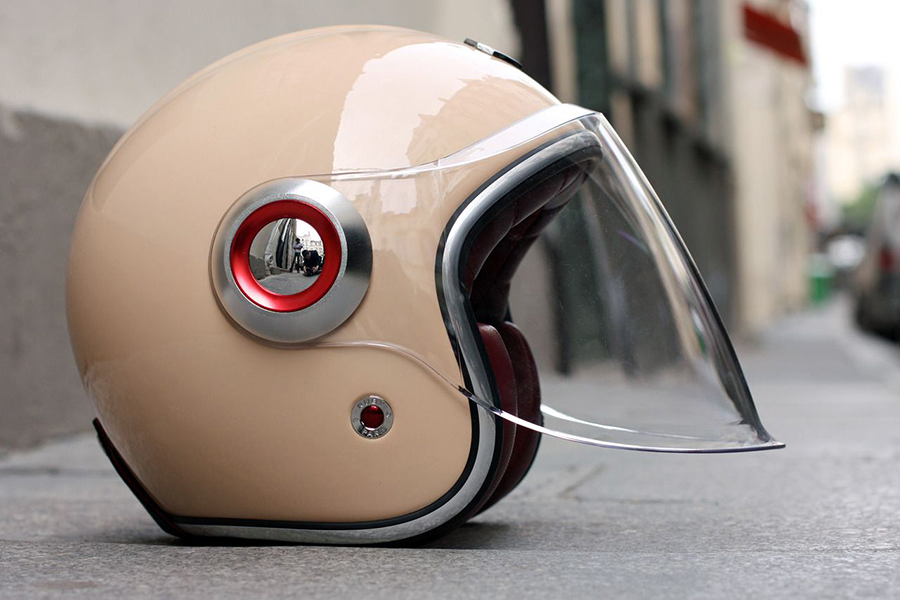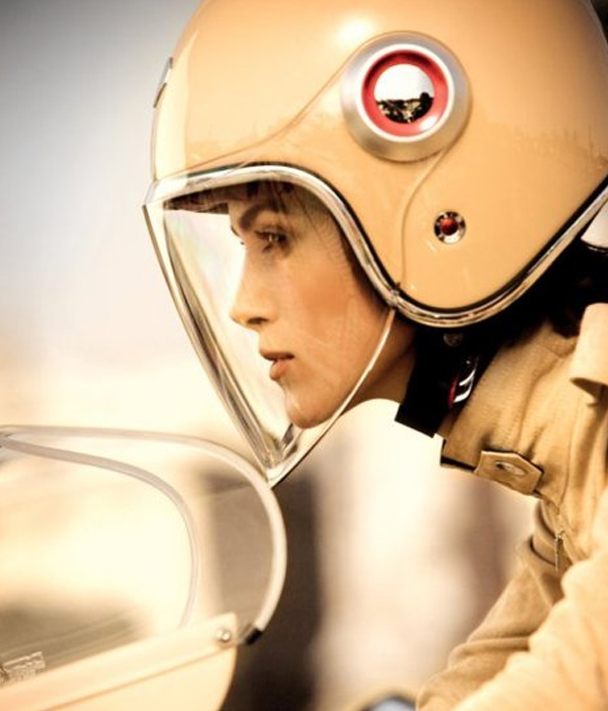 €950 for a helmet would be worth it, but only if you invest it on Ruby Belvedere. Available in a nude shade with carmine red interiors, it is not just a safety device for your head. It also lets you make a style statement when you wear it while riding your bike in all its glory.
The inner lining comes with three types of densities to create a comfortable cocoon effect while maintaining the ventilation too. The outside is strong and sturdy. And well, removing or re-attaching the visor is a matter of a few seconds. Trust the cool colors, anti-bacterial and anti-odor lining, and the sturdy built of the Ruby Belvedere to add to your motorcycling experience in more ways than one.

27. Hedon Epicurist Helmet [ buy here ]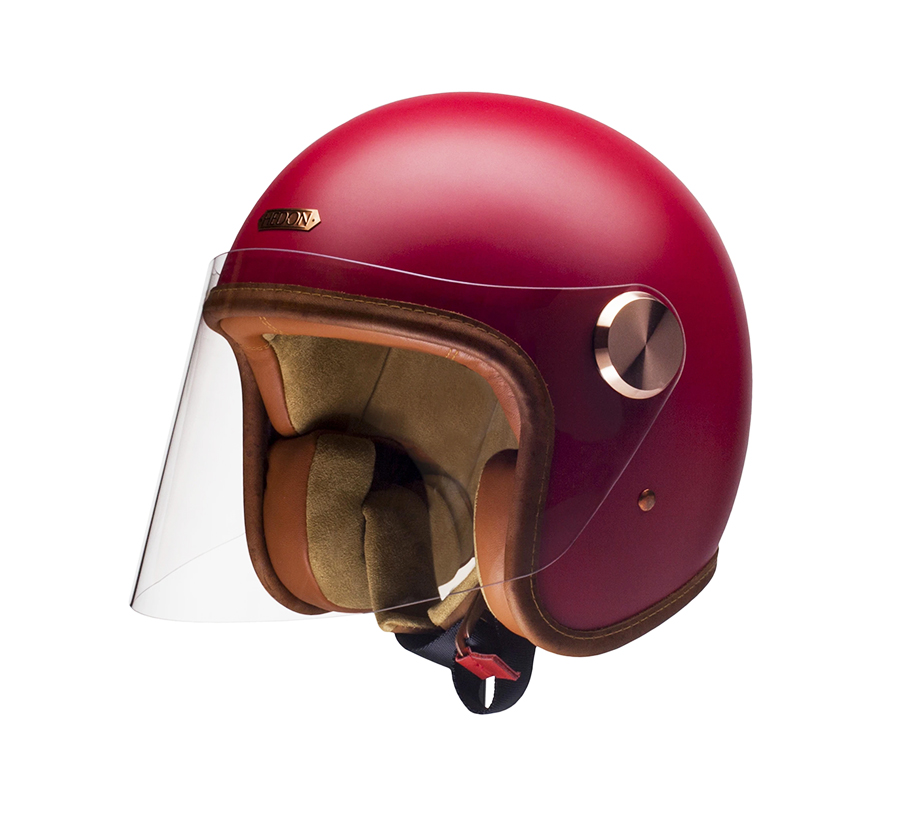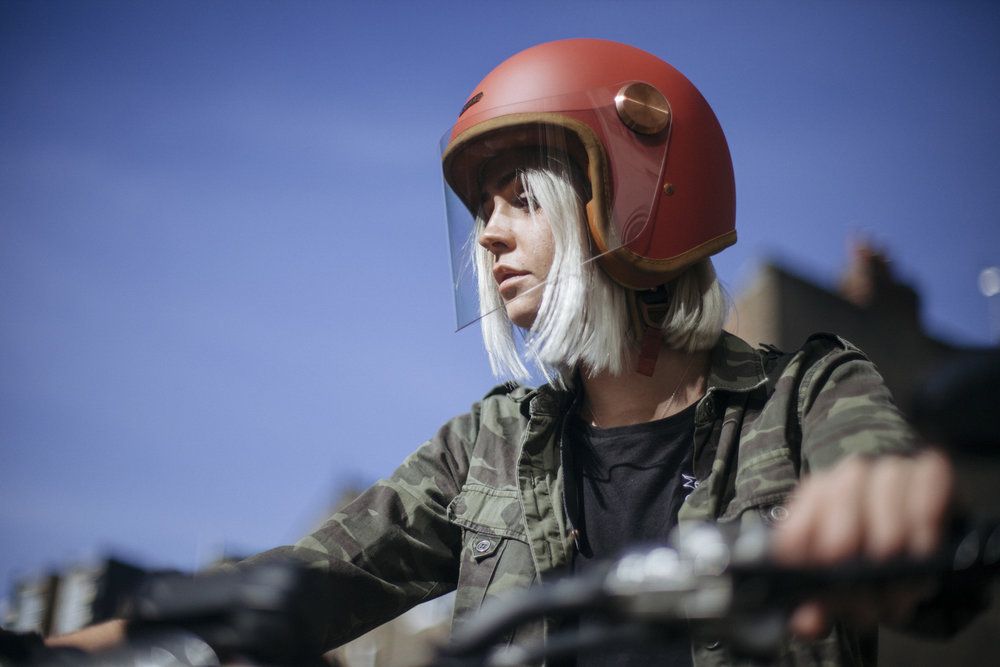 Remember how it felt when you went for a ride on your motorcycle for the first time? Well, that exhilarating feeling is going to accompany you on every ride with the Hedon Epircurist helmet.
The tagline of the bright cherry red helmet says it feels like the first right, every time. And we couldn't agree more. With a sturdy outside body and comfortably lined interiors, there is nothing that this one misses. Available for £349.00, the Epicurist is designed in a British retro style and keeps the classic factor intact. From its ultra-light shell to the antibacterial fabric, it is a great choice for riders who want to make every ride as special as the first one.

Best Vintage Metal Flake Motorcycle Helmets
If we talk about the '70s, they have been especially important in the helmet industry's evolution. It was during the '70s when it became compulsory to wear these hardhats. And well, how can we forget the metal flake style. A vintage metal flake motorcycle helmet is a safety gear and a fashion accessory rolled into one. Now, if you want to get that '70s vibe back, here are our top picks in the metal flake category:
28. Bell 2020 Cruisier Custom 500 DLX Helmet [ buy here ]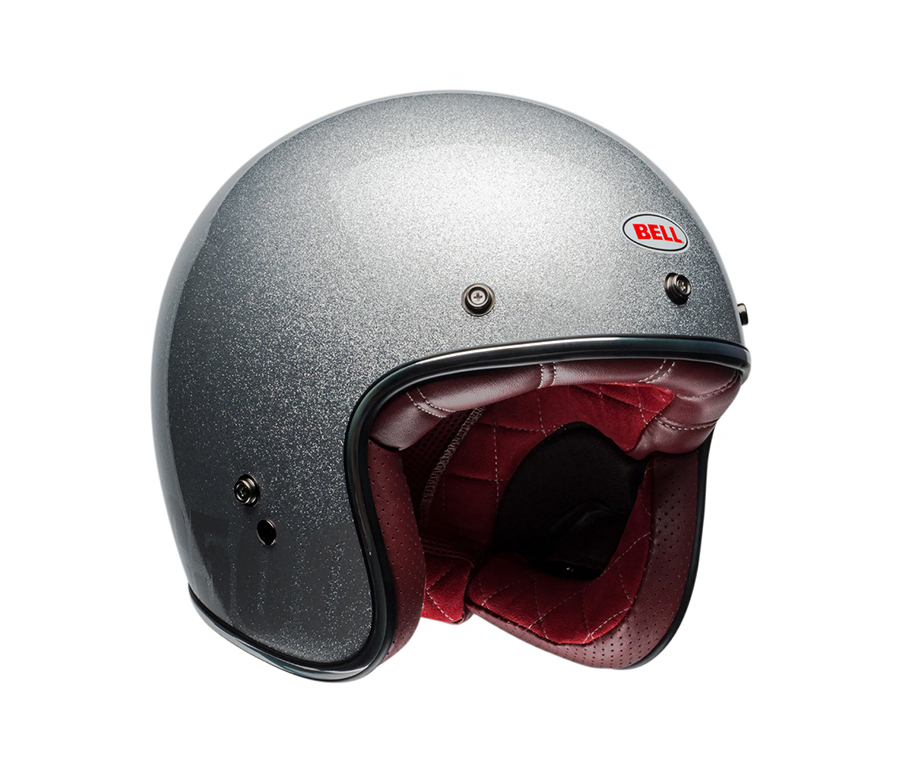 Bell is among the first few brands to have dominated the helmet market. The Bell 2020 Cruisier Custom 500 DLX is a tribute to the original design of the Bell 500. And with a silver metal flake look, it is a sight to behold. Does that mean you get the security as per the '70s standard? Not at all. It is all the modern tech inside. With a fiberglass shell and integrated snaps, it makes for a robust head protection gear. Also, it comes with a 3-snap 520 visor.
All-in-all, the charisma, comfort, and protection that it offers are well worth the £179.99 that you spend on it.

29. Daytona Open Face Helmet Black Metal Flake [ buy here ]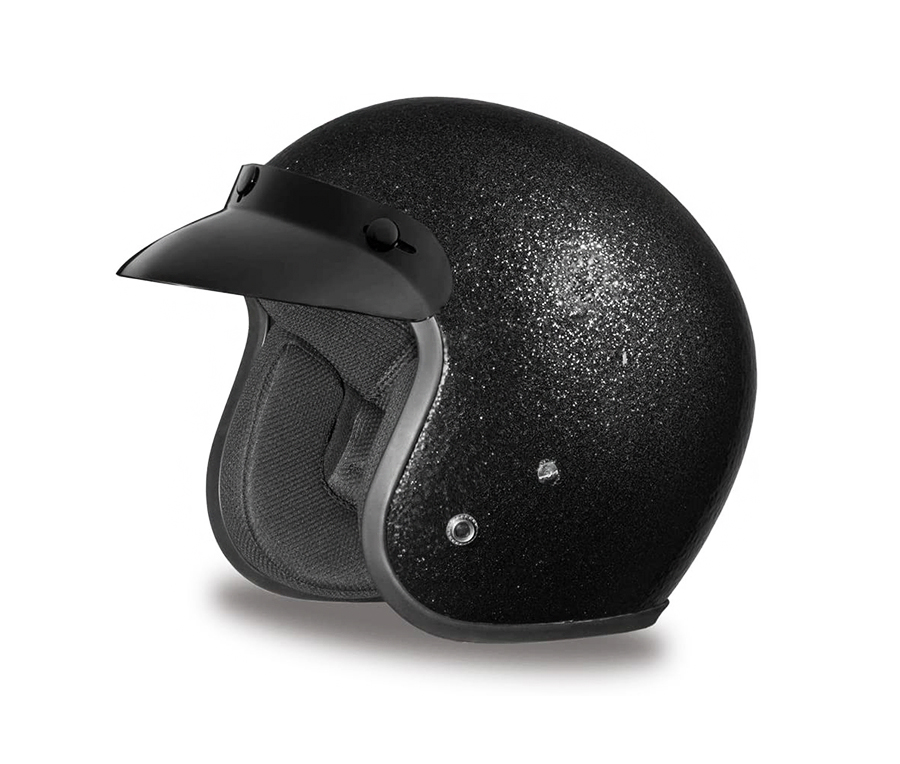 After having passed the DOT field test, the Daytona Open Face Helmet in Black Metal Flake is ready to be your pride. Costing between $103 to $117 (depending on the size you choose), it is the best buy not because of one, but for three reasons. For starters, it meets and exceeds the DOT's FMVSS 218 safety standard. This means the safety aspect is checked. It serves the basic purpose of protecting your head.
Then it comes with a quick-release lock. This means you can say goodbye to the itch and irritation that helmets cause to your hair (or even beard). The chin strap will open and adjust with just a flick. And you'll be done in seconds. Comfort, guaranteed. And then, well, it comes in a black metal flake finish. That retro look is definitely worth paying for.

30. SEVENTIES Metalflakes Vintage Helmet [ buy here ]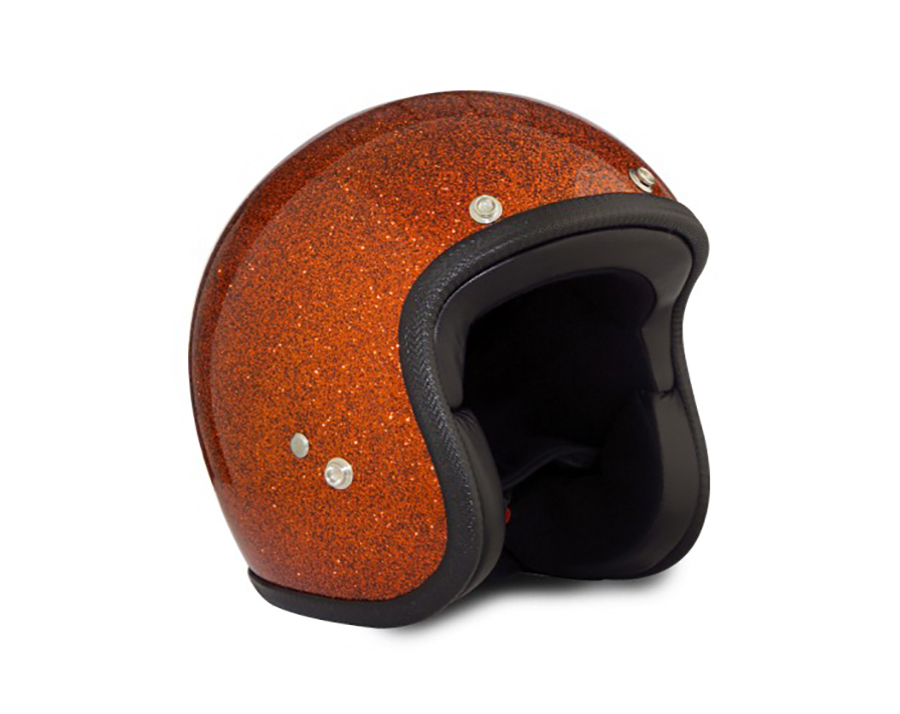 The SEVENTIES Metalflakes Vintage Helmet is no ordinary product. Its golden orange metal flake design sets it apart from the rest. And when you have that helmet over your head, it will set you apart from the crowd too.
With a small, round shell made of fiberglass, it is available in 4 shell sizes. And it is hand-painted. Proof that the maker's dedication for all things retro matches your own. Also, the lining is removable to a certain extent, and it is washable too. And for €136.50, you also get the comfortable chin straps and snaps for the visor.

31. TORC T-50 'Super Flake' Helmet [ buy here ]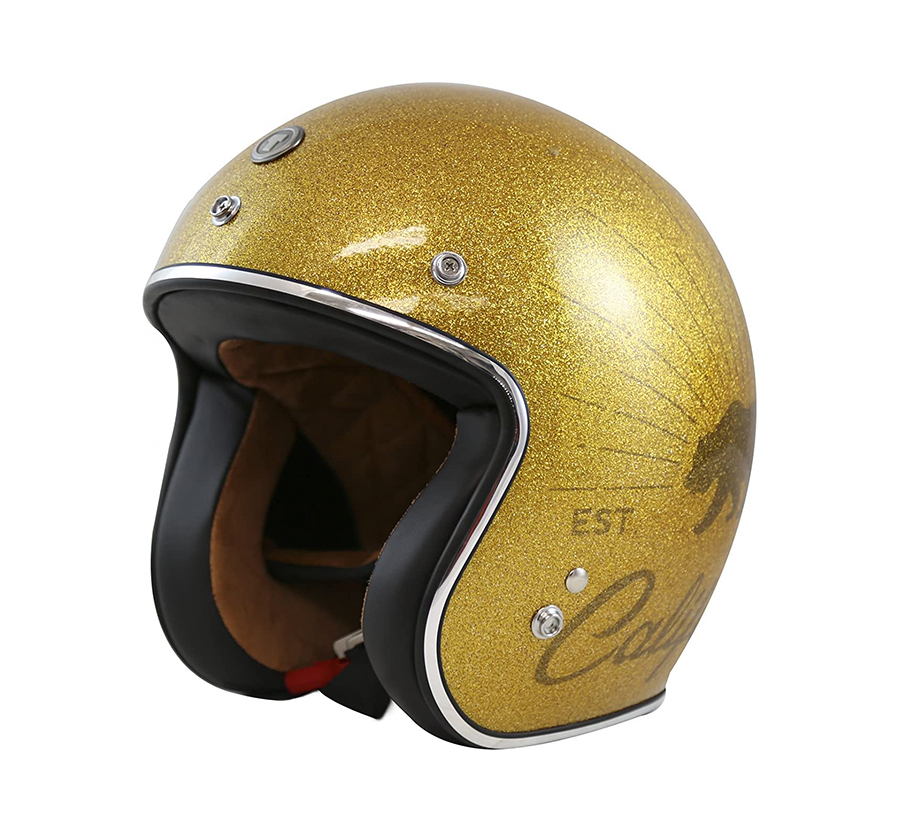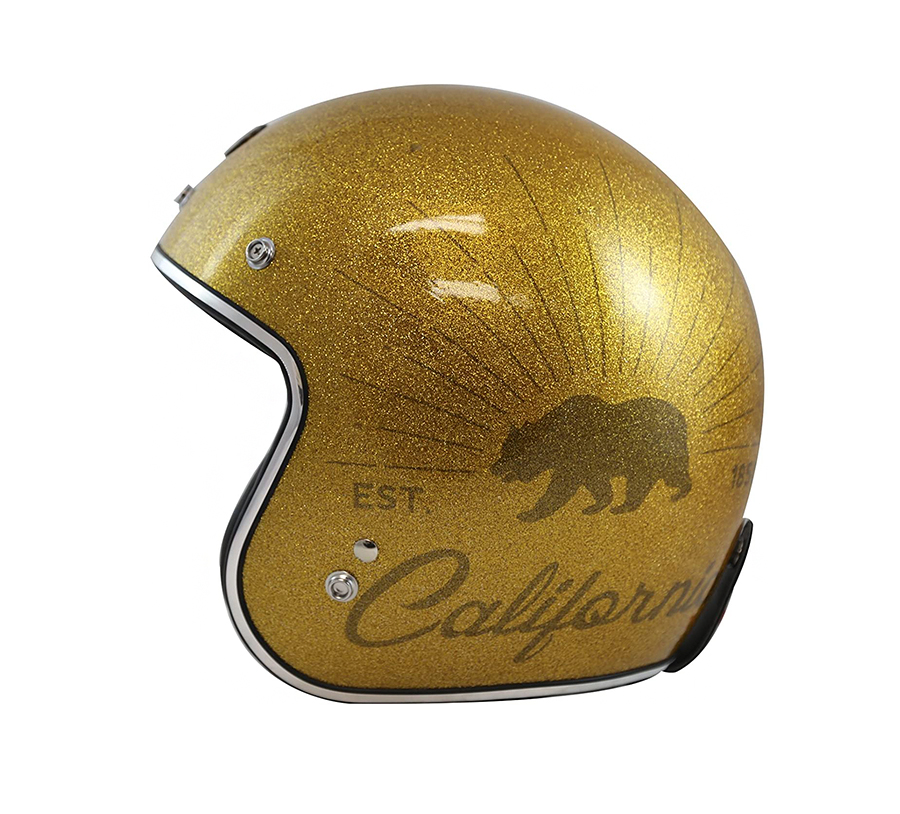 The TORC T-50 is a great range of helmets for biking enthusiasts. Bikers who don't take either their safety or style lightly will find this one a suitable match for their needs. But, you see, the Super Flake helmet is different. It shines brighter than the rest (Quiet literally, too). Available for $99.99, it weighs 3 pounds, and adheres to the Federal Motor Vehicle Safety Standard 128.
It is comfortable, convenient, and secure. But then it is not just a helmet. It is a part of your retro style statement and will easily gather all the limelight no matter where you go.

Best Vintage Custom Motorcycle Helmets
Motorcyclists from all across the world share their passion for motorcycles and riding. But that doesn't mean they are all the same, right? And just like you are different, so should be your cool vintage motorcycle helmet . If you really want to stand out, go with a vintage custom motorcycle helmet . And here are some options that you can check out:
32. Disco Ball Custom Motorcycle Helmet [ buy here ]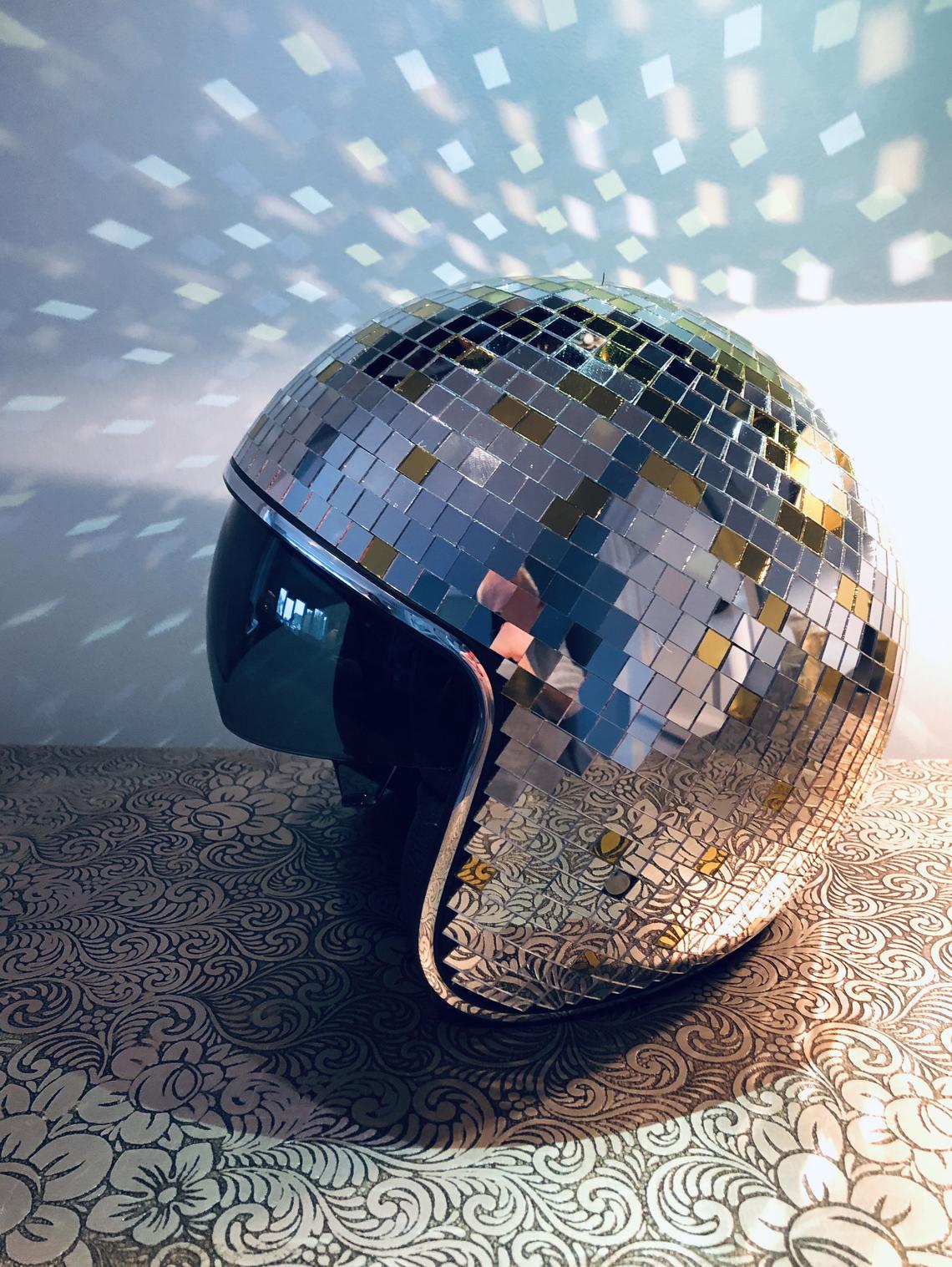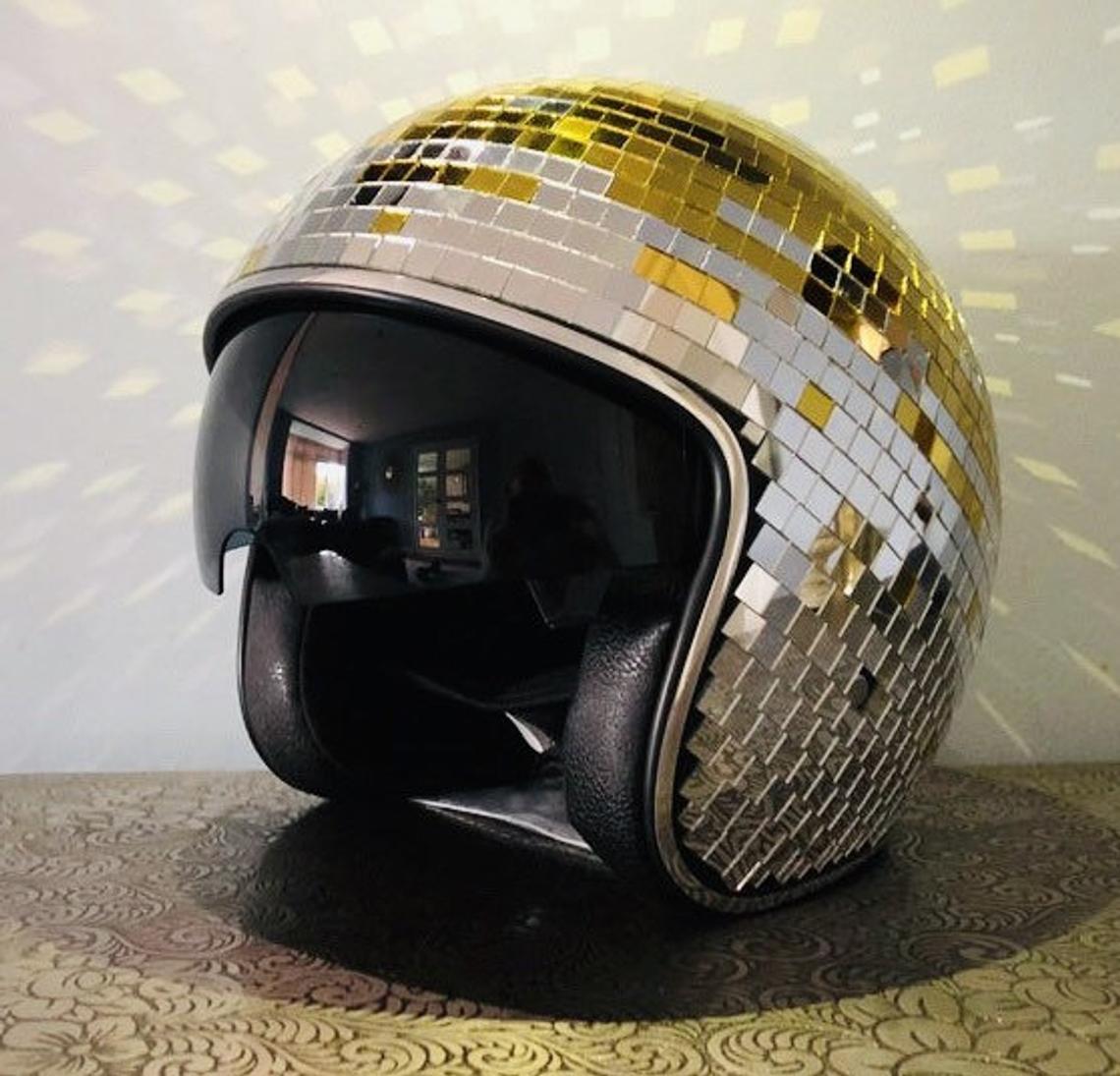 Helmets are meant to be worn when you are riding. But that doesn't mean they aren't good for parties, photoshoots, and fun.
The Disco Ball Custom Motorcycle Helmet delivers on everything that it's name promises. It is fit for the disco or the ball. It is road ready with a chin strap, a retractable visor, and internal padding that is removable and washable. But the best way to use this gold-themed classic helmet is to make an entrance with it, and that won't be forgotten soon. You can get it customized according to your size for a comfortable fit.

33. Full Face Custom Vintage Helmet [ buy here ]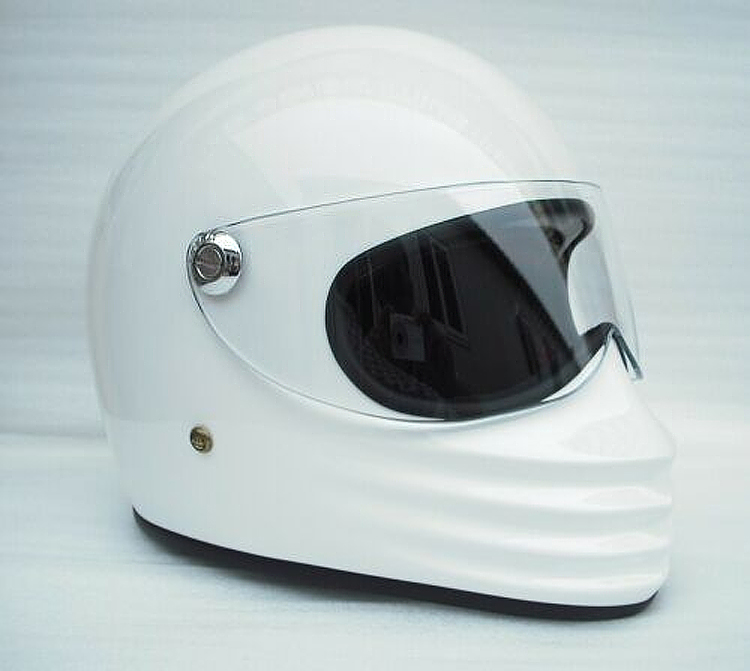 There is no way you can imagine how cool the full face custom vintage helmet looks unless you have seen it for yourself. Made with fiberglass, having completely removable interiors and a Double D-ring fastening, it is a cool purchase. Available for sale at $159.99, it is a great option for when you want to make sure everyone on the street is looking at you. People will most definitely ask you where you found this full face gem with fascination in their eyes.

34. Red and White Stripes Vintage Helmet [ buy here ]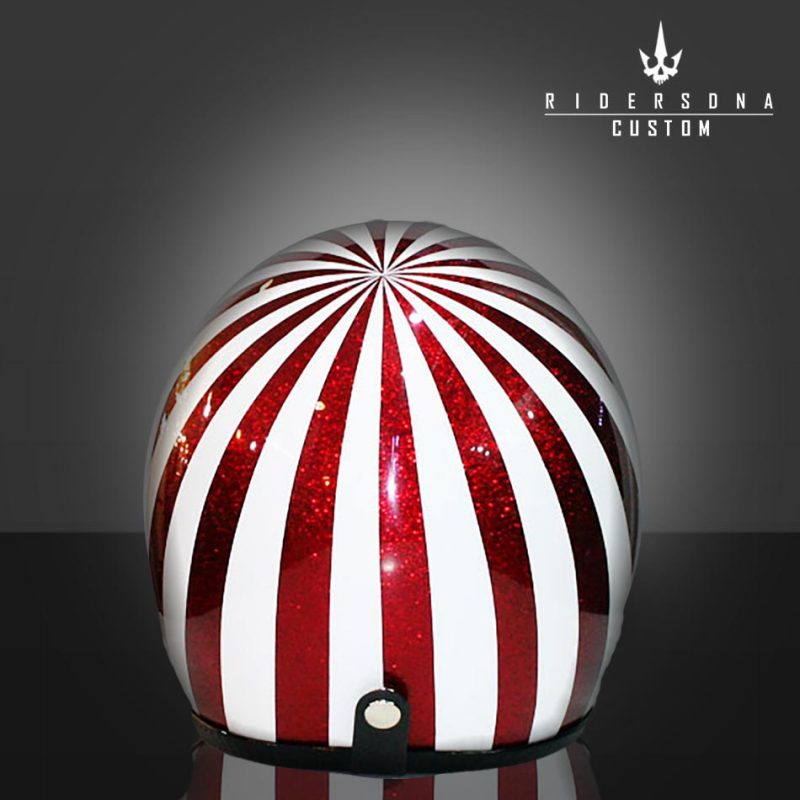 Red is the color of passion, and white denotes calm. And when the two come together, you get a dynamic design that will give your biker attire a cool upgrade. The red and white striped retro helmet from RidersDNA is a custom-made piece that would be a perfect addition to your riding accessories collection.
Coming in at $349.00, it might feel a little pricey. But it is fully hand-painted, and that's what makes this custom metal flake piece worth it. The helmet meets safety standards for a majority of countries and gives you complete protection. The 3/4 helmet can be ordered with other customizations as well. All you need to do is send in your request to the makers.

35. Beige Matte Paint Vintage Star Helmet [ buy here ]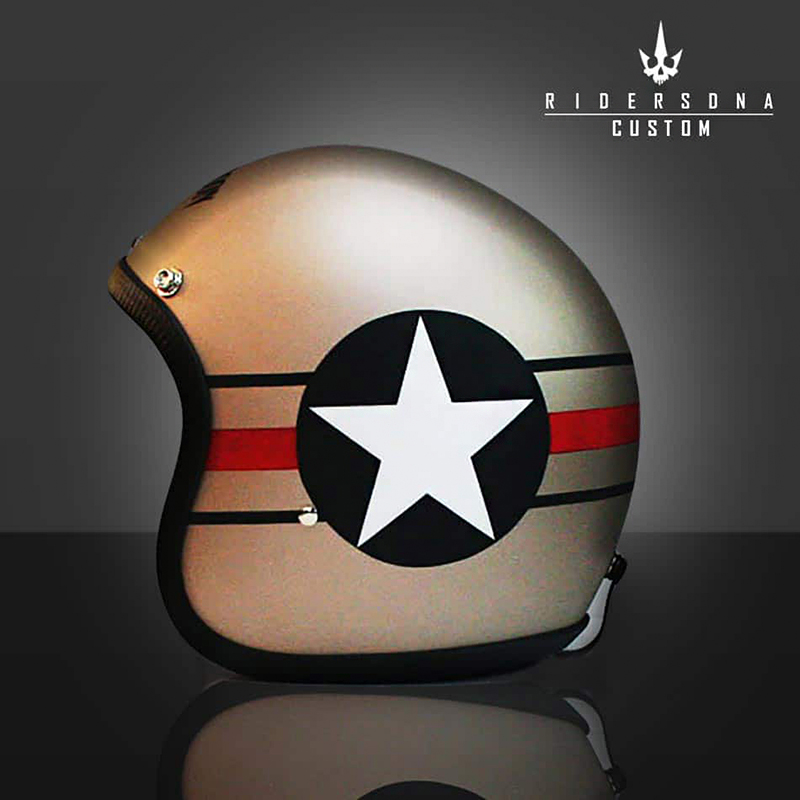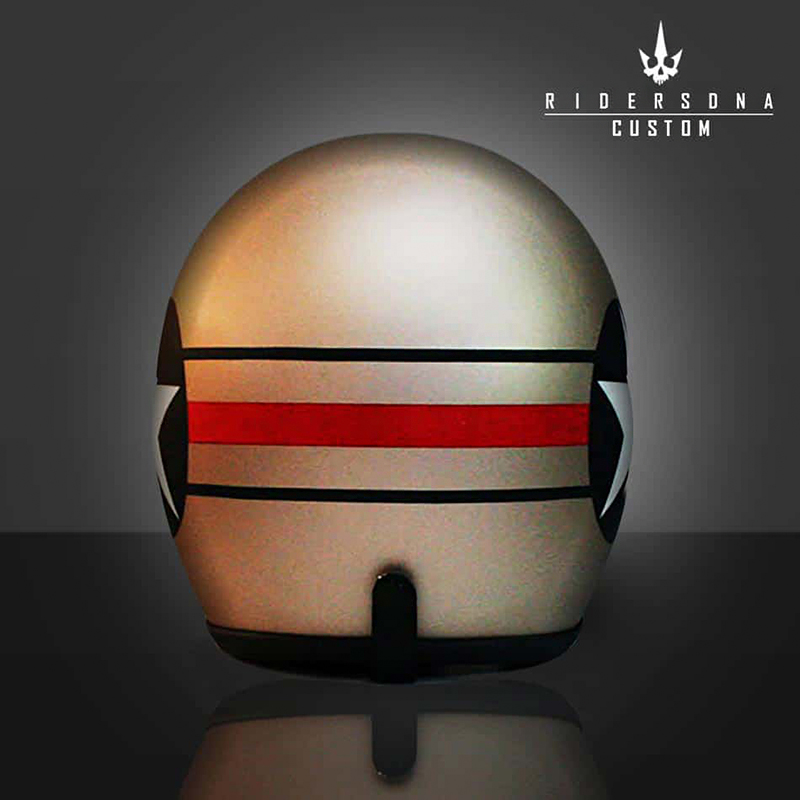 Your helmet defines your biker persona. And the beige matte paint vintage star helmet from RidersDNA is what you need to bring out your classic retro style. Available in 5 sizes (From Small to Double XL), the helmet costs $349.00. And the price is worth paying as it is a classic design that you'll be getting. And what's more, is that it is completely hand-painted. The 3/4 open face helmet is painted using the airbrush technique, and you can get it built according to the safety standards of your country of residence.
Also, you can contact the makers for further customizations. Before they ship your custom vintage-looking motorcycle helmet , they'll share the pictures to make sure you are satisfied with what will be shipped to you.

Now that you know about the best vintage looking helmets that you can pick, it is time to place your orders right away. And then you can ride with complete protection and a retro swag.
If you still want to personalize your new cool helmet, you can go to Customsticker.com to order cool helmet die-cut stickers to decorate your helmet and make your helmet more eye-catching. Most people like to use cool and personalized stickers to decorate their items to achieve different visual effects. Therefore, on the way to decorate helmets, custom stickers have also become a popular preferred accessory for people, not only easy to use but also very affordable. Furthermore, you can change styles frequently. In addition, if you run a motorcycle club with like-minded motorcycle enthusiasts, custom stickers with the club logo and name are attached to the helmet, not only to decorate your helmet but also to promote the club well and make more people know your club, thereby attracting more like-minded people to join the club.